McLaughlin, Walker, Kay, Brown, Dobbie
Direct line Boyle/Kay

Thomas Smith and Annie's two children were Ellen born 1891 in Chelsea and Rose Ann who was born in Stirling in 1897. Thomas and Annie had moved up to Scotland for work as Thomas was a miner and at that time work was plentiful in this area. However, Thomas died prematurely in 1899. After the death of Thomas Smith Annie found a job of housekeeper to James Boyle and the rest is history. The address was Gateside, Whitburn, West Lothian.
James Boyle and Annie Smith married on 14th May 1900 in Whitburn in West Lothian. They in turn had two children Jane Walker BOYLE [direct line] 1901-1973. Jeannie as she was affectionately called married Joseph Angelo Quilietti on 4th September 1919 in the Chambers in Chambers Street in Edinburgh. Joseph had lost his first wife CATHERINE JANE KELLY to the Spanish Flu epidemic of 1918. She was 18 years old.
Second daughter Jemima was born in 1904. She married Arthur Lumsden in Gateshead and settled here with him. Still to research this side of the family. She died in Gateshead in July 1951.
JANE WALKER BOYLE was wed to Joseph Angelo Quilietti on 4th September 1919 at 34 Chambers Street, Edinburgh.  Joseph had been WIDOWED only the year before after his first wife died of the Spanish Flue in 1918.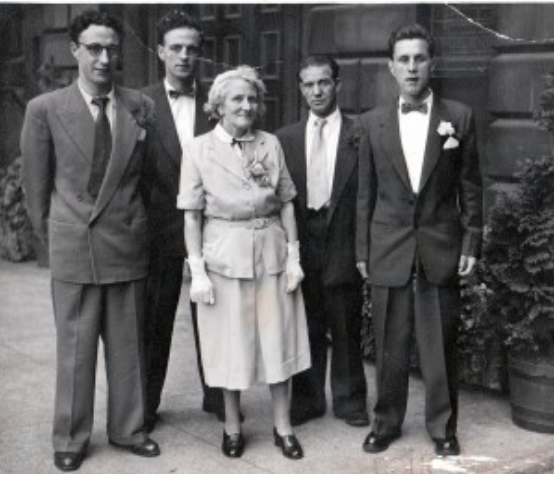 The Boyle line
Our Branch of the  Boyle family originally came from the Parish of Ouvrey in County Tyrone in Ireland and they settled, like so many other Irish immigrants, in the Lanarkshire area of  Scotland where there was ample work at this time, early 1880s.  There was work in the Mines, both Coal and Iron, the Cotton and Wood Mills and not forgetting the Farms. The iron and coal communities would have had housing on hand also to house the families.  Word of mouth from Jeannie Boyle is that she thought her family came from County Mayo in Ireland but as yet no paper trail evidence of this.     http://www.scottishmining.co.uk/164.html
3rd Great Grandparents Luke Boyle and Elizabeth or Betsy McLaughlin
James Boyle was born c 1765 in Ouvrey, Tyrone, Ireland.  He married unknown.  Two sons Luke and JOHN came to Scotland and we find John in the 1861 census living with  his sister in law Elizabeth McGlouchlin [Boyle] and her son Luke and daughter Jane.  Address – 1 Thatchrow, Old Monklands.
It was his son Luke Boyle born circa 1786 in Ireland who married Elizabeth McLauchlin on 19th November 1820 in the Parish of Old Monklands in Lanarkshire in Scotland.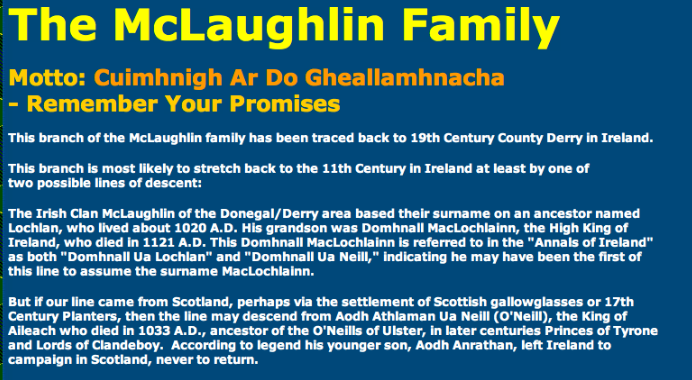 The Mclaughlin family are steeped in the history of County Donegal and can be traced back to the year 379
A.Dhttp://clanmaclochlainn.com/surname.htm, we believe,   was the daughter of Chris Mclaughlin and Mary Donovan who  were from Cork in Ireland with dates of birth c1765-70
Luke had  moved to Dalry in Ayrshire where he found employment in the Iron Mines and he was employed as a Furnace Keeper for many years. Here he  married Elizabeth McLaughlan on 19th November 1820 in Old Monklands.  They resided at Blair Iron Works New Row, a development built for the miners and their families.  She was ten years younger than Luke.
This extract from the 1841 Scottish Census Luke Boyle shows Luke working in the Blair Iron Works in Dalry.  Occupation given as a Furnace Keeper.  With him Elizabeth age 45 and sons James, Henry and Luke.
 There would have been many Boyle children but we have traced to date:-
JANE BOYLE born 1822. May have married unknown Jamieson and moved to Dunoon in Argyll
JAMES BOYLE born 14/7/1823-17/8-1894. DIRECT LINE married JANE WALKER – see below
HENRY BOYLE was born in 1826. He started work as a Collier and we find him in the 1851 census living in Kilmarnock.   
ANNE BOYLE was born 1828. No further information. Although we do find one Anne Boyle in the Glasgow Barnhouse WORKHOUSE in 1881. This Ann worked in the Cotton Mills. She may have married Michael Casey but as yet unconfirmed.
FRANCIS BOYLE was born on 23 October 1829. No further information on this line
LUKE BOYLE was born on 25 August 1832. He was baptised in St. Andrews in Glasgow on 20th September. Like his older siblings Luke fell into hard times and was described as a pauper on his death lines in 1880.
By 1851 the family were now in Kinneil Iron Works located in Bo'Ness.  Only one son, Luke age 18,  remained with them. This was the last census we find Luke Boyle senior.  To date no death recorded in the Scottish Archives.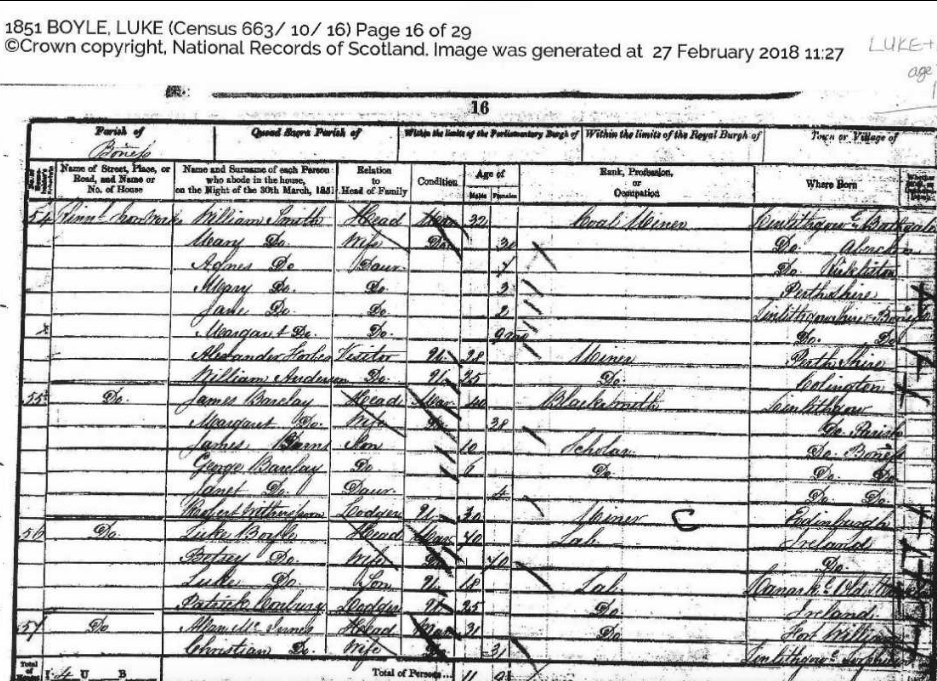 The 1861 Census shows Betsey now residing in 1 Thatchrow in Old Monkland in Lanarkshire.  With her was son Luke and daughter Jane. No sign of Luke. 
Been actively searching for the deaths of Luke and Elizabeth but nothing in the Scottish Archives to date.  Possibly died in another country, North England or Ireland
The BOYLE Walker line
My 2nd Great Grandparents were James Boyle 1823-1894 and JANE [Jean] Walker.
We have many Walker branches in our family but this one were from the Paisley area of the West of Scotland. We will deal with this side on another page Walker Pinkerton connections. But Jane Walker was the daughter of James Walker and Mary Pinkerton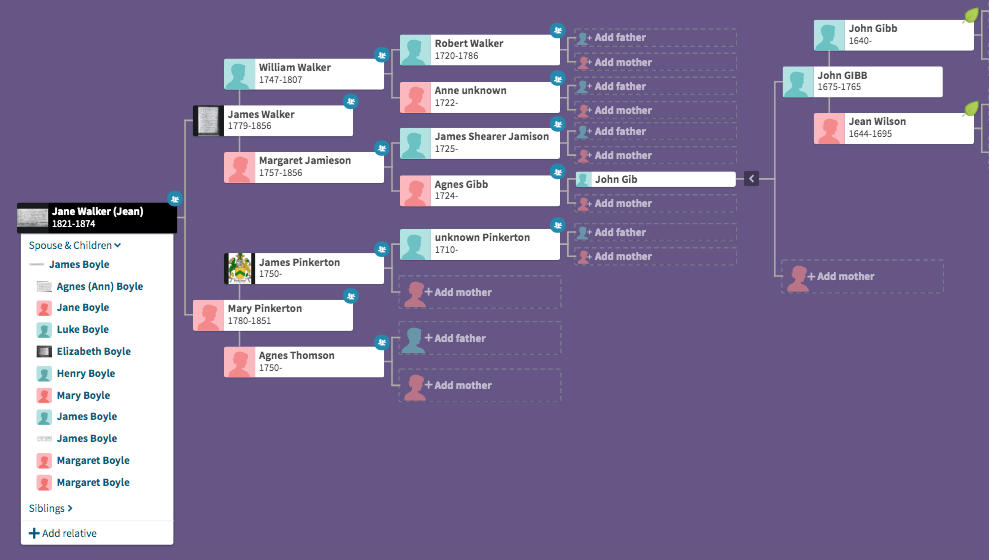 The children of James Boyle and Jane Walker were
Ages Boyle [Ann] 1837-1875 – married Thomas Henderson Nicol in 1863 in Shotts Iron Works.and they had 6 or so children all born in the Shotts, Lanarkshire region, They continued to work in the Iron Mines there.
Jane Boyle 1843-1920. – married James Muir and then Charles Kerr. The family also remained in Shotts in Lanark
Luke Boyle 1846-1927 – married a widow Agnes Miller [Smith] and inherited 7 children. They had one daughter Agnes who died in 1905. Luke fell into hard times and was nearly blind by 1913 when he applied for Poor Relief in Dalry. Interesting document below tells us so much information about Luke and his wife and her family. After he received his last payment in 1913 Luke moved to Thornton in Fife where he died in 1927.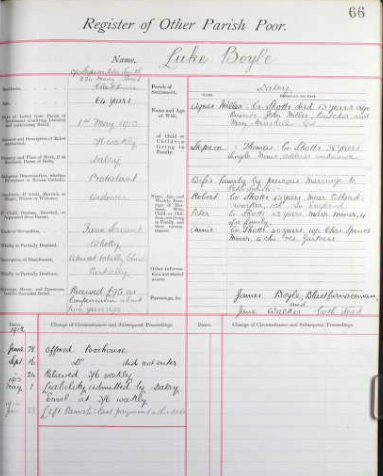 ELIZABETH BOYLE LINE/BROWN
She married Thomas Smith in the year 1888 in London. Their residence was 24 Fifth Avenue, Queen's Park in Chelsea in London and the marriage took place at St. John's Church Parish of St. Luke's.
Elizabeth Boyle 1848-1888. Elizabeth married Henry Brown 1845-1929 They married on 15th March 1867 in Shotts in Lanark. They had a large family some born in Scotland and some in New South Wales in Australia, where many descendants live today.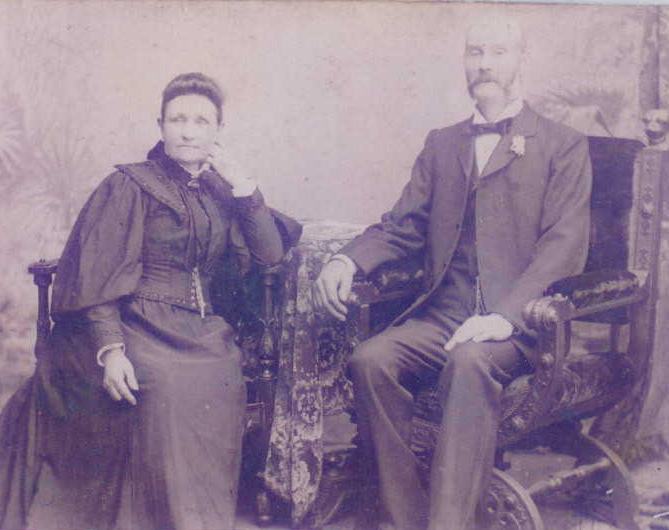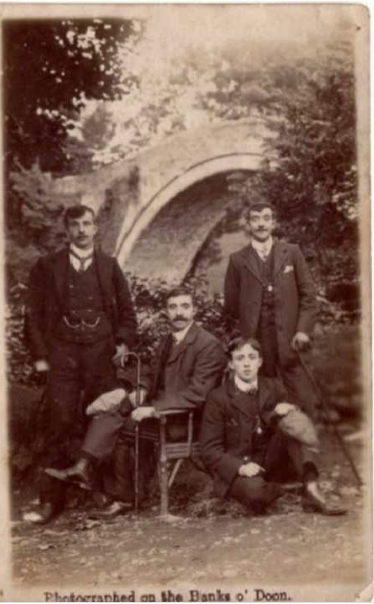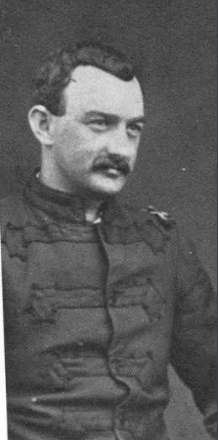 THE CHILDREN OF JAMES BOYLE and JANE WALKER – continued
HENRY BOYLE 1852-1906 was born in Dalry in Ayrshire. He married Jane Campbell 1864-1899. They had 7 children James, Henry, William, Jeanie, Thomas and Agnes. Jane Campbell died shortly after the birth of Agnes in 1899. The rest of the family remained in the area.
MARY BOYLE 1854-1879. She married James Meechan in 1872 but unfortunately died a few years later. Not sure if there was any offspring
MARGARET BOYLE 1862-1914 – married George Piggot 1857-1904 in 1883 in Fauldhouse in Whitburn. He too was a coal miner. Children James, John, Henry and Catherine.
A
Jeannie Boyle and Joseph Quilietti

CHILDREN OF JANE WALKER BOYLE and JOSEPH ANGELO QUILIETTI
ANN JANE QUILIETTI 1920-1960
JOSEPH QUILIETTI 1922-1979
JEMIMA KATHERINE QUILIETTI 1924-1925
ARTHUR EMILIO QUILIETTI 1927-2018
GIULIO QUILIETTI 1929-2010
JEANNIE QUILIETTI 1931=2004
JAMES ALEXANDER QUILIETTI 1934-2011