A BIT ABOUT THIS BRANCH OF THE SUTHERLANDS
CLYNE, a parish, in the county of Sutherland, 6 miles (N. E.) from Golspie; containing the village of Brora. This parish is about twenty-four miles in length, from north-west to south-east, and from six to eight in breadth, and contains 65,000 acres; it is bounded on the south-east by the German Ocean. The church, a plain structure, was built about the year 1770. It was repaired and enlarged about 1827, and will accommodate nearly 1000 persons with sittings.
In the well-cultivated district along the coast the surface is tame, but in other parts greatly diversified, presenting the most prominent and characteristic features of Highland scenery. The glens and lakes, adorned with natural wood and plantations, as seen from the vicinity of Killean, which also commands a prospect of the abrupt precipices overhanging Loch Brora, and the lofty mountains of Ben-Clibrig, Ben-Ormin, and Ben-Horn, are among the finest portions of this secluded district.
Beyond Strath-Brora, however, about nine miles from the coast, the general aspect of the scenery becomes bleak and heathy, with extensive tracts of moor and moss, intersected by numerous rivulets, and lofty ranges of hills. In general the coast is low and sandy, and marked by a ridge of sand hills, covered in the more abrupt parts with bent, and in the others with tolerably good pasture.
The river Brora, the principal stream, is celebrated for salmon of a superior size and flavour, it has its source in the forest of Ben-Clibrig, and after a winding course of thirty miles within the parish, discharges itself into the sea at Brora. The largest sheet of water is Loch Brora, which is about four miles long, and varies from a quarter to half a mile in breadth: its banks are clothed with several clumps of natural wood, and extensive plantations of fir; and the bold and precipitous Carrol rock, with the mansion-house of Kilcalmkill, contributes to its interesting and beautiful scenery.

CHILDREN
1. DAVID SUTHERLAND 1799-1867 – DIRECT LINE

2. CHRISTIAN or Christie SUTHERLAND 1801-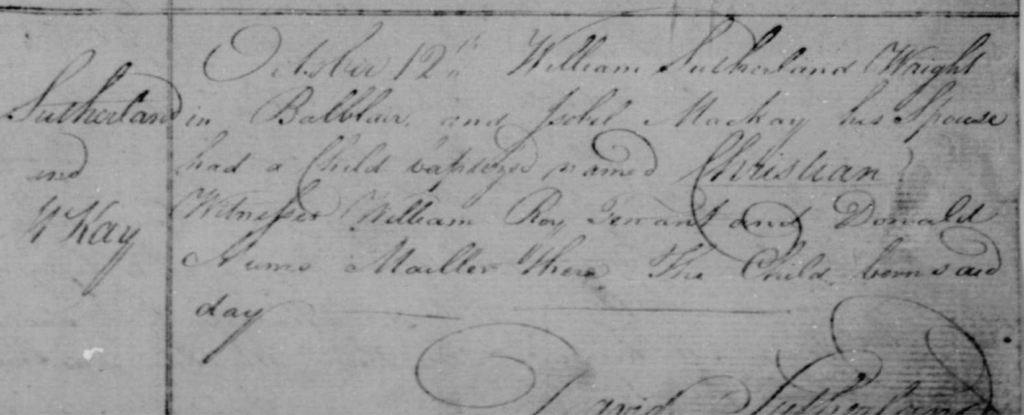 She married into the Campbell Clan to Charles Campbell. No further information on this line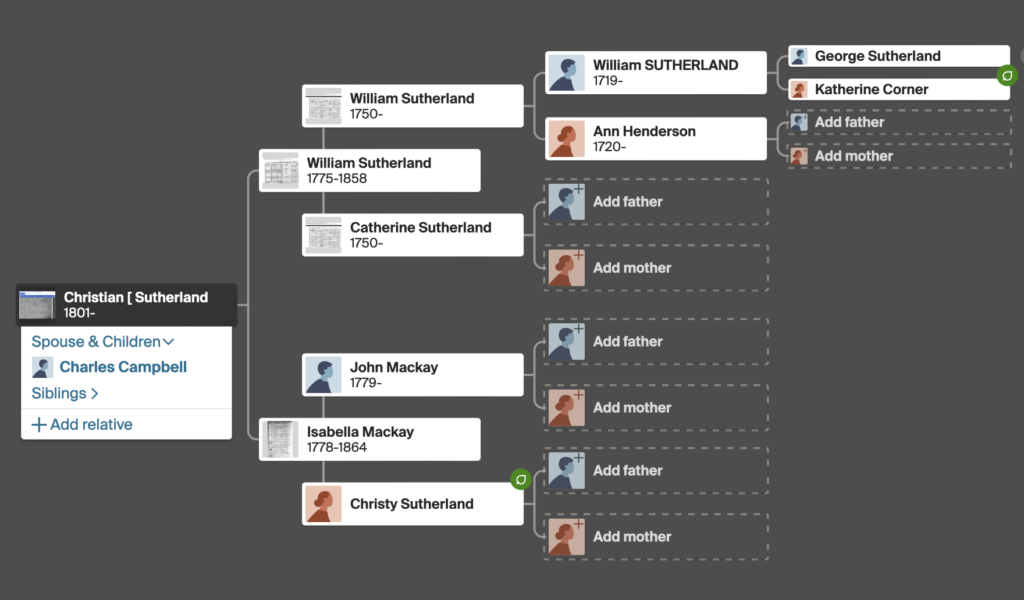 3. HELEN SUTHERLAND 1803-1813
She died age 10
4. WILLIAM SUTHERLAND 1806-1874
William married Mary Mackay in Kilchoman in 1823. They had a large family of Sutherlands who resided in and around the Ardvannie, Edderton, Ross and Cromarty area.
5. HELEN SUTHERLAND 1813- 1900

6. DONALD SUTHERLAND 1814-1873
He married Elizabeth unknown Sutherland and they stayed around the Clyne area. No further information
ALEXANDER SUTHERLAND 1819-1877 – twin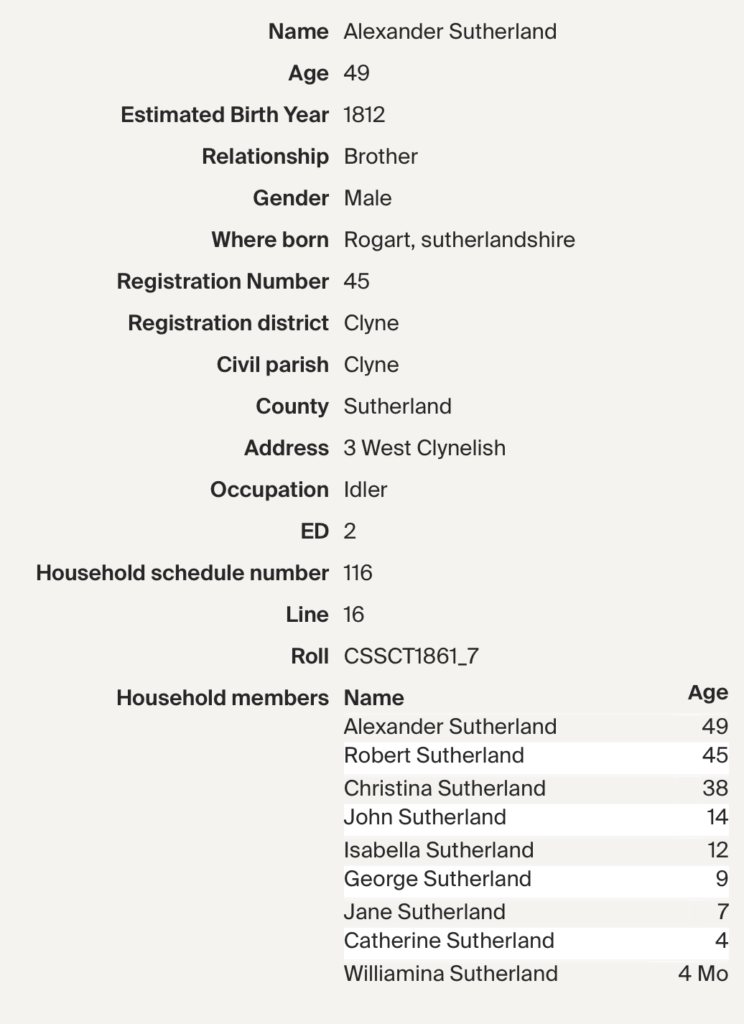 ROBERT SUTHERLAND 1819-1867 twin