We have known for many years of course that Valentina and Minnie Brattesani were both born in Paris in France.
Valentina Brattisani was born 22 July 1869, at 55 Boulevard Pereire, 17th arrondissement de Paris
Thanking Denyse Bertoni for this translation below.
TRANSLATION:
On Thursday 22 July 1869 at 10 a.m., the birth of VALENTINE MARIE, was presented and recognized as of a female, born yesterday at 08.00 at her parents'home Bd Perreire, 55, as the legitimate daughter of JOSEPH BRATTESANI, AGE 27, cantonnier * and of LUCIE COFFRANI, age 23, journalière**certified by the present document, written by me, 17th District of Paris Civil Official Registrar, upon the declaration by the father in the presence of Francois Beausry, age 38, logeur,***—– and of Adolphe Bellio, age 40, lampiste.
Having declared…
Signed Beausry and Belliot
Professions:
* roadman
** worker paid daily (maid?)
*** landlord
**** lamplighter (underling?)
.
Minnie was also born in Paris in 1884. There is fifteen years inbetween these two sister's births. Their father Giuseppe or Joe travelled between Parma, Paris and Edinburgh with his wife Lucia for many years, as is confirmed by the dates and places of their children's births.
Valentina, the eldest was born in Paris, 1869-1905
Rose was born in Parma in 1872 – 1879-1929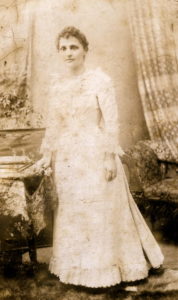 Maria was born in Leith in 1879. She married John Fusco and they had a large family, one of whom is Richard Demarco the Edinburgh entrapeneur.
Minnie and her twin Julia was born in Paris in 1884. Not sure what happened to these ladies. Can any of the family help.
Dominico Giulio was born in 1885 in Edinburgh
Louise was born in Edinburgh in Middlefield in 1888.
Louie, the youngest was born in Edinburgh in 1898
The address we have for Valentina's birth is in Paris's 17th Arrondisment at an address 55 Boulevard Periere. The street is a wide boulevard, a
busy thoroughfare where small businesses would have been in abundance. Today a hotel stands on the site 51 Boulevard. Pavillon Pereire Arc de Triomphe/
Suzanne, our cousin from Nardo Quilietti's line has been doing some research about the Brattesani line in Paris.
She has found the birth certificate of Valentina, above, and also found out that there are other Brattesani folks residing in the Paris region today.
The big question mark regarding the Brattesani family, and our branch in particular, is why our Joe and Lucia moved between the three regions of Edinburgh, Paris and Parma for many many years. It has now been found that Angelo Brattesani, brother of our Joe had moved to Paris probably at the same time as Joe and Lucia had circa 1865. There was at this time in Paris a lot of work and it is believed that the brothers at first worked on the roads helping build the new Paris which was emerging at this time. Angelo had a son also called Angelo who we now believe remained in Paris with his brother Clement. It is Clement's line who are still in Paris and her regions today. Clement was married to Josephine Spagnoli.
Joseph's birth certificate is hard to read because it is quite faded and the italics are horrendous to read. However, he was born 1/5/1912 Rue Etienne Marcel, 150. Montreuil.
Married: 1st. Gabrielle Lucienne Cerignan in Joinville-le-Point, Val-de-Marne, 18/1/1936 – Then divorced in March 1947
Married 2nd . Therese Elizabeth Clergeot (not sure the spelling is right) in November or December 1947 in Paris.
Joseph Died. 31/12/1986 Paris 13th arrondissement.
Parents: Clement Brattesani aged 36 and Josephine Spagnoli aged 26 (housewife).
Witnesses: Angelo Brattesani aged 44 living at 94 rue des Sorins, Montreuil.
And Joseph Rossi aged 50 who was residing with them at Rue Etienne Marcel, 150. Montreuil .
Another 1911 census shows a Marie Brattesani, but what it also shows is the large amount of Italian families in the neighbourhood, numbers 22,23 and 24 have Italian families and at number 19 a family from Bogotora Parma?
There is Estelle Brattesani, a French actress and comedienne living around the Paris Region. There is a link below to a u-tube session with her as one of the comediennes. But of course, it is in French..
http://www.youtube.com/watch?v=s3Zjvoopn7A,
http://www.youtube.com/watch?v=s3Zjvoopn7A&feature=mfu_in_order&list=UL
I will now insert a paragraph from Estelle Brattesani found on the Ancestry.com Website It is from the year 2004 on one of the Postings.
Hello, my name is Estelle Brattesani, I live in France, in Lyon. I am 24 years old and would like to know if you are a member of my family. My grandmother was Fulgeda Brattesani and was born in Roma. My grandfather was Emile Brattesani and would have been 90 if he was alive [2004].born 1914. Is Brattesani a name you would find easily or would there be a chance that we might be part of the same family.
Actress-singer, Estelle Brattesani also engages in writing, whether for her songs, shows, or for the first time, her collection of stories … After studying international law abandoned her at the age of twenty years for the sake of creation, she trod the stage in many theaters of classical pieces and contemporary, played in various audiovisual works, was scouring the piano-bars, orchestras, recording studios, and was singer-songwriter in various music groups … Having written and directed adaptation of the novel by Katherine Pancol "The cruel men do not run the streets," Estelle has just completed writing his next play entitled "The two faces of the moon" with the aim identical to that of his first book encouraged readers and viewers, with derision, and emotional punch, to think for themselves, to discover or develop in them the access to joy, love, balance and consciousness ..
I
Suzanne also came across an old prisoner of war list from 1940 with a joseph Brattesani born in suburbs of Paris in 1915?
Could this Joe be related to our own Joe. Well all the evidence leads to a big YES. Perhaps Estelle will provide her family lineage. Montreuil
Montreuil,
sometimes unofficially called Montreuil-sous-Bois) is a commune in the eastern suburbs ofParis, France. It is located 6.6 km (4.1 mi) from the center of Paris. It is the third most populous suburb of Paris (after Boulogne-Billancourt and Argenteuil). Montreuil is located near the Bois de Vincennes park
I will now insert a paragraph from Estelle Brattesani found on the Ancestry.com Website It is from the year 2004 on one of the Postings.
.