Again for our pleasure and sponsored by Angela.
With thanks to James Dora who has identified these men below
In the Italian Scot Mens group Photo. starting from the bottom row up. The second row and first one from the right with a hand on his shoulder is my Great Grandfather Guiseppie Dora born in 1860 in Rovinaglia .
The son of Gian Maria Dora born 1838 and Maria Brattesani born 1840 also from Rovinaglia. The Doras date back to 1674 in Rovinaglia and I believe the Cura family as well.
The Family may have gone back and forth to Nice, France. The family returned to Rovinaglia around 1750 and married into the Ferrari, Cardinalli, Delnevo, Orsi and Brattesani families in that order. Guiseppe Dora was also in the Fish N Chips business and when he retired his oldest son Peter Doratook over and Peter then changed his name to Doran while in Dundee. Guiseppie Dorathen moved to Porcigatone and is buried in Brunelli.
Giulio Giulianotti is standing in the centre of the photograph. Henry, Enrico, Eduardo and two unknown Giulianotti men are also here. Can anyone recognise them.
The next group photo was of Men of the Italian Community photographed in Aberdeen in 1925.
Again we have Giulio Giulianotti fifth from the left seated at the front.
Eddie Giulianotti is third row extreme left. Along from him in the third row is Vicci Giulianotti, count eight from the left.
The fifth person from the left on the second row is a Giulianotti. Three along from him is Joe Giulianotti.
This photograph was included in Terry Colpi's wonderful book Italian's Forward. But our Angela has an original copy. Amongst these folks are Zanre, Berni, Razzoia, Marcella, Carcone, Tortolani, Ferrare, Pizzamiglio, Bonici Crolla, Becci, Meconi, Zecca, Dora and Tortolano males. These families were well known in the Aberdeen and surrounding areas
Many of these families originated in the Borgo Val di Taro region of Parma in Italy and their would have been family social interaction amongst them .
The next photograph is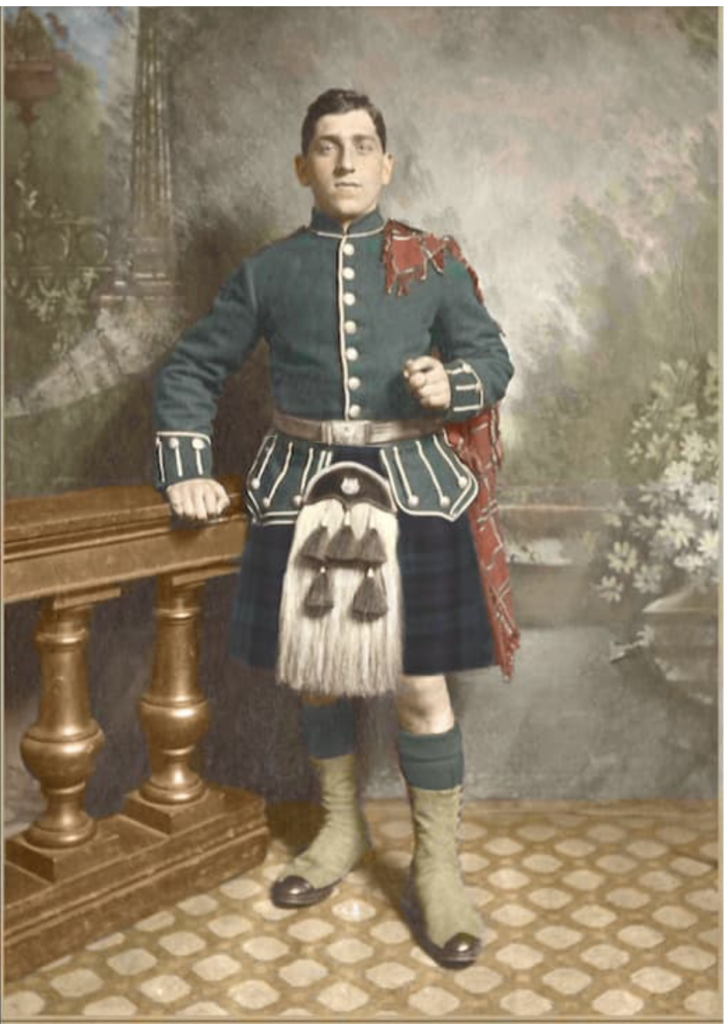 Joe served in the 3rd Batallion of the Royal Scots and was in service when he married Susan Anderson Lamb in 1918. Joe was the eldest son of Giulio Giulianotti and Rose Brattisani.
Next we have
Is this Anthony Giulianotti with an older brother.
Next
Who was she.
The next photograph looks like one of the four unknown Giulianotti children.
Do we have a name for this handsome chap.
This family portrait group was taken at the Latimer Studio of High Street in Kirkcaldy in Fife.
Please now see the comment below from the grandaughter of Gerardo Demarco. She believes that the family above are that of her great grand uncle, her grandfather Gerardo's brother. Her name is Anna Valente. There is much social interaction between the Valente family, the Demarco's, the Neri's.
The next photo again is taken in Jerome's in Leith Street, Edinburgh.
Thought this one of the Costella brothers but I was wrong. Does anyone else recognise this photograph.?
This lovely photograph is of an Italian lady nursing her baby. The pram itself is a portrait in the making.
What a great snap this was. She is holding a lucky black cat in her arms as well as the baby on her lap.
The bride and bridegroom.
At the back of the post card is written 'With kindest regards from Mr. & Mrs. Fusco [John]. It does not seem to date back to the marriage between John Fusco and Mary Fusco which took place on 25th October 1898. Maybe Francis Fusco could help us out here. They were a very handsome couple.
The next photograph was taken at the Ideal Photographic company.
This photo was taken at the Ideal Photographic Studios which were situated at 10a Greenside Place between the years 1919 right up to 1960.   For most of this period James  Edward Greenfield was the photographer.    So we have a lot of years to search for this fortunate baby.   It could have been a Quilietti baby or even a Costella baby as both had children circa 1919.   Photograph now confirmed as Louie Costella, son of Louisa Brattesani .  Thank you Louise.
They had premises at 10 Greenside Place, Edinburgh. This address of course is well known to us at No. 9 Greenside Place was where the Quilietti and Brattisani family lived for many years from 1901 to 1935 or so.