Maddalena FRANCHI was born on 26th December 1794. She was baptised on 27th December 1794, in the village of Vorno, just south of Lucca, She was the daughter of Francesco Franchi and CHIARA MARIA BARBONCHIELLI.
Maddalena was the mother of Leonardo Quilietti, so therefore her heritage is very important to us in our genealogy quest and the full understanding of our roots. She is my 3rd great grandmother.
She married farmer Firmo Praccia from the same village in the year 1820.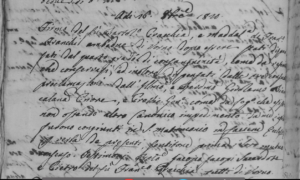 1821 saw the birth of their first daughter whom they named Annunziata and her baptism is recorded below in the the Vorno Church Archives.

Then their son Giuseppe was born on 24th April 1824

It was in Vorno that the family lived and worked the land. Records tell us than many from the village were described as peasants, living and working alongside their close relatives, parents, brothers, sisters, cousins etc. etc.
The last recorded child was Francesco who was born on 17th September 1828 and baptised the following day in the Vorno Church.

The year after her son's death her husband Firmo died [1830] leaving her with a young family.
So between the years of 1830 and 1838 there is no further information we have to hand. It was on November 26th 1838 that Leonardo was born. His Christian name would have been because of his Saint's day. Which was Saint Leonardo.

If you look closely at the baptism record you will see the entry directly below the birth of Leonardo. Saturnino, son of Annunziata, daughter of Firmo Praccia. Born out of Wedlock 28th November 1838. So Leonardo was already an uncle to Saturino age 1 day old. Saturino was also put into the hands of the Church.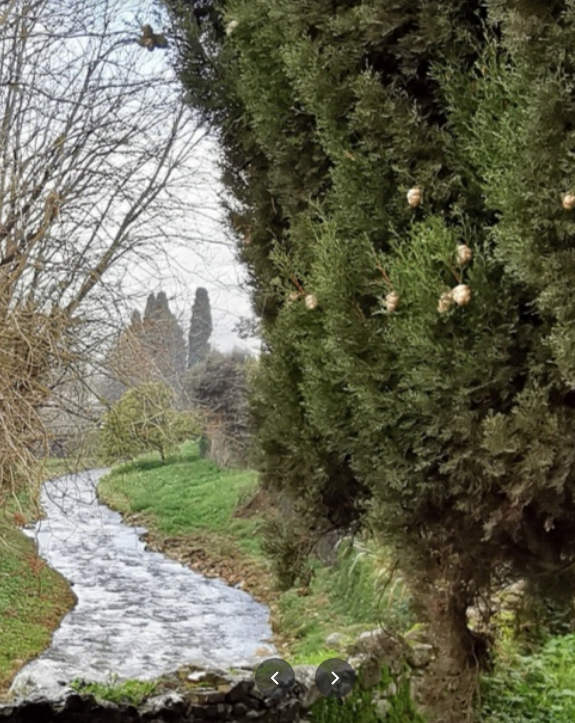 Whatever had happened to the family at this time could not have been pleasant. Two babies born within one day. Annunziata would have been 16.
However Maddalena also died at this time just after giving birth to Leonardo. She was age 43.
Leonardo was presented to the Vorno Church and taken there by Iacopo Olivieri. There is absolutely no proof that Iacopo was the father of Leonardo or just one of the many people from the village with the surname Olivieri. But we do know that both he and his father lived nearby to Maddalena as is shown in the census entries below.
The family Praccia are two, one with Firmo and Maddalena, the other with Pietro, who must surely be Firmo's brother. They both have daughters called Annunziata, therefore assuming that they have an ancestor with that name. It was custom to call the first born daughter after the paternal. grandmother.
The Olivieri family were many and would have most likely all been connected.
The locals would have relied on working the land, as their occupations above imply, farmers, weavers and clothes washers.. And of course the olives would have grown on the dry fertile lands much as they do today. The peasants would work the land and their masters would provide a roof over their heads in return for their hard work.
Just before this time, and not long after the fall of the Medici family Tuscany fell into hard times and obscurity. Remembering that Italy was not unified until the 1860s and their provinces were really little countries of their own. The ruler of Tuscany at that time was an Austrian, the Duke of Lorraine. This Duke tried to modernise the province by reorganising local authorities, by enacting agricultural improvements and draining of some of the lands to enable better conditions for their vines.
This would almost certainly have been how our ancestors lived here at this time.
In the 1823 Cencus, we find Firmo Praccia who was aged 40 living with his wife Maddalena who was 28 years old. There is no indication on the census of Maddalena's maiden surname. But we now know it was Franchi.
At the time of this census they had two children Annunziata aged 2, born 1821 and Maria Francesca 6 months. Maria died the following year. In 1824 Giuseppe was born, then Angela in 1826. These are Leonardo Quilietti's siblings. There would have been no doubt that other children would have followed and can assume that their marriage would have been around the year 1820.
Giuseppe died in 1905 and Annunziata in 1890. Angela still to trace. Unsure if the family had any more children. Annunziata gave birth to an illigetimate son the day after Leonardo was born in 1838. He too was given into the same orphanage as Leonardo.
Alongside them on the same census living right next door was Iacopo Olivieri aged 48 years old and his son Iacopo Olivieri aged 27 years. Iacopo was the person who presented Leonardo to be baptised and handed him over to the hands of the orphanage in the year 1838. It is our belief that Maddalena and Iacopo were Leonardo's natural parents.
On the same census in the same street, living alongside Maddalena were other families with the surnames of Olivieri and Praccia. They would have been siblings, cousins, parents and grandparents. If you visit the Vorno cemetery today you will find the lairs filled to bursting with locals with these two surnames. No doubt that some of Leonardo's siblings, cousins, and maybe even Maddalena herself will be laid to rest here.
We know now the full circumstances of why the baby was given up. But we can be grateful that the church did look after him. Our Quilietti family history starts right here with this baby Leonardo, named after the Patron Saint of the day he was born, SAINT LEONARDO Da PORTO MAURIZIO.http://www.comunidellaprovinciadilucca.it/uk/index.php?option=com_content&view=category&id=9&Itemid=19
SAINT LEONARDO.
As a post script to this page I would be just delighted to find any ancestors of any of Maddalena's relations who are still in Italy or scattered to other corners of the globe. Thank you Helen Quilietti Stanton