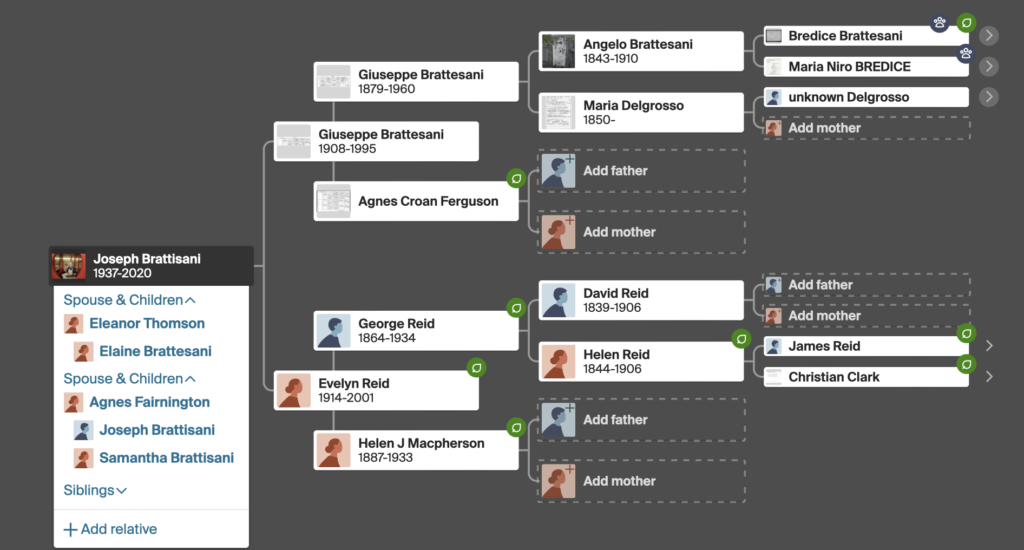 So this branch of the family arrived in Edinburgh circa 1890. There were already cousins in the City at this time actively involved in the restaurant and fish and chip shop businesses. Angelo Brattesani's brother Giuseppe Brattesani was here with his wife and family and running businesses out of the Greenside area.
Giuseppe 1879-1960 married in 1906
Their forebears emigrated to Edinburgh from Parma, Italy in the 1870s, and were one of the first wave of Italian families to settle in the city.
OBITUARY for JOSEPH Junior 1937-2020. Edinburgh Evening News
Opened in 1889 by Joe and Charles' grandfather, the original fish and chip shop was located on Church Lane, Stockbridge – the Capital's first ever Italian-owned chippy.
When their grandfather enlisted with the Italian army during the First World War, the shop was kept going by his wife.
Thankfully, Brattisani senior survived the war, and upon returning to Edinburgh the pair decided to open a new outlet – the Deep Sea – on Union Place.
Eventually sold on to the Crolla family, the Deep Sea was long-regarded as the finest chippy in the Capital. Following the demolition of Union Place in 1970, the Deep Sea moved to Antigua Street where it remains to this day.
Next to be handed the Brattisani fish and chips baton was Charles and Joe's dad, Joseph, who would go on to be known locally as "Mr Chips". Joseph owned five restaurants at one time or another throughout Edinburgh. Charles and Joe followed in their father's footsteps.
Charles Brattisani opened his first shop in 1961, lending the family name to what became a very popular fish and chip restaurant on Henderson Row. Meanwhile, Joe ran another busy chippy on Brougham Place, Tollcross.
The Haymarket and Newington branches – the most famous of all the Brattisani-run eateries – were opened in 1966 and 1970 respectively.
Both of these chip shops survived for over three decades.
True institutions, they were the first chip shop to receive a four-star rating from VisitScotland, and renowned enough for local crime writer Ian Rankin to name-drop them in his Inspector Rebus novels.
Mr Brattisani was a loving husband to his late wife Muriel, loving dad to Samantha, Elaine and Joseph as well as a loving brother to Maria, Eric and Charles and grandfather to Olivia.