The children of Mariana and Francesco were
MARIA OR MARY DANTE . Maria was born on 13th February 1867 in Castelvecchio [Pascoli], and died on 16th November 1947 in Lincoln, Rhode Island. She married Vitorio Marriana who was from Piaggio in Italy. They married in 1894 in Rhode Island. He was employed as a Printer of Cloth in the mills on the River. They had 6 children who all remained in Rhode Island
Enrico Dante was born in 1868 in Castelvecchio. Have no further information on Enrico.
Giuseppe Pietro Ferrucio Dante 1876-1953. He married Ermenia Quilietti
Henry Dante born 15th August 1880 in Castelvecchio. He died in Rhode Island on 19th October 1945. He worked in the Mills and in 1915 was described as a Machinest. In a later census he was described as a Baker. No further information on Henry except that he never married and stayed with his sister Nellie and her husband James Aurielo at 338 Roosevelt Avenue in Pawtucket. He owned his own home and was still recorded as an Alien, which might have meant that he was rounded up in WW2.
Giovanni Giuseppe Dante born in 1882 in Castelvecchio. He died after 1954 in Rhode Island but have no further information.
Ellen or Nellie Teresa Dante was born in 1882 in Castelvecchio and died on 2nd April 1948 in Pawtucket. In 1915 she married James Aurielio who was from the Borgotora region of Parma in Italy. James had several jobs and latterly one of School Janitor. They lived in Roosevelt Avenue with Nellie's brother Henry. They had three children Annie, Albert and John.
The Dante family made their way to Rhode Island circa 1884 with young Henry being the first to arrive . Their first destination we believe was Baltimore. They operated a fruit business for many years. Their son Pietro Dante was their eldest son and we know that he travelled the Atlantic Ocean on more than one occasion returning back home to Italy.
The Danty [Dante] family are documented as arriving in the U.S.A. when we find Francesco Dante with his son  Enrico Dante, as being absent from their village and already in America. They had annual census information documented in the local churches and this also gives us detailed information as to when they left the villages.
The Fruit business was to be Frank's chosen profession in Pawtucket and the family worked from several addresses over the years, although he was a confectioner and a clerk according to the yearbooks of the district.
Elsie Dante recalls her young life and 338 North Main Street, the residence of her grandparents. '338 North Main Street, it was an old shack, I didn't like it, it stank of mould didn't it [asking Alma]. It wasn't that big, but there was a tenement at the back through. It wasn't nice at all. I don't know how they stayed there all those years.'
The Dante family resided for a while in San Francisco, the year 1920, but they returned to Rhode Island.
In the year 1904 Frank died age 65. He is buried in Mt. St. Mary's Cemetery in the town.
Annie Theresa died on 23rd May 1929 age 85 years.
Poverty was the main motivation for an Italian leaving his family and home and putting up with the hardships of traveling to America. In 1898, widespread "bread riots" plagued all of Italy, with people protesting the lack of jobs and the sudden increase in the price of wheat and bread. Other motivators were the constant political strife and the dream to return to Italy with enough money to buy land and improve their lives. 80 percent of Italians were farmers and couldn't afford modern farming equipment to better their lives. Rural Italians lived in harsh conditions, residing in one-room houses with no plumbing or privacy. In addition, many peasants were isolated due to a lack of roads in Italy.
From 1880 to 1920, an estimated 4 million Italian immigrants arrived in the United States. Most came between 1900 and 1914, and most came from southern Italy and Sicily. Italian unification in 1861 worsened conditions in the mother country. Plus the soil was exhausted, taxes and tariffs were high and young men were conscripted for seven years.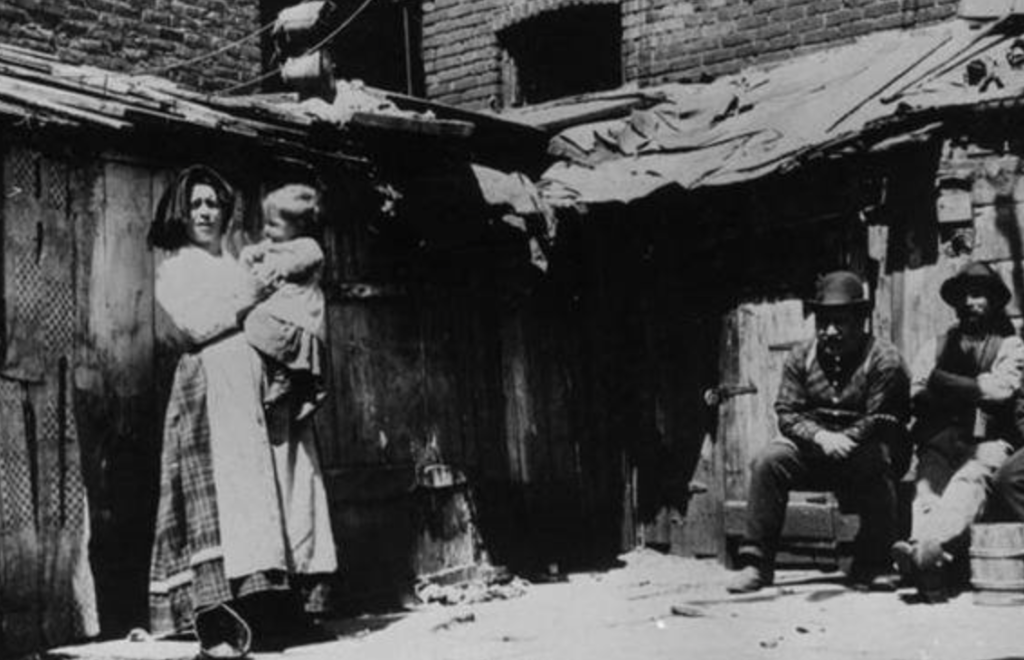 Due to the large numbers of Italian immigrants, Italians became a vital component of the organized labour supply in America. They comprised a large segment of the following three labour forces: mining, textiles and clothing manufacturing. In fact, Italians were the largest immigrant population to work in the mines. In 1910, 20,000 Italians were employed in mills in Massachusetts and Rhode Island.