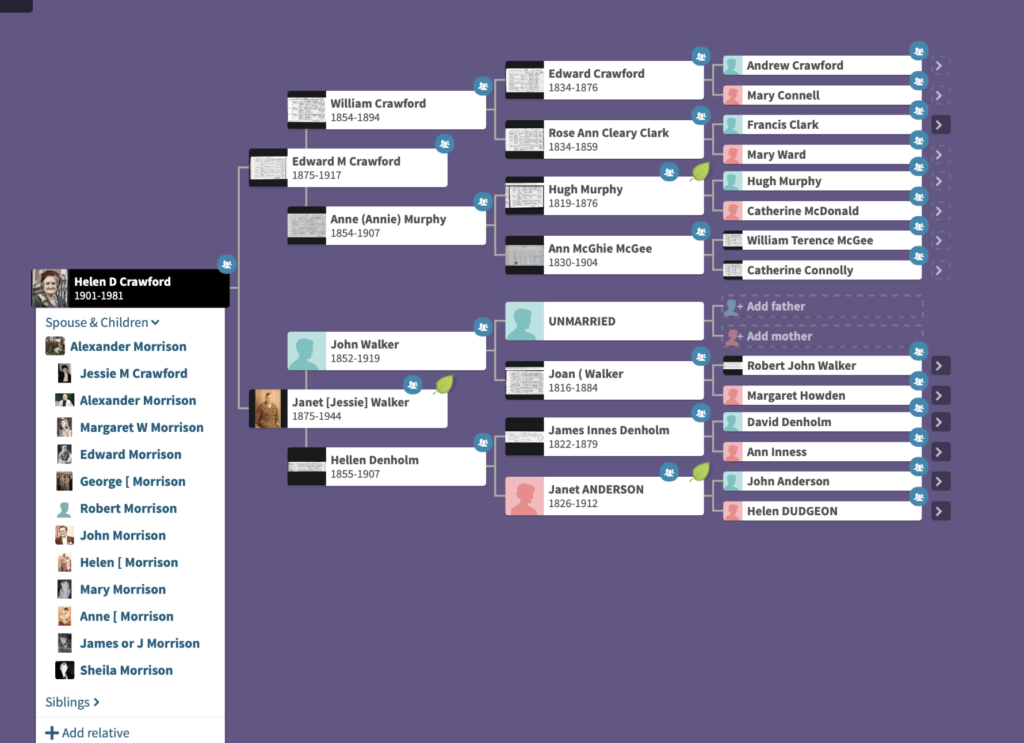 Our branch of the Crawford family stem from across the sea to Ireland. The place of origin was Nobber in County Meath. Thanking Michael Crawford for his input
NOBBER, County Meath, IRELAND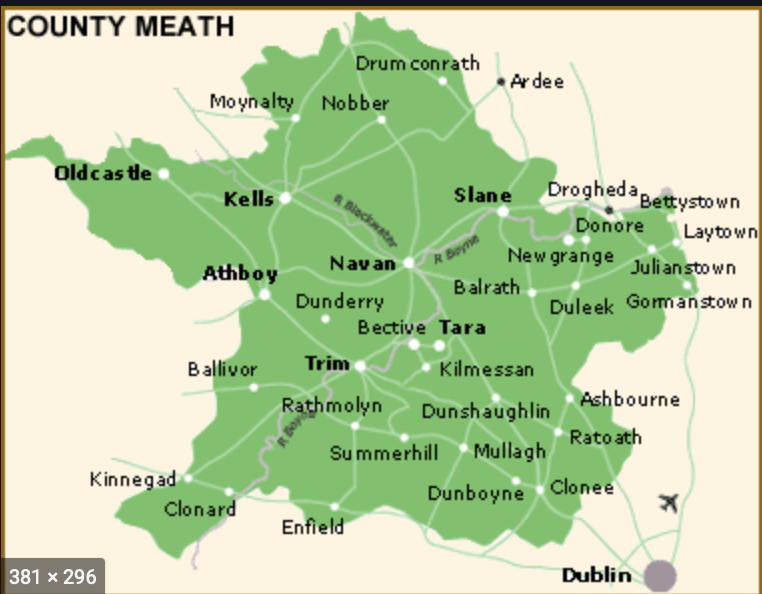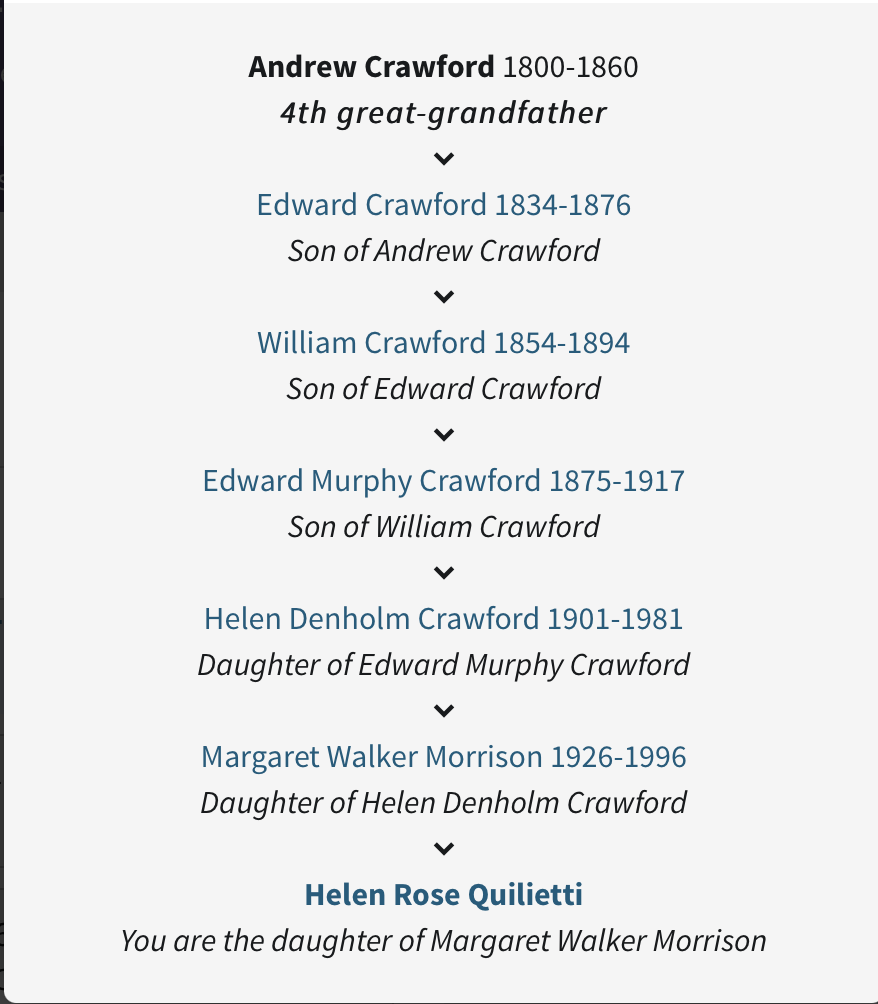 The Crawfords and the Morrisons were both residents of Edinburgh's old town, the Canongate , the Cowgate, and their neighbouring streets. One family had fled the famine from Ireland and the other the highland clearances.
The two families were poor and hardworking and made the most of what life threw at them. Both families had army connections through their ancestral lines and were stationed at Edinburgh Castle.
Helen's dad was Edward Crawford and he was born on 22nd August 1875 at 11 Steven's Law Close, The Cowgate, Edinburgh. Helen's mum was Jessie Walker. They had married in 1901 in Edinburgh.
Edward Crawford's [1875] father was William Crawford [1854] and his profession was a combmaker although at some time he was in the Army as is documented His mum was Anne Murphy [1854]. They were of Irish descent. William and Anne had met and married in Edinburgh in St. Patrick's in the Cowgate on 12th March 1872 when they were only 18 years old. Their children were all baptised there as well.
This vital marriage gives us of course another generation with William and Anne's parents.
William's dad was Edward Crawford [1830] and he was a blacksmith by Trade. William's mum was Rose Ann Cleary or Clark [1830]. different documents give her different surnames but on her death she is given the surname Clark.
Rosa died in 1859 with complications after childbirth and his father remarried to Catherine Clark again in St. Patrick's R.C. Church in the Canongate, Edinburgh in 1860.
Edward Crawford's parents were Andrew Crawford born circa 1800 and Mary Connel, making them our 4th great grandparents.
Anne's father was Hugh Murphy, a plasterer's labourer and her mum was Ann McGee.
Back in Edinburgh in the year 1872. William and Anne started their family of seven, which was not considered too large in those days, the days before contraception had been discovered. There was Hugh 1872, William 1873, Edward 1875, Francis 1877, Rose 1879 Anne 1881 and Andrew 1882
Edward [1854] and Ann's son William Crawford [1873] carried on in life and became a poulterer. On 1st September 1899 he married Nellie Miller in St. Patrick's R.C. Church in the Cowgate. He lived at 3 South Niddrie Street at the time. This street is also situated between the Cowgate and the Royal Mile in Edinburgh's old town. We still have to trace any of their offspring.
A combmaker was a distinguished trade back then and this is a wee bit about what the job entailed. The family fell into hard times and William's profession changed with it. William joined the Army and left for war. The younger children were put into Industrial Homes, which were springing up all over Scotland at the time..
The comb is a well-known instrument made .of horn, ivory, tortoise-shell, box, or holly-wood, and if used for separating, adjusting, cleansing, and ornamenting the hair. The commoner sorts of combs are generally made of the horns of bullocks, or of elephants' and sea-horses' teeth ; some are made of tortoise-shell, and others, of box, holly, and other hard woods.Tortoise-shell combs ure very much used ; and there are methods of staining horn so as to imitate tortoise-shell, of which the following is one : the horn to be dyed, must first be pressed into a fiat form, and then spread over with a paste made of two parts of quick lime and one of litharge, brought into a proper consistence with soap-ley. This paste must be put over all the parts of the horn, except such as are proper to be left transparent to give it a nearer resemblance to tortoise-shell. The horn must remain in this state till the paste is quite dry, when it is to be brushed off. It requires taste and judgement to dispose the paste in such a manner as to form a variety of transparent parts, of different magnitudes and figures to look like nature. Some parts should also be semi-transparent; which may be made by mixing whiting with a part of the paste to weaken its operation in particular places ; by this means, spots of reddish brown will be produced, so as greatly to increase the beauty of the work. Horn, thus dyed, is manu- factured into combs, and these are frequently sold for real tortoise-shell.A green dye may be given to ivory, by steeping it in nitrous acid, tinged with copper or verdigris ; or in two parts of verdigris and
one of sal ammoniac, ground well together with strong white wine vinegar poured on them ; and by converting the nitrous acid into the oxygenated muriatic acid (aqua regia) ; i. e. by dissolving a fourth part of its weight of sal ammoniac in it, ivory may be stained of a fine purple colour.Ivory, bone, horn, and other substances, adapted to the manufacture of combs, may be stained yellow, by boiling them. in a solution of one pouud of alum in two quarts of water, and afterwards boiling them in a decoction of turmeric root. Ivory, &c. may be stained blue by first staining it green, and then dipping it in a solution of pearl-ashes made strong and boiling hot. It may be done also by boiling in a tincture of indigo prepared by the dyers, and afterwards in a solution made with three ounces of cream of tartar dissolved in a quart of water. Combs are not only made for the purpose of cleaning the hair but for ornament ; they are sometimes set with brilliant stones, pearls, and even diamonds; some again, are studded with cut steel ; these are of different shapes, and are used to fasten up the hairn when ladies dress without caps. Of course, combs may be had of all prices, from the value of a few pence to almost any sum.

Their son Hugh was the eldest and as we can see from these two photographs below he joined the Army in Edinburgh and with the local batallion of Royal Scots Lothian Region who were stationed at Edinburgh Castle. This information has been sent to us from his great grandaughter and thank you so very much for this.
Hugh married……………………………….and had at least two children, Annie and Douglas Crawford…awaiting confirmation from daughter
Edward Murphy Crawford was born in the year 1875. He married Jessie Walker in the United Free Church in Marchhall Crescent in Edinburgh on 6th September 1901. Edward's trade was described as a fishmonger and he lived at 1 St. John's Street in Edinburgh, which was a street just north of the Canongate in Edinburgh. Jessie lived at 4 Chessell's Court, Canongate, an address connected with the Walker and Morrison families for many years. The Morrison and Walker families were protestant in faith and the marriage was the start of a new era for this branch of the Crawford family whose faith had always been one of Irish Roman Catholics. They resided for many years in St. John's Street and latterly in Chessell's Court. He died on 10th May 1914 of pheumonia and he was only 39 years old. His address given as 2 Chessel's Court and his profession as a scavenger. But just to let you know Edward Murphy Crawford that your ancestors are very much proud of your life and we owe part of our existence in what you sacrificed for your children back then. Always in our hearts…..
Granny Crawford survived to see two wars and to see their children and grandchildren grow. It was on 29th December 1944 she passed away in her daughter's home at 50 Niddrie Mains Terrace [Ma Morrison's home]. Her usual residence was 10 Hay Avenue, just around the corner from her daughter Helen. Her son Sam Crawford was witness and he resided at 34 Niddrie Mains Drive at this time.
Their family came along as follows
HELEN DENHOLM CRAWFORD or 'Ma' Morrison was born on 1st November 1901 at 1 St. John's Street in Edinburgh. She married into the Morrison family
EDWARD CRAWFORD was born on 4th March 1904 at 40 Jamaica Street, Edinburgh. He married Margaret Geoghegan. Edward went on to become a monumental sculptor and he lived until he was 80 years old. They had a large family of whom we still have to contact. He died on 16th April 1984. His families names are Mary Ann 1928, Jessie 1930, Margaret Rose 1932, June 1938, Edward 1941, Edwina 1941, Anne Maureen 1945.
ROSE CRAWFORD was born on 21st July 1906 at 6 Chessel's Court. She married into the Kane family also from Ireland
JOHN WALKER CRAWFORD was born on 28th December 1908 at 6 Chessel's Court, Edinburgh.. He married Peggy Smith and we still have to trace his family.
SAMUEL GEORGE WALKER CRAWFORD was born on 10th July 1911 at 6 Chessel Court, Edinburgh. He married Catherine Brady Cromie in 1937 in St. Andrew's Roman Catholic Church, Ravelston Place in Edinburgh. We still have to trace his family
WILLIAM CRAWFORD was born on 2 Feb 1914 at Ashley Building in the Canongate, Edinburgh. He married Helen Forrester in 1939. They had one daughter Heather who was born in 1944. They lived until they died in Abbeyhill Colonies, Edinburgh. We all remember uncle Willie and aunty Helen.
JAMES CRAWFORD was the youngest member of the family. He was born on 29th November 1917 in 2 Chessel's Court, Canongate, Edinburgh. We still have to trace James and his family