BRATTESANI/FUSCO/DEMARCO
Our Great Grandmother Valentina Brattisani Quilietti had several sisters, and her siblings were born in either Parma, Paris or Edinburgh.   Mary Brattisani was born in Edinburgh in the year 1878.   She is our  link to this branch of the Fusco family.
John Fusco was of Italian/Irish descent.  His father was Luigi Fusco and his mother Elizabeth [Chavine] McGuinness. John had one other brother Joseph.
Mary Brattisani  and John Fusco married in St. Maray's Cathedral, Broughton Street, Edinburgh on25th October 1898.  They started off their family life in the High Street in Edinburgh's Old Town which at that time was a festering den.  They soon moved down to Portobello which became their home for many years, first in the High Street and then to their house in Bath Street.  Their marriage was blessed with thirteen children of which twelve survived.
FRANCIS FUSCO, their son, born in the year  1918, has helped us solve some family history mysteries and put names to the unidintified photos sponsored by our cousin Angela Giulianotti.   Thanks also to our other cousin,  Louise Costella for her part of the great identification run.
The children of Maria Brattesani and John Fusco  are as follows.
LUIGI FUSCO

was born in 1899.   He was born in the High Street in Edinburgh.   He died in 1903

ElIZABETH VALENTINA FUSCO

was born in 1901. She  married a handsome lad whose family were also steeped in Italian history, also coming from the area of Picinisco that  her  own Fusco family had originated.   His name was Carmine Demarco.  They had three sons,

Richard 

born  9th July 1930 , Michael born 1931  and Louis born 1934.

Richard married Ann Carol Muckle on 27th December 1956. Richard is not only a teacher and artist, but the great promotor of  the Edinburgh Festival and her visiual arts  Richard is Edinburgh's greatest artist  and has done immense work for our Edinburgh Festivals for the past 60 years.  .http://www.richarddemarco.org/documents/35.html

GIUSEPPE FUSCO was born on 27th April 1902 at 63 St. Mary's Street, Edinburgh. Affectionately known as   Joe, he  married Angelinaa Franco on 17th July 1924 at St. Ninian's R.C. Church in Portobello.  They  had two sons and three daughters.   I know about Monica who was born in 1904 and Francis who was born in 1942.
thank you John Breen for your comments regarding the children of Joe and Angelina  There was also John Fusco  and Marie Fusco.    Both John and Francis have passed away within two weeks of each other in 1909.   Monica married into the Weiczorek family and her sister Marie into the Reglinski family.  They both still live in the Restalrig/Craigintinny area of Edinburgh and remain close friends with John Breen above mentioned.
LUCIA FUSCO was born on 6th January 1904 at 151 High Street, Portobello.  She married Edward Dunne Maher on 6th April 1926.
MARY FUSCO  born 10 June 1906 at 151 High Street, Portobello, Edinburgh.  She married Luke Connor on 2nd January 1936 at St. John's R.C. Church, Portobello, Edinburgh.  Of their children Bobby emigrated to Australia where he still lives today.   There was also a daughter who became a nun  Sr. Margaret Connor.   Margaret died only two years ago in 1910.   Mary Fusco died on 20th January 1997.
JOHN FUSCO, was born on 21st March 1908 at 151 High Street, Portobello.The photograph below is of four Fusco male siblings.  Joe and John at the back.  At the front is Francis and Tony.  There is a sixteen year span between these brothers"  John went on to become a PRIEST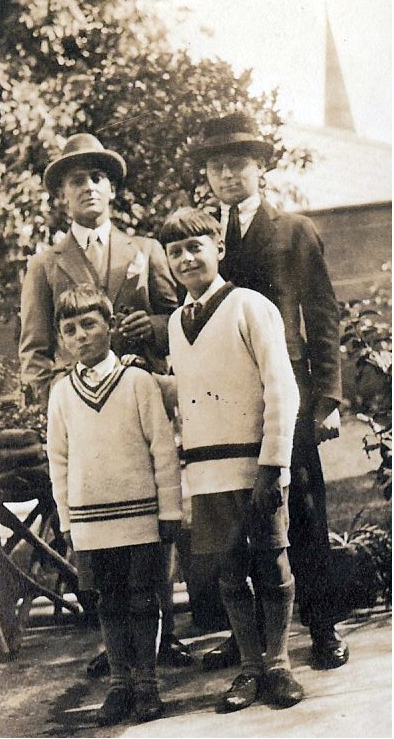 The Reverend Father died in 1994.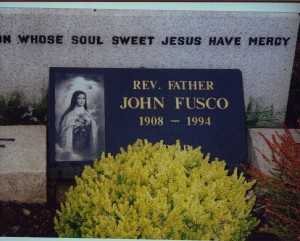 PHILOMENA FUSCO, born on 1st March 1910 ata 151 High Street, Portobello, Edinburgh.  She moved to England for a short period  having eloped to Gretna Green with Alex. Donnelly, a soldier.    They had no children.  In later years she and her sister Kathleen were housekeepers to Father Walter Glancy who was Priest at St. Peter's R.C. Church at Morningside in Edinburgh
TERESA FUSCO, born on 25th February 1912 at 151 High Street, Portobello, Edinburgh.  Teresa married John Lawrie Thomson on  23rd  October 1935 at St. John's R.C. Church, Portobello, Edinburgh.
ANTHONY FUSCO, born 20th May 1914 at 151 High Street, Portobello, Edinburgh.  He married Dorothy Malcolm on 13th December 1941 st St. John's R.C. Church, Portobello, Edinburgh.  They had one daughter Kathrine Fusco, known as Kate.   Kate married William Anderson and they have two sons.   They still live in Edinburgh.   Anthony  also married Robina Smith.     He died on 15th June 1958.

KATHLEEN FUSCO, born on 19th August 1916 at 151 High Street, Portobello, Edinburgh.

FRANCIS MICHAEL FUSCO born 27th September 1918 at 151 High Street, Portobello, Edinburgh.  Francis married Mary……………..They had no children.

Francis was in the Navy during the War years.   The image above shows him as First Mate on the Queen Elizabeth travelling from Gourock to New York.



Francis has helped us with the website, now age 93.  He still has a sharp mind and has identified many of the lost photographs inserted into our website.    Thank you again Francis.  He is photographed here on 17th May 2011 with his nieces who are the descendents of Louisa Brattisani and Pietro Costella.




NOEL FUSCO,

born on 24th December 1923 at 9 Bath Street, Portobello, Edinburgh.  He married Teresa Waddie on 14th June 1944 at St. Cuthbert's R.C. Church, Slateford Road, Edinburgh.

  This branch of the family moved to Sheffield where they ran a very successful Fish and Chip business for many years.  It was known as Queenie's fisheries.   This shop was named after Teresa's mother's nickname.    They had a son John who has helped me build a page in his family's honour.   And they also had a daughter Noelinehttp://www.quilietti.com/brattesani-giuseppe-direct-line/accettoli-fusco-line/
Stanting at the back is Elizabeth Fusco, daughter of Mary Brattisani .  Her husband Carmine Demarco stands at her side.   The beautiful bride is Lucia Fusco.  The date was 6th April 1926.   Her husband was  Edward Dunn Maher.  This photograph in my view depicts the wealth of this family at their status at this time.   It is a wonderful photograph.
If you are Edinburgh born and you think of Portobello you  would not just remember the Skylark or the Donkey rides on the Beach or even the famous pier which is now but a memory,
but you  will remember the Demarco Mansion on the Harbour where there would be great gatherings and dances.   You would know of the fish and chips and the ice cream parlours which were where the youths of the late 50s and early 60s would meet.  These memories would be a part of Portobello for years to come and part of Portobello History.
If any of the Fusco family would like to correct anything, or better still add any content about this branch of our family please just leave a comment and I will get back to you…..Helen