DANTE Peter or Giuseppe Pietro Ferucio Dante
PIETRO DANTE was the son of AMELIA THERESA BRUCCIANI and FRANCESCO DANTE. Francesco's parents were Christopher and Ella Dante [the Americanised version of their Italian names Cristifano and Eletta].
Amelia Brucciani was the sister of Eletta Brucciani [my 2nd great grandmother]. Amelia had a son Pietro. Eletta had a daughter Ermenia. The first-cousins married.
The Dante family were amongst the first to leave Tuscany and head for the Rhode Island area in the U.S.A. The year was 1888. This year in particular saw many Tuscans emigrate in greater numbers than at any other time in their country's history.
Francesco started up business at first in Baltimore as fruit merchant and between himself and his two sons they had small shopholdings in the Providence area for some years.
Just want at this time to acknowledge the work of a great friend Jennie Wrenn who helped Helen search for clues about the Dante and Quilietti families on their arrival in the U.S.A. Without her help we would be miles behind. Thank you again Jennie.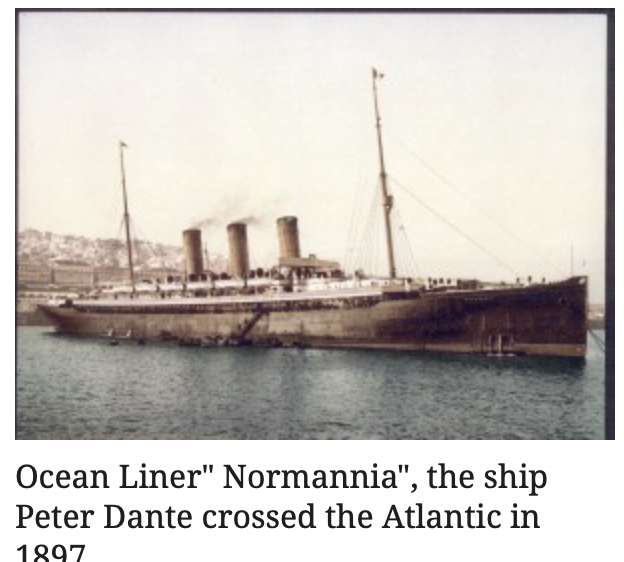 As documented from the City Books in Pawtucket was Pietro working as a confectioner and ice cream manufacturer from an address at 65 East Street when he was only 17 years old in the year 1893. At this time his brother Henry worked in the fruit etc. sales at 421 Dexter Street. The two brothers shared a common address called 'Ingramville' which may have been a peddlershouse.
We know that Pietro returned to Italy on more than one occasion and we again find him returning from Italy on 8th December 1897 leaving from the Port of Genoa and arriving back in New York on 22nd December. The archives describe Pietro as single, a country man from Barga in Italy travelling to Pawtucket to his family who were residing at 41 Dexter Street in the City. He had $80 dollars on his person.
In the year 1898 the family moved to an address 58 Smith Street. Francesco's profession was now given as a Clerk, so we must assume that he had mastered this new language with great ease.
Pietro however had other things in mind and his cousin Ermenia Quilietti was at the top of his list. Ermenia joined him in Rhode Island emigrating in the year 1898. They married in 1901 in Woonsocket, which is just north of Pawtucket. Two cousins marrying at this time was not uncommon amongst the Italian community and they did so with all parents approvals.
1901 was also the year that the fruit business passed over to Henry and he moved from No. 41 to No. 79 Dexter Street.
We know that Pietro, or Peter as he was now known, found work in the Cotton Mills which were dotted along the Blackstone River at this time. Slater Mill was one of the most famous of these Mills and is now a historic site in Pawtucket. The Banks of the River was dotted with fields which were known as Bleaching Fields. This is where the unbleached spun or woven cotton would be stretched over a grassy field and either dampened with dew or watering devices for bleaching. Peter's job we understand, was a 'piper' or 'gear changer' in the woollen mills. The Blackstone River was very polluted because of the chemicals which piled into her at this time.
We know from the City Books that 1903 again saw Peter removed from the U.S.A. We know that this was the year of the baby emergency in Italy. It was also the year his father died. It was also the year of the photographs taken in Scotland which included Peter Dante, his cousins and brother-in laws Giuseppe Quilietti and Adolpho Quilietti. In Scotland they would be visiting their brother Augusto Quilietti and his wife and daughter Francesco Quilietti, Angelina Quiletti.
So his visit would have been with his brothers-in-law to visit home in Italy to see to matters concerning the death of Leonardo Quilietti. The baby crisis would have kept them there longer than they had anticipated. The short trip to Scotland to visit their brother Augusto would have also been included in their itenary. The birth of baby Elletta in 1904 with Giuseppe as Godfather would have kept the brothers there longer than they had ancicipated.
However another crisis was unfolding in America when on 25th July 1904 Francesco Dante had taken ill suddenly and died. Amelia Dante was present at her husband's death as was her daughter Nellie Aurelio and James Aurelio, Nellie's husband.
The Dante family were all residing at their new permanent address of 338 Main Street, later North Main Street in Pawtucket.
We do not know if Ermenia Quilietti travelled with her husband at this time or if she remained with her new in-laws in America.
1905 shows the return of Pietro to the U.S.A. The younger Quilietti sister Maria Domenica along with her new baby had also travelled to U.S.A. at this time. The child was given over to Ermenia and Peter to adopt and bring up as their own daughter. The family at this time lived at a house at the rear of 174 York Avenue. They stayed here for a few years and it was here that their first child Valentina was born. She was born on 22nd October 1908. Unfortunately the baby died after 2 days of complications owing to prolonged pressure on the cord. Baby Valentina was named after her Aunt Valentina Quilietti who had died in 1905 in Scotland
1910 shows Peter and Ermenia moving to 82 Prairie Avenue, Pawtucket. This was the year that Elsie Dante was born. Ellen was still living with them now, age 6 years.
1911 was the year when Giuseppe and Adolpho arrived to settle for the final time in the U.S.A. They had previously visited in 1906 and again in 1908, but now they were here to stay.
In 1912 their third child Leonardo was born but again tragedy was on hand and the baby only survived for 14 days with bronchitis being the cause of his untimely death.
1916 saw the birth of Alma Dante. The family all resided at 82 Prairie Avenue with the addition of Giuseppe and Adolpho. The family residence was now truly fixed and right up until the year 1922 all the family lived here. Just one big happy family.
By now Peter had told Ellen of her true parentage, that her aunt Maria Domenica was in fact her mother, although we have now learned that she may have known all along. Ellen decided to marry in the year 1923 to another Italian immigrant Louis Peter Pelligrini. His family also had their roots in the Barga region of Tuscany.
The year 1924 shows another addition to the 82 household, Louie Pelligrini. Ellen had one son Edward Peter Pelligrini who was born at home. Sadly after the birth Ellen died of a dilated heart. She was buried in the Pelligini family plot at Mount St. Mary Cemetery. A very sad end to the innocent Ellen's young life. There is a small memorial plaque only showing where she lies. Louis carried on life and married a lady who was not of the Catholic Faith. He separated the baby from his Dante family, an act which broke their hearts. Peter and Ermenia had their only grandson taken from them, Elsie and Alma had lost their nephew. It was a sad affair. They never saw the child again.
Ermenia Quilietti Dante died in the year 1929. She is buried in Mount St. Mary's Cemetery where there is a family plot.
Alma described her mum in the 1990s as a strong willed woman who had many illnesses and diseases
Peter lived for many years after the death of Ermenia and he was tragically killed one day on his way home from work. He was run over on the road by a young man. He died in 1953.