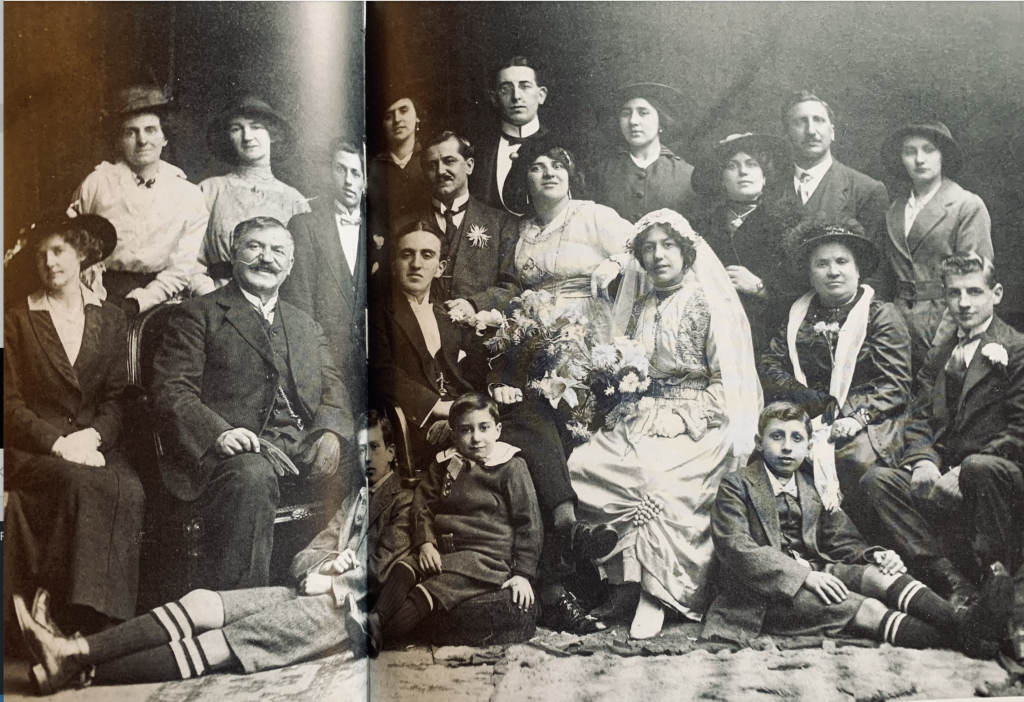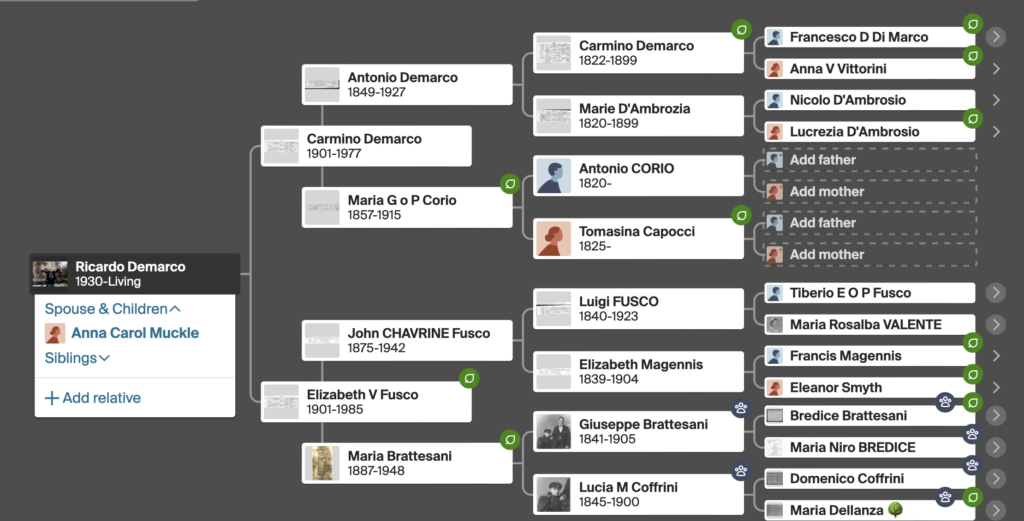 Because many of the Demarco and De Marco families who found themselves in Scotland inter-married  the relationships can sometimes be difficult to work out.   So let's see what we can unravell.  It does get quite complicated so we must do one branch at a time. But we must remember that the branches who settled in Glasgow, Edinburgh and Selkirk are all one and the same with their common roots back in Picinisco.    Whilst researching the various branches of the Demarco family we find common surnames, Pelosi, D'Ambrosia and Corio being three families whose sisters and brothers would all marry into the Demarco family.  Occasionally we can find a Crolla, a Valvona, a Rossi, a Valente  and a Capaldi, just to spice up the family every now and again.  There were other branches of the family who settled in Salcoats in Manchester  but wherever they settled you find the same social interaction between the above named families.
THIS LINE IS COMMON TO MOST OF THE EDINBUGH and GLASGOW Demarco's
We travel back to Italy and find CARMINO DEMARCO who was a Farmer and he lived in the village of Picinisco in Italy with his wife Mariccia D'Ambrozia.   Carmino has been described as an 'Artists Modeller' and we already have discovered that some of their family moved to Paris to ply their good looks and to model for the Artists of the Day.They had several children and we are discovering them one by one and finding out a bit more about their lives after their great exodus from Italy.
CHILDREN – 
Alfred Demarco we have to trace.
Andrea or Andrew  Demarco married his cousin Carmelia or Amelia Demarco.  This is the direct line of the McKirdy Clan  
Carmine Demarco married Teresa Crolla.
     
Gregorio Demarco married twice.  FIRST to Georgette Bullour.   They had one son who tragically died when he was only 20 years in an accident which left him with a fractured skull.  Gregorio was widowed shortly afterwards.  In 1903  he re-married Maria de Luzzio, whose parents were also in the Ice Cream Businesses.   She was thirty years younger that Gregorio. 
   
Antonio Demarco married Maria Giuseppa  Corio.  She was affectionately known as Peppina.    She was born in 1862 and died in 1915 at 24 Corporation Buildings in Portobello.  Her father was Antonio Corio, a farmer from Italy.  Their son Carmino Demarco was born at 141 High Street, Dunbar on 11th August 1901.
It was Antonio's  son Carmino who married Elizabeth Valentina Fusco and whose marriage links all our families together.  They had three sons, Richard, Michael and Louis.  Richard Demarco is the famous Edinburgh Artist
It was  also their daughter Maria Demarco and  son-in-law Gabriel Demarco who ran the Malmaison Mansion in Portobello.   
 Michele or Michael  was born in the year 1851 in Picinosco and he married Caroline Pelosi [Pelosi is also another well known Italian/ Edinburgh family  who have made their own unique history with their famous Luca Ice Cream Parlours in Musselburgh} whose family also were rooted in Picinisco.   Michel and Caroline settled in the Promenade in Portobello and were very much a part of the history of the Demarco family in this area at the time.   Michele died in the year 1916 at his home at 38 Promenade in Portobello.  

 

Their  son GABRIEL DEMARCO married his first-cousin  Maria Christina De Marco.   Gabriel was born in the year 1885 in Picinisco in Italy. Gabriel and Maria had two children,  Umberto was born in 1902 and died in the year 1977 in Edinburgh.  Umberto went on to become a musician and he perhaps worked in the Malmaison on the Promenade.

 When he married in St. Joseph's Chapel in Peebles in 1929 this was in fact his occupation and his address given as 40 Promenade, Portobello.   His wife was Candida Donfrancesco and she was from Peebles.  Her parents were Antonio Donfrancesco who was a master Confectioner and Filomena Palermo.

 

ALSO IN EDINBURGH

LUIGI DEMARCO was born circa 1844.   He was most probably the brother of Carmino above.  The family Demarco were all photographed in the year 1915 at the wedding of Luigi Arcari, and Giulia Demarco.   Luigi is sitting in the front row next to the groom.   Also in the photograph is Gabriel and Cristina Demarco who as we now know were the proprietors of the Maison Demarco.   

 Luigi settled at first in Brighton where other branches of the family had made their lives.  Then up to Glasgow where we find them in the year  1891  2 Corn Street in Glasgow.  His business there  was in the confectionery line.

But he moved to the East Coast to beautiful Edinburgh and resided in the old tenements of 112 Leith Street in Edinburgh in the 1901.   With him were his wife Maria, his children Maria,  Serafino, Antonio and also Orazio Capaldi to name but a few.   The ice cream business was lucrative and all members of the families were involved .   In another flat  at the same address, 112 Leith Street we find Angelantonio Demarco who was born in 1859.   He was also there with his wife Caronela and their children Angelina and Carmino.  [yes, another Carmino].   His father in low Nasanga Crolla was also living with them here.  Interestingly enough, pinched from my friend Stuart Capaldi's webpages we have an Alexander Demarco also residing here at this 112 Leith Street with an ancestor of Stuart's, Archille Capaldi

http://www.capaldi-clan.com/id2.html

It is interesting and unusual to find so many Demarco, Arcari, Capaldi and Crollas all under one roof don't you think

http://www.voluta.co.uk/foto/Groups/slides/pongoa027.htm – This link will show you many, many Demarco's, Crolla's, Agostino's, Capaldis, etc. etc. it is a wonderful photographic experience.    Many of these groups settled in England.  I will paste in a couple of photographs just to give you a wee taste of how brilliant a site this is

 

ABERDEEN 1881

The census tells us that up in Aberdeen in lodgings were two  street musicians,   Angelo Demarco age 63, and  Severino Demarco age 14, who would more than likely to have been his grandson.

   These Demarco's were two of the first to arrive in Scotland.  In the same lodgings were Capaldi and Pacitti family members who also gave their occupations as musicians

 
THE DUNDEE BRANCH/ARBROATH Branches
ALFONSO DEMARCO settled in Dundee with his wife Giacinta Pelosi.  Giacinta was born in the year 1878 in Italy.   Giacinta's parents were Michelangelo Pelosi and he was a ploughman or farmer in Italy.
Her mum was Nunziata Arcari.   Alfonso and Giacinta lived at The Cross in Carnoustie.    She died at the tender age of 41 years.
In Montrose 
 IN THE YEAR 1919 there was a marriage between Luigi DeMarco, Confectioner who lived in Arbroath.   HIS PARENTS WERE GIOVANNI DEMARCO AND CARMELLA CROLLA.   His new wife  was Maddalena Valente who was from Brechin.    The Valente family are also from the Picinisco Region in Italy.
Vincenzo Demarco, was another son of Giovanni Demarco and Carmella Crolla.   Like most of the family at this time his occupation was one of Confectioner .  These immigrants knew how to satisfy the sweet tooth of the Scots nation.   He married Marianna Rossi whose family had settled in Dundee.  Her parents were also in the Confectionery business.
http://www.informededinburgh.co.uk/business/business-interviews/informed-interview-paul-demarco/http:
A LEGENDARY snooker figure known to Capital fans as the man behind the Marco's Leisure Centre has died.
The name of Bert DeMarco has long been a byword for the sport and at one time he even coached a 14-year-old prodigy from South Queensferry named Stephen Hendry.
Bert, who himself was once the country's highest ranked professional player, died at the age of 87 after a short illness at Edinburgh Royal Infirmary.  A five-time winner of the Scottish Amateur trophy and two-time Open winner, Bert opened his first club, The Angle Club, in Morningside Road in 1975.
//www.heraldscotland.com/news/home-news/demarco-finds-his-dream-home-for-festival-archive.14609547
THIS INFORMATION has been copied directly from information given via Billy and his sister Andrea.   This is their direct line  and goes directly back to Italy circa 1500s.  
THIS GENERATION is as far back as has been traced to date
Bartolomeo De Marco married Menega Pignat
 Their children were: Marco, Francesco, Domenico, Govanni-23/6/1706, Giov.Maria-24/7/1711 –  

DOMENICO is the Direct line
SECOND GENERATION
Domenico De Marco married Caterina Gaspardo di Faloma
 Their children were:, Marco-13/12/1722,  Angela-23/12/1724,  Giobatta-25/1/1726, Anna-18/8/1730 and  Lorenzo-8/2/1737  MARCO is the Direct Line
THIRD GENERATION
Marco De Marco married Angela Moro
Their child was: Domenica-22/99/1753
 Marco's second marriage was to Angela Biasutto,  Their children were:  Pietro-19/9/1756,   Anna-23/8/1762   PIETRO is the direct line
FOURTH GENERATION
Pietro De Marco married Giustina Pin, Their children were, Giovanni (Marchetot)-14/3/1782, Natale-6/9/1787,  Marco-19/6/1794, Batista-28/3/1794,  Guiseppe-no date,  Angela-no date
FIFTH GENERATION
Marco De Marco (industriante ) married Maria Pascutti
 Their children were:Elizabetta-7/5/1820,  Pietro-29/8/1822,   Rosa-20/12/1824,   Guiseppe-1/8/1826,   Giobatta-17/1/1829  DIRECT LINE GIOBATTA
SIXTH GENERATION
Giobatta De Marco married Maria Morrasutt
Their children were: Regina-19/8/1854,  Andrea 26/1/1856 (Ice Cream maker), Elizabetta 20/2/1860,  Giovanni 28/10/1861, Lucia 6/2/1863. Teresa 22/6/1864, Giacomo 27/10/1867
SEVENTH GENERATION
 Andrea De Marco Married Emiglia Demarco (of Paris, 2nd line of Demarco)
 Their children were:
 Sam, from Andreas 1st marriage, (probably Samuele)..not Emiglia's son
Delizia 1890((?bornPicinisco) Len
 Donato 1896 (?bornPicinisco ) Donald
 Annie
 Jessie
 Maggie
 Tony
 Mary 1903 (? born Picinisco)Maria
 Joseph 1901 (? born, Edinburgh ) Joe
 Andrew 1908 (? born Dumfries)