JOSEPH ANGELO QUILIETTI was born on January 6th 1898 at 1.30 in the early hours of the morning at 24 Greenside Place, Edinburgh.
Soon after his birth tragedy was to hit the family when Emilio died two days later on January 8th and also at the family home of 24 Greenside Place. So Joseph never knew his father.
His father Emilio Quilietti was described as an ice cream merchant. His mother was Valentina Brattesani .
Valentina was left with her six children to bring up the family alone. She was to lose two infant girls in the following months. Life was not good for the Quilietti family at this time. Valentina, to escape her harsh memories, moved houses to a flat further up the hill at No. 9 Greenside Place. This would remain the family home for many years to follow.
Valentina had local families who helped run the shops with her after Emilio died. One of these families, Irish by descent, with the surname Glass, helped with the children and especially Joseph the youngest surviving child. On the evening of the 1901 Scottish Census Joseph was living with this family at 3 Marshall's Court [an address in Greenside].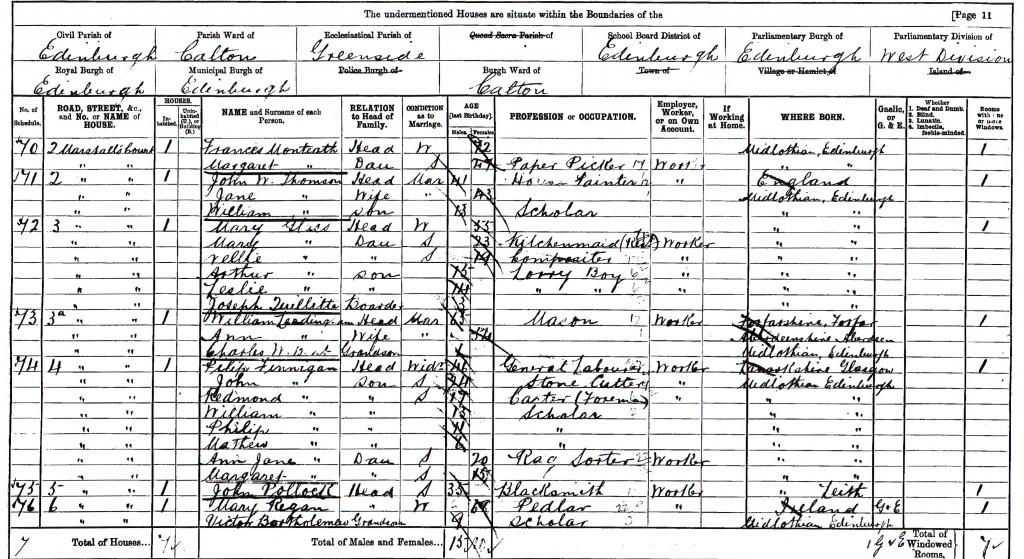 Mary Glass was the head of the family and she was living there with her daughter Mary who was a kitchenmaid in one of the cafe's. There was also Nellie, Arthur and Leslie along with Joseph staying with her that evening.
Life at that time must have been grim for the Quilietti family. Emilio died in 1898 followed by his daughter Eletta in 1899. 1900 saw the death of another of their children Amelia.
Not only this but on the Brattisani side Valentina lost her mother also in 1900. Their was great sadness. Valentina had a younger sister Louisa Maria who was seventeen years her junior. However she certainly had a great part in the life of Joseph Angelo.
After Valentina remarried Sante Brattisani in the year 1901 the next four years were just full of woe. With four still births following difficult pregnancies it was Louisa who looked after wee Joseph just like a little surrogate mother.
Then of course his mother Valentina died in 1905. So much was the influence of Louisa in Joe's life that on Joe's death certificate in the year 1945 Granny Quilietti put down the name of his mother as Louisa Brattisani.
Joseph's first marriage was to an Irish girl Catherine Kelly. They married on 26th January 1915 before he went off to War.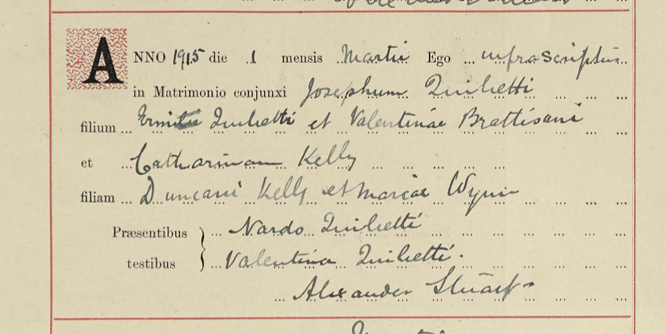 A bit about the Kelly Line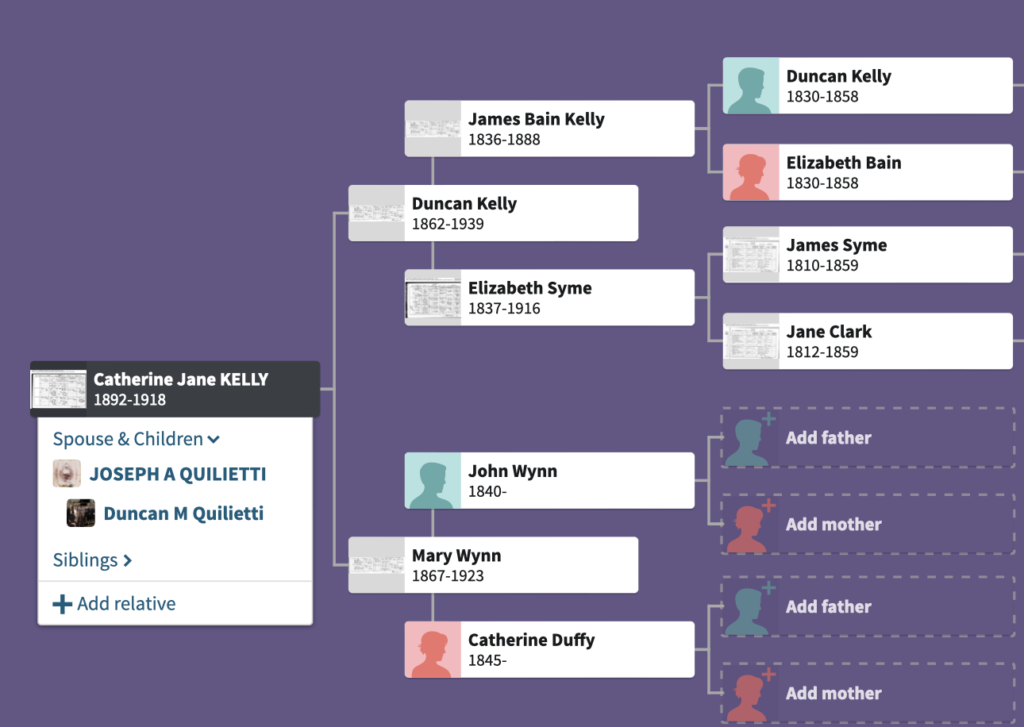 Catherine was three years older that Joe. Her father was Duncan Kelly and her mother was Mary Wynn. The family had been in Edinburgh since the potato famine time. Duncan was a Hatter by Trade although was lapsed into other work as the times dictated, as was his father James. James's father was also called Duncan and also a Hatter by Trade.


Back now to Joseph Angelo
By the December of that year Joseph was fighting in the Theatre of France where he received the medals below. His Regiment was the 5th Batallion Cameron Highlanders. He was a Private in the labour core. He remained in the Army until 1918.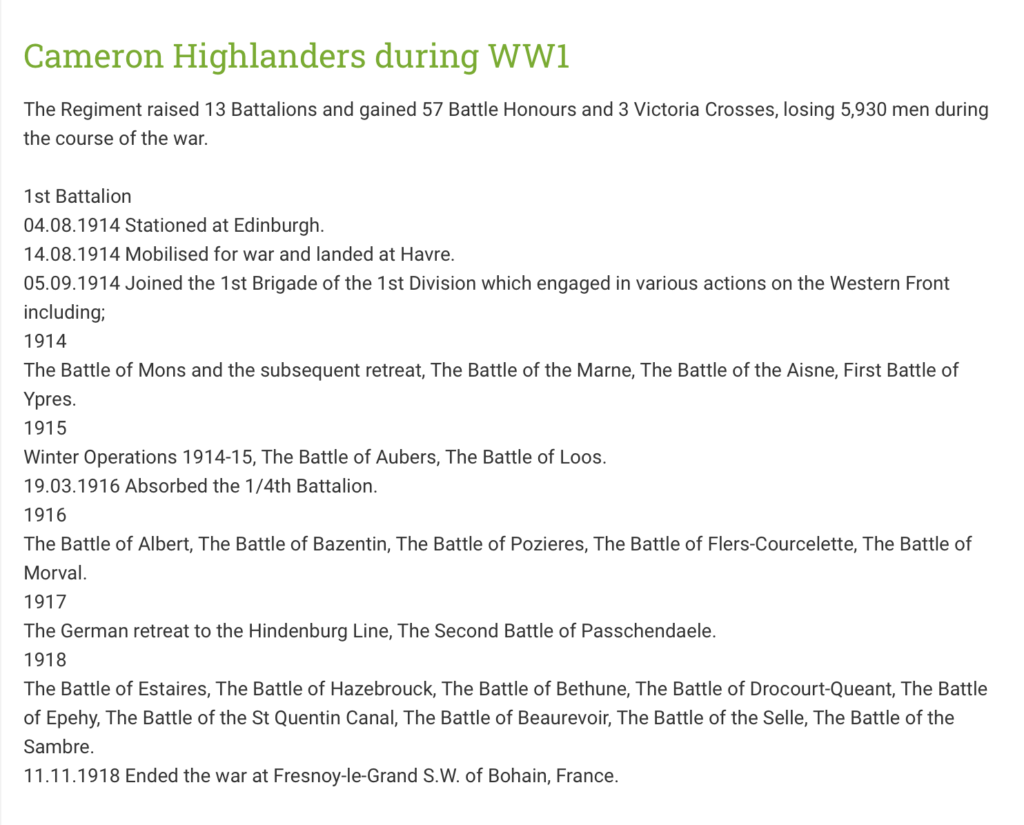 Their son Duncan Quilietti was born on 31st December 1915 at 1 Dunbar's Close, The Canongate, Edinburgh. Joseph was not present at the birth as he was at War in France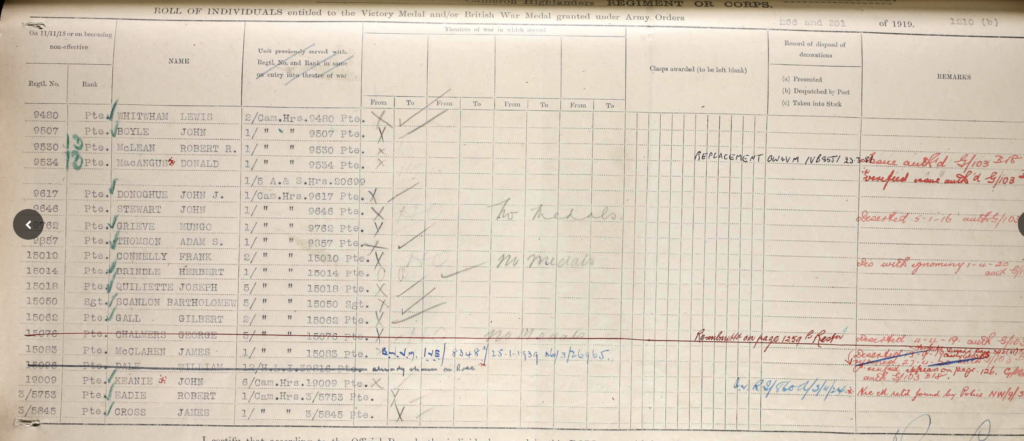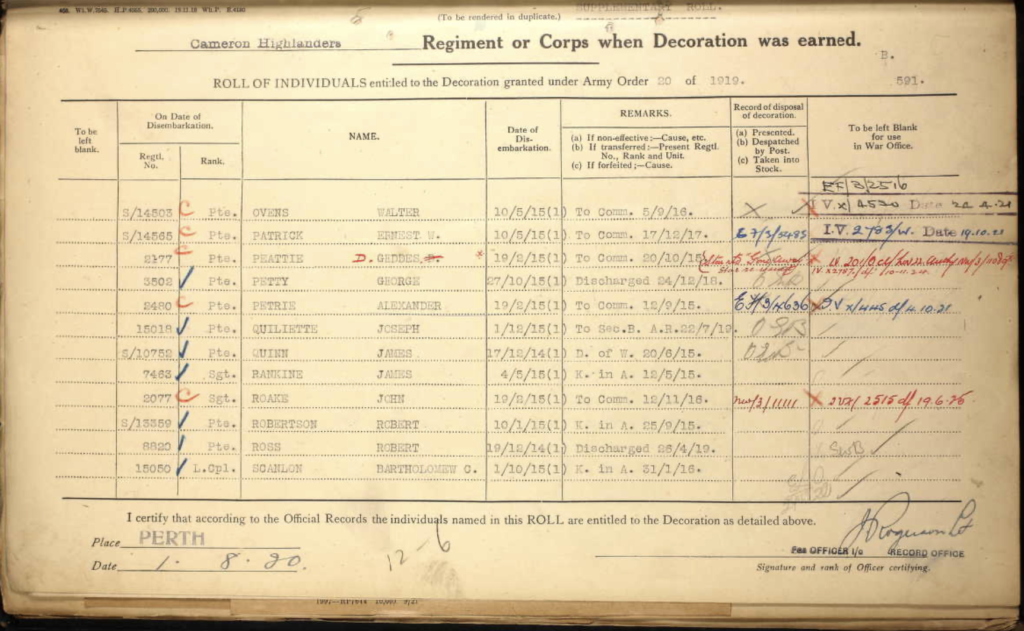 After the war Joseph returned and things went back to normal for a very short while. That winter was a particularly harsh one and Catherine Jane caught a nasty bought of flu which went into her lungs. She never recovered and died age 23 at the City Hospital in Edinburgh on November 4th 1918 at the City Hospital. She was 23 years old. Joseph was left with a four year old son who he was just getting acquainted with.

Joe's sister Valentina Maria came to the rescue however and took on the task of looking after the boy permanently. She brought him up as her very own son with her new husband Alexander Murray.
Joseph's life went on. It seemed up until now that things hadn't really been sweet for him.
His sister graciously looking after his son left Joe free to start again. He met and married Jeannie Boyle on 4th September 1919. At the time the couple were residing at 332 The Lawnmarket, which is the stretch of the Royal Mile nearest to Edinburgh Castle.
The couple had a few different addresses, 1933 in 5 St. James' Place, Greenside, Edinburgh.
Joe and Jeannie Boyle Quilietti moved in 1938 to the brand new housing Development in Niddrie. It was a dream for them as it had inside sanitation and fires in every room. Although the district became a slum in later years it was a happy and safe place for all the residents who moved there from the old crumbling tenements. Joseph Angelo was a Carter and this was not an easy job in those days. He remained so for many years and his love of animals kept him away from the cafe

His funeral was along at Dalry Cemetery in Gorgie where he was buried alongside his first wife Catherine Kelly. In 1973 Jeannie Boyle, his second wife was also buried there. The cemetery is run down and in a terrible state today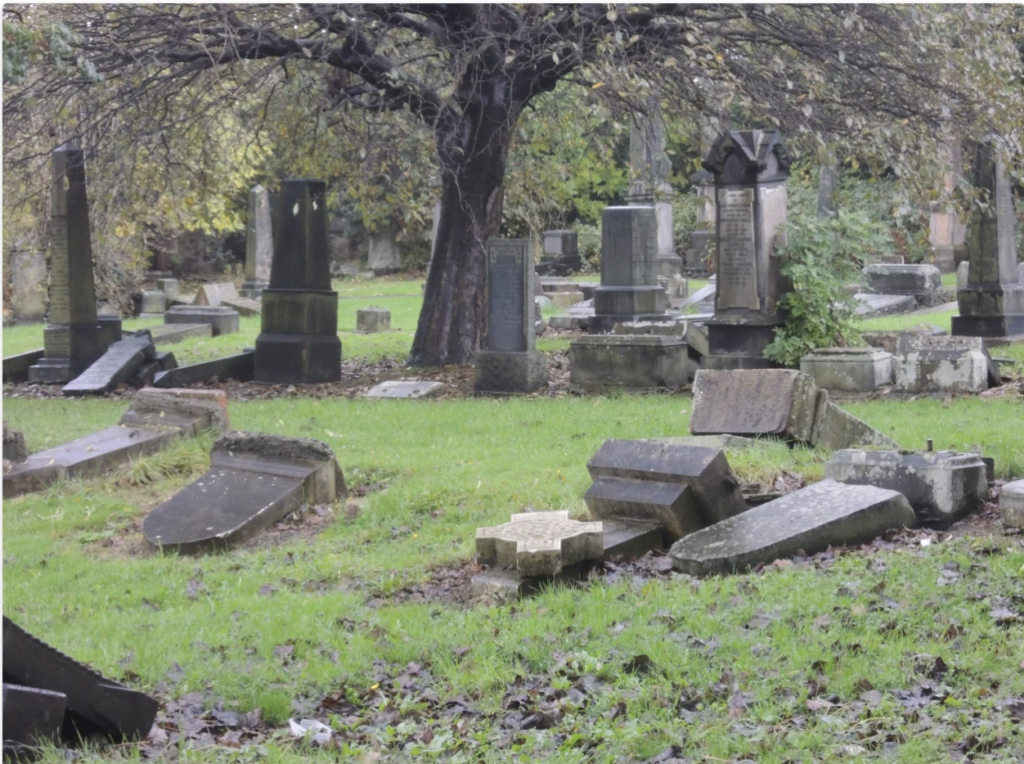 JEANNIE BOYLE'S PARENTS
Jeannie Boyle's father was a coalminer called James Boyle. Her mother was Annie Kay. The Boyle genealogy is vast and is included in another page on this site. However Annie Kay's line is more of a puzzle. Annie Kay was born in London, Middlesex, England circa 1870. Her parents were William George Kay and Jane Williamson. Annie's first marriage was to Thomas Smith. The couple were married in Chelsea in London on 22nd January 1888. They had two children Ellen who was born in 1891 and Rose Anne in 1897.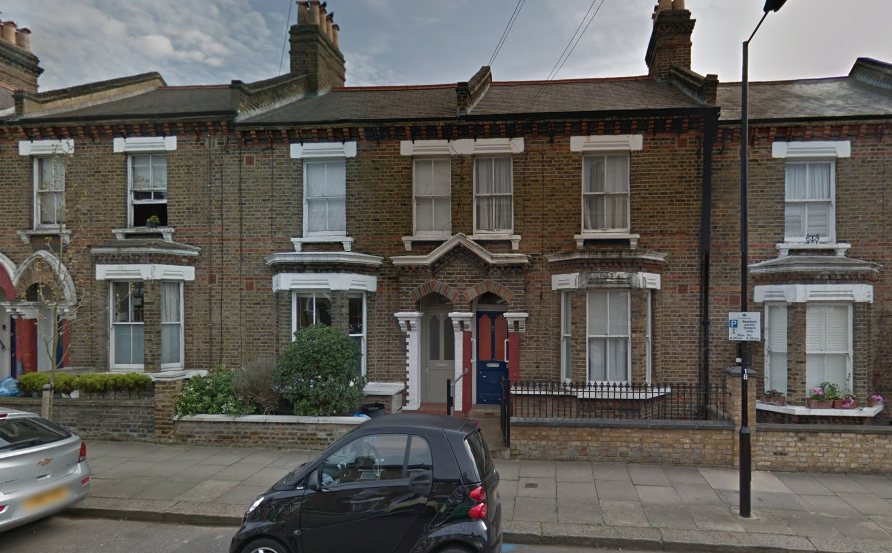 Thomas Smith must have died not too long after the birth of Rose Anne although the circumstances of his death is to date unknown as he would have been young. We know Annie then re-married in Lanarkshire, Scotland in 1900 and at this point in her life she was housekeeper to James Boyle with whom she married. They in turn had two children Jeannie who was born on 13th November 1901 in Whitburn, West Lothian in Scotland. Sister Jemima came along in 1904.
Annie Jane Kay Smith or Boyle died in Storrie Pit in Cambusnethan in Lanark on 20th September 1913. There was no cause of Death on the Certificate.
Their children soon followed, Annie in 1920, Joe in 1922, Jemima in 1924.
Jemima died with T.B. when she was only 1. Arthur came along next in 1927, then Giulio in 1929, Jeannie in 1931 and the baby was Bobby in 1934.
Granny Jeannie Boyle Quilietti died in December 1973
Granny was buried with Joseph Angelo at the Tynecastle end of town in Dalry Cemetery.