It is with great pleasure that we introduce our new fourth cousin Lia Franchi into the family. Â Lia very kindly has been in touch with myself and has connected her line back to our mutual Brattesani lines in Italy.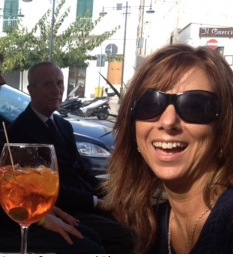 Lia was born in the year 1962 in Raynes Park in London.  She is the daughter of Remo Valentino Giovanni  Franchi and Norma Teresa Virginia Collini.  Remo was the son of Luigi Giovanni Franchi and Giovanna Daisy Brattesani.  Giovanna was later known as Johanna and she is the link between the families.  Giovanna was born on 28th December 1901 at 8 South Street, St. Marleybone in London.
Luigi and  Giovanni [Johanna] were married at Our Church of Our Lady of Sorrows in Paddington, London on 12th October 1924.  Luigi was described as a confectioner and was 24. He lived at the time at 70 Marylebone Lane, St. Marleybone, London.   His father was Francesco Franchi [deceased] and he was a builder. Luigi's  witness was Lorenzo Franchi who was most probably his brother.  They came from a place called Guinadi , a village near Borgo val da Tora, Parma, a district steeped in the history of the Brattesani lines.
Giovanna or Johanna's dad was Giulio Brattesani, confectioner and her sister Netta [Antoinetta] Brattesani given as her witness.  The family lived at 33 Delamere  Crescent which was situated in Paddington, London at the time of their marriage.
After their marriage they  moved to an address in , No. 50 Oakland Road in Islington where Lia's dad RENO VALENTINO GIOVANNI was born on 28th August 1929.
The birth details of Lia's dad Reno. Â He had such a lovely name
The couple had four children Guido Franchi  who was born in 1926. Mario Franchi who was born in 1927.  Remo Franchi was born in 1929.  Maristella Franchi was born in……………
Guido married Alba Zazzi in 1960. Â Two children Marco born 1960 and Viviano in 1962
Mario married Ida Villanelli in 1953. Â Two daughters Francesca and Cristina.
Maristella married Alberto Manfredi in 1967. Â One son Allessandro born 1970
Remo Franchi married Norma Teresa Virginia Collini on 9th September 1956. Â They are Lia's parents
Giovanna and Luigi moved to 2 Middleton Buildings, London during the 50s\60s. Â  They ran a sandwich bar with a restaurant attached. Â Opposite and downstairs they had a Function Room called San Rocco in the adjacent Riding House Street. Â And for a time Luigi also ran a confectionery business in another property opposite.
Like a lot of Italians who lived abroad they would return back to Italy for the summer where they had a house in Lido di Camaiore. Â Lia remembers holidaying there in the summer months with her family.
The restaurant business was in the blood and their son Mario ran two restaurants, The First Edition and the New Edition, aptly named as they were in the Fleet Street, Chancery Lane District of London.
Johanna Brattesani died in 1972. Â  Luigi Franchi in 1976.
Remo and Norma had  three children.   Lia born 1962,  Lia married Giuseppe Borrotzu.   Roma was  born in  1959 and Marino in the year  1964.
 Norma's parents were
Giacomo Giuseppe Collini born 1911 died 1925.
Delfina Rosa Sorenti born 1912 died 1974.
Lia married Giuseppe Borrotzu. Â They had two daughters Pierina 1985 followed by Carmela in 1987. Â Carmela married to Lewis Evans and they have one daughter Lidia born in 2017.
There are many connected surnames through Lia's lines
Maternal line: BURZONI; CROCE; MARTINENGO; BOSCO; SORENTI; MAFFEI; COLLINI; Then my marriage brought BORROTZU and my daughter's marriage brought BORROTZU-EVANS.
Paternal line (less information because my parents divorced).
LANZEROTTI;BRATTESANI; FRANCHI.