Helen Rose Quilietti is the daughter of Joseph Quilietti and Margaret Walker Morrison.
My three great passions in life, apart of course from Denis, my husband, and Jamie my son are, and now his son Gaius and lovely French wife Tatiana, a lovely bottle of wine, enjoying a beautiful meal, usually prepared and cooked by Denis, and my great love of genealogy, my family history. This latter passion has enhanced my life for the past twenty years and indeed continues to do so. My wish is that someone in my family tree will be interested enough in what I am trying to achieve to carry it on when I am not able to do so. Helen……..
Helen Rose Quilietti was born in Simpson's Maternity Pavillion on 27th July 1953, the second of Joe and Peggy's children. Josie was the eldest born in 1949, Margaret came after Helen in 1955, Hamish the youngest was born in 1958. Darren who was an adopted brother came along many years later. Helen was named after her Granny Ma Morrison, her aunt Helen Morrison and her great aunt Rosie Crawford.
Peggy always described Helen as a happy baby and as you can see here she was a very round happy baby. Living up in the Niddrie area at that time was not an unpleasant experience. The scheme was full of working class folks who had moved here from the old Tenements of Greenside and the The Canongate.
When I was growing up I did not know that I lacked anything because I had nothing else to compare it with. I had a hardworking, hard drinking father who wheeled and dealed to keep us well fed, well clothed and never wanting. Mum was a housewife who got up at four in the morning to kindle the fire so that when we got up in the morning the main living room at least would be nice and warm for us. She would cook and clean and never asked for any help from us at all really, she did it all.
The new Niddrie area had been built just 20 years before and was luxurious compared to the grim conditions of the old town at that time. The whole family lived nearby, Grannies from the two sides of the family as well as umpteen uncles, aunts and cousins who were being born almost monthly at that time. The harsh times were to follow of course but really you could feel safe and secure that there was an aunty or uncle in every street to help out. The area was really a safe place to live then. Children were free to play anywhere and nobody had anything. Doors were never closed and break-ins and burglaries were unheard of then. The people who lived in your stair became almost like extended families and they would think nothing of knocking on your door to ask for a cup of porridge or cup of sugar until they got their money at the end of the week. There were no televisions when I was born. Radio was the big thing. If you had to see a Movie you had to go to the local Cinema, and only if you could afford that. There was a local Policeman who was called Bobby Munro who would know what was going on in the area. But we would never go near the Polis unless it was a real emergency. My godparents were uncle Podge Morrison and of course aunty Mary Kesson Morrison. They lived just down the next street in Niddrie Mains Terrace. Their son George was born just after Helen with the result that they were brought up just like twins really, pushed around in this twin contraption for all the world to see. Cousin George died in 2010 and it was a very sad time for myself who remembers him with great affection.Granny Ma Morrison also just lived around the corner from us in Niddrie Mains Terrace and her home was like a nest for her eleven children who all seemed to live nearby and who all visited regularly with their children. Ma Morrison as she was affectionately known had a heart of gold. Further along the Terrace lived our other Granny, Granny Quilietti.
Granny Quilietti had a great sense of humour and this has been passed down to her grandson Rab. She was in the autumn of her life a sickly woman who was bedridden. Her family would all visit but she would be quick off the mark with her quick wit and on numerous occasions would love to frighten the living daylights out of her grandchildren. The streets of Niddrie were full of children and they were allowed to play freely in the back-greens and pavements. There was little traffic when I was growing up in the 1950s. You would play peevery beds, or have concerts in your back greens. You would play with a yo yo or even a hula hoop. The kids from the immediate area would hold a concert and each would sing a song or do their party piece. It was all of course very innocent and we would make our own entertainment. We would often go up to the Wauchope Estate where there were beautiful Rhododendrum bushes and we would pick the flowers. The boys would climb the trees and do what boys do but we would enjoy the greenery. It was a beautiful Estate and the big house was haunted. The green lady apparently lived there……..The house had its own little cemetery which I believe still exists. Many of the Wauchope family were interred here. Then as we got older we could go along to the County Craigmillar where Harry Paolo owned the local cinema. He was quite a character as I remember. He had a white Rolls Royce and he wore a camel crombie. He was also of Italian descent….He would always have a walking stick which he would hit the boys with when they were cheeky or out of order. "I remember there used to be a rag and bone man. He would come around collecting old clothes either sounding a horn,shouting or ringing a bell, to let people know he was in the area. If you handed over one item of clothing such as a shirt he would give you a balloon. More clothes than that would mean something like a lucky bag or bigger bags of sweets. But what he really was after was the woollens. He could get serious pennies from the woollens from the lady in the Grassmarket.I also remember Johnny Louden who also had a horse and cart. He would collect anything really, any old furniture or stuff that people no longer wanted. It must have been a hard life in those days as nobody had any old stuff really.
.
Helen from a very early age liked to take photos and hated being in them. Looking at what photos we have of her early life you can see why…….with two lovely sisters Josie and Margaret who had the striking good looks of the Morrison Clan, Helen always felt like an ugly duckling really……… Peggy was very ill when Helen was young and her aunts and uncles would all help out in looking after the kids. Mary Kesson was always there for Peggy and the sisters-in-law had a very close friendship which contiued until Peggy died in 1996. Peggy and Joe had married twice, once in the Richmond Craigmillar Church in October 1945, just after Joe's return from the War, and then again in St. Teresa's R.C. Chapel which was quite literally along the road from where we stayed in Niddrie Mains Drive. The story goes that the local Priest was not too happy with Joe Quilietti for forgetting his faith and marrying not only a Protestant, but also in a Protestant church. So a deal was struck. They would marry again and the children would all be brought up in the Catholic Faith. Joe's soul would be redeemed. And that happened. It was here that the Quilietti children were all baptised. Peggy was faithful to her Protestant faith all her life but Mary Kesson, a practicing Catholic, was there to show Peggy what to do with the christening piece after the baptism of Helen.
Despite this we all attended the local schools which were non-demonation schools. Helen loved school. She loved to learn and to study. Summers when we were young would always include the Hearts club annual picnic. We would all bundle into the buses and old Mr. Grundieson or Gundy would have a sing song on our way to wherever. There would also be the Newcraighall Picnics where all the various branches of our huge family would congregate for the afternoon, come rain, wind or occasionally shine. There were quite a few local characters around the streets of Edinburgh at that time and one who particularly sticks in Helen's memories is Johnny Bundles A tramp called Johnny Bundles used to do his rounds in Niddrie. He lived somewhere in 'The Wisp', on the Wauchope Estate, in a makeshift hove, made with branches and anything else he could find. He died, a fairly young man, and we were told by the police that he was a very wealthy young man who opted out of life, but to me he was an old smelly man, dressed in rags, who had a beard.
After she married Denis in 1972 it was her lawyer who helped out in finding them their first flat which was in Hamilton Place in Stockbridge. It was a rented flat at the top of a tenement above the local pub. The flat had no hot water, no bathroom and was overrun with mice. But it was a new start and introduced them both to living in the City and the different lifestyle it offered. Many nights were spent with friends eating, drinking [till 10.30 in the evening when the barman would ring the bell for last orders] and just generally enjoying ourselves. Tiffany's was just round the corner and we would go there on a Saturday night all dressed up with long dresses and for Denis his flowery shirts, and long sideburns…It was all so tame comparing things with today's young folks. We then bought our first flat in Montgomery Street. It was again a top flat. Buying houses was new to the working classes of the 1970s as our families had traditionally rented. So it was a big step for us to make at that time. But things worked out for the best and it was here on 12th December 1978 that Jamie was born. The winter was harsh that year and outings were few and far between with the snow a foot high during January and February. SINCE the 1990s we have been re-uniting with lost cousins and in the year 2005 we had a family trip back to Italy, to Castelvecchio Pascoli where my dad's roots lie. It was an emotional journey and the following story is written by cousin Janet Quilietti. It is fiction remember, with a wee bit of truth thrown in for good luck It is callaed 'TUSCAN DREAMS'
The true meanings of these names –
HELENA means Torch –
DENISO – God of Wine or Brown Warrier ,
CARLISO – Man,
BETTINA – Blessed –
Vito -Victor
Helena was a happy-go-lucky Scottish lass, born in the beautiful City of Edinburgh where she worked hard for her pennies in a high street store. Although she loved her job, as time passed by she felt her life was becoming staid and boring and so therefore she decided to leave, on a whim.
Her huband Deniso became somewhat concerned by the sudden change in her persona, especially as her love of shopping started to diminish, which was a good thing for him really as he usually picked up the bills on her huge spending sprees. However Deniso decided to put it down to nothing more serious than her becoming fed up with her job of thirty odd years. The spouses lived in a quaint wee house that sat virtually on the doorstep of their beloved City where they would spend endless hours wandering around and exploring the many sights she had to offer.
Some of their favourite haunts were the many old taverns scattered up and down the Royal Mile, a street steeped in history which tells of many mysterious tales of skulduggery and horrid deeds that happened in olden days gone by. Whenever they ventured off on a spree, Deniso would get dressed up in his national dress, the kilt, which he wore with pride as he looked rather dapper in the full highland regalia while his goatee beard and feathered cap topped this off to perfection. The proud Scotsman was more than happy to pose for photographs as eager tourists were thirsty for the Scottish way of life and its history. As they met many different nationalities on their jaunts Helana had a notion to trace down her Italian roots and tried to find out about her maiden name Quilietti. The more she researched the more her hot Italian Blood began to flow through her fiery veins, especially when she discovered that her family connections originated in Tuscany. It made her quite determined to explore more and show soon got into cahoots with her Dutch family in Rotterdam. Carel Van Druten and Betty Quilietti
had already started their research into the Quilietti family heritage. Carloso Van Druten was a proud Dutchman with a very inquisitive mind. He had a notion about researching his wife's maiden name. Unfortunately his dear wife Bettina Quilietti did not know much about her distant past. However she did recall some important things about her closest family which gave Carloso enough information to set him off in the right direction. The fruits of his labour took them to Tuscany where the Quilietti tree of life began to grow.
Carloso was delighted when Helena contacted him to learn more and he took Helena under his wing as he felt he needed some 'new blood' to help him go further with his project. They bonded immediately and they started their voyage into the quizzical world of the Quilietti family. Her meetings with Carloso inspired Helena greatly and her interest in genealogy grew more and more. She found herself spending her free time in the Scottish Register House peering through thousands of documents in search for clues amongst the paraphernalia which bamboozled her at times with all the names and dates. One day however she felt she was making some good progress when everything came to a standstill as all of the computers in Register House crashed.
Poor Helena was at her wits end so she decided to take a break from it all and decided to chill out and have lunch at her favourite Italian Restaurant where she was greeted by the owner 'Vito' "Salve 'Helena, vuole qualcosa da mangier da bere?" or "Hello Helena, would you like something to eat and drink?" Vito loved to welcome his customers with a wee bit of Italian banter as he showed them to their tables and guided Helena to her favourite spot to make her feel relaxed and happy, until however she found a dirty dessert spoon and called for his attention. Vito was horrified and he apologised profusely as he replaced the grubby cutlery and confessed that his dishwasher had walked out on him leaving the kitchen in utter chaos. This put food for thought into Helena's mind and she applied for the job on the spot which blowed Vito over, however he agreed the'd have one month's trial starting right then. Helena didn't expect such a quick start and found her elbows plunged deep into a sink of dirty dishes filled with soap and suds. So much for a nice chilled out lunch. Helena wasn't too keen about the fact that she was just a 'dogsbody' in the hot, steamy kitchen, but she had a cunning plan. She wanted to get to know the Head Chef who came from her beloved Tuscany. He might shed some light about her family connections back in the old Country. The chef was a huge, feisty character with the temper of a raging bull. When he became angry and frusgtrated he'd think nothing about tossing and throwing pots and plates all around the kitchen.
One evening after a haard night's graft the ill tempered chef seemed to be in high spirits, for a change. Perhaps it was due to the fact that he had a few glasses of cooking wine during service, however he insisted that Helena should join him for a nightcap.
She jumped at the chance thinking it would be the perfect opportunity to get to know him better and pick his brains but things didn't quite go to plan when Vito joined them and the two Italians started sharing stories about the past. Helena enjoyed their interesting and funny banter and was just about to ask them about her own Tuscan connections when unfortunately her plans were scuppered yet again when Vito brought out his 'special' stash of wine. "My dear friends, I would love for you to join me in sharing this very special wine which happens to be the very best in the house" He went off to the cellar and brought back a bottle of fine Tuscan Red a 2002 Toscana Modus, a cedar scented red made from wild plums, berries and spices. "Now my friends let me introduce you to the real fruit of the Tuscan Valleys".
Vito poured them the wine which was excellent indeed, but after a few glasses things were becoming a bit hazy and any reflections about Italy soon became a blur. Helena's woozy head dropped off into a deep slumber………
Helena's journey started at The Devil's Bridge, a spectacular stone built bridge that boasts several curved arcs and great workmanship. This medieval bridge is said by folklore to have been built with the aid of the Devil himself. It stands on the flowing Serchio River and is sandwiched between Lucca and Barga. The charming town of Lucca held no ambiance as Helen was desperate to hire a horse and cart to take her further north past Barga to Castelvecchio Pascoli where she knew her forefathers were married.
Regrettably for Helena most of the horsemen in town were not prepared to take the risk of travelling up to 'the back of beyond' and gave her lame excuses that the horses' hooves may become unstuck on the rough dirt tracks. But the truth of the matter is that they weren't prepared to travel up towards the high mountains with its many dangers.
However the determined Scotswoman wasn't to be outdone by their negative attitude and soon sought out the services of a carefree little Italian who deemed himself to be the 'Master of the Mountains'.
He was a quirky little character who offered a good price to take her to Pascoli. So after the shake and spit of their hands the deal was done. Back at the stables the horse was trembling at the thought of climbing a ladder let alone a mountain!
But they soon set off and Helena did enjoy the journey as they rode up and over the rolling hills and the valleys which were strewn with many luscious grape varieties and olive groves.
The further they climbed up the crooked, twisted roads the more nervous the horse became and he was having second thoughts about going up any further. The horse froze in sheer terror and lost his balance which left them all teetering over the edge of a huge gorge and they were left holding onto frail barriers built from broken down bits of rickety wood. It took a lot of coaxing and kind words before the trusty steed felt confident enough to pull them to safety! Needless to say they were all at their wits ends after this ordeal. The poor horse had a nervous breakdown and was taken off to a nearby barn for a well earned rest to lay on some fresh plush hay. His owner had a good long drink to steady his nerves.
After the long arduous journey Helena sighed a sigh of relief as she finally reached St. Nicoli' in the village of Pascoli. The Church was quaint and nestled happily into the surrounding mountains that overlooked the lush valleys which seemed to be bursting with plush olive trees. Having never seen such fruit before she plucked one or two to taste their flavour. She nibbled on them and was suddenly aware of the panoramic view which stole her breath away. Helena's emotions rode high as the looked over the skyline that the ancestors had once enjoyed and she sae hazy images of them working and striving through this very land to provide food and clothing for their families. Helana became very emotional as she wiped a tear from her tired eyes.
She was feeling nervous about meeting Don Ruggero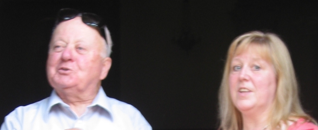 who was the priest of St. Nicoli' but she needn't have worried as he turned out to be a cheery wee man with a round, cherry red face. He welcomed her with open arms and when he learned of her forename he became quite emotional as Helena was his own mother's name.
Don Ruggero was more than happy to show Helena around the small chapel, his place of worship and the place where Leonardo Quilietti married the local girl Eletta Brucciani in 1866. Helena's wide eyes became wider as everything now seemed so real and exciting for her.
As Helena explored the grounds she came across the outdoor Bread Oven
that stood on the path leading between the village and the Chapel. Oh yes, these Italians did love their food. Helen sat down and was just about to take an wee siesta when the Don shook her shoulder saying that he had some important documents to show her.
He led the way up the stairs at the side of the Chapel to his dwelling place above. Over her shoulder and behind the chapel was where the old bones' lay, where the cemetery was many years ago, and where a family of semi-wild cats had made their home. Helena stopped to capture a few photos of the pussy cats before the Don again had to tear Helena away as there were more important things to discuss!!
His home was a typical bachelor's abode, messy, unkempt and spartan but at the side room Helena spotted la creme de la creme of her visit to Tuscany, the precious books.
The Don shoo'ed a couple of moggies off a chair to offer Helena a seat and a glass of local wine as he topped up his own glass. Helena declined his kind gesture as she needed a clear mind for the forthcoming discussions. But first of all a tour of the little Church
Helena's emotions were running high as the Don led her to the doors of the little Chapel. He turned the huge worn key into the ruted padlock. The Door creaked and groaned and her heart skipped several beats as she walked into the holy building. She felt humbled by the modest crucifixes and statues that adorned the walls and pulpit. There were freshly cut flowers which filled the air with a pleasant fragrance. Helena Quilietti stood in the midst of it all and felt close to her father's heritage and felt so privileged to be a part of it all.
The precious books upstairs were also a delight, but not enough time to study them all as time was running out. She couldn't thank Father Ruggero enough for his kindness and was tearful as their time together was coming to an end. But the Don had another little surprise up his sleeves.
He had planned a special meal for them with real Tuscan hospitality. The drawback was that the Restaurant was even further up the mountain, halfway to heaven really. The views up were spectacular with deep gorges and wild mountain flowers. As he drove up higher and higher Helena could imagine her ancestors walking up these tracks some centuries before. The restaurant offered us local wine and Tuscan delights to eat, such as she has never enjoyed before. After enjoying the meal Helen really needed to have her wee Siesta to rest her weary bones. However, this was not to be as the Don had another surprise in store for her!!
He popped a blindfold over her weary eyes. She thought he was playing some kind of silly prank, but as he unravelled the scarf from her eyes to was shocked to come face to face with her great-grandfather Emilio Quilietti and he was riding a white horse called Celesta. The proud Italian sat upon his majestic white horse and he simply greeted Helena with a nod of his head and tugged his weather worn cap towards her. Emilio was a man of few words.
He simply whisked her up upon his saddle to take her to places in his life that she had never seen before.
Helena's face turned several shades of white, red and green at the thought of climbing any higher up into the heavenous mountains, but she need not have worried as Emilio was such an expert horseman and knew these tracks like the back of his hands.
After hours of riding higher the hot sun began to take it's toll on all of them. Emilio sensed that his horses' throat throat was becoming parched and dry so he made a detour to a special place where they could enjoy a drink of mountain water. In the woodland beyond the track Emilio recalled many fond memories of his brothers and sisters and what pranks they encountered in their childhood. He recalled when they foraged and picked fresh ripe berries and fruits for their Mama who would turn the fruit into a delicious fruit pie. Emilio was a passionate man as far as his family was concerned and he shared one or two anecdotes and stories about their childhoods. But all was not fun because country life was hard for them as they all had their own chores to do each day, whether it be chopping wood for a hungry fire or fetching water from the flowing river. The girls would help prepare dinner or mend or sew the hand-me-downs to make do for yet another year. Life was pretty tough while living in the Tuscan hills and as the family grew older their paths grew apart with some choosing other countries to help enrich their lives. Some chose America and some chose Scotland. Emilio confessed that sometimes he pondered upon what might have been if they hadn't flown their nests to other places.
Emilio was not a man to dwell too much on things and he perked up at the thought of another exciting expedition with Helena where he could show her more of his Tuscany. However things went terribly wrong when they rode by a valley with rocks strewn down the paths. Emilio lost control of his horse when his brave Celeste stumbled over a few of the rocks. In the blink of an eye they all plunged downwards towards the unknown……………
A true story that has the yellow star for the senior pastor of Castelvecchio Pascoli, the rector Msgr. Roger Bencivenni. A yellow for which it was not until maybe next week to see any developments.
The priest was found the day before yesterday morning at his home lying on the ground and was unconscious with the house ransacked. To find the niece who had left the house a few hours before, after samples taken at the center of Barga to perform a blood test.
From yesterday to Castelvecchio not talking about anything else and has made its way the hypothesis that has been drugged by thieves. Don Bencivenni, 88, known and liked throughout the community barghigiana, actually suffers several serious conditions including diabetes that caused blindness and heart problems and the fact that he may have played a part in the ill consequences of his disease . But something does not return to this reconstruction, and leaves some doubt. The same people who must have had his niece, Laura Lemetti, who found his uncle unconscious and two of the rooms of the house of the pastor made a mess in part. A closet had been emptied it and two drawers were spilled on the bed.
Hence the idea that Don Roger may have been witness to an attempted robbery in her home and that the thieves may have fallen asleep before fleeing. Immediately the alarm was raised by his niece who warned the 118 and the local police station Barga. The elderly priest, still unconscious, was rushed to hospital where he continued to sleep for a whole day and immediately have taken the investigation to try to understand what had happened. No indiscretion on the part of the first soldiers of that definitely want to get hold of other elements to reconstruct the incident. Apparently, however, would require a toxicological analysis of blood to determine the possible presence of narcotics, but to get the results almost certainly have to wait until next week.
The only thing certain at the moment are the two rooms a mess and the fact that signs of force were also collected at the door of the house. No objects of value, however, would be gone from the house and even dall'attigua Church of Castelvecchio and this would make it even more nebulous the whole story.
What happened Thursday morning in the house of Don Roger? It 'was really drugged by thieves or the priest may have caused chaos at home and have felt badly because of his health? The toxicological analysis, will surely clarify this doubt.