QUILIETTI Benabio connections USA
THE BENABIO family
We are connected to the Rhode Island branch of the Benabio family through our ancestor Maria Domenica Quilietti. She married Alfredo Benabio in Providence, Pawtucket, Rhode Island, U.S.A.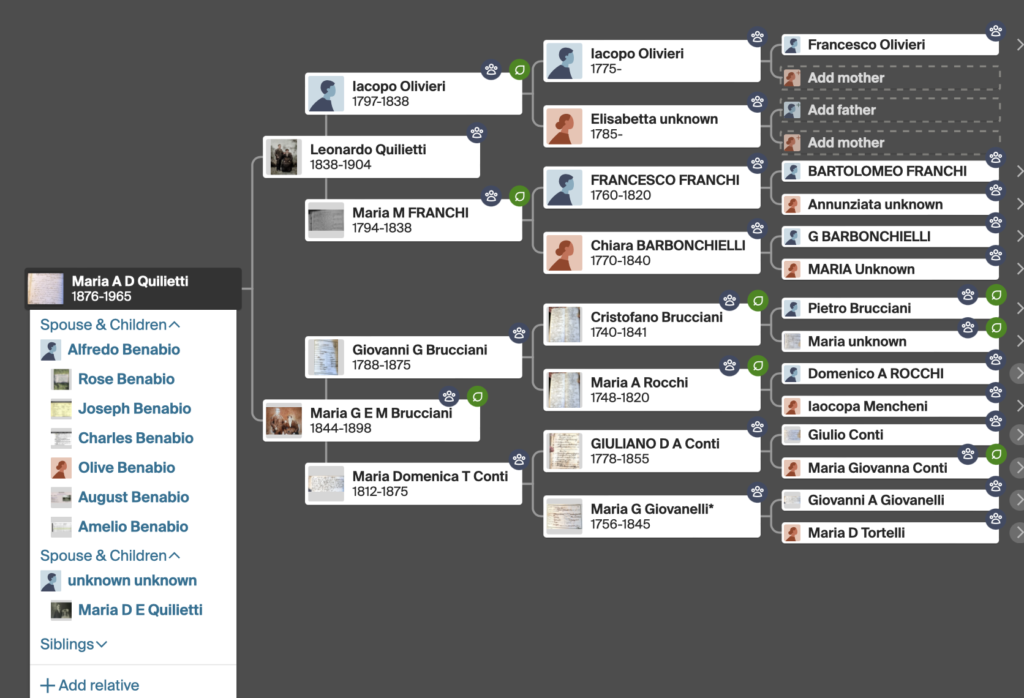 Maria was the youngest daughter of Leonardo Quilietti and Eletta Brucciani.
We have now learned that Maria had gone at first to Rhode Island in 1895 as is documented in the 1930 USA census. Like her siblings they seemed to travel to and from Europe and America several times before finally settling there and getting naturalised.
But in 1903 she was back in Italy and gave birth to a baby girl who was known as Ellen.
It was after the death of her father Leonardo in January of the year 1904 that decisions were made for her to start afresh back in the new land of America.
Maria left Italy in the year 1904 with her older brother Giuseppe Quilietti who was sponsor to the baby in Castelvecchio Pascoli.
On their arrival in Rhode Island Mary and her baby Ellen went to live with her sister Ermenia Quilietti Dante who had settled in Rhode Island in the late 1890s. After some time it was decided that Ermenia, who as yet had no children with her husband and cousin Peter Dante, would take the child and bring her up as their very own. This was not uncommon in those days
Maria married in the year 1905 to another Italian Alfredo Benabio who was 12 years her senior.
CHILDREN OF MARIA DOMENICA QUILIETTI and ALFREDO BENABIO
Their family started to come almost immediately
ROSE BENABIO 1905-1974
ROSE BENABIO was born in October 1905. in Pawtucket. She married into the Sqrulloni family to Angelo Sqrulloni in the year 1925. They in turn had five children who all seemed to remain in and around Pawtucket. If any of rose's descendants read this please be in touch with Helen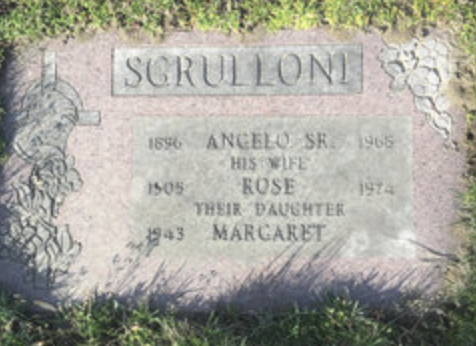 JOSEPH BENABIO 1906-1952
JOSEPH BENABIO was born on 8th October 1906 in Providence. He became a mechanic and as far as I know he remained single TBC. He died in 1952
Joseph Benabio was an owner of horses and trained them himself. He raced at Narragansett Race Track in Pawtucket Rhode Island.
CHARLES BENABIO 1909-1972
CHARLES BENABIO was born on 13th December 1909 in Providence. He married in 1929 to Doris Tomassi Grossi. The Grossi family were originally from Rome in Italy. They had also emigrated to Rhode Island in 1910 and had eight children, some born in Rome and the others in Rhode Island. Her father was called Tomassi Grossi and her mother from Mineo in Italy was called Maria Germani.
The 1950 census above tells you a bit about Charles and Doris and their family. Charles was a Papercutter, Doris a Weaver in the Textile Mills. Three children Charles age 11, Allen age 5 and Dorothy age 3. Charles worked at a foreman at the same paper-mill as his brother Amelio. The Mill was situated in Tweed Street in Pawtucket. Later in life Charles worked in construction.
CHARLES's Son Charlie 1938-2020
Charles died in 2020. The passage below is from Find A Grave Website.
Charles A. "Jackie" Benabio, 82, passed away September 12, 2020. He was the beloved husband for 61 years of Diane C. (DiFilippo) Benabio. Born in Providence, a son of the late Charles and Doris (Grossi) Benabio. He was the devoted father of Donna A. Lombardi and her husband Steven and Deborah "Debbie" Benabio; cherished grandfather of Steven R. Lombardi II and Daria E. Lombardi; brother to Alan Benabio and his wife Carol and Dorothy Vallee and her husband Daniel.
Jackie married the love of his life Deborah DiPhillipo in 1959. Together they worked hard to create a wonderful life for them and their two girls. They spent many summer weekends at the beach, cooking on the grille and relaxing in the sand. Going to all their hockey games, cheerleading competitions, and traveling around the country just being a proud grandfather.
After serving in Korea, Jackie worked as a journeyman in the Bricklayers Local 3 for thirty years. He was a professional and taught his skills to his five nephews, who he treated as his sons. They looked up to him with love and pride. After he retired, he couldn't sit still. He bought a lemonade truck and called it "Jolly Jacks". He loved ringing the bell and playing the music going through the streets of Rhode Island and making children happy. Many times he would hand out lemonade for free. He also became a blackjack dealer at Foxwoods. Thus a "Jack" of all trades…
He died on 19th February 2001 in Providence at a ripe age of 92.
Charles's son Allen
AUGUST BENABIO 1911-1985
AUGUST BENABIO was born in 1911. He married Margaret Mary McGann circa 1940. Three children, Richard, Judith Ann and Robert F. He ran a garage called 'Gus's Garage' I believe for many years.
August Benabio worked in a paper Mill as a kid. In 1933 he opened an auto-repair business in Pawtucket where he worked all his life. It was called Gus's Garage

He died on 13th September 1985 in Providence. Gus as he was known had two children. Richard and Tracie. Tracie I believe married to unknown Pelland. I have no further information on these lines.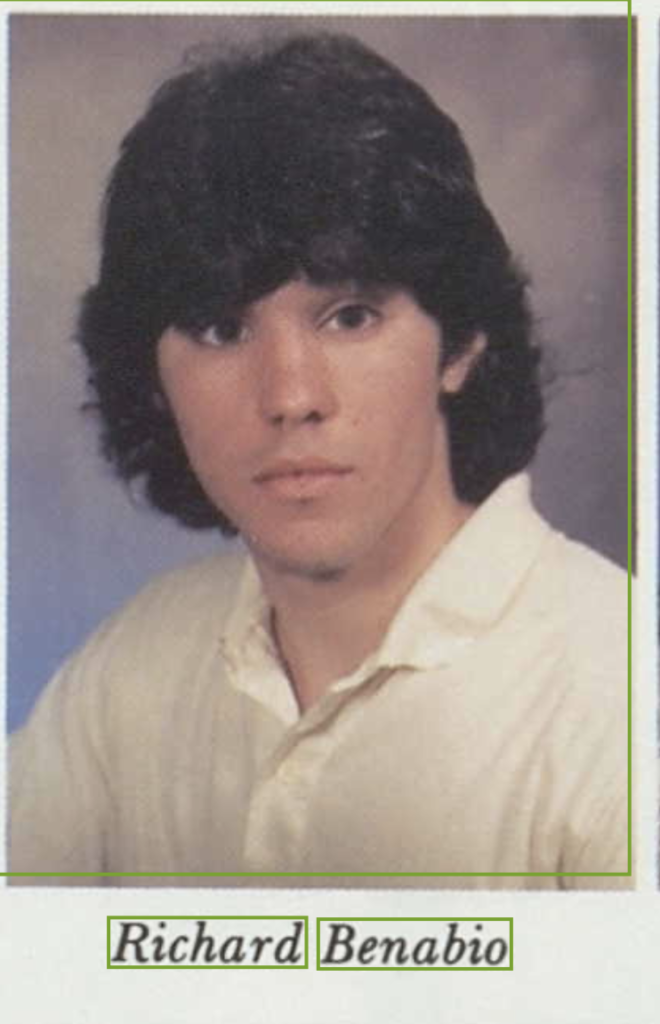 OLIVE BENABIO was born on 22 Feb. 1912. She married……..Fallows. She died in 1984 in Providence. this line not confirmed.
AMELIO BENABIO named after his uncle EMILIO QUILIETTI was born on 7th Feb. 1915 in Providence and died in September 1969.
He married MARY RUBINACCI 1916-1998 – this line ongoing research required. Emilio worked in a papermill on Tweed Street in Pawtucket. He also later in life worked in construction. He is also buried in Pawtucket.
The 1950 census with Amelio, his wife Mary, their daughter and Mary's mother Rose Rubinicci. Neighbours donato family and Lombardi. Amelia doing maintenance at the Race Track at this time in his life.
Mary Domenica Quilietti is buried alongside her husband Alfred in Pawtucket. Their sons Joseph and August alongside them.