When Estelle Brattesani was born on 13th December 1979 in an area outside Paris called Valence, her father Pierre was 24 years old and her mother Ghislaine Fernandez was 20.
"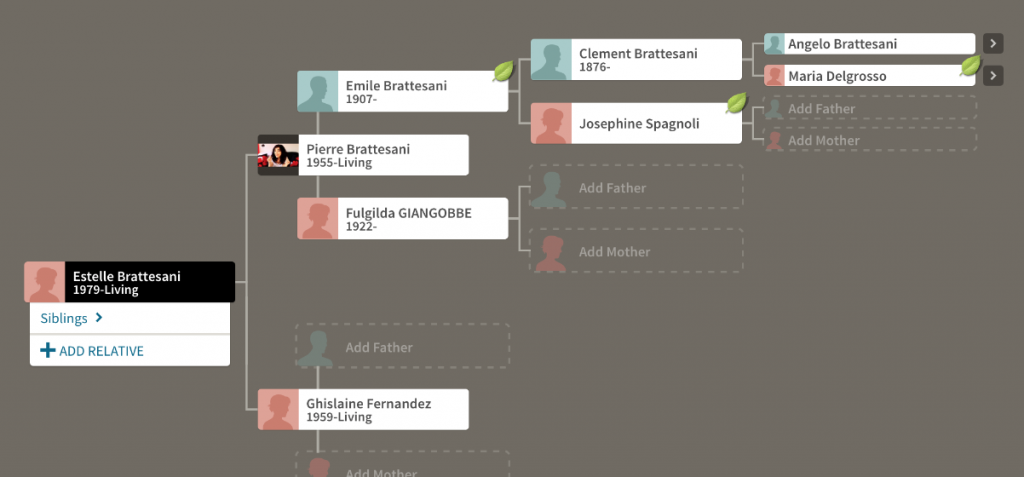 Estelle's father Pierre was born in 1955 in Creteil, which is a surburb some 7 miles from the centre of Paris. Â  Â He married Gislaine Fernandez [Spanish perhaps]. Â They had two children Estelle and Gregory.
Pierre's father was Emile Brattesani and his mother Fulgilda Giangobbe. Â Fulgilda was born in Palestrina in Italy in the year 1922. Â They made their home in Paris.
 Emile on the other hand was of Italian descent and his parents had already settled in the French Capital.  He was born in the year 1907 in a suburb of Paris called Montreuel.  Here are a few old photographs of the area.

Pierre has one sister called Francine who was born in 1956. Another  brother  was called Clemente, named  after his grandfather, but unfortunately he died prematurely.

Emile's father was also called Clemente Brattesani and he was born in Paris, France in the year 1876. Â Clemente married Josephine Spagnoli. Â They had at least three children, Emile born 1907, Joseph who was born in 1912\1986 and Rosine born 1925. Â There may have also been another daughter Maria.
Clemente's parents had travelled to Paris sometime before 1876. Â Clement had cousins who had also travelled to Paris at or around the same time. Â [Helen's line]. Â Clement's parents were Angelo Brattesani and Maria Delgrosso. Â Their children we know of are
Angelo born 1868 in Borgotora – he may have died as an infant
Sante born 1875. in San Vincenzo, Borgotora. Â He married his cousin Valentina Quilietti [Brattesani] after the death of Valentina's husband. Â Also ran fish and chip shops and ice cream parlours. Â Died in Borgotora 1915.
Clement born 1876 in Paris, France. Â This is Estelle's line.
Giuseppe born 1879 in Edinburgh. Â He married Agnes Ferguson and they remained in Edinburgh and ran restaurants and fish and chip shops until recently.
Celeste born 1884 in Parma. Â He married Maria Ewan and they settled in the Falkirk area of Scotland where they also ran restaurant and fish and chippies.
It is interesting to see how Angelo Brattesani and his wife also travelled between the three countries.  Perhaps the families had businesses in Paris before coming to Scotland.  They must have been hardy folks to travel between the Cities in those days, the very strong willed ladies to travel between the countries whilst carrying their children.    Angelo's brother  Giuseppe Brattesani with his wife Lucia Coffrini were also amongst the Brattesani Clan moving between these countries at this time.
Estelle's very exciting  profession is one of  journalist, photographer, videographer, actress, mime artiste and commediane.  She has appeared in a few movies in France.  She describes herself as an actress and video artist and she is fluent in French, English and Spanish.
 "After studying international law in 2000 I decided to throw myself fully in the artistic way. So for years I alternate theatrical performances, musical or audiovisual, as a performer (singer and actress), or creative (writing, staging, production). 
"

Since December 2013, I devote myself to my eco-humorous web column "Diary of a revolving" freely available on the web, I write, directed and acted. 

Thanks to her, I was hired for a year in 2015 as Journalist Reporter Photography and regularly works as a freelance videographer.

Diary of a-drum. 

311 likes · 25 talking about this. 

"Diary of a-drum" is a series of columns presented in the form of a video diary offered by the character of Lena, thirties who asks questions and who will pick up by itself the answers.