BRADY Connections – Margaret's siblings, her mum and her dad.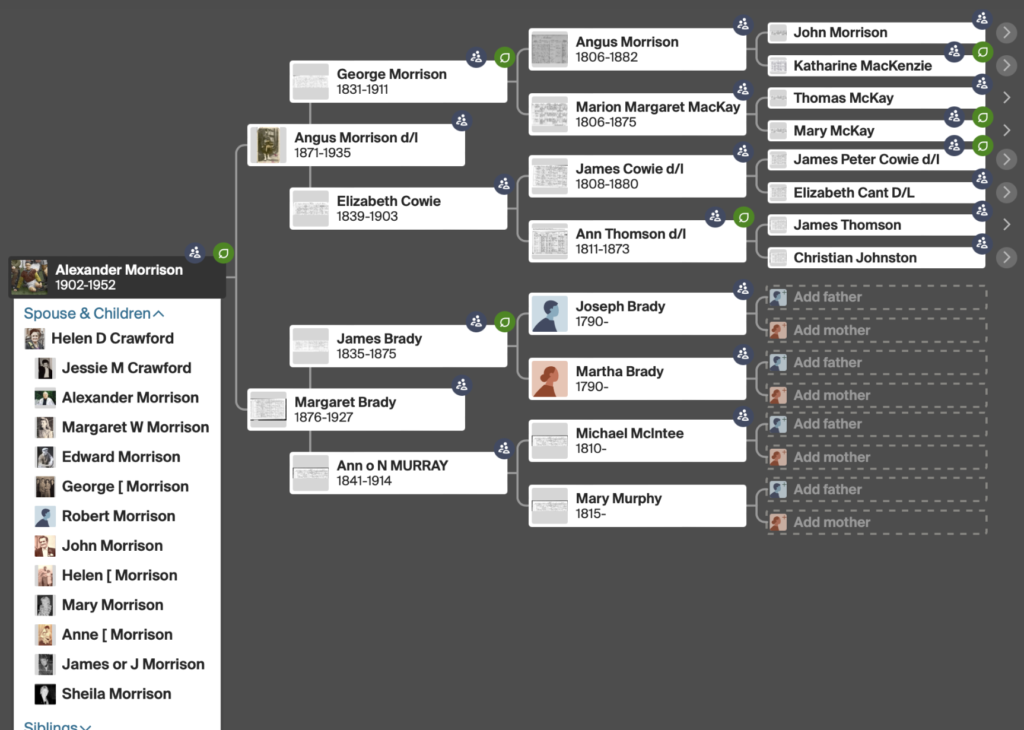 This is Ann Brady's death as is confirmed by her son-in-law's signature of residing at 15 Gilmore Terrace in Edinburgh, the residence of her daughter May. Ann Brady has been known by a few names, Nancy or Anne or Annie MEEGHAN, MURRAY, MURPHY and McINTEE. This has caused a few head scratches over the years. But here we find her. She died in The Home, 43 Gilmore Place in Edinburgh, a Home run by the Catholic sisters for the care of the sick and elderly.
1865 Newcastle, England
The Brady connections. This has been a real challenge trying to figure out Granny Brady's heritage. Moving from Ireland her parents were in Newcastle for a while where two of their children were born before moving to Edinburgh. I also have a DNA Hit with Dawn Connolly whose ancestor is Mary see below. [They were Sisters]. Where in Ireland they came from is still to be confirmed.
JAMES BRADY and ANN MURRAY [or Meeghan] were of Irish descent probably moving over from Ireland around 1860. We do have the information below that their eldest daughter Mary was born in England in the year 1867. Having been unable to trace James' death in Scotland I am of the belief that he died in England. He was described as a Railway worker on Margaret's marriage certificate. So that would be absolutely spot on as to when the Irish came to work on the railways and help build Britain's railways. By 1875 Ann was up in Edinburgh and residing in a house in the old tenement No. 17 Tanner's Close of the West Port in Edinburgh. She is heading the family by 1875. With no sign of James. He also worked as a Marine labourer as well so perhaps he was away at this time. But Margaret was born in 1876 the year after this Valuation Roll was documented. Also the 1881 Scottish Census tells us that Ann Brady was married, not a widow. To date I have found no death for James Brady in Scotland.
James Brady appears in this 1851 English census described as from Newry in Northern Ireland [at that time it was a United Ireland]. Age 16 and a Pony Skin Cutter. This may or may not be our James but he is the only one traceable to that area at the time.
Mary appears to have been born in Newcastle under Lyme, Staffordshire in September 1866, as this is the only Mary Brady recorded under Newcastle at this time. We have now however now found Ann
1875 Valuation Roll Edinburgh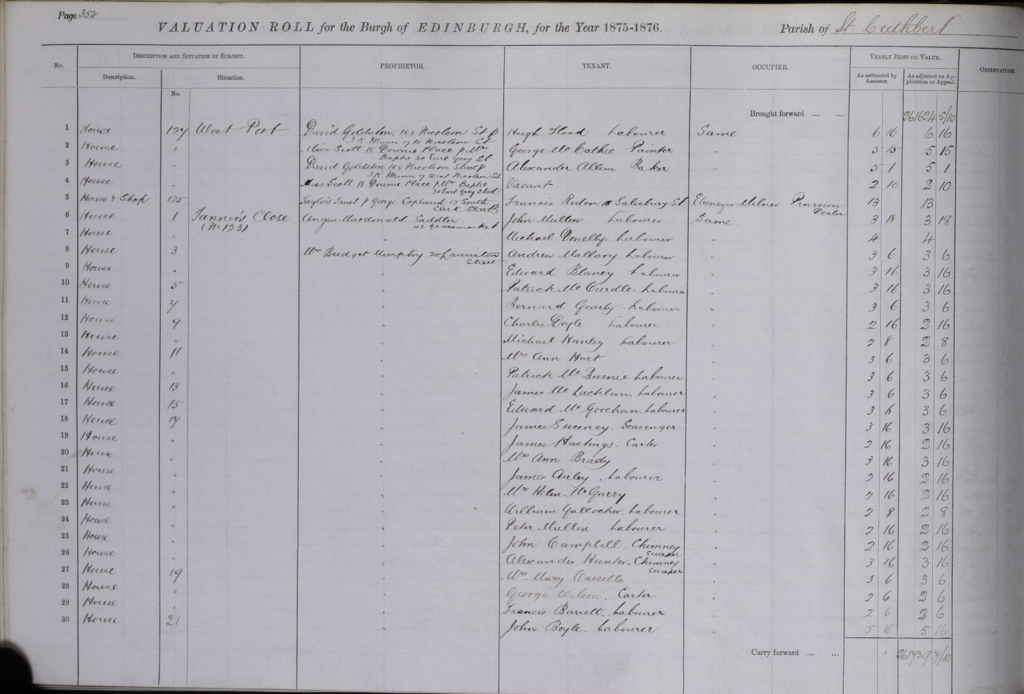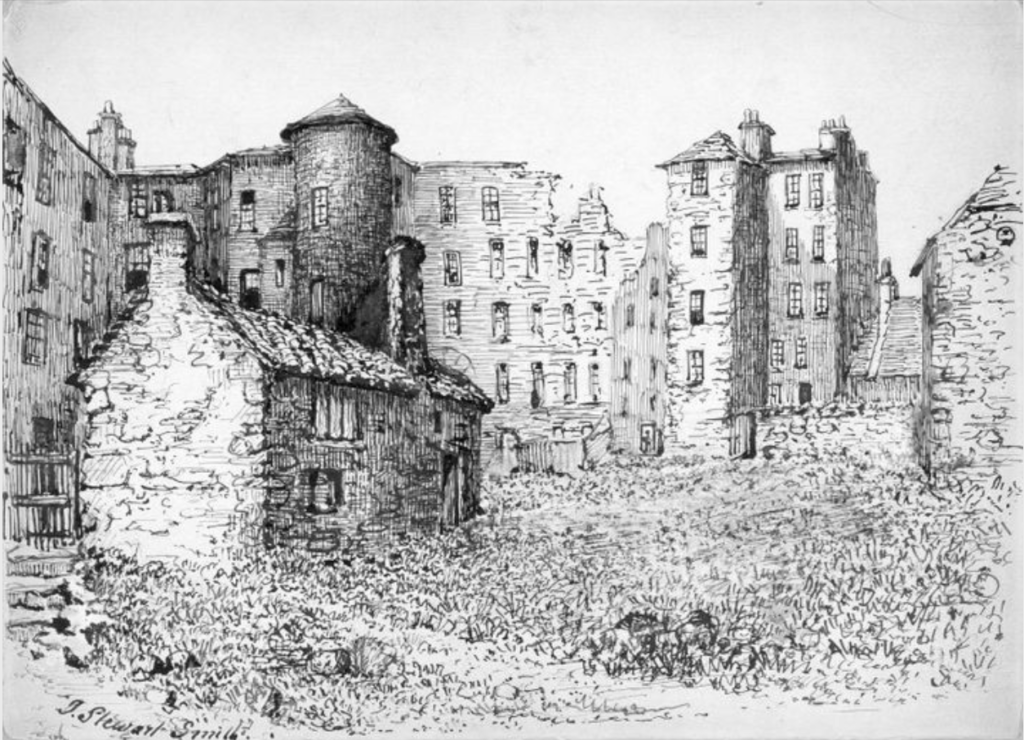 1881 Scottish Census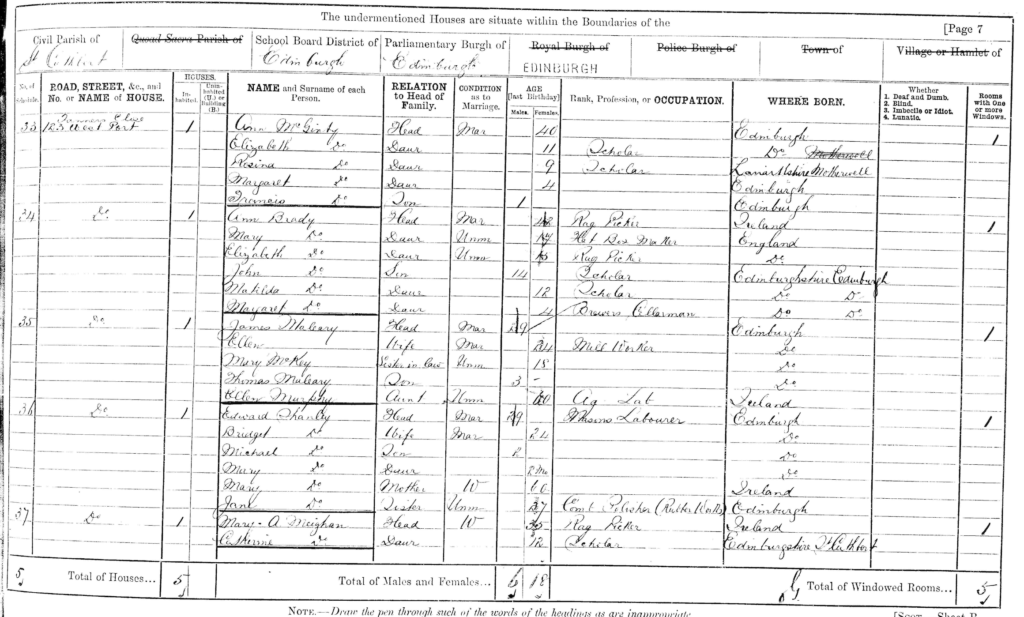 This is the 1881 Scottish Census for Edinburgh. Tanner's Close, 123 West Port.
Showing the family Brady with
Ann Head, Married, age 42, Rag Picker born Ireland.
Daughter Mary, age 17, Hat Box Maker, born England,
Daughter Elizabeth age 15, Rag Picker, born England,
Son John Brady age 14 scholar, born Edinburgh.
Matilda age 12, scholar, born Edinburgh,
And Margaret age 4 Born Edinburgh
123 West Port, Tanner's Close was demolished to make way for a Government Building in the 1960s. It was in years past where the notorious Burke and Hare would do their dastardly murders.
1885 VALUATION ROLL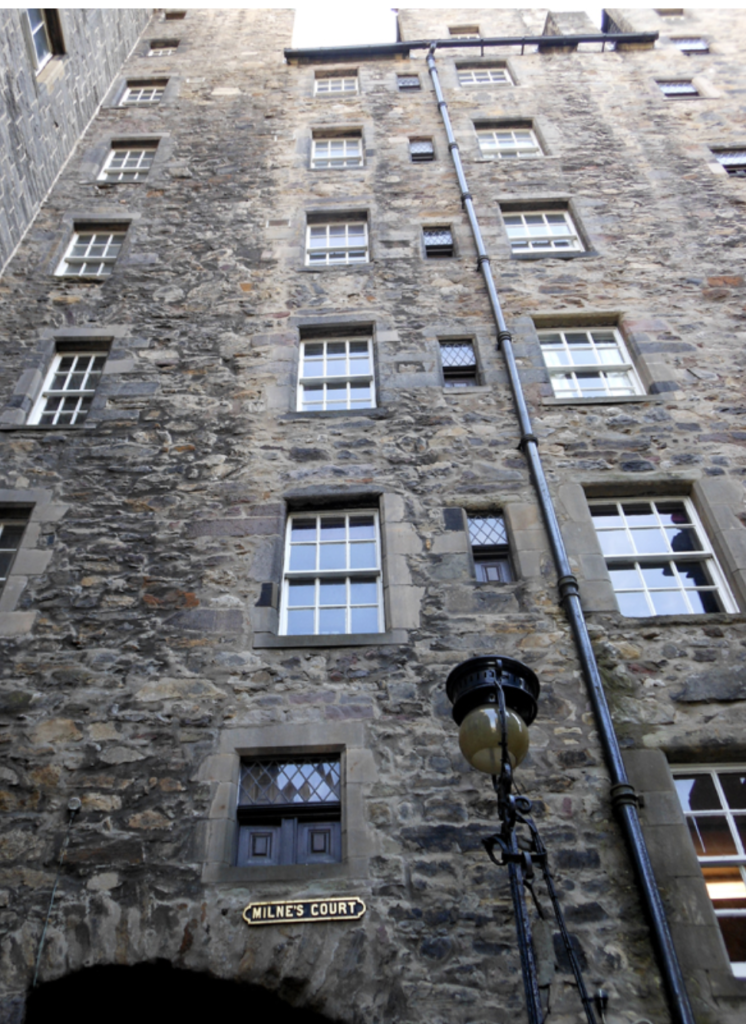 1891 Scottish Census with Ann now a Widow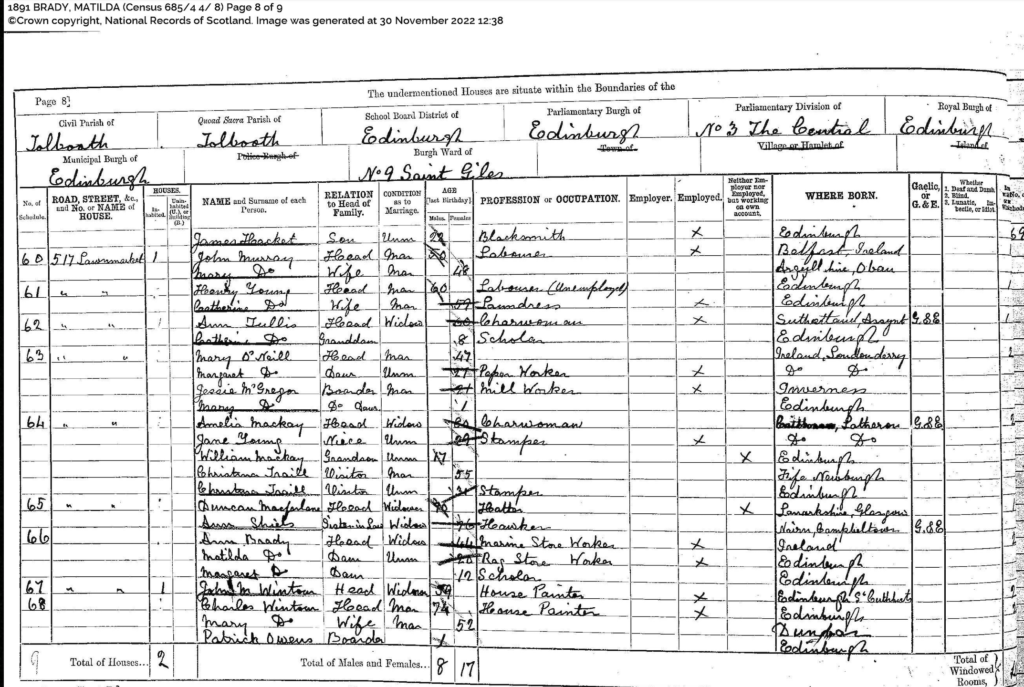 The Morrison and Brady families lived in the same tenement building and was where where they met. They married in 1893. The Morrison family George and Elizabeth Cowie with their son Angus who was at that time in the Navy. I love how it tells us that George was born in Sutherlandshire and spoke Gaelic. Elizabeth was born in Portsoy.
1905 Edinburgh Valuation Roll
Margaret Brady 1876-1927 is my great grandmother . She married Angus Morrison in the year 1893 in Edinburgh
1st December 1893 at Saint Columbus Church, Johnston Terrace in Edinburgh. A Scottish Episcopal Church. This is a copy of the marriage details between Angus Morrison and Margaret Brady. The document tells us that they both lived at No. 5 Milne's Court, Lawnmarket in Edinburgh. In fact both families resided in the tenement building. It tells us that Margaret's parents were James Brady, who also worked on the railway as did his new son in law Angus Morrison at this time. Margaret's mother was Ann Murray.
Children of Angus Morrison 1871-1935 and Margaret Brady 1877-1927
Marion Morrison 1895-1931 – Born in Milne's Court, off the Lawnmarket. Her occupation was one of umbrella maker. She married Robert Hay in Edinburgh in 1915. She died very young in 1931. They had one son Robert Hay.
Angus Morrison 1897-1956. Angus was born in a tenement in the old town at 129 The Cowgate. He married Isabella Walker in Aberdeen. Bella's father was a salmon fisherman in Aberdeen. Unsure of how many children they had but know they had two Angus born in 1918 just at the end of the War. Then Angus Roland who was born in 1928. Angus died at 93 Niddrie Mains Terrace in 1956 of chronic bronchitis and emphysema. This Angus is the grandad.of Paddy, Mary, John and Gus Morrison [who died in 2020]
George Morrison 1900 was born on 10th March 1900 at 1 Fountain Close, The High Street. HAVE NO FURTHER INFORMATION
Alexander Morrison 1902-1952 – married Helen Denholm Crawford – 1901-1981 – my direct line. They had 13 children and all born at home. One one son died young Robert 1931. Alex was in the Army during the War and I believe he was a sergeant. He died in 1952 age 50 at home at 50 Niddrie Mains Terrace of a Cerebral Haemorrhage. Ma Morrison lived until 1981.
Annie Morrison 1905 – she was born in Blackfriars Street. She may have died in infancy
John Morrison 1908 – He was born at 4 Haddington Entry, 4 the Canongate. HAVE no further information on John Morrison.
Some of Angus's professions
1888 ARMY THE Gordon Highlanders – see below 1888-1901 – 13 years in Army but perhaps it was more a territorial army as he seems to be in and out of these other jobs below.
1891 NAVY on census information –
1893 RAILWAY SURFACEMAN on marriage lines
1895 – RAILWAY SURFACEMAN on Marion's birth lines
1897 – MASON'S LABOURER on Angus's birth lines
1900 – 3RD BATALLION Gordon Highlanders on son George's birth lines
1902 – GENERAL LABOURER on son Alex's birth lines
1905 – RAILWAY SURFACEMAN on daughter Annie's birth lines
1908 – GENERAL LABOURER – on son John's birth lines
1915-1918 IN ARMY – 6th Royal Scots NO. 2218 – he was discharged because of eye problem.
1919 – GENERAL LABOURER
1911 Census Angus and Margaret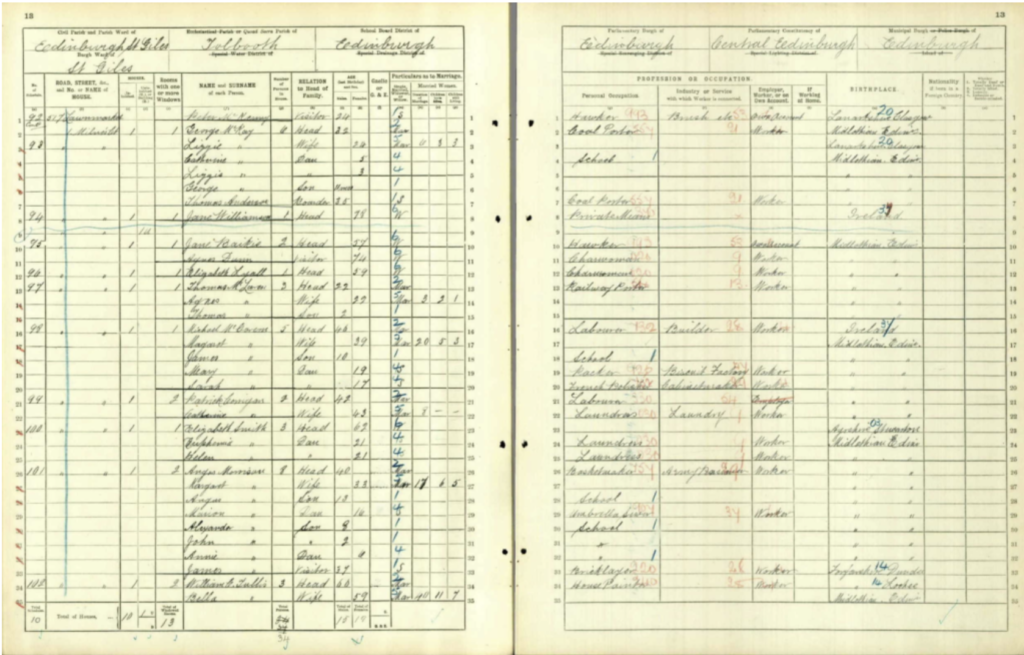 Margaret died in 1927 in the Longmore Hospital in Edinburgh's South Side. She died of pelvic Cancer age only 50. Longmore Hospital was at that time a dedicated

Margaret's sister Matilda Brady 1869-1935 married William Clark in 1888

Matilda's birth with yet another connection – her parents given as James McBride and Ann McIntee.

Have only traced two of their children
Margaret Ann Clark 1892-1941. She married Michael Gillerlane in 1912. Children – Margaret Ann born 1914, William born 1914, Rose Ann 1917, James 1920, Matilda 1924 and Lawrence 1925.
Bridget Clark- 1898 – no information on this line
Marriage at St. Patrick's Church in the Cowgate.

Her death with informant Margaret Gillerlane. She has given wrong surname again for Nancy or Ann Brady
Below is daughter Margaret Ann's marriage to Michael Gillerlane in St Patrick's Church
May or Mary Brady married John Smith – the Smith connection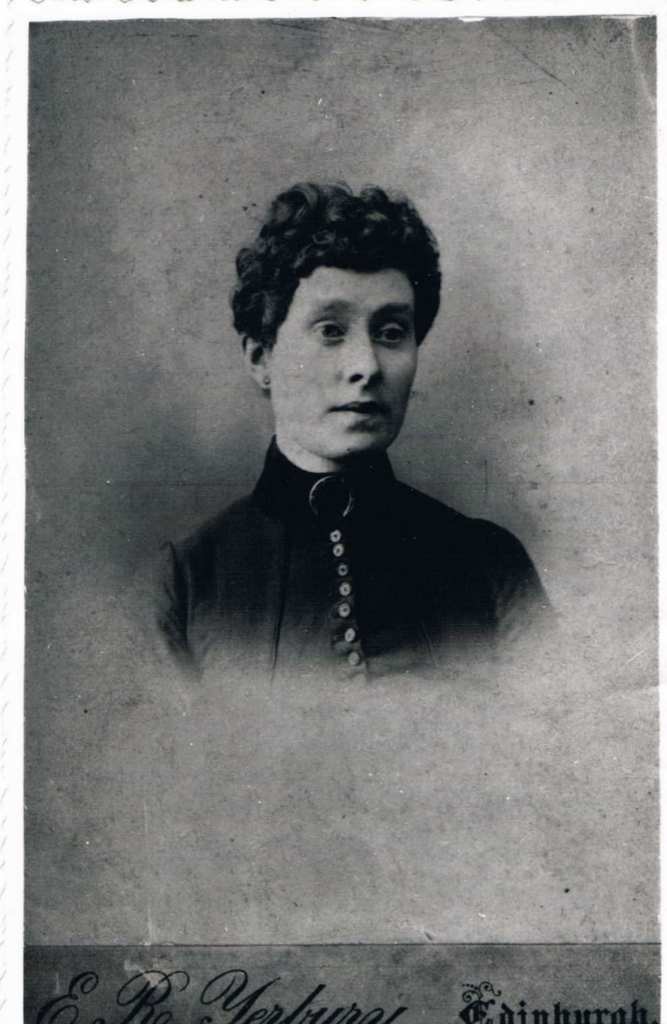 Thanking Dawn Connelly now for providing Helen with these fantastic photos of her G Granny. She did very well really marrying John and seemed to enjoy a more fruitful life than some of her younger siblings.
1901 Census sees family move to Gibson Terrace.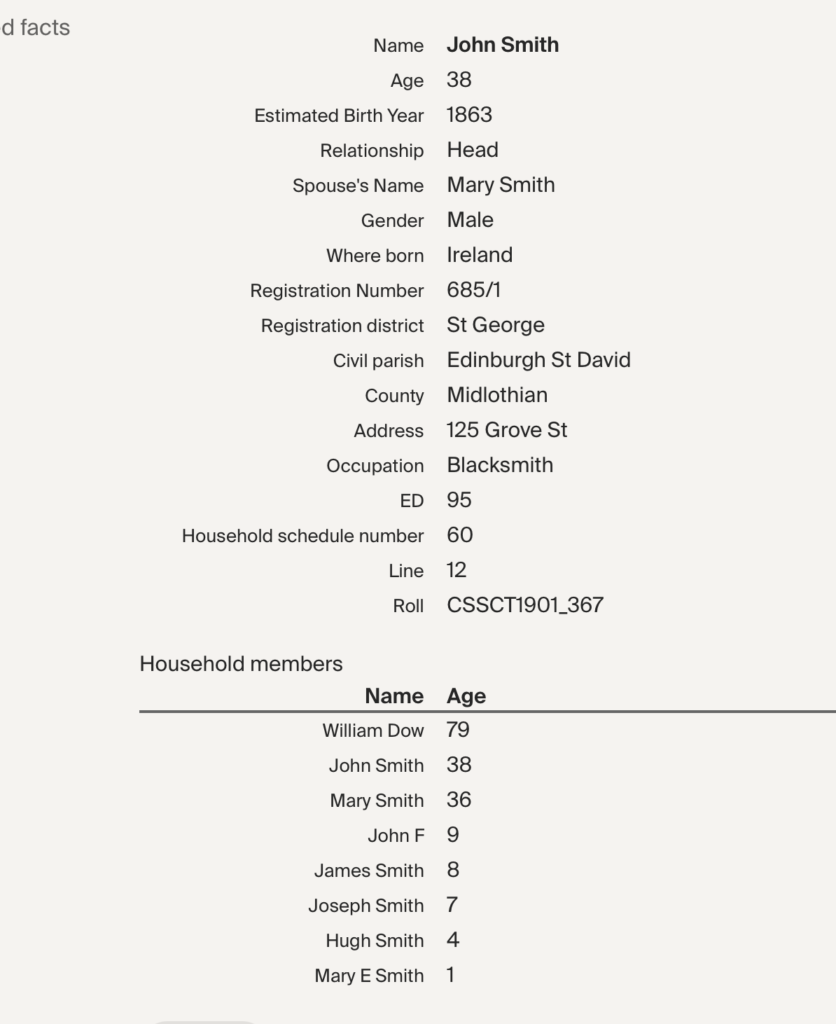 Some of the descendants of Mary Brady and John Smyth or Smith
MARY ELIZABETH SMITH 1899-1998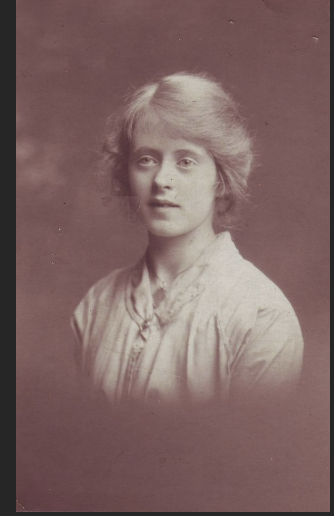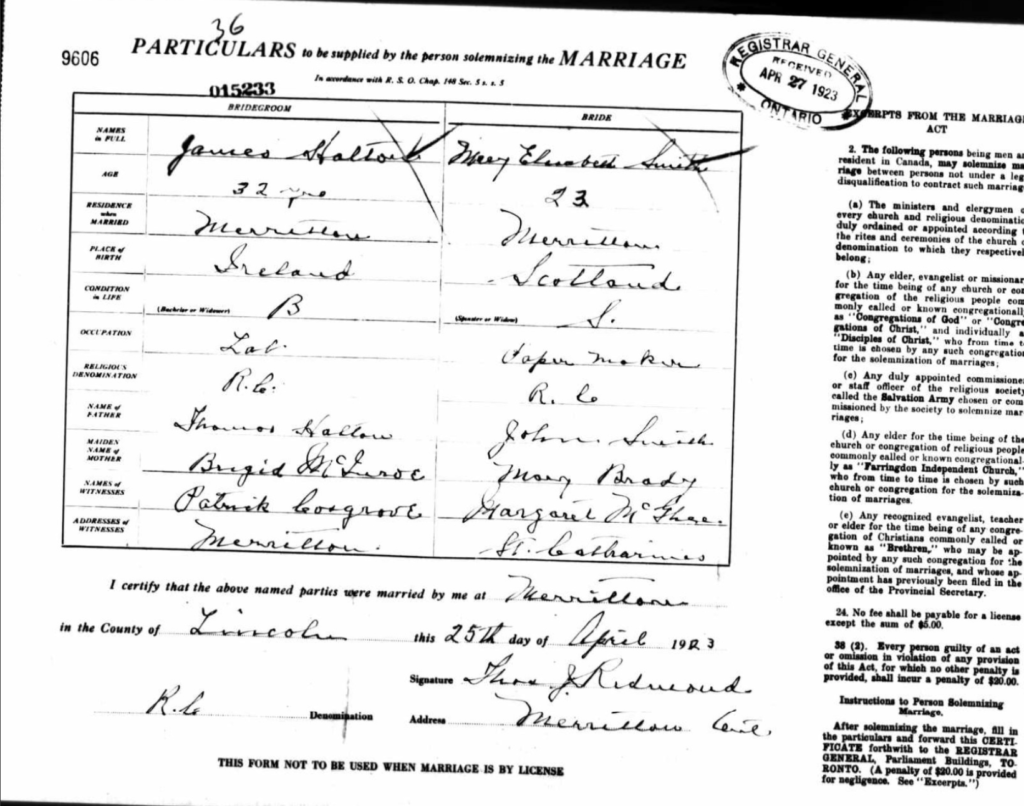 Mary Elizabeth left for Canada where she married an Irishman James Halton. They in turn had at least four children, Marie Veronica Halton who married Charles Edward O'Brien. Gerald Halton. Camilla who died at birth 1935. And Maria Teresa who married Jack Miller. The family settled in St. Catharine's, Ontario in Canada.
JOHN PATRICK SMITH 1891 – unknown possibly Australia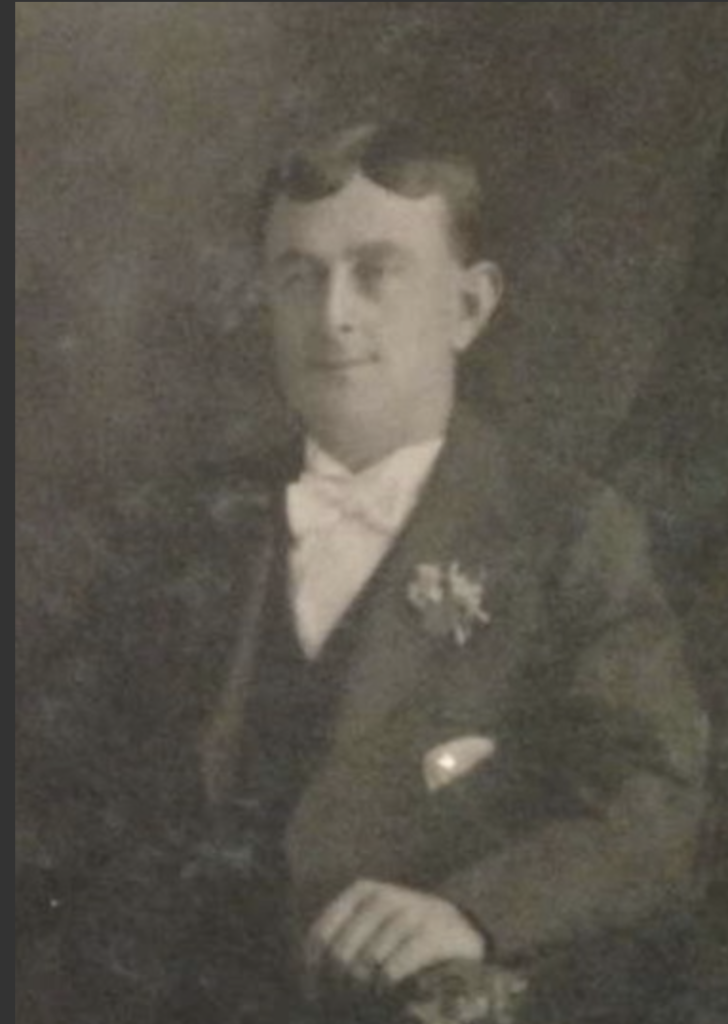 This is a photograph of their son John Patrick Smith 1891- unknown, who as we can see emigrated to Australia and was in the Army there in 1915. His mother Mary Smith of 15 Gibson Terrace clearly shown as next of Kin
JAMES SMITH 1892-1972 and his wife MARGARET MILLER 1891-1985
James Smith married Margaret Miller in the Church of the Sacred Heart in Lauriston, Edinburgh on 20th July 1915. Margaret was not a Catholic but changed to marry. James saw service in the trenches in France. Back in Scotland he worked as a bartender in the Shakespeare Tavern on Lothian Road. He also worked in the Empire Bar on Nicholson Square. During WW2 James worked on the Trams in Edinburgh..
They in turn had six children, Mary Johnston, Agnes, Jemima, Marguerite Josephine, John and James [who died as an infant] Margaret died in 1985 reaching the age of 94.
JOSEPH SMITH 1894 – 1915 AUSTRALIA TBC
Elizabeth Smith 1904-1980 TBC. married JAMES HAY WILKIE 1889-1973
They had one son Thomas born in 1920. I have no further information on this line. They appear to have stayed in the Edinburgh region.
Daniel Patrick Smith 1902-1989 married Rachel Graham Hammond McClure 1905-1980
Rachel Graham Hammond McClure was born on 15 November 1905. She married Daniel Patrick Smith on 5 June 1925 in St. Columbus RC Church, Southside, Edinburgh. They had two children during their marriage, Daniel and William. She died on 25 June 1980 at the age of 74.
HUGH SMITH 1896 – Unknown married Beatrice unknown.
I have no further information on this line