Helen Rose Quilietti marries Denis Madigan Stanton in 1972 in Edinburgh, Scotland.
 This is our Quilietti connection with the Irish family Stanton or Staunton..
Our branch of the family came to Scotland from the West of Ireland, the Parish of Oughavil which is now a part of Westport. At the time of the great Potato Famine in 1845 there were 55 Stanton households in County Mayo and the majority would have been closely connected. In the rest of Ireland there were only another 14 families with this surname.
Aghagower Civil Parish falls primarily in Murrisk Barony. Only a small northeast section is in Burrishoole Barony.
The far south border of this Civil Parish borders County Galway. It is located only four miles from Westport, one of County Mayo's Premier Market Towns.
Aghagower Civil Parish, which falls within Aughagower Roman Catholic Parish has 97 townlands, with 45 of them being in Burrishoole Barony and 52 in Murrisk Barony. Economically speaking, the Townland of Aghagower appears to be the primary hub of economic activity with a "Fair Green," "Tolls and Customs of Fairs" and a Forge (in addition to the Church, Graveyard, School already mentioned).
The townland of Aille had a Miller's House and Tuck Mill; the Townlands of Cloonskill, Cordarragh North and Mace South each had a Forge.
The Townlands of Aillbaun and Teevinish each had Plantations;
Cloonagh had a Bleach Mill, two Flour Mills and Stores; Brackloon had a Tuck Mill,
Knappagh More had a Corn Mill;
Srahatloe had a Dispensary,
Toberooaun had a Constabulary Barrack and there were Herd's Houses in the Townlands of Aghagower, Ballygolman, Carrowkeel, Cloondacon, Cordarragh South, Derrinkee, Derrintin, Derrycraff, Drummindoo, Errif, Forkfield, Glenacally, Glendavock, Glennumera, Gorteen, Knappaghmore, Knockbrack, Lankill, Letterass, Mahanagh, Midgefield, Monamore, Mount Brown, Rockfield, Srahatloe, Srahlea, Tawnagh, Toberooaun and Tonranny. There was also a Shepherds House in Ballinvoy. The number of Herd's Houses and a Shepherd's House would seem to indicate significant pastoral land for grazing. Farmhouses were documented in Bofara and Drummindoo. The only other item of a Commercial nature was the Salmon Fishery in Killarly Harbour.
Aghagower, like many Civil Parishes in County Mayo, saw a significant population drop during and after the famine years. There were 12,235 in Aghagower in 1841, dropping to 6,511 in 1851. This number declined farther still; by the year 1911 there was only 3,595 people in Aghagower Civil Parish. To behold the awful state of this parish is indeed frightful beyond conception. Famine, destitution, despair and death. Men, women and children sick and dying of hunger. Will anything be done for their relief? This district is totally neglected. We have complied with all the requisite rules. We got several promises, but no relief. I humbly request that your journal will direct me to what I should do.
I send the names of those who died of want and hunger in three villages on the mountain district, in the month of April alone-
Drimcaggy, Ballybanane, and Darras- John Hough, Anna Hough, Judy Meenachan, Katy Gibbons, Frank Dermody, Pat Walsh, John Durken, John Staunton, Kate McNilly, Beggar at Gortanukellen, John Malley, Austin Going, Henry Walsh, Pat Walsh, John Walsh, Tom Malley, Pat Lally, Bryan Boyle, Henry Walsh, J Mother, Pat Glynn, James Dolan, Peggy Walsh, William Walsh, Tom Henehan, William Dolan's wife, John Henehan's wife, John Moran's son, Biddy Lally, Thady Connolly, Pat Greavey, William Horan, Michael Malley, Michael Miller, James Drunane's wife, Mary Connolly, Martin Hanlon, New Boland's son, William Heneehan's son, Biddy Mally, Pat Stanton, Martin Sheridan, Biddy Kyne, Mathew Heneehan, William Hanlon's son, a Travelling man, Anthony Heneehan's son, Lakey Higgins, Pat Stanton, Tom Walsh, John Joyce, Michael Heneehan, Philip Meenachan, Peter Lally, Stephen Walsh, Winy Gibbons, James Dermody, Martin Lally, John Knight, Tom Bourke, Michael Dolan, John Sheridan's son, Pat Kennedy, Anthony O'Brien, Tom Heneehan, Martin McC?addy, Michael Donnellan, William Heneehan's wife, Peter Gibbons, Luke Gibbons, Walter Cusack and James Malley. All of the above persons died of cold and hunger in one month, out of a population of around 300 families.
The poor people are dying in the fields, in the streets, in the ditches, on the roads, and in the houses; some remaining for 4, 6, or 7 days without interment – without winding sheets; all- all sick or hungry, without food, or means to buy any. Irish Migration to Great Britain began long before the famine of 1845-1847. Seasonal workers (Spalpeens) had been travelling to England to supplement their income by performing harvesting and other temporary work since the early 1800's. Many Spalpeens came from County Mayo Ireland and Western Ulster. Their numbers increased in the 1820's and 1830's as "Steamer packets" became available to transport workers over the Irish Sea. "The Irish Midlands railway ran a special fourth-class fare, known as a harvest ticket, to transport men from the outlying counties to Dublin and then on to Liverpool or other West Coast Ports. The number of seasonal workers travelling from Ireland to England was between 60,000 and 100,000 annually between the years of 1840-1860. Seasonal work in England allowed families to supplement their income so they could keep their land back in Ireland. The need was great in the early 19th century for these temporary workers, but it began to decline in the 1870's with the Agricultural depression and introduction of machines to facilitate harvesting. By the 1880's the harvest migration no longer provided the supplemental income many needed to keep their holdings in Ireland and they were forced to emigrate (especially in Connacht and Western Munster).
Mayo is a county in Connaught, the westernmost part of Ireland. Even today it is the most under-developed parts of Ireland and is surrounded by bogland. drumlins [which are really steep little hills] and is surrounded by mountains. The Parish of Oughavil where our ancestors were married is now a part of Westport on the western Atlantic coast
Cemeteries
Drummin R.C. Cemetery
Drummin R.C.Church
Gloshpatrick Cemetery
Lecanvey
Murrisk New
Murrisk Old
Oughaval
Westport C.I. Graveyard
Westport Convent of Mercy
Westport Demesne C.I. Church
Westport R.C. Church
OLD CHURCHES AND GRAVEYARDS 237
Griffiths Valuation in Ireland was published between 1847 and 1864 and shows us the family Staunton living in Oughavil at this time. By 1864 of course most of the family had left the area because of the famine. But those families who remained are documented here
.http://www.failteromhat.com/griffiths/mayo/oughaval.htm
Staunton John Attireesh Oughaval Mayo Staunton John Cahernamart, 

Tn of Westport: Mill Street Oughaval Mayo 
Staunton Peter Cahernamart, Tn of Westport: Tobberhill Oughaval Mayo 
Staunton Robert Cahernamart, Tn of Westport: Mill Street Oughaval Mayo 
Staunton Thomas Cloonmonad, Westport Quay Oughaval Mayo
But going back even further the Stantons were a part of the Anglo-Norman Invasion of Ireland which took place in the year 1169 and which reached Connaught in the West of Ireland in 1220. The Norman invaders with the surname Staunton had settled in Wales and there is even a town Staunton in the area. So the history of the family would almost certainly go back to them.
Staunton is located three miles north east of Monmouth and four miles north west of Coleford in the Forest of Dean, on the border of England and Wales. The main road which passes through Staunton is the A4136 road. Staunton is mentioned in the Domesday Book as one farmstead and a waste or meend. It is probable that the first Norman Lord of the manor arrived in about 1100, and a fortified manor house was built above Castle Ditch. The parish church was also initially built at this time.
Recent history tells us that until the time of the great Potato Famine in the 1840s the family worked as farmers. The family were Catholic as were most of the population in this area at that time. They would have spoken native Gealic which was spoken predominately in this area at the time. The English language was also starting to kick in.http://www.surnamedb.com/Surname/Staunton
RECENT HISTORY of our branch of the STANTON FAMILY from Mayo in Ireland
Walter Staunton was born circa 1790 in Mayo. He married Honor Green. They had several children and one of them was Edward. Edward married Margaret Grady in 1844 in St. Mary's Church in Westport, County Mayo His wife Margaret Grady was also local to the area and their family surname may have originally been O'Grady. Her father was Patrick Grady and her mother was Ann Maguire..
Edward and Peggy Grady [as she was known] would have endured the hardship of the famine. Their eldest son Andrew was born in Ireland. But as is documented they moved from their home in 1850. These are our ancestors, our direct line reaching back to Oughaval in County Mayo in Ireland.
However history tells us that the Great Potato Famine forced the folk off the land. They were starving.and millions died.
1851 Edinburgh, Scotland
YEAR 1851 EDINBURGH
It was to central Edinburgh that a great influx of immigration came. The Grassmarket and Cowgate area was really no more than slums in the 1850s and it was here that the IRISH mostly settled.
It was here that Edward Stanton and his wife Margaret Grady came at the end of the time of the great famine. Edward and Margaret married on 19th January 1844. Their first son Andrew had been born in Ireland in 1849. The famine caused the great exodus to Scotland and it was in Edinburgh that their remaining 9 children were born. Their adopted church was St. Patrick's R.C. in the Cowgate, Edinburgh and all their children were baptised here and later married here. To keep the young men out of trouble the young Priest Canon Hannon started a football game where the men could escape from the harsh realities from living in the city.
1861 Edinburgh, Scotland
YEAR 1861 EDINBURGH
Edward and Margaret at first lived in North Gray's Close in the Canongate area. Edward described himself as a Farm Labourer in the 1861 Scottish Census. By this time the family had grown to five children , Andrew, born in Ireland and the eldest was a dust carter . Three daughters had been born in Edinburgh, Ann,was born 1851 in Edinburgh. Anna ws born in 1855 in Edinburgh and Margaret was born in 1858 in Edinburgh. Patrick was born in 1852 but was not at their home on the evening of the census. They also had Bridget who was born in 1859 but she died in June 1860. The younger daughter Ann and Anna were also working as stick sellers, their ages only 10 and 7. Life indeed was not good for the family at this time. But it was better than seeing the starvation which had embraced Ireland at this time.
1871 Edinburgh, Scotland
YEAR 1871 EDINBURGH
Now living at 5 North Gray's Close in the Canongate with son Patrick who was born in 1852, Anna born in 1855, Margaret born in 1862 and Mary born in 1866. Andrew by now had married Maria Whelahan. Their other children born the previous decade were Edward, John, Maria, and Catherine.
On 9th December 1867 Andrew had married Maria Whelahan who was born in Rosscommon, Ireland and who had emigrated with her family in 1850. They married in St. Patrick's Church in the Cowgate. Andrew was now a mason's labourer and their first son Michael Stanton had been born in 1870
In the year 1875 The Hibernian Football Club ws in fact formed at
a meeting of the young Men's Catholic Association under the Chairmanship of Canon Hannan. The name of the club was suggested by Michael Whelaghan a young man of about twenty-one years and who was elected the first club Captain. [Michael's sister Maria married Andrew Stanton and Andrew also played in the new Irish Catholic Team.] Also in the team was Patrick Stanton, Andrew's younger brother. Another famous entry is that of James Connolly who also lived in the Cowgate and although he was a few years younger than his brother James he was a ballboy for the Club in the beginning.
The Cowgate is a street in Edinburgh, Scotland, located about 5 minutes' walk from Edinburgh Castle, within the city's World Heritage Site. The street's name is derived from the fact that cows were herded down it for Edinburgh's market days in previous centuries (gate being a Scots term for "street"; compare with gait).
The street is part of the lower level of Edinburgh's Old Town, which is partly built around the elevated streets of South Bridge and George IV Bridge. Consequently the Cowgate can be quite gloomy and dark in sections. It adjoins the Grassmarket at its west end and Holyrood Road to the east.
Although the area is now an affluent part of town, from the mid 18th century until after the World Wars the Cowgate was a notoriously overcrowded slum area, where the majority of the city's Irish immigrant community was based.
Also amongst the parishoners was James Connolly who was born in Edinburgh. His parents had John and Mary also came over to Scotland at the time of the Great Famine They lived at 107 The Cowgate. The children had all attended St. Patrick's Primary School which was also located in the Cowgate.
1891 Edinburgh, Scotland
The census now tells us that Edward Stanton and Peggy Grady were residing at 27 New Street, just a little further down the street from North Gray's Close. With them their daughter Mary and her son John. Mary died later that year.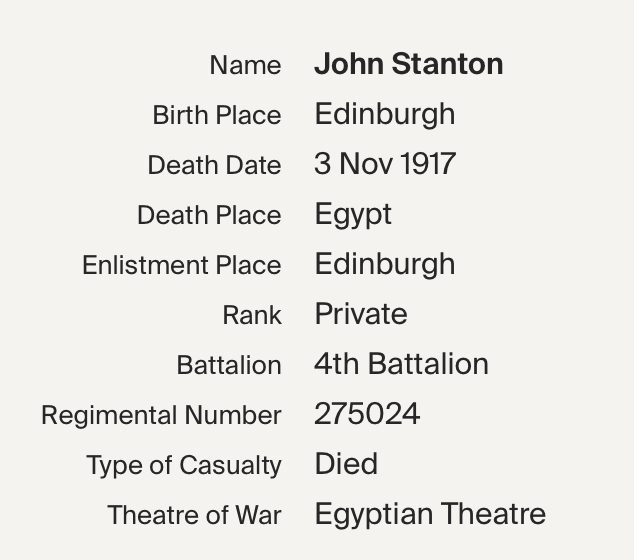 Our Stanton line after their arrival in Scotland 1850.
EDWARD STANTON married MARGARET GRADY –their children
ANDREW

b 1849 – our direct line. MARRIES MARIA WHELAHAN in Edinburgh Cowgate in 1867.
Ann STANTON b 1851. she married John Philbin whose family resided in the same close as the Stanton family, No. 5 North Gray's Close, off the High Street in Edinburgh. She died prematurely in 1904. – On her death her recorded parents as Edward stanton and Bridget Grady. –
PATRICK – b 1854 -[great grand uncle to the family]. Patrick marries Sarah McKay in St. Pat's in 1880. CHILDREN include Edward born 1881, Felix born 1897, Mary born 1886 and Margaret born 1888.
ANNIE b. 1855 marries Bernard Rynn in 1892 in St. Pat's Church.
MARGARET b.1857 marries John Brannan in St. Pat's in 1879
JOHN born 1861 – TWIN – DIED SHORTLY AFTER BIRTH
EDWARD born 1861 – TWIN – DIED SHORTLY AFTER BIRTH
CATHERINE born 1862 – died in 1863
MARY born 1866 – 1991she had one son John Stanton who was illegitimate. John was killed in 1917 during WW1 and his memory is remembered in Edinburgh Castle where his name is amongst the many who lost their lives. His memory also lives on in St. Giles Cathedral again on a great plaque on the cathedral dedicated to his regiment. His name again amongst the many who died in the conflict. He was in the 4th Batallian Royal Scots who were stationed at Edinburgh Castle. He had joined the territorial army in 1908. He married Margaret Campbell Forrest in 1915 and they had one son also called John.
DIRECT LINE – ANDREW STANTON marries MARIA WHELAHAN ON 9th December 1867 at St. Patrick's Church, Cowgate, Edinburgh – their children
MICHAEL STANTON born 20th September 1869

EDWARD STANTON

born 1/11/1871 died 1/12/ 1939 – our direct line
PATRICK STANTON born 1874 died 1875
MARY STANTON born 1875
BRIDGET STANTON born 1878
MARGARET STANTON born 1880
ELIZABETH STANTON born 1884
ANDREW STANTON born 1885
WALTER STANTON born 1889 – marries Jessie Anderson – daughter Mary Whelahan Stanton born 11 Aug. 1814.
JOHN STANTON born 1887
EDWARD STANTON born 1st November 1871 marries CATHERINE MADIGAN -on 26th July 1894 at St. Pat's Church – their children
PETER STANTON

born 1908 marries MARY SUTHERLAND –

our direct line – Denis Madigan Stanton

ANDREW STANTON born 1902 marries CATHERINE MORAN
MICHAEL STANTON born 1906 marries BRIDGET DOOLAN GORDON –

Pat Stanton line

EDWARD STANTON born 1913 marries MARGARET McVEY –

other Denis Madigan Stanton line

JOHN WALTER STANTON born 1917

NELLIE STANTON born 1900 marries JAMES BURSTOW

CATHERINE STANTON born unknown – still to trace

MARIA STANTON [Pisie] born 1898 marries William Currie

BRIDGET STANTON born 1896 marries Edward Doyle

MARGARET MADIGAN STANTON born 1905 marries Robert Cochrane Mack
Football in the blood
Through the years the Stanton family has always had connections with Hibernian and they remember stories about the great grandmother Maria Whelahan washing out the crude strips and socks of the young team. Even now the connections run deep and Stantons have been involved in coaching the youngsters of the team for many years.
My brother-in-law Jimmy Stanton is still actively involved in coaching and has been for many years, as was my other brother-in-law Mick who has now passed on.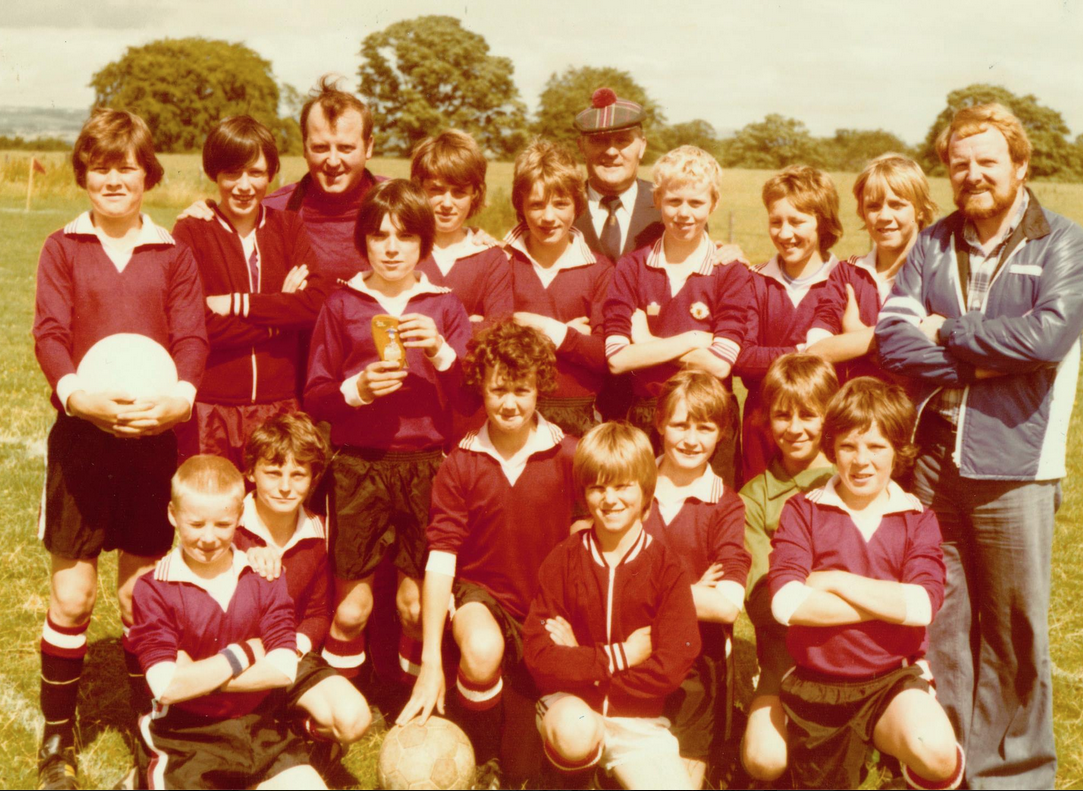 Pat Stanton is the first-cousin of Denis, Jimmy, Mick, Peter and Davie Stanton and also one of the ancestors of Edward Stanton and Margaret Grady.
Patrick Gordon Stanton (born 13 September 1944) is a Scottish former association football player and manager. He is regarded as one of the greatest ever players in the history of Hibernian.[2]
Stanton joined Hibs from Bonnyrigg Rose Athletic in 1963 and made his debut for the club against Motherwell in October that year. He quickly established himself in the first team, playing in defence or midfield. He is the great great nephew of Michael Whelahan, one of the club's founders and first captain.[3]
Stanton captained Hibs to their 1972 League Cup win and also led them in their centenary year, but left the club in 1976 when he was transferred to Celtic in a swap deal that took Jackie McNamara, Sr. to Hibs. It was at the Glasgow club that he completed his medals collection, winning the Scottish Cup and the Scottish League championship.
Stanton won 16 caps for Scotland between 1966 and 1974, captaining the side three times.
He got his start in management when Alex Ferguson made him his assistant at Aberdeen. After learning the ropes there he was appointed manager at Cowdenbeath, then Dunfermline Athletic, before he returned to Hibs in 1982. His spell in the manager's chair at Easter Road was unsuccessful and he resigned in 1984.
Stanton now works with Hibs as a host at Easter Road on match days.
The name of the club is usually shortened to Hibs. The team are also called The Hibees (pronounced "high-bees") and The Cabbage,a shortening of the rhyming slang for Hibs of "Cabbage and Ribs", by fans of the club, who are themselves also known as Hibbies (singular: "Hibby"). Home matches are played at the Easter Road stadium, which the club have played at since 1893.