The Donati CONNECTIONS
There were at least three Donati brothers from Barga and surrounding villages.
ANTONIO DONATI married Annunciata Ricci c 1830 in Barga. Their son Pietro 1837-1907 married Maria Brucciani 1854-1917. Pietro was a maker of Statues, a Plaster, an Artist, whatever you would call the skill. He would have worked out of the Carrera Marble mines in Italy. Around 1885 he brought his wife and children to Edinburgh. He had a business working out of Chambers Street in the City Centre. It was here that Emilio Quilietti and his brother Augusto worked on their arrival in Scotland before they both respectively married.
BENEDETTO DONATI married Clarinda Bonigli. They had a large family. Their son Joseph also came to Scotland and he took up the ice cream manufacturing as his occupation. He moved to Elgin where he had a shop in the High Street there. Unfortunately he died when he was only 28 with his cousin Pietro above as informant and signing as cousin. Some of this line also left for America
GIOVANNI DONATI married CARMELLA MOSCARDINI – Their lines also dispersed to Scotland and America
MARIA BRUCCIANI
Maria Domenica was one of twins born to Giuseppe Brucciani and Teresa Conti on 7th July 1849 in the village of Castelvecchio Pascoli.
She and Pietro Donati had married on 17 February 1873 in the Church of St. Niccolo in Castelvecchio and his family were from the surrounding villages.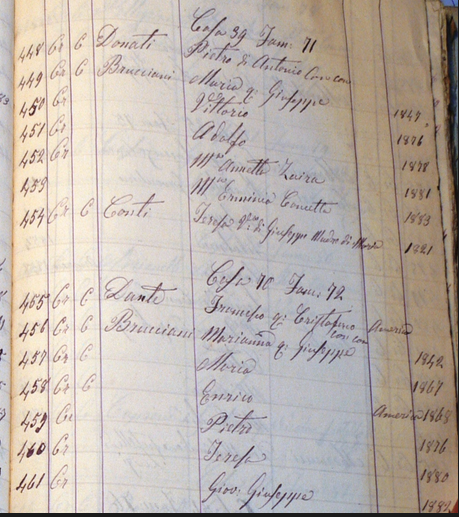 Maria Domenica married Pietro Donati. They married in the year 1873 in Barga, Italy. The Donati family were also from Castelvecchio Pascoli.
THE SCOTTISH CONNECTIONS
PIETRO DONATI and MARIA BRUCCIANI
Their children
VITTORIO DONATI 1877-1950 – settled in Scotland with occupation as figure maker in the 1891 census working with his dad and residing at 137 The Canongate. By 1911 he was a confectioner working in Kirkcaldy in Fife. He then moved to Glasgow with address 224 Renfrew Street. When he died in 1950 his occupation was one of Stove Maker. He never married'
In 1911 residing in Kirkcaldy in Fife. Vittoria working as a confectioner in the business of Giuseppe Luciani.
GIOVANNI ADOLFO who was known as Adolfo 1878-1922. Settling in Edinburgh he married Annie Loughlin and they had 10 children. There is a dedicated page on this site to this branch.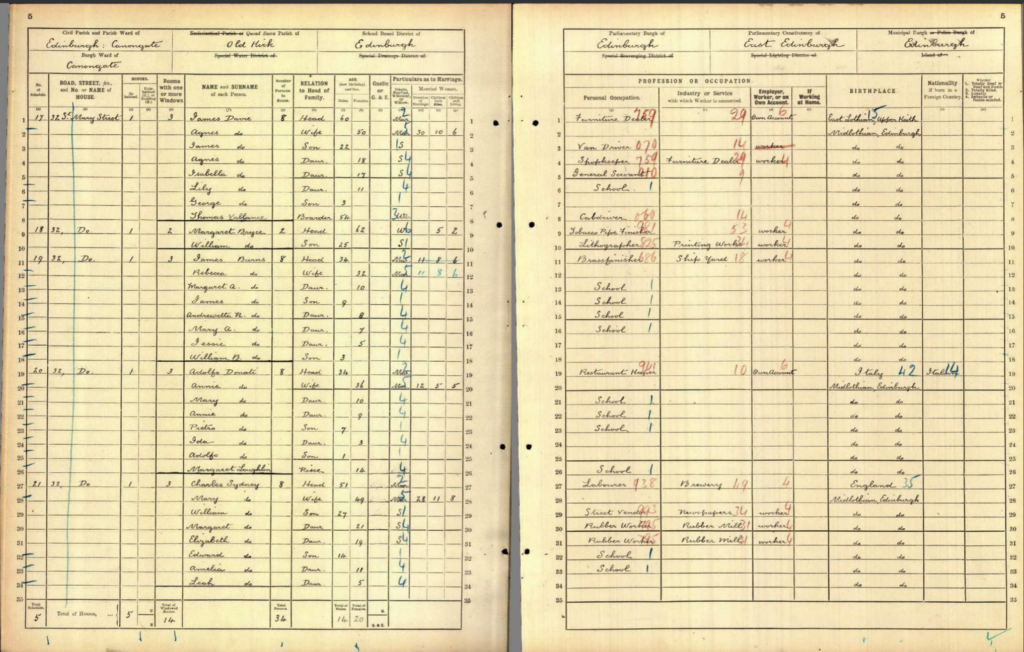 1911 sees the family in St. Mary's Street, just off the Royal Mile in the City centre. Occupation as Restraunteur.
ADA DONATI 1882- unknown. She remained with her parents and we find her in 1901 residing with the family in the Newington area of the City. She however moved to England to Putney in London and became a Nun. I have no further information on this line
EMMA DONATI or MARIA Emma CONCETTA OTTAVIO DONATI 1883-unknown. She was also born in Italy and was residing with the family at 5 West Preston Street in 1901. In 1910 she married Luigi Sante Pometti who was from Newtongrange. I have no further information on this line

ANNUNCIATA DONATI 1886-1972. She was also born in Italy. She married into another ice cream family. He was Columbo Arcari. She became a schoolteacher. They married in St. Columbas RC Church in Upper Grey Street in Edinburgh. Columbo was residing at 487 Sauchiehall Street in Glasgow. I have no further information on this line. Betty Quilietti remembers her cousin teaching at the Catholic St. Mary's Primary School in Edinburgh. She remembers the lady taking her aside and telling her of their family relationship.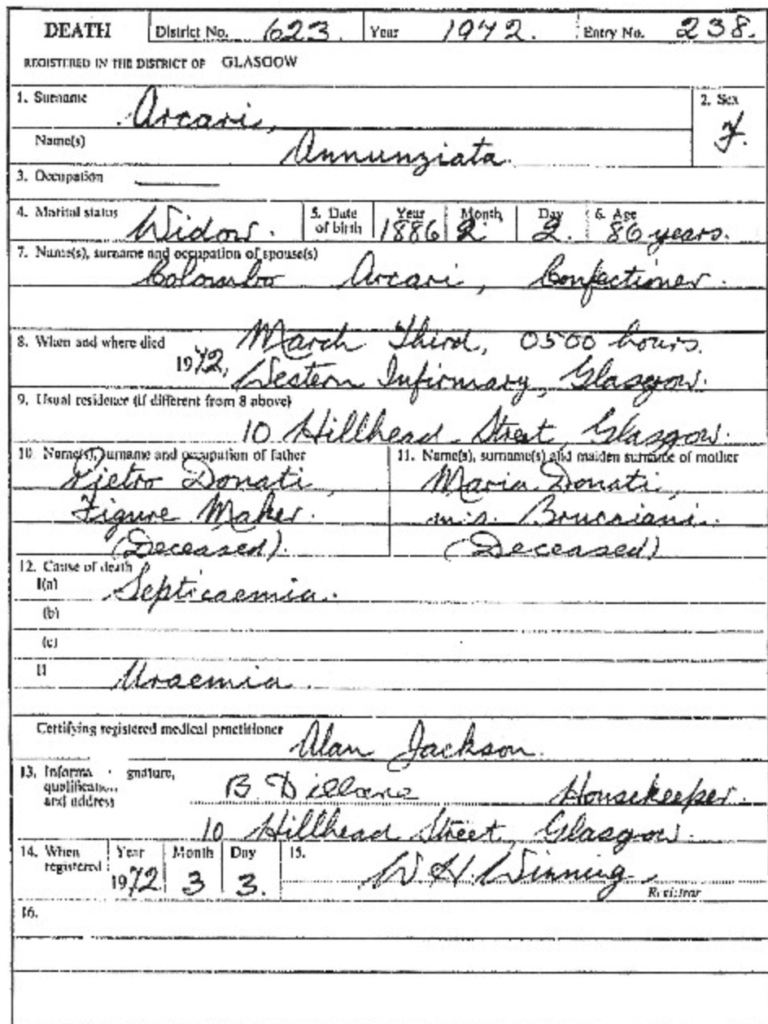 MAIA ASSUNTO AMELIA DONATI was born on 1st May 1891 in Scotland. She died as an infant on 5th March 1892. She lies in Easter Road Cemetery Section F Lair 726 alongside Emilio Quilietti, Eletta Quilietti, Julia Bratizani or Brattesani and Clair Antonio.