Great Grandmother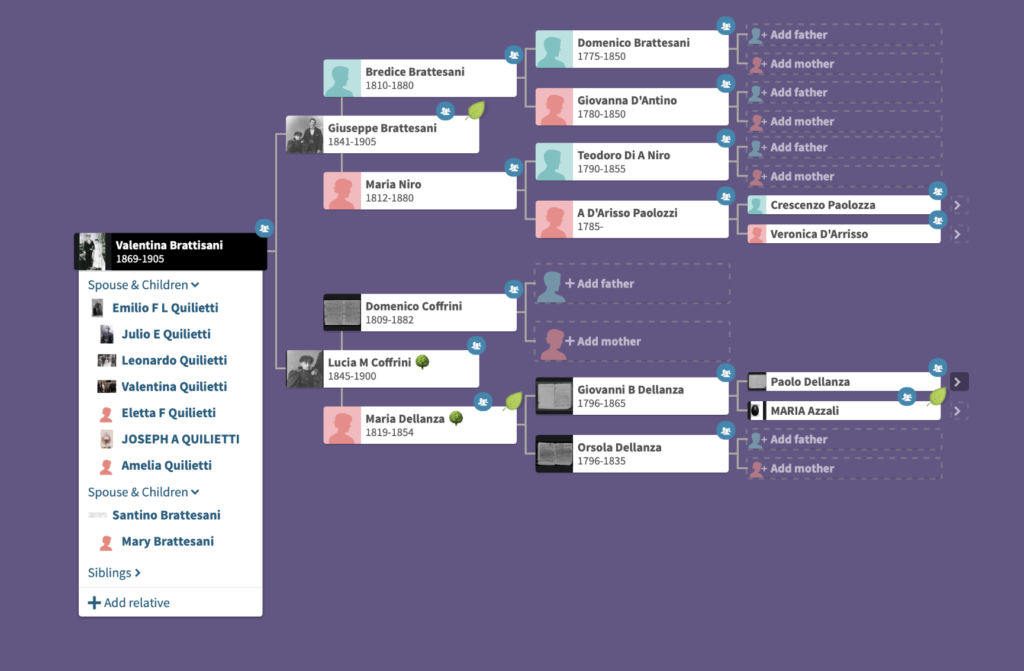 VALENTINA MARIA BRATTESANI born was born 22 July 1869, at 55 Boulevard Pereire, 17th arrondissement de Paris at 0800 am. She is the legitimate daughter of Joseph Brattesani, age 27 , Cantonnier and of Lucie Coffrani, age 23, Journaliere, certified by the present document, written by us. Her parents moved between Italy, Paris and Edinburgh as is shown by the births of their children.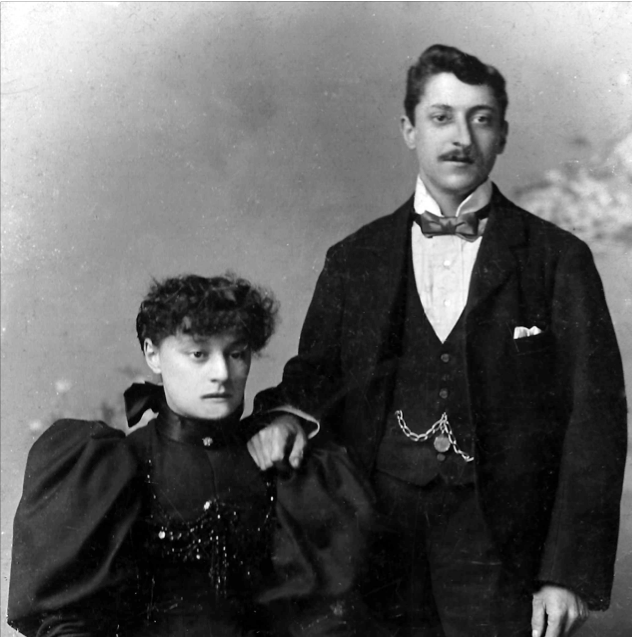 Valentina Maria BRATTISANI, our great grandmother was born on July 22, 1869, Paris, Paris, Ile-de-France, Her father, Giuseppe, was 27, and her mother, Lucia, was 23 and they had stopped off here, where there were other relatives staying, after leaving Italy. Then in 1871 sister Rosa was born but back in Parma. The family then moved on to Edinburgh where indeed the remainder of their family were born in Middlefield just off Leith Walk.
By 1885 Joe and Lucia had decided to settle in the Scottish Capital at an address 5 Middlefield, which is just off Leith Walk in the centre of Edinburgh. Joe, my great-great grandfather, was the first of the Italian immigrants to have a fish and chip shop in the city.
St. Mary's Cathedral would have been a short stroll away, just further up the hill. It was here that her association with the Edinburgh Italian Community in Edinburgh would have started. The family would have been frequent visitors to the Church and we believe it was here that she met and of course eventually married Emilio Quilietti.
Valentina married Emilio Fedeli Leopoldo Quilietti in 1892 in St. Mary's RC Cathedral, Broughton, in Edinburgh. They had six children together. After his death in 1899 she re-married Santino (Sante) Brattesani, her first cousin, and they had one daughter together. The baby died shortly after her birth. There were other miscarriages. Valentina died on April 19, 1905, at 9 Greenside Place, Edinburgh Scotland, at the age of 35 after a bout of pneumonia.

Valentina had a very brief life but thanks to her we are now here to tell her story. In her short life she endured much pain and heartache. Her two marriages produced ten children, four of whom survived, and these four surviving children are the forefathers of the Quilietti descendants today.

There would have been many family members at their wedding, and their documented witnesses were A. Donati, Restaurant Keeper, who was Emilio's cousin. J. Brattesani and Rose Brattesani were of course Valentina's sister and cousin. Emilio's profession here in 1892 was still that of a stucco figure maker and we know that he soon entered into the ice cream trade and in the next six years was to run no less than 8 shops.
In the first months of their marriage the couple lived at a tenement flat No. 4 Cranston Street, just off the High Street in the centre of town. It was here in 1892 that Julio Emilio was born in 1892. Then down to 4a Calton Hall which is where son Leonardo was born in 1894. Their next home was down at 24 Greenside Place where they remained until Emilio's sudden death in 1899. Joseph Angelo and Valentina Maria were also both born here as was Amelia and Eletta who both died as babies.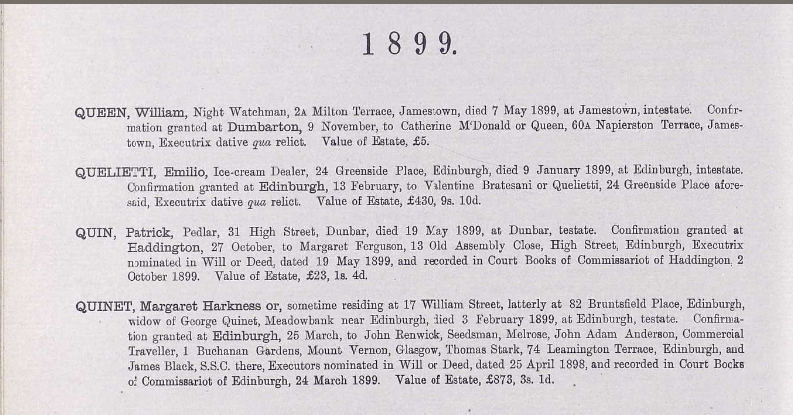 Things at this time just went from bad to worse for Valentina. The family then moved to a new address just further up the Hill, No. 9 Greenside Place. She shared the large flat with her extended family, her parents, her Sisters, Aunts, Uncles and Cousins. However Tragedy struck again. Her mother died in October 1900.
One of these cousins was Sante Brattesani, two years younger than Valentina, born in the year 1873 in Italy. Sante worked in the restaurants helping out with his two brothers. His father David had emigrated with his family a couple of years earlier. Things had to move on for Valentina and in 1901 she married her first cousin Sante Brattisani. It was not a good coupling and being first-cousins they lost another four children. It was a bout of Pneumonia which took her life in April of 1905. But that was only after the death of her stillborn baby three days earlier. So complications of childbirth were swept under the carpet.
She was buried in Easter Road Cemetery in Edinburgh beside her mother and her four children who died in infancy. Later that year her father Giuseppe was also buried here. Valentina's first-husband Emilio was in the plot opposite her in a now unmarked grave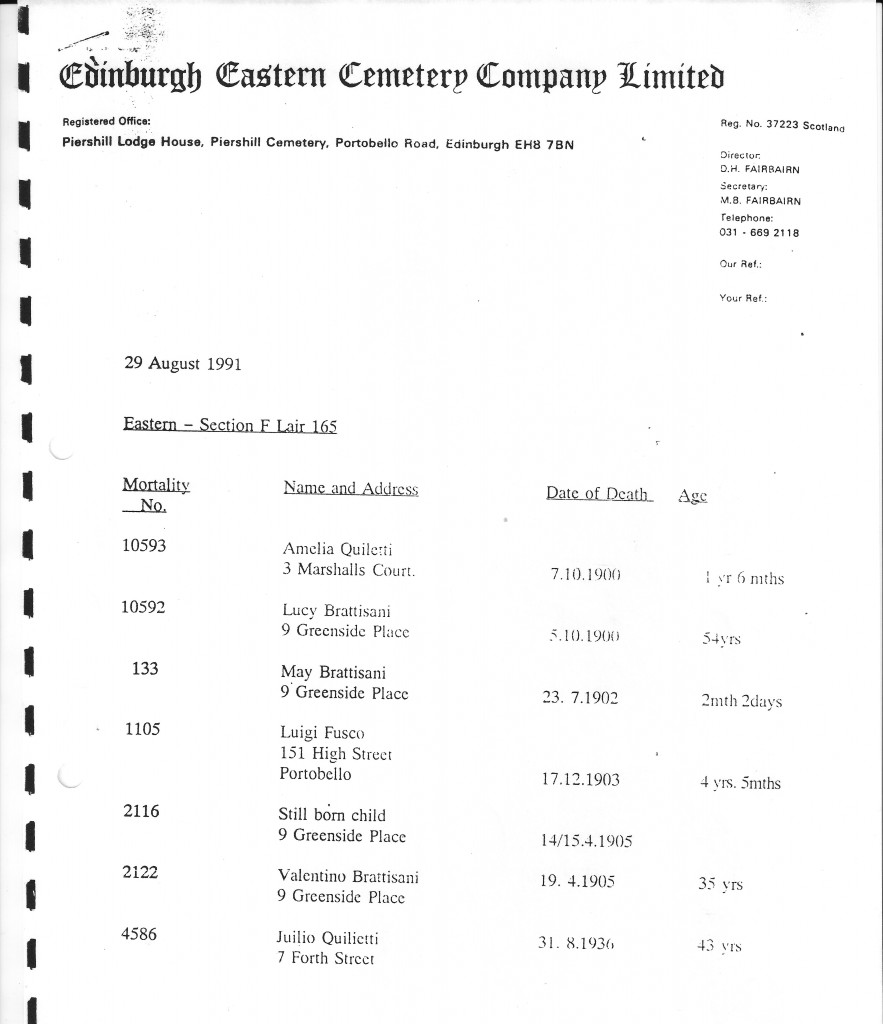 Sante took over the running of Emilio's shops and we know that it is documented that he ran the shop at the bottom of the fighting five steps at the top of Leith Street. But it was Mrs. Quilietti's fish and chips that were remembered with great affection by the men fighting at Gallopoli.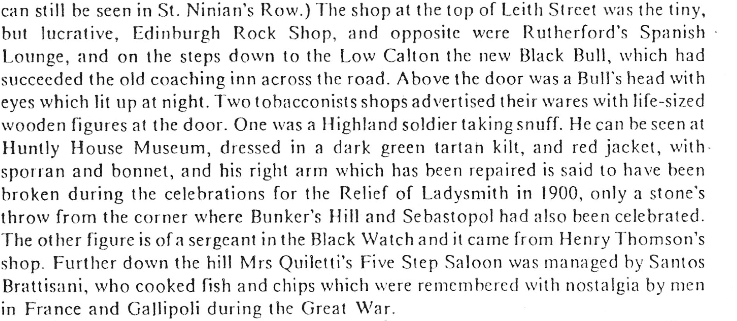 Sante remarried after the death of Valentina. The next year Sante returned home to Italy and met up with his childhood sweetheart a stunningly beautiful girl whose name was Luigia Peruzzi. They wasted no time and married in San Vincenzi in Italy on 7th November 1907. On their arrival back in Scotland they married again in Edinburgh, for whatever reasons we will never know, but the date 4th January 1908 at 53 George IV Bridge,
The children of Emilio and Valentina now well and truly orphaned. Sante, their stepfather, wanted no part in their upbringing and we know that he threw out Valentina's belongings, amongst which were photographs of the Quilietti family all together here in Scotland in the year 1901.The young Valentina Quilietti however was ever vigilent and rescued these and sent them over to her uncle Giuseppe Quilietti who lived in Rhode Island. It is thanks to her that we have these treasured photographs today.
Louisa Brattesani took on the parents role and the Quilietti children called her their step mother.
VALENTINA'S SIBLINGS
– Rosa Brattesani was born in 1871 in Parma, Parma, Italy. She married Giulio Giulianotti on October 18, 1892 in Edinburgh in St. Mary's RC Cathedral, Broughton in Edinburgh. The couple moved up to Aberdeen where they made their lives. They had 11 children in 20 years. She died on March 9, 1929, at the age of 58. Giulio died shortly thereafter of a broken heart.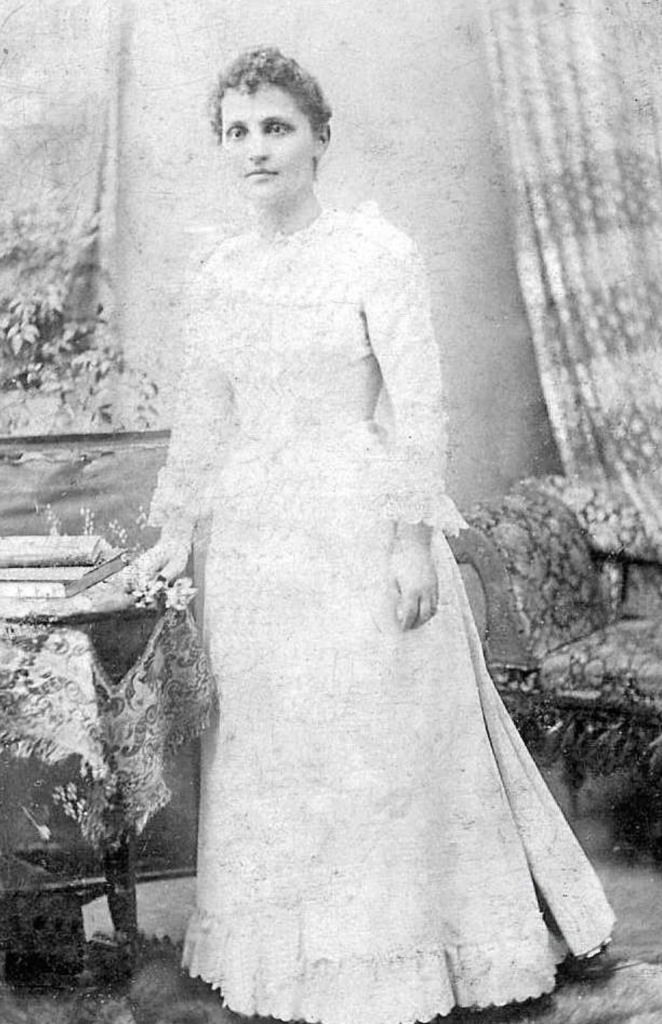 Maria Brattesani was born in 1878 in Leith Edinburgh. Maria like her sisters married into another Italian Family. His name was John Chavrine Fusco. John had been born in Belfast in 1875 and there was some debate as to whether his father was a Fusco or a Chavrine, but both had Italian Roots. They settled in the Portobello area and their family has much history there. Amongst their family was a Priest, and also their grandson is Richard Demarco who is the famous Edinburgh Entrepreneur who is not only an artist but also has roots with the Edinburgh Festival.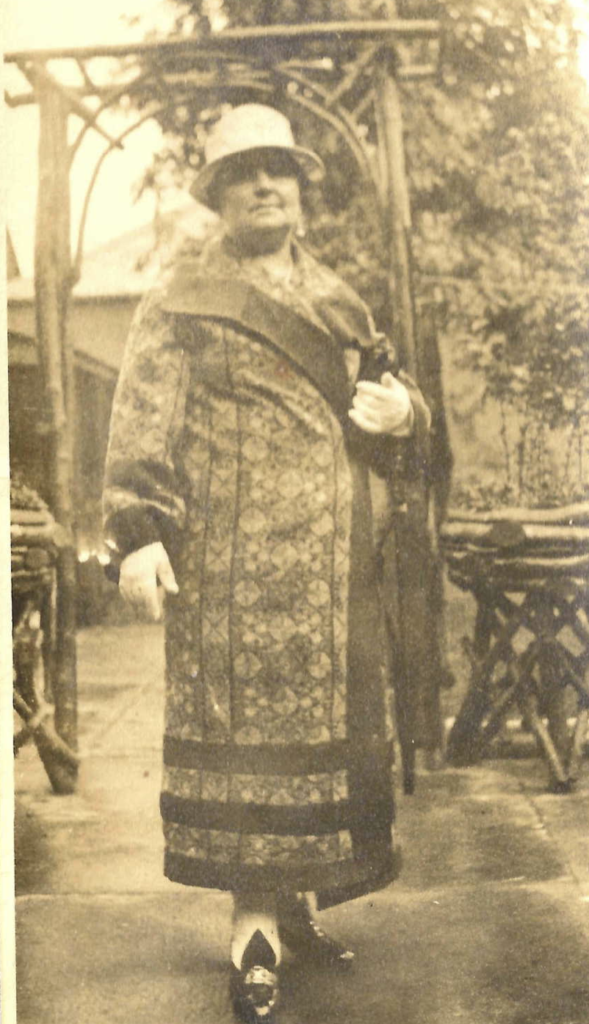 Minnie or Ermenia was born in Paris France in the year 1889. Minnie we believed returned either to Paris or Italy and married there. All we know is his name was Theo or Theodore. She is photographed here below with the daughter of her cousin Sante Brattesani whose name was Eva. Minnie to the left a very beautiful lady.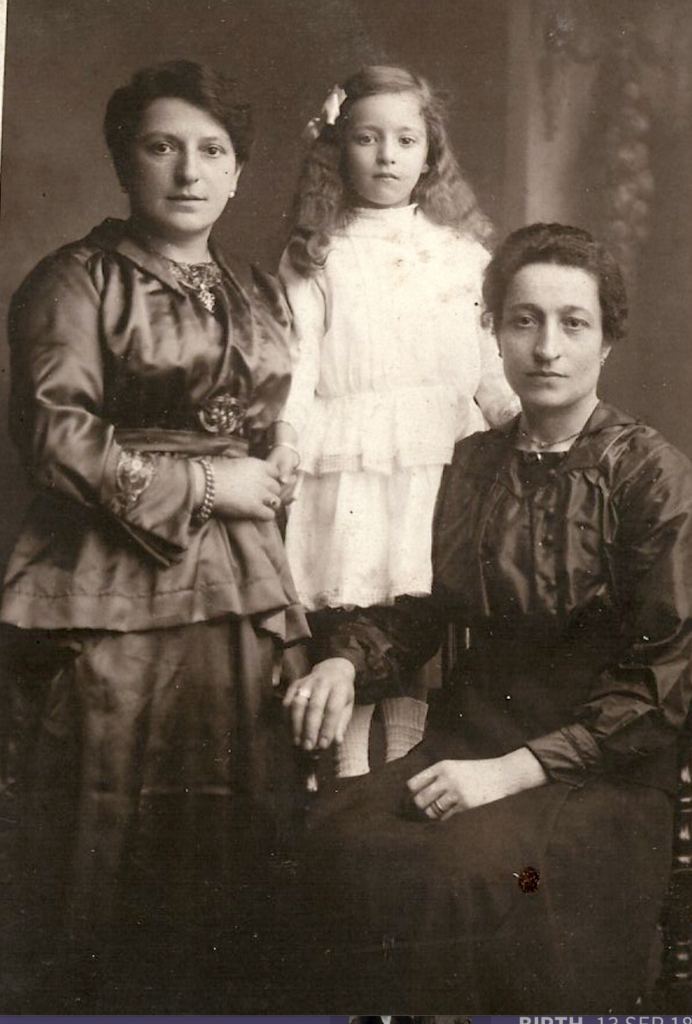 Louisa Maria Brattisani was born in Middlefield, off Leith walk on 13th September 1887. In Edinburgh in 1916 during the War Years she married Pietro Costella. They had two sons who were both born in Edinburgh John and Luigi. Louisa was the step mother to the orphaned Quilietti children from her sister's death in 1905 and she called herself step mother in many official documents.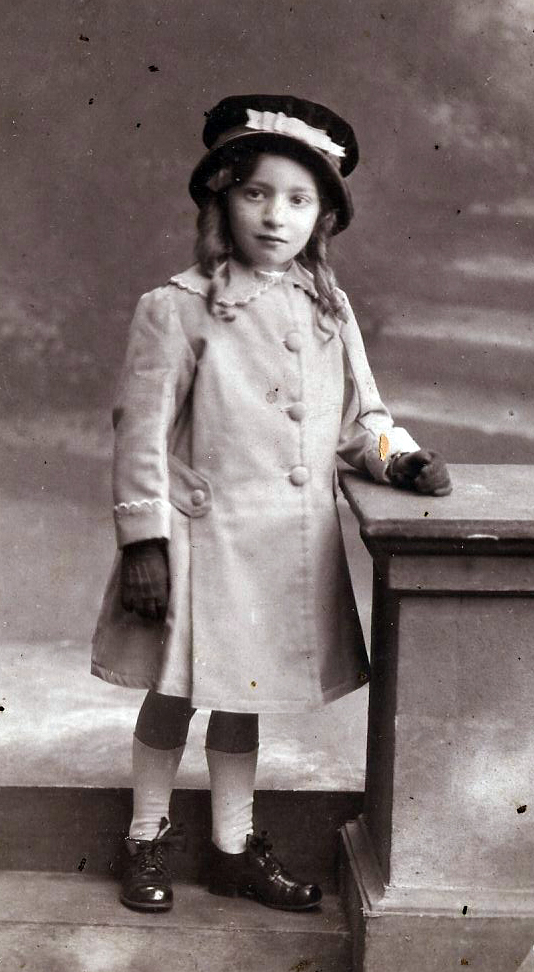 .