With great pleasure have had correspondence from our first-cousin Andy Stanton and his wife Beth who now live in South Africa. Update Andy has passed away very suddenly 2018 RIP.
ANDY was brought up in Edinburgh, Scotland, the youngest son of Michael Stanton 1906-1990 and Bridget Doolan Gordon 1915-200. The family were brought up in one of the poorer neighbourhoods in the City and he attended the local Catholic Schools. St. Anthony's was his High School. He also attended the local college after leaving school where he studied City and Guilds Carpentry. He moved to Durban in South Africa at a young age in 1974.
The family Stanton were all great football players, his older brother Patrick Stanton being the most famous [Hibernian].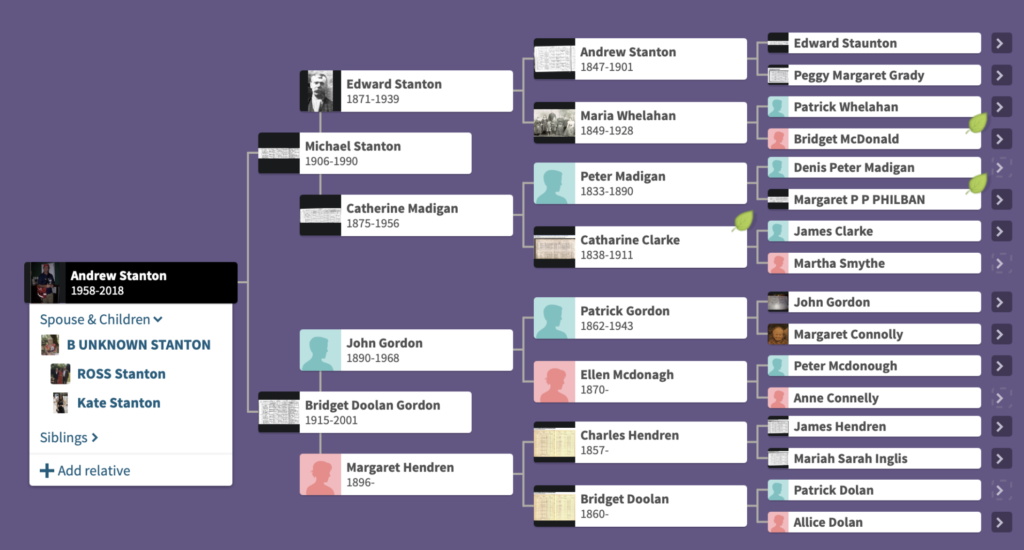 Andy is the first cousin of Denis Stanton, their fathers being brothers Peter and Michael Stanton. Their tree above showing the family line
Andy's dad Michael Stanton was born on 6th November 1906 at 1 Alison's Close, The Cowgate, Edinburgh. This area was home to the Stanton family since their arrival during the Great Potato Famine in 1852. The family lived in and around here and also in the Southside of the city around the Surgeon's Hall.
Michael married Bridget Doolan Gordon on 10th January 1936 when he was 29 years old. His new wife was 19. Michael was already working in the Brewery a trade which he plied for many years. His address at this time was 101 Niddrie Mains Terrace. His best man was his brother Peter, residing at the same address. Bridget staying at nearby 10 Wauchope Crescent and her best-maid her sister Helen residing with her sister at this address. Their wedding took place at the old St. Teresa's Church in Niddrie Mains Drive.
The houses in Wauchope Crescent had an open outlook with trees and gardens in front. The tenements in the Terrace were built nearer each other and some looked on to the railway behind. It was well known that the railway wagons would run from the Coal Pits at Newcraighall along the back of these houses. It was not uncommon for the boys in the area to rummage amongst the railway lines to collect the coal which freely fell from these wagons at the time as the coal was merely tipped into the back with no covering. Many a coal fire was lit from coal collected this way. And there were casualties throughout the years. Michael and Bridget had six sons, five of who survive today. Edward,[1936-2001] John, Peter, Patrick, Michael and Andrew.
Although Gordon is one of the more famous Scottish Clans, Bridget's family were steeped in the history of Ireland. This side of the Gordon Clan were from Clifden, Connemara, on the West Coast of Ireland. Just a stonethrow away from County Mayo and a most beautiful part of Ireland. The town is known locally as the Capital of the Region.
Bridget's Grandfather was Patrick Gordon who married Helen McDonough. Her great- father John Gordon [1839-1899] married Margaret Connelly [1837-1920] Margaret's clan were from Oranmore in County Galway. You may know of the song the Galway Shawl. That was her town. They married in St. Patrick's Church in Edinburgh's Cowgate, on 4th June 1843.
Bridget Gordon's great-great grandather Anthony Connelly who was also born in Clifden in county Galway. He also died in Scotland. He was the first of her line to land in Scotland.
Andy is the brother of famous Hibernian footballer Pat Stanton. He emigrated to South Africa in 1974 to follow his career in football. After a few years he had a stint playing full time Profession Soccer [their football] in the USA 1980/81 before returning back to South Africa. Although a shop fitter or joiner as we call the trade here in Scotland Andy somehow got himself into the Newspaper/media/publishing industry where he still works
today.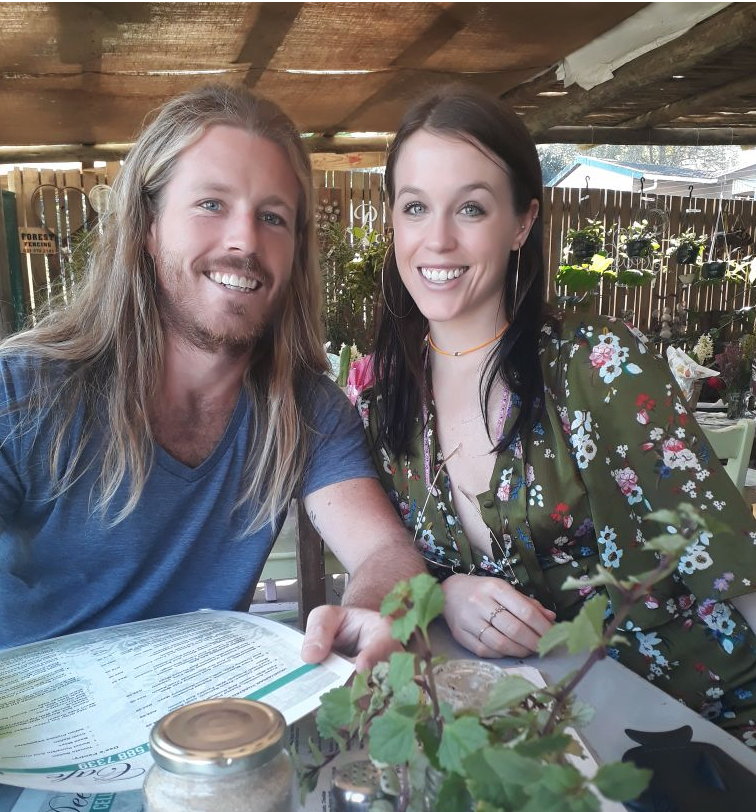 Children Ross and Kate were both born in South Africa. Ross lives in Durban and Kate lives in London where she enjoys a career in the fashion industry and now heads the women's area at Liberty in London.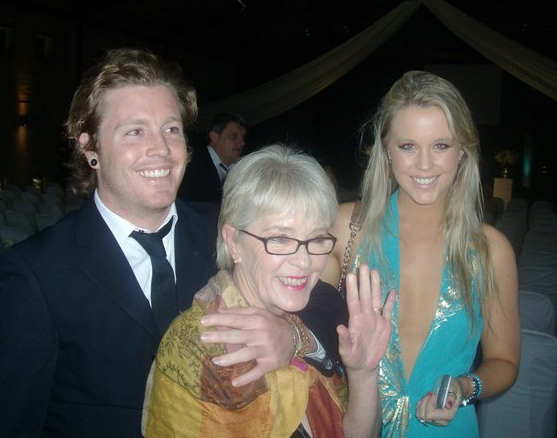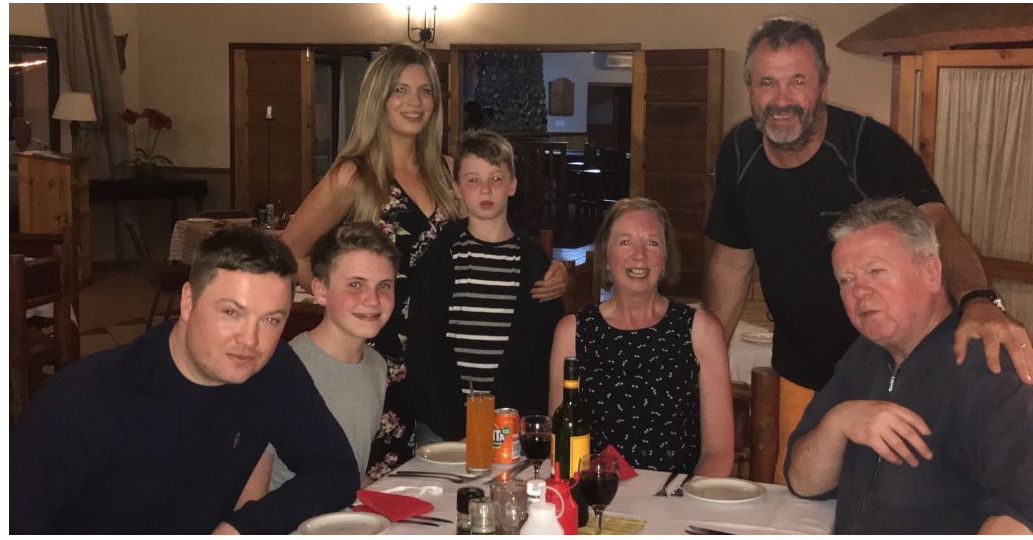 A big, loveable bear of a man whose broad Scots accent was not dimmed by 50 years in this country, Andy knew everybody and everybody knew Andy.
In the old days he played semi-pro football for Highland Park on the Reef, then Durban City amongst other clubs. His booming laugh was as big as himself and he could always find a good word for everybody.
A rare man. And a great companion at golf, always telling stories and kidding around. Well, we were standing on the 15th green, getting towards the end of the day. I'd just putted in for par.
Andy said 'Good putt' – then toppled to the ground like a tree in a forest. We scrambled to roll him onto his side and started CPR. But it was no good. The lights were out.
The medics arrived and went through their whole process, but all they could do was confirm that he was dead of an apparent massive heart attack. The mood in the clubhouse was sombre.
Everyone who knew Andy, had lost a friend. The Spar executives decided there and then that the proceeds of the day, upward of R100 000, was to be donated to a charity of the Stanton family's choice.
A most generous act. I took away two thoughts from that event. Andy officially retired at the end of July, so he had enjoyed only three days of retirement! Man, how depressing is that!
So, thought No 1 for me is: enjoy every day now, do what you need to do now – there may not be a tomorrow. Second thought is, what a way to go!
No long sickness, no suffering or pain. One moment you're standing on the golf course, enjoying the open air and fellowship, then you're gone. Game over.
We will miss you, Mr Stanton.