Our branch of the Whelahan CLAN are from the lovely west and north coasts of Ireland.
But let's start with the Devlin connection and a descendant who now lives in America. Maureen Ross now Dupras
Maureen has been in touch with us and has given us permission to insert these beautiful family photographs and to tell what we can about this line. The family have done very well through the two centuries that we knew about Patrick Whelahan working as a crofter in the fields in Ireland's beautiful County Rosscommon
The Stantons, Madigans and Whelahans were from Mayo, Rosscommon, Fermanagh and neighbouring counties.
Patrick Whelaghan was described as a Crofter on his son Patrick's Death Certificate in 1882. We approximate his birth as circa 1795. His wife was called Annie Coyne.
Their children would have many many.
Three of their children survived and found themselves in Scotland, Thomas and Peter in the Lanarkshire area and Patrick who had also worked in the Iron industry there eventually moved over to Edinburgh.
Thomas had married Catherine McCabe. Their son James born 1846 married Catherine Waugh in the year 1873 in The Roman Catholic Chapel in Leith, Edinnburgh
Peter married Agnes Duffy and they settled in Glasgow. Peter worked as a furnaceman at an Iron Works.
Patrick was born in 1823 in Ireland,
Patrick had married Bridget McDonald, daughter of Thomas McDonald and Mary Kelly. Their son Michael was born in Ireland in 1854. As the famine progressed they uprooted and moved to Edinburgh.
Many of their issue died as infants in the disgraceful living conditions of Edinburgh at that time. However two of their surviving children would play a part of the history of Edinburgh and one of their football clubs. They were Michael Joseph and Maria. Michael part in the history of Edinburgh was that he was the very First Captain of the Irish Hibernian Football Club. His sister Maria married Andrew Stanton. This Stanton surname will always be associated with the history of the club and his descendants are still actively involved in the club today. They were married by Edward J. Cannon who was the Priest and who helped found the Irish youth into the Club it became and he gave the men an interest away from the harsh reality of life in the slums of auld Edinburgh at this time.
Patrick and the family moved to a tenement in the Old College Wynd which street climbed from the Grassmarket to the gates of the Old University of Edinburgh. College Wynd was a damp, dimly lit alleyway with poor sanitation and little fresh air. Such unhealthy living conditions contributed to the high mortality rate of children being brought up here at the time. This was a far cry indeed from the green fields of Ireland. The Stanton family also lived in No. 5 College Wynd. It was here that on 1st November 1871 Edward Stanton was born. The connections between the Whelahan and Stanton families may have started here.
Michael Joseph Whelahan was born in Kinglass, County Rosscommon, Ireland in 1854. After he moved to Scotland he was brought up in what was known as the Parish of Little Ireland in Edinburgh, the area of St. Patrick's Church in the Cowgate. Thousands of Irish immigrants were living in this slum area at the time of the great famine. There was a local Catholic school where Catholic children, mainly children under the age of 10 would have attended. Michael Joseph Whelahan would have been brought up in the Cowgate. He would have been neighbours with the Stanton family and also with the Connolly family who had emigrated at the same time. On 5th June 1868 an Irish Freedom Fighter was also born in the same slums in No. 107 The Cowgate. Although Michael would have been a bit older than James Connolly their families would have attended the same St. Patrick's Church and involved in the same interests, including the football, at the time.
Michael married Isabella Robertson in St. Patrick's Church, Cowgate in Edinburgh on 26th July 1883 They were married by Father Edward J Cannon. You can see below their children came along one by one. The family moved from 21 Cowgate to an address in the Southside of Edinburgh, 57 Nicolson Street. 57 Nicolson Street was also the address that Michael Stanton, the son of Andrew Stanton died in the year 1939.
It was daughter Margarita Whelahan who was born in the Cowgate in 1886 who married James Devlin, also of course of Irish descent, on September 19th 1919 in St. Patrick's Church. Margarita had found employment as a bookkeeper and James was a Grocer and Wine Merchant. She was a beautiful lady as the photograph below shows us. Proudly she sits with her large family around her.
The first is all the Devlin children minus the oldest, Patrick, who died around aged 2. Back row standing left to right, James Devlin, Eileen Devlin (the oldest and my Mum), baby Sheila Devlin, baby George Devlin, Auntie Katie Harkins seated, Michael Devlin, and Marie Devlin. Seated in front, left to right, Kathleen Devlin, Doreen Devlin. My mother, Eileen, was born 1912 so you can approximate the age of the picture from that. She had hair she could sit on, but her first job was age 14 and she had it cut off in a bob with her first pay packet. So I figure the picture is 1926ish.
Auntie Katie Harkins was a relative of Margarita Whelahan's husband, James Devlin.
The Harkins had a Catholic religious store there in Edinburgh, which we visited in 1982 when I was last back there with my mother, and she met up with a male cousin there.
After researching more on these connections and wondering about all the social interaction at the time between the two families I have found that indeed the connection with the famous Scotsman James Connolly is confirmed. Thomas Connolly was the father of John Connolly who married Doreen Devlin.
James Devlin, Jr. married Ella March, 
Eileen Devlin married John Ross (my Dad), The family moved to USA
Sheila never married, 
George married Cathy, she died young and I don't know her maiden name, 
Michael Devlin never married, 
Marie Devlin married James Connolly, 
Kathleen Devlin married Hugh Cullen, and 
Doreen Devlin married John Connolly (James Connolly's brother who married her sister).
MY LINE
Eileen Devlin was born in 1912. She married John Ross in 1933. Two children Michael Ross 1934 and Maureen Ross born 1940. This branch left Scotland for California in 1952 and Maureen is the lady mentioned above.
Michael married Rose Asadourian in St. Helen;s circa 1960
Maureen married Emil Dupras on 14th August 1959 in St. Helens, Fresno, California.- ME
My parents met at Martin's Bakery, and my father, John Ross, was in a store keeper position and my Mum set up pastries on big wooden trays for delivery by truck and came to my father's attention because he was always having to fix her mixed up orders. They married in 1933 (on Bastille Day, 14 Jun). Daddy was 33 and Mum 21. My Dad played for the Martin Bakery Lawn Bowling.
A BIT ABOUT THE PATRICK JOHN WHELAHAN LINE
A BIT ABOUT THE DEVLIN and the CONNOLLY FAMILIES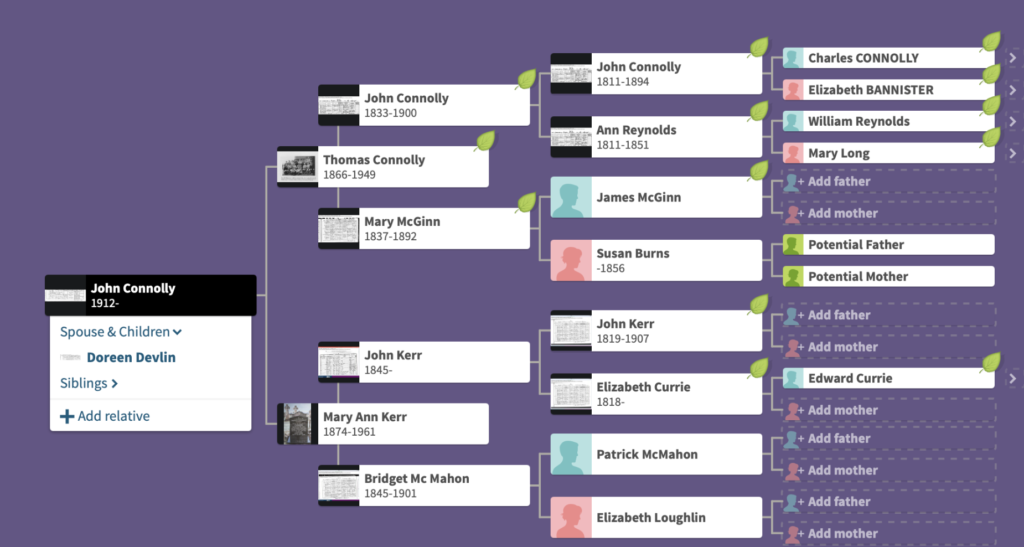 Due to the most interesting and complex life of the Connolly Branch I will dedicate a separate page