Edward was the son of Helen Denholm Crawford and Alexander Morrison
Uncle Eddie Morrison was born in Chessel's Court in Edinburgh's Canongate on 9th March 1928. He was the son of Alex. Morrison and Helen Denholm Crawford. He was the third of eleven Jessie, Alex, Eddie, Peggy, Podge, Robert [who died in infancy] John, Mary, Ellen, Nancy and Sheila. The children all remained close throughout their lives and their families would all congregate at Ma Morrison's for a wee get together on a regular basis. Then it would be at Joe and Peggy's, or at the Hoodies home who lived over at Gorgie. Then back to Sheila and Raymonds or Ellen and Willie Hill's. These gatherings would go on all weekend and a beer and a singsong were never far away.
Uncle Eddie was what I would describe as the gentleman of the family. I never saw him any other way. I know in later life he and Joyce would enjoy their Freemason evenings as they were both members of different lodges.
Always a quiet gentle man he became a master bricklayer and with his brothers they plied their trade throughout Edinburgh and the Lothians for many a years.
Eddie Morrison married Joyce Edmond on 16th April 1948 in Edinburgh. Joyce's parents were John Edmond and Agnes Emmett. Joyce lived at 52 Niddrie Mains Drive at the time. Joyce was two years younger than Eddie. In a couple of years this would be the very address where Peggy and Joe Quilietti found themselves living.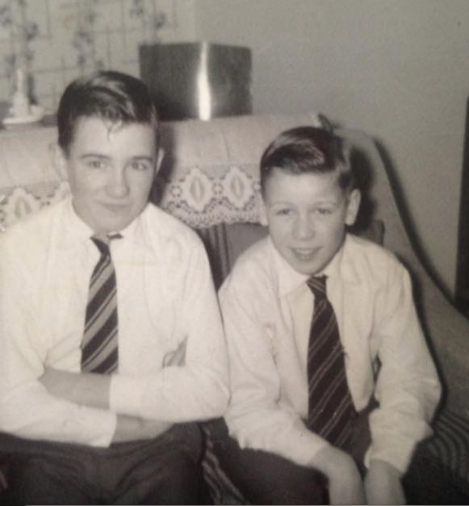 Their eldest son Eddie Morrison was born on 26th October 1948 at the Eastern General Hospital. At this time the couple had moved to 95 Niddrie Mains Terrace just nearby.
Then came along Alexander John Morrison who we all knew and loved as Sandy. He was born on 12th April 1950 at No. 79 Niddrie Mains Terrace, and delivered by Granny Quilietti herself, who was known as the local midwife. In 1950 at the time Sandy was born Eddie and Joyce lived at 53 Northfield Drive in Edinburgh with Joe and Peggy in the PREFABS
Next son to arrive was Alister Morrison. Alister did not arrive until the 22nd March 1958. He was born in Elsie Inglis Maternity Hospital in Edinburgh. By this time the family had moved to 19 Gilmerton Dykes Avenue, which remained the family home for many years
Ian was the last son to be born, arriving on First October 1964 and born at home at 19 Gilmerton Dykes Avenue.
CHILDREN GRANDCHILDREN and MORE