I have dedicated this page in honour of Giovanni Batista Brattesani and his descendants.. Giovanni was a nephew of our direct ancestor Giuseppi Brattesani.
Some of the information was forwarded by James Penn Dunnett who is John Brattesani's nephew. Thanking James for his information. Thanking Rosemary Lean also for added information regarding Giuseppe and Veronica and their children. Rosemary has forwarded the photographs and documentation appertaining to her ancestors. James and Rosemary are second cousins.
A bit about Giovanni's parents Giuseppe Brattesani and Veronica Zaccarii
Giuseppe Brattesani was born in Borgo Val di Taro in Parma on 25th August 1831. He was the son of Giuseppe Brattesani and Annunziate Bosi.
Giuseppe married Veronica Zaccarini who was 19 years his junior. Her date of birth was 22nd April 1850. They were married on 6th January 1873 in the Church in the village in Borgotora. Giuseppe was a Wine /Spirit Merchant by trade.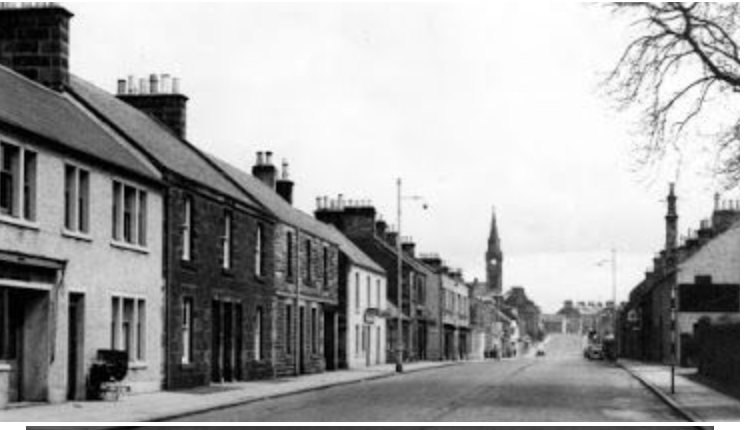 THE CHILDREN of GIUSEPPE BRATTESANI and VERONICA ZACCARINI
MARIA GIULIA BRATTESANI 1873-1955
ISABELLA BRATTESANI 1874
LUIGI GIUSEPPE BRATTESANI 1876
ANTONIO 'TITO' BRATTESANI 1878
PIETRO BRATTESANO 1879
LORENZO BARTOLOMEO BRATTESANI 1881
GIULIA EUGENIA BRATTESANI 1884
CLOTIDE IDA BRATTESANI 1887 twin
EUGENIA ALICE BRATTESANI 1887 twin
GIUSEPPE 'JOE' BRATTESANI 1888-1974
GIOVANNI BATISTA BRATTESANI 1891-1962
The 1901 Scottish census shows Giuseppe Brattesani in Scotland visiting his brother Antonio Brattesani who had an ice cream shop in the High Street, in Leslie in Fife. Antonio was born in 1846 in Italy. Antonio's son Lodovico was also registered at this address age 16 and born in Italy We can calculate from the ages that Antonio and Giuseppe would more than likely have been brothers. The family travelled to and fro Italy frequently and visits back home to Italy to escape harsh Scottish winters were not uncommon for the new Italian immigrants who were making a good living with their restaurants and confectionery businesses.
GIOVANNI BATISTA BRATTESANI became JOHN BRATTESANI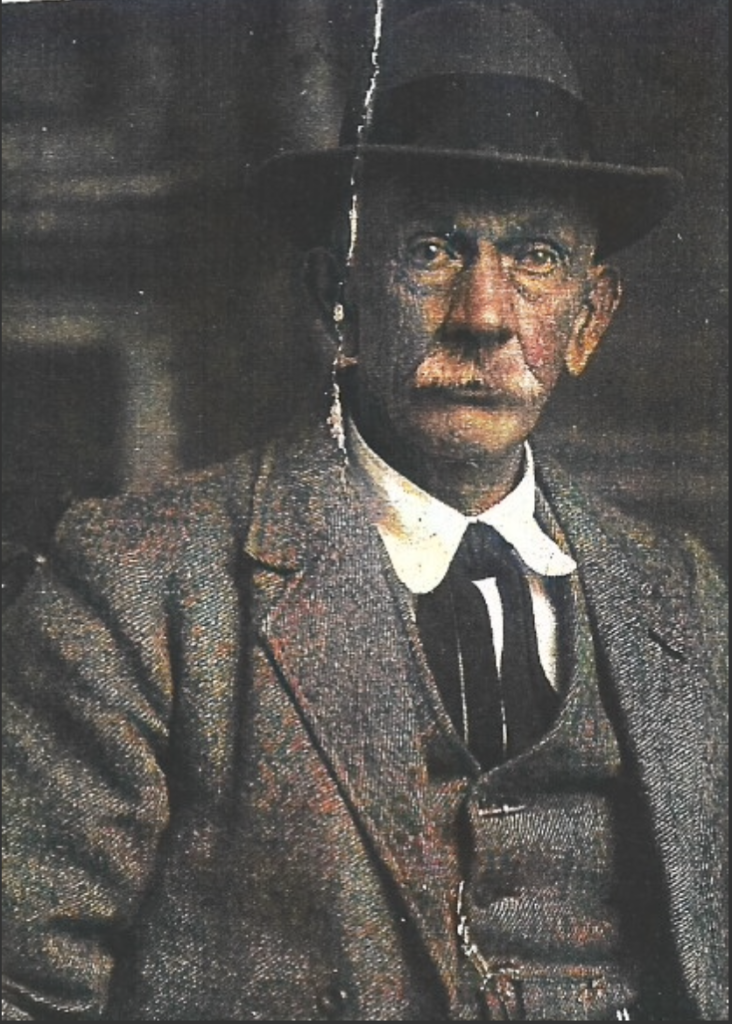 Giovanni or John settled in very nicely into the Scottish way of life. He married Emma Jane Arthur in Edinburgh in 1913. Emma was working in Liverpool at the time of their marriage but she was in fact born in Scotland, Ballingry in Fife where her father worked in the coal industry. They had three daughters

Veronica Agnes Brattesani who was born on 1st February 1914 in Durie Street, Methil in Fife. She lived until she was 93 years old and died in Mendip in Somerset in 2007. She married Ronald George Bowmen and they had one son Arthur born 1949.
Elizabeth Emma Brattesani came next and she was born in 1916 in Black Road, Kelty in Fife. Her parents were residing at 4 Church Street, Lochgelly at this time. Elizabeth became a hairdresser fell in love with a medical student called John Malgarvie . He was an American/Italian who was studying in Edinburgh. Although the couple never married Elizabeth became pregnant. Sadly Elizabeth died after complications of a twin childbirth on 16th May 1937. The twin babies, Robert Henry John Malgeri died 1 June 1937 at 5.30 am and Elizabeth Margaret Malgeri died on 3 June 1937 at 7.30 am. So this line dies out.
Eugenia Brattesani was born in 4 Church Street, Lochgelly in Fife on 28th May 1917. On 25th July 1941 she married Alexander Kingsepp who was a marine engineer in Blythswood Registrars Office in Glasgow. Alex. was divorced. I understood that Alexander Kingsepp was a merchant seaman from Lithuania and was presumed drowned at sea. Eugenia subsequently married a Swedish Merchant Seaman, Stig Lundstrom and moved to Sweden. . Aunt Jean's marriage to Stig Lennard Lundstrom took place on 23 August 1943. Stig Lundstrom was a Ship's Cook in the Swedish Merchant Navy. Her first child, Stephanie (born 31 July 1942) was born in St Austell, Cornwall and Lesley was born on 8 August 1949 in Sweden and son, Ragnar born about 5 years later (exact date to be established) in Sweden. All children are living in/near Goteborg, Sweden.
Giovanni and Emma divorced on 11th Novembr 1919. Perhaps it was the war years that was the demise of their marriage.
After the divorce from Emma John remarried and his new wife was Elizabeth Stevens Dunnet. Elizabeth was 22 years his junior when they married in Chambers Street in Edinburgh on 10th November 1934. Elisabeth's father wasa Salmon fisher by trade. Their marriage was fruitful and their two sons came along a few years later,
There is documented in the Edinburgh archives Giovanni Brattesani having a shop in 88 Brunswick Street in Edinburgh in the year 1915. But there was also John with a house and shop at 4 Church Street, Auchterderran.
The Dunnett connection
Below is the story of John and Elizabeth, and their descendants, very kindly sent through to me by James Penn Dunnett who is the nephew of Elizabeth. see below
Giovanni Batista Brattesani married my dads sister Elizabeth Dunnett in Edinburgh in 1934 and about 1935 he changed his name to John Bradley.
My dad, David Dunnett, had a business relationship with John Brattesani for about ten years and looked after Bradley's Hotel in South Queensferry for a couple of years after the war. Uncle John taught him how to make ice cream and my dad built the Garvie Cafe in the grounds of Bradley's Hotel round about 1949. I spent the first eight years of my childhood in Bradleys Hotel and the adjoining coachhouse, Newhalls Cottage.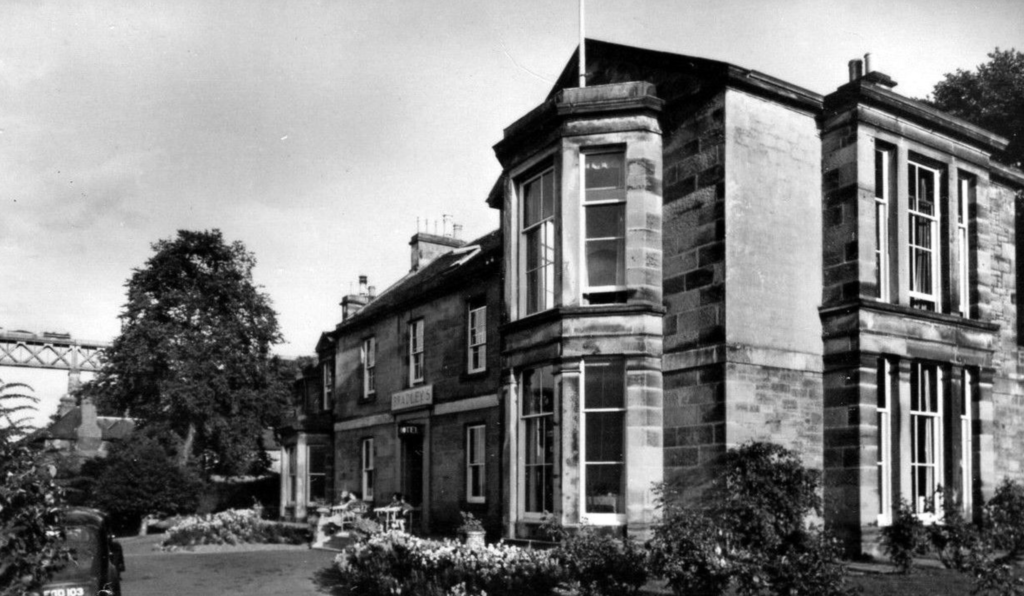 My dad told me that uncle John was a sergeant in the Italian army in WW1 but I have been unable to find out anything as Italian military records are held in the state archive of the comune (Borgo Val di Taro) in which a person was born.http://en.wikipedia.org/wiki/Italian_Campaign_(World_War_I)
My aunt died at the very young age of 32 from TB on 20th September 1946 in Robroyston Hospital, Glasgow.
John Bradley and Elizabeth Dunnett are buried in South Queensferry Cemetery.
Uncle John had some friends in high places and this helped when in June 1940 he was interned in Saughton Prison. The prison records say he was moved to York but he was released soon after with the help of his friend Detective Superintendent William Merrilees, head of the Edinburgh Police CID (later to become chief constable).
For the rest of the war uncle John spent most of his time in Glasgow where he had a couple of ice cream cafes, (Shawlands Cross and Argyll Street). After my aunt died he continued to live at 48 St Vincent Crescent, Kelvingrove, Glasgow
They had two children, John and Lawrence, who went to Melville College in Edinburgh (now called Stewarts Melville College).
John Bradley was born in 1934
James Giuseppe Laurence who was born in 1 West Clarement Street, Edinburgh in 1936 . He called himself Lawrence Bradley on the day he married Helen Seaton Purves .
http://www.historylearningsite.co.uk/italy_and_world_war_one.htm
http://www.esercito.difesa.it/en-US/History/History1861_1914/Pages/default.aspx
ROSEMARY LEAN'S STORY
ROSEMARY LEAN has given me the following information and hopefully the names of the other children will follow on.
My grandfather was Giovanni Batista Brattesani and he was sent by his parents from Borgo Val de Taro at the turn of the 20th century. He was 10 years old. He first stayed with his sister and husband in the north of Scotland (Helensburgh way) but later was in business in Edinburgh and South Queensferry and later in Glasgow.
I lived in Edinburgh in the 1960s and knew of Joe Brattesani and the fish and chip shops in fact, I lived in Brougham Place!
I have done some research into my Grandfather's family in Borgotaro and have tracked down some of the family but cannot find out the exact relationship to my Grandfather. He was one of 10 children.
I am in touch with the son of Luisa Tagliavini (nee Brattesani) but am unable to confirm the connection (if any) with my Grandfather.
I would be interested to further extend any connection there might be.
I have the names of the 10 children of Veronica Zaccarini and Guiseppe Brattesani and Luigi being the eldest son. Grandad was the youngest of the 10 children.
I am trying to establish the parents of Attilio Brattesani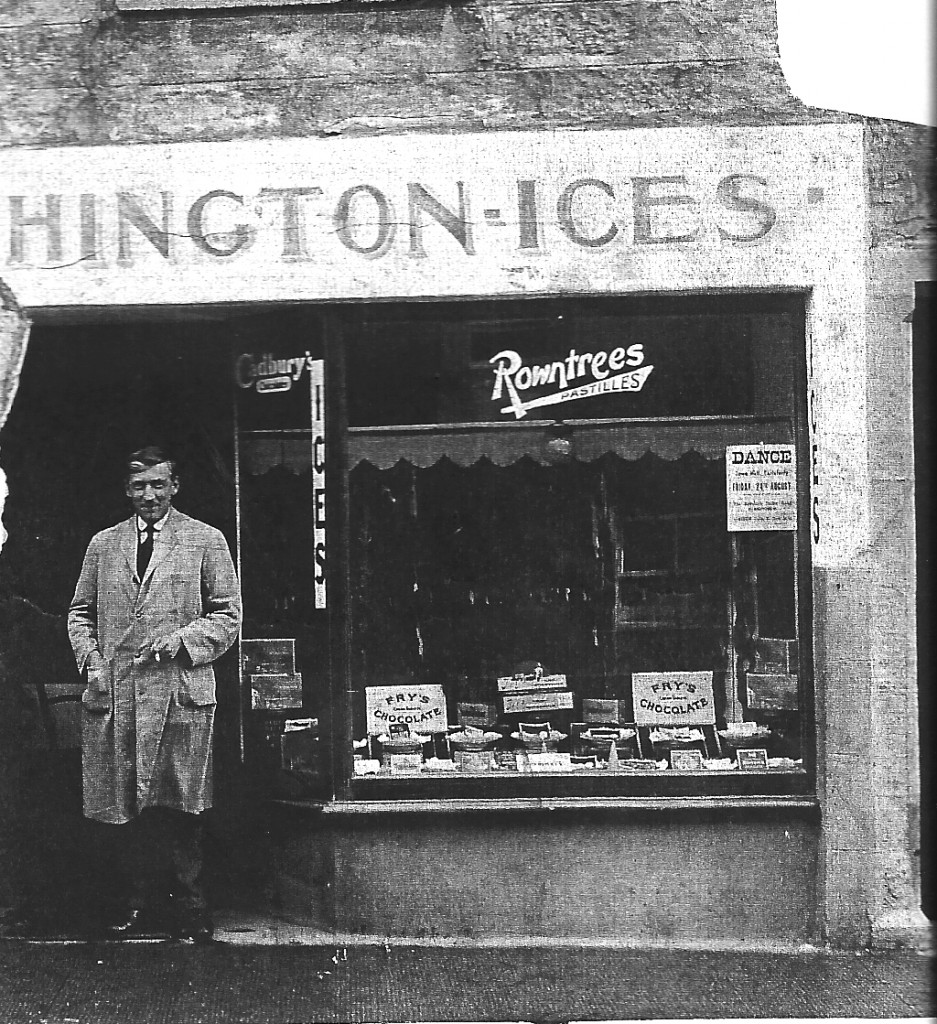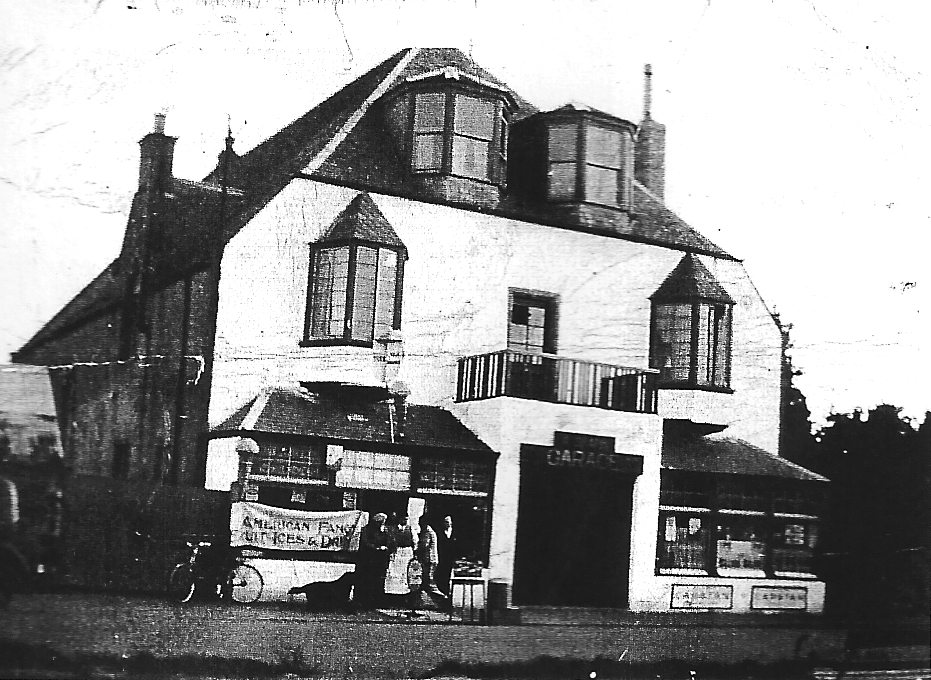 Attilio Brattesani shop with American Banner in John Street, Montrose
Can you shed any light on the names of his parents? Now confirmed as Antonio Brattesani and Lucia Costella.
Best wishes
PETER CURA connection
I am now inserting a comment from Pete Cura. You can read the contents yourself. I think Pete may also be connected to this branch of the Brattesani family but I am still trying to establish this
Thanks for this, it's absolutley fascinating.
I have a hunch that the John or Giovanni mentioned in the third paragraph may have been my Great Grandfather but according to my father he may have been born in America, (as was my maternal Grandfather Attilio Dellanzo whose family hailed from Rovinaglia), and did visit his brother there at a later date.
However,I am told he had several children for whom he set up businesses around Scotland. The eldest being my Grandmother Adelena who married my Grandfather Giovanni Cura and settled in Cupar, Fife. The youngest Jimmy and Ena ran Brattisanis Ice cream and Chip shop in Anstruther, Fife
It seems he left a brother and sister in each as Dave and Mary ran a shop and billiard room in Edzell and I didn't realise I had an Uncle Peter and aunt Carolina in Crail until the former passed away. The only one I think is still alive is Jean. There may have been more.
They were all first cousins with Louisa Tagliavino who I always visit when on Hallowed Ground. I think I've only met her son Luigi on one occasion.
My mother's Maternal and Father's Paternal liniage are from Buzzo over the valley near Gotra and Albareto.. But that's another story altogether.
It's been great teaming up with you all.
Hope to speak again soon.
All the best. Pete