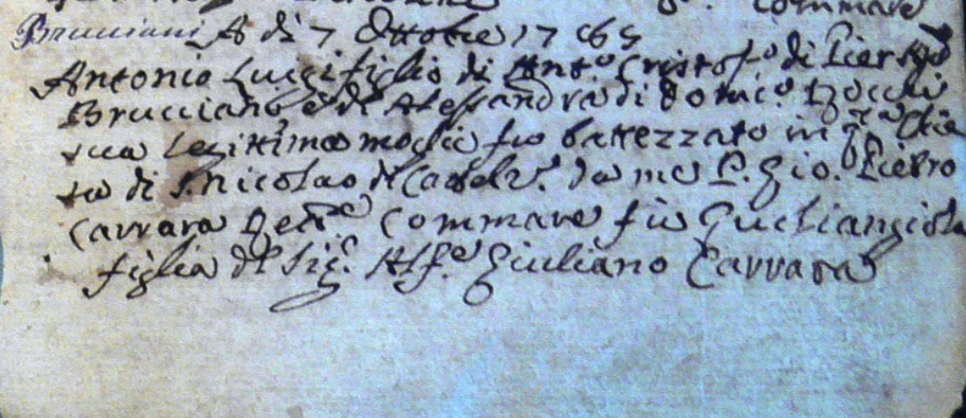 Described as ˜wandering Italians by the Penny Magazine of the Society for the Diffusion of Useful Knowledge in 1833, the figure of the itinerant Italian ˜image seller became a compelling trope for nineteenth-century artists and writers. Arriving in London from Barga in around 1829, Domenico Brucciani entered the modest plaster figure making business of his uncle Antonio Luigi ˜Lewis Brucciani (1789-1848) in Covent Garden. The Brucciani family were part of a distinct second phase of emigration characterised by settlement in Britain and the establishment of workshops and showrooms, which employed a skilled workforce of Italian formatori trained in the production of new plaster moulds. Taking over the business in the early 1840s, Domenico rapidly expanded the stock of classical and contemporary sculpture and architectural ornament and secured prestigious contracts to supply museums, art galleries and schools of art across Britain and later, North America, India and Australasia.Lewis Brucciani (1785-1848) was born in Barga in 1785 and christened Antonio Luigi Brucciani (birth and christening information for Brucciani family members kindly provided by Bruno Caproni, July 2011). He came to England in about 1820 and was in business in Lambeth by 1822. His wife Lucy Brucciani (d.1838) took out insurance in 1824 in trust for him as an artificial flower manufacturer, and later the same year also as a plaster figure maker, but it was not until 1828 that Lewis Brucciani set up in business in Drury Lane. In the 1841 census he was recorded at 5 Little Russell St, as a figure maker, age 55 (ages were rounded down to the nearest five in this census), together with his British-born second wife, Ann, age 40, his nephew, Dominic Brucciani, also a figure maker, age 25, born overseas, and Mary, age 20, British-born. He retired to Barga in about 1844, dying there in 1848 (information from Bruno Caproni).
GIUSEPPE BRUCCIANI [Giovanni Giuseppe] was born in 1792. His father was CRISTOFANO BRUCCIANI born circa 1760. His mother was MARIA ALLESSANDRA ROCCHI.
Giuseppe Brucciani was at first married to person unknown. He would have undoubtedly had children and there are many Brucciani descendents from the village of Barga where they lived. Giuseppe was a figurista and property owning in 1836.
After the death of his first wife Giuseppe remarried on 14th February 1836 in the Church of St. Nicolo' Parish of Castelvecchio to MARIA TERESA CONTI, daughter of GIULIANO CONTI and Maria Giovanno Giovanelli. Witnesses were Cristofano Conti, brother of Maria Teresa and Iacopo Bruciatti. [this spelling was given to us by the Italian authorities]. Maria Teresa was described as a peasant at the time of her marriage and she was 20 years younger than her new husband.
These are our Italian ancestors. They resided in either Barga or Castelvecchio and their children were all baptised in St. Niccolo'.
They had at least five children documented as follows:-
BRUCCIANI, GIULIANO CRISTOFANO LUIGI ENRICO born 14th July 1840. Witnesses were Giuseppe Conti and Elisabetta Dini. Giuseppe was a brother of Maria Teresa. He was baptised the next day in the Church on th Hill
BRUCCIANI, MARIA ANNA FORTUNATA ALESSANDRA born on 15th April 1842. She was baptised the next day.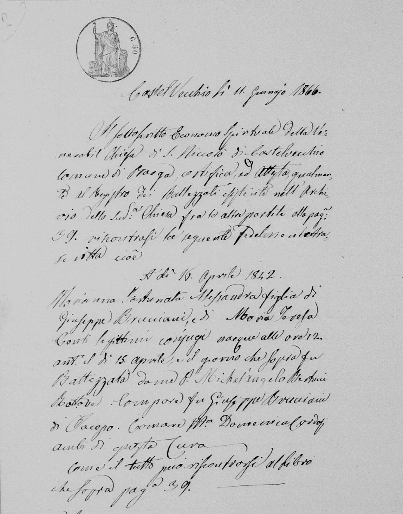 BRUCCIANI, Amelia Teresa 1845-1929. She married FrancescoDante family from the same village. Her fate was in Rhode Island, USA.
BRUCCIANI, FEDELE ALESSIO FERDINANDO born on 21t August 1846. He was baptised the next day. Witness Alessio Lunelli. Fedele remained close with the Quilietti children until his death. He married Marianna Conti
BRUCCIANI, MARIA DOMENICA CLEMENTINA ELISABETTA was born on 7th Lugio 1849. She married Pietro Donati family and they emigrated to Scotland.
ELETTA BRUCCIANI – Eletta was born on 26th November 1844 in Barga and she died on 5th October 1898. great great grandmother Her Godfather was her uncle Cristofano Conti.
Maria Giovanna Eletta Maddalena Brucciani married Leonardo Quilietti on 1st December in the year 1866 in the Church of St. Nicoli' in Castelvecchio Pascoli, Barga, Toscana, Italy. She is affectionately known to us as Eletta Quilietti.
Eletta was born on 26th November 1844 in Barga and she died on 5th October 1898.
THE BRUCCIANI family from Barga/Castelvecchio.
The family moved from their land in great numbers after the unification in 1861. Scotland saw many of the family settle here some in Ayr and Dumfries and others in the Glasgow area. They were figurini by trade but settled very well thank you into the new ice cream and restaurant businesses which were thriving here in Scotland. Eletta's sister Maria settled in Edinburgh with her husband Pietro Donati and their children. Other branches of the Donati family also settled in Ayr and Glasgow. They were well spread out throughout Scotland but we have the proof that they still kept in touch. Marriages saw witnesses who were cousins, uncles and aunts who had travelled in some cases for many miles to attend.
The branches of the family who settled in Ayr were from Barga and described as Confectioners in the year 1891. Pietro was the head of this family and was born circa 1865. We believe he was a nephew of our own Eletta, one of her brother's sons. Louis Brattisani was also from Barga and he settled in Annan in Dumfries. Born in the year 1868 we believe him also be be a nephew of Eletta.
Then there was Giovanni Brucciani who was born in 1850 in Barga. He was a figure maker by trade and the 1891 census sees him sharing with other figurini with surnames Nardini and Caproni in the Govan area of Glasgow.
Glasgow also became home to Antonio Brucciani and his family and they shared a flat in 1891 at 327 Crowne Street in the city. Antonio was born in the year 1854. His 'servants' were Giovanni Gonella, Celestino Biagiotti, Sabato Moscardini and Giuseppe Ghiloine who all worked with Antonio in his thriving confectioners business. The Gonella family were well intertwined with the Brucciani and Conti families from their home in Barga. They also went on to own one of Glasgow's foremost cafe's.
In Edinburgh we have the Donati/Brucciani link as our Great Grande Aunt Maria Domenica Clementina Elizabetta Brucciani came to Edinburgh with her husband Pietro Donati c 1881 He was also in the Plaster of Paris business. This was the reason our branch of the family came to Edinburgh with Emilio and Augusto Quilietti working in his premises in Chambers Street in the centre of town