THE STANTON – BRANNAN LINE
Welcome to our new branch of the Stanton family descendants and to Laura Watkins from White Rock in British Columbia for sending over the photos and information about her family. Her direct line is MARGARET STANTON, sister of our ANDREW STANTON from Westport, County Mayo in Ireland
We must travel back in time to the old town of Edinburgh and the years of the great potato famine in Ireland. It was at this time that Edward Stanton and his wife Peggy or Margaret Grady had moved from County Mayo with their son Andrew who was born in 1847 in County Mayo.
Edinburgh at this time was not a particularly pleasant abode as the old town was bursting to full and sanitation was at its very worst. But it was a city starting to expand and there was work around for those willing to do almost anything. The Irish settled mostly in the Grassmarket and Cowgate area of the city and they worshiped in St. Patrick's R.C. Church.
The family of Edward Stanton and Peggy Grady were
Andrew STAUNTON was born in County Mayo and married Maria Whelahan. This is our direct line.
Anne STANTONwas born in 1851 but died soon afterwards
Patrick STANTON was born in County Mayo in 1854. . His mother must have returned to Ireland perhaps to visit her family for whatever reason. She returned to Edinburgh the following year. Patrick married Sarah McKay and they had a large family.
Annie Stanton was born in Edinburgh in 1855 after her mother returned to the Capital. She married Bernard Rynn when she was 17. At the time the family were living in North Gray's Close off the High Street.
MARGARET STANTON was born on 2nd July 1857. She married into the Brannan line and this page is dedicated to her and her descendants
BRIDGET STANTON. We have two one born in 1859 and one in 1860. But none survived
JOHN and EDWARD STANTON were both born on 25th APRIL 1861. TWINS. Still to research these brothers
CATHERINE STANTON was born in 1862
MARIA was born 1866. She had a son John who was born in the year 1888.
THE BRANNAN LINE. – from County Roscommon, Ireland.
BRANNAN is certainly a name of Irish origin and can be found in most books of Irish surnames. Edward MacLysaght, in his definitive work entitled "The Surnames of Ireland", mentions two distinct families: MacBrannan (Mac Branain) of north Connacht (Roscommon) and O'Brannan (O Branain) of Fermanagh.
ARRIVAL IN SCOTLAND
Our branch of the Brannan family had moved to Edinburgh like so many of their countrymen at the time of the great famine. James Brannan was born in County Roscommon, Documented profession was fish merchant and fish curer.
James was born in County Roscommon and his wife Mary McLaughlin was born in Leitrim in Ireland . All of their children were born in Edinburgh, They had a large family, Mary Ann born 1854, John born 1859, Ellen born 1861, James 1863, Winifred 1865 and Catherine 1872. The family lived in Leith Wynd in Edinburgh.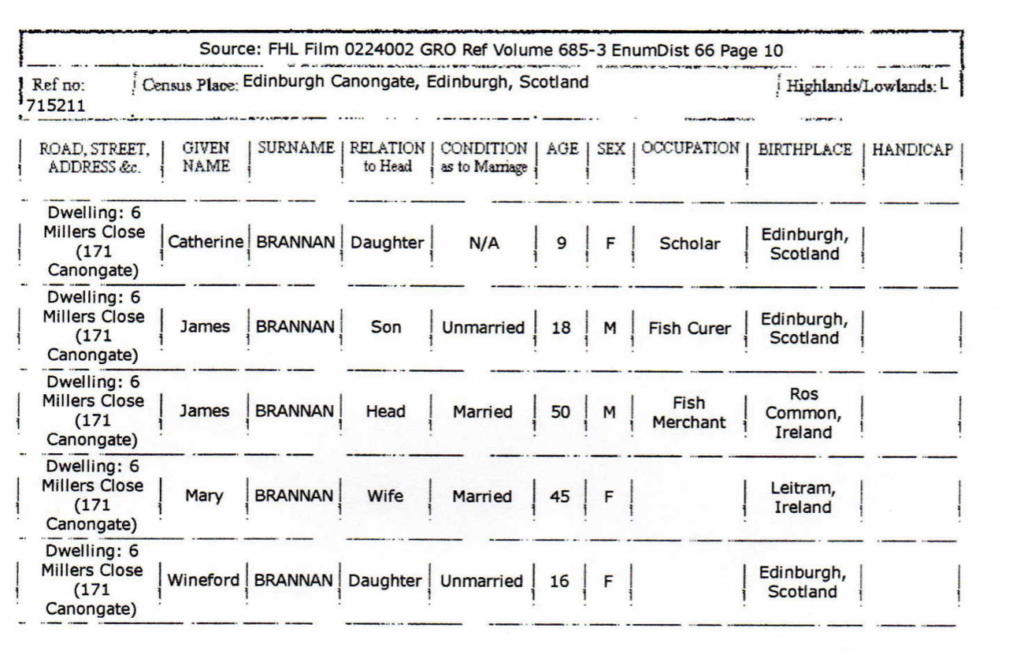 Son John Brannan 1858-1928 and Margaret Stanton 1857-1902
Son John Brannan married Margaret Stanton at St. Patrick's RC Church in the Cowgate in 1979.
THE HIBERNIAN connections
So who are this team then? What is the lifeblood that has characterised this green and white phenomenon since its inception? Let's take a leisurely and enjoyable stroll the through the history book to find out a little more about its rich past.
The club was originally formed, largely by the efforts of Canon Hannon,
He was an Irish priest originally hailing from County Roscommon, in the environs of St. Patrick's Church in the heart of Edinburghs˜Little Ireland of the day. The church still remains in the historic Cowgate area, now a world heritage site. The club's famous name, ˜Hibernian was chosen for its reason of being the Roman word for Ireland, Hibernia. The initial and very laudable aim of the early club was to keep young Irish Catholic immigrants on the straight and narrow. To play for the Hibernians in those days entailed membership of the Catholic Young Men's Society and an adherence to an abstemious lifestyle and regular attendance at Mass. Perhaps one of Hibernian FC's most admired sides was the team of all talents of the early 1970s dubbed ˜Turnbull's Tornadoes after Eddie Turnbull who returned to Easter Road as manager after a successful period in charge at Aberdeen. The team, whilst ultimately under-achieving and being broken up prematurely, played a hugely exciting brand of football and boasted two genuine world-class talents in John Brownlie, an early overlapping full-back of the day and the great Pat Stanton. Stanton still a much loved and revered figure amongst the Easter Road faithful traces his Hibernian roots all the way back to Hibernian's origins being a descendant of the important figure of Michael Whelahan, one of Hib's first on-field greats and a seminal figure in the formation of the club. In fact Pat's great grandmother was Michael Whelahan's sister Maria. She married Andrew Stanton who is photographed here on the extreme top left with the very distinctive Stanton looks.
The first Hibs photo. Michael Whelahan is in the centre. His sister Maria Whelahan Stanton was involved in all of these events and we know from word of mouth handed down through the generations that she washed the team strips at this time. Andrew Stanton top left
CHILDREN OF John Brannan and Margaret Stanton
They were blessed with many children
MARY BRANNAN 1879-1957. She married Robert Simmonds. No further information
JAMES EDWARD BRANNAN 1881-1892 died age 1
JOHN BRANNAN 1882-1948. John married Lilian Clarey – see stories below
CATHERINE BRANNAN 1883 – no further information
EDWARD STANTON BRANNAN 1886-1950 married Jane Anderson Thomson – 2 sons Edward and James
MARGARET BRANNAN 1888-1965 married Patrick McCabe. They had a large family including a son John who became a Lance Corporal in the Army WW2. He married Margaret Smith. He died in 1940 in France. Mont-Bernanchon Churchyard. Mont-Bernanchon, Departement du Pas-de-Calais, Nord-Pas-de-Calais, France
ANDREW BRANNAN 1889 – no further information.
THOMAS BRANNAN 1891-1915 – Thomas joined the Royal Scots Lothian Division of the Army and became a Lance Corporal. He tragically died in Action in France and Flanders in 1915.
WINIFRED BRANNAN 1895 or Winnie. She died in 1959 – I have no further information
ANNIE BRANNAN 1897 – no further information
ALLAN BRANNAN 1900-1903 – no further information
JOHN BRANNAN Jnr. 1882-1948 and LILIAS CLAREY 1885-1958 and their children
Lilias' dad married Mary Mallon in Edinburgh on September 3rd 1869 . Peter worked as a cabinetmaker. For a while they moved to Glasgow where Lilias was born on 1883. There were more children of course. Mary Clarey was an older sister and she married Charles Grant and they settled in the Canongate.
After their marriage the Brannan children soon came. John was the first to arrive in 1905. Then Sarah Jane in 1906. Peter was next in 1908. Then came Andrew in 1909. Lilias was born in 1914.
John

Brannan

enlisted in the Army on 26th Sept 1914 and was posted to ASC Remount Coy. ASC became RASC much later. He was posted to France 2 Oct 1914 and remained there until 31 August 1916. He was discharged 20 Dec 1916 as no longer physically fit for war service. This was caused by several accidents with horses kicked, rolled on and fell off. The In France the Remount Company was based in Rouen or Le Havre so well behind the lines. This information has been forwarded to us by John's grandson [also John Brannan]

On his return to Scotland and having been pensioned off from the Army, he worked as a Horse Trainer and he also was a Bookie for a time.

Andrew Brannan married Margaret Scott May 1932 at Gretna. They had 2 children Stanley and Edward. Margaret unfortunately died prematurely of T.B. in 1942. The following year he remarried to a lady called Helen Naomi Willway in Bristol Sept 1943. Andrew worked in munitions there. They had 2 children Anthony and Linda. Andrew boxed whilst in the Army during the Second world War. It is recorded that the Brannan family were actively involved in the Boxing circle and were quite well known at that time in their chosen profession.

Sarah Jane

Brannan emigrated to Vancoever in Canada. She married Thomas Watkins – their story is documented below

Lilias

Brannan also emigrated but to Ontario in Canada. Her parents John and Lilias visited Canada after the Second World War during the years 1947-48.
Peter Brannan – wife's name Isabella (Bella). 2 children, Sylvia and Sidney. Sidney went to work in London on a newspaper (I think Morning Star or Evening Standard). He changed his name to Brennan for some reason. Peter was very generous and caring to a fault. He worked in hotels as a porter.
LAURA'S STORY and memories of her grandmother Sarah Jane Brannan
My grandmother Sarah left Scotland at age 21 to come to America. She worked as a Furniture Restorer in St. Louis MO and as a Nanny in Los Angeles California. She must have travelled around a bit during the next ten years until she met my grandfather, Thomas Watkins, who was from Pwlldu, Wales. He had left his country in 1925 when he was 19 years old and headed for St. John in New Brunswick.
They met in Ontario, Canada. Soon after they met they married before travelling to Scotland on their honeymoon. The honeymooners however got stranded in Edinburgh because of the start of the Second World War. So luckily for them she had family here in Scotland. The first of their children were born in Scotland. Michael 'Garry' Watkins in 1940 and Raymond Joseph Watkins in 1941. They moved to Canada in 1947 at first settling in winnipeg, Manitoba where they spent one winter They moved to Vancouver shortly afterwards. My father and his brother grew up in Vancoever in White Rock, British Columbia. Sarah and Tom owned an Antiques Store on Granville Street in Vancoever called' TJ Watkins Antiques' for many years. Tom died in 1975 and Sarah in 1980. In 1978 Sarah won $1000,000 Canadian Dollars in the Lottery
LAURA'S FATHER – GARY WATKINS and his wife Anne ZLATOUSTAVSKY
My father was born in Edinburgh and moved to Canada when he was seven. He grew up in Vancouver and White Rock, British Columbia. He then met my mother Anne, who was born in Alberta in Canada, but grew up in Vancoeuver. Her mother was from Norway and her father was from Russia. They were married and moved to South Surrey, British columbia and had four children, Laura, thomas, Julie and Michael-Garry. Michael Garry became a teacher and taught for about 45 years. He taught High School Elementary School and at a school for the Intellectually Disabled. Garry was very interested in politics from an early age. He served on the surrey School Board for manyyears before serving for about 20 years as a Surrey city councillor.
He ran for Mayor as well but did not win. The City of Surrey has a population of about 500,000. One of Garry's accomplishments was to save and protect a historic area in Surrey called Semiahmoo Trail which was used by the First Poples and as a Wagon Trail in the 1800s. Garry died in 2010
Gary and Anne's children are
Laura Watkins. Laura works as a Social Worker in a hospital and has three children, Larissa, Lindsay and Nicholas
THOMAS WATKINS – Worked as a Heavy Duty Mechanic. He has no children. Thomas died in 2008.
JULIE LaRIVIERE [David] – Works as a Teacher in an Elementary School and has two children, Lauren and Erik.
MICHAEL WATKINS – Works as a teacher in an elementary School and has two children, Sylvia and Ella.
Gary 's brother JOE WATKINS.
Joe married Donna and had three children, Dorothy, Michael and Jennifer. He works various jobs but mostly as an Antiques dealer specialising in Military Antiques. Donna worked as a Nurse. Dorothy works as a Principal at an Elementary School in Vancouver. I am unsure of what Michael and Jennifer are working at at the moment.
STANTON/BRANNAN Line JANETTE McCUBBIN's story
John and Lillias were my grandparents. Her children called her Hilda as she liked the name because of an actress (possibly Hildegard Neill).
Their children:
John (known as Jocky) died of either a heart attack or epilepsy. He was working as a night watchman when he died either late 40's or early 50's. I know of 1 child, Patricia Kathleen now probably in her late 60's. I presume there were others but I do not know.
Sarah Jane I presume you have been in touch with her sons, Gary and Joe. She was known to the family as Sissy. I only met her once when she came to visit her husbands family in the 70's.
Peter – wife's name Isabella (Bella). 2 children, Sylvia and Sidney. Sidney went to work in London on a newspaper (I think Morning Star or Evening Standard). He changed his name to Brennan for some reason. Peter was very like my dad, generous and caring to a fault. He worked in hotels as a porter.
Andrew – wife's name Naomi. 4 children, Anthony, Stanley (both in merchant navy), Edward (known as young Eddie) I think he worked on the oil rigs but not sure, then Linda.
Lily – husband's name Alex Wilson, no children. Alex worked for Coca Cola whilst in Canada. When he retired they spent summers in Toronto and winters in Florida.
Edward Beatty, born 16 January 1919, died 9 November 1990. First worked as a pageboy at Gleneagles, then into private service where he was a footman. He met my mother (Jane Brunton Black, born 22 May 1918, Chirnside, Berwickshire, died 23 September 1997) when he worked for the Trotter family at their town house Mortonhall House in Edinburgh. My mother worked for the same family at their country house Charterhall in Berwickshire. After many years of private service my father worked in the Caledonian Hotel in Edinburgh, they bought a guest house, after a few years my mother became caretaker of YWCA then as housekeepers in Bute House (secretary of state for Scotland, now first minister's, residence) for about 20 years. They were married for 52 years.
John Clarey Brannan

, born 27 August 1938, married Helen Green born 17April 1940. 2 children, Joseph and Stephen, both married with their own kids).

Margaret Grey Brannan

(known as Margot) Grey from my mother's side), born 13 April 1940, married Alexander Williamson (deceased). 2 children, Pamela and Sally. Margot went to Canada in the 60's but returned after a few years. She and her family went back to Canada in the late 70's, early 80's (sorry my memory is not great for dates). She still lives in Guelph, her daughters also live in Canada and are both married with their own kids

Edward Brunton Brannan

(deceased) born 2 June 1944, married Jennifer Wilson (deceased). 1 child Ian Brannan. Edward served for many years in RAF, serving in Germany then moved back to Buckinghamshire. When he left RAF he worked for Inland Revenue.

Kathleen Beatty Brannan

, Born 17 October 1945. Married Ronnie McPherson, 1 child Gordon. Emigrated to Canada in 1967. Divorced in the 70's. Remarried Wayne Bacon. Gordon still lives in Canada. Kathleen and Wayne moved back to Britain mid 2000's.

Then there is me.

Janette Hewitt Stanton Brannan

, born 1 March 1954. Only married in 2007 to Anthony McCubbin. No children. I emigrated to Canada in 1974 but returned in 1977.

James

– married Annie, 3 children, Ann (from Annie's previous marriage), Jane and Katy. All living in London, I think.

Margaret

(known as Meg) died about August 1990 – husband's name either Peter or John Laurie. 2 children, Diane and Irene. Meg and her family also went to Canada but they returned sometime in the late 60's.