Mary Arpino was the Daughter of Angelina Quilietti and Giovanni Arpino grandaughter of Augusto Quilietti. Mary was born in the year 1912 and sadly died in the year 2007 age 96.
Mary would never have know her grandfather Augusto Quilietti, as he died in 1904. Mary was born in 302 High Street, Linlithgow on 20th March 1912, the eldest of the children of Angelina Quilietti and Giovanni Battista Arpino
When we met up with Mary in 1998 although she was in her 80s she had good recollections of her past. She was able to share with us a few of the memories she had of her family.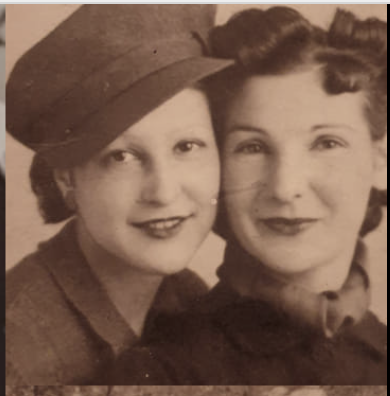 MARY'S children
Palma Curran Arpino. 1929-2011
Her eldest daughter Palma Curran was born on 31st December 1929 when Mary was still a tender age. Being unmarried, things were not as they are now and Palma was legally adopted by natural grandparents Angelina Quilietti and John Arpino, and brought up as Mary's youngest sister. When Palma was 17 she met a handsome Italian Carmelo Accolla who was a POW in Scotland. They met whilst both working on the farms during the War. Their romance blossomed and she had a baby Pricilla Anne Arpino who was born in 1946. In 1949 Palma married the love of her life Alexander Slater 1927-2015. Their children came along Tamara, Trudy and Palma.
Mary married James Joyce Hunter on 28th September 1934 in Edinburgh. James was a coal miner who resided at Moffat House in Ormiston at the time. Mary lived in the flat adjoining the family business, Fordel Cafe, Pathhead, Ford, Midlothian. She describes herself as a Confectioners' Shop Assistant at the time of their marriage.
Children of James Joyce Hunter and Mary Arpino
Angelina Hunter [twin] 1935
Angelina Hunter [twin] was born on 5th January 1935 at Moffat House in Ormiston. Now this is her story as far as I have worked out to date – any help will be most appreciated. She married two times. First to John Reid with children James, Lorraine and Gordon. They had married in 1955 and divorced in February 1964. She then married Thomas Debono.
Then in March 1964 she married a Maltese National called Thomas Debono who was 25 years her senior. They in turn had one son Charles . I am unsure if Thomas is Izzy's father – help required here please. Angelina lived in Malta for many years and Mary Arpino recalled many years later how she enjoyed visiting her there.
She is now with John Moffat photographed below with her
Joyce Elizabeth Hunter twin 1935
Joyce Elizabeth Hunter [twin] was born on 5th January 1935 in Moffat House in Ormiston. As far as I can see Joyce married three times. Her first husband was Craig Duncan Slater who was the brother of Alexander Slater who had married her sister Palma. They married in 1954 and divorced in 1969. Later in 1969 she married John Mackay and they also divorced in 1980. Her last marriage was in 1997 to her sister's x husband James John Reid. Joyce has one daughter Joyce Marie Slater .
Janet Maria Hunter 1945
Mary's youngest daughter was Janet Maria Hunter and she was born in Pathhead on 31st January 1945 at the end of the War Years. The photograph below was sent to me by Pricilla. At the right is Janet.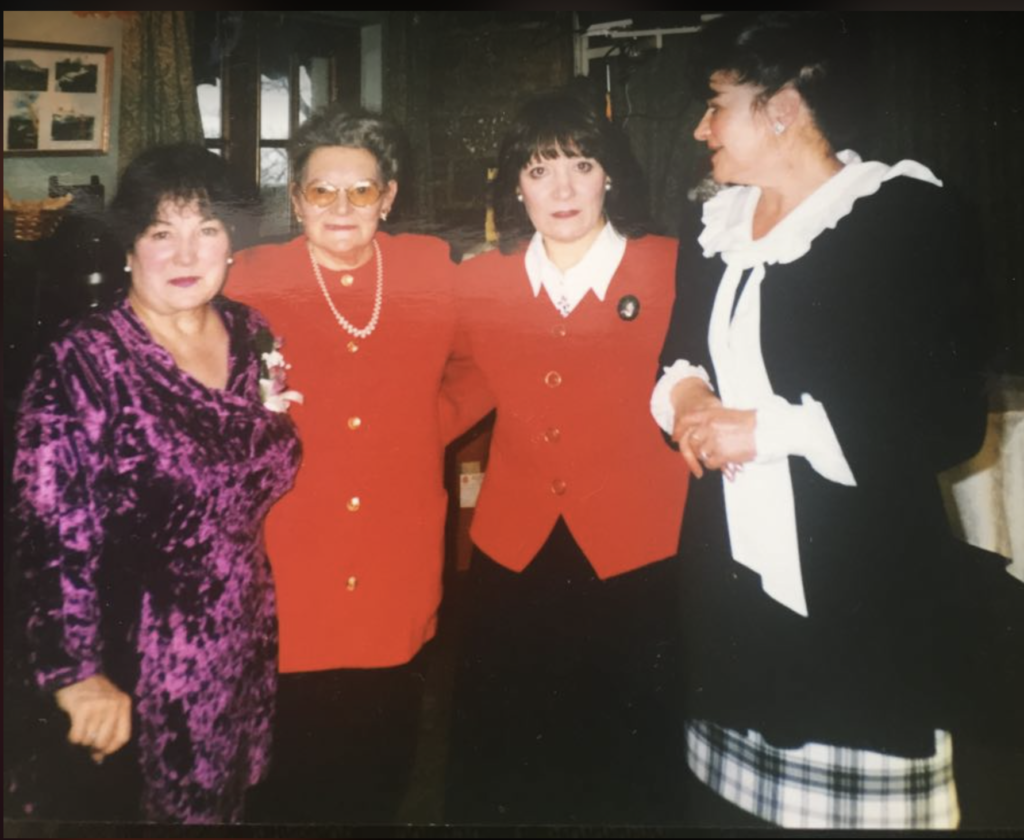 Janet worked for a time at Lloyds at the Orchard Brae at West End and also at Morrissey. She married William Hugh Graham in 1970 and they divorced in 1975. In-between Alastair Stuart Graham was born 1970 and Lyndsey Graham 1972. Taday Ali works with the Fire Service
Mark's chosen profession was in the hairdressing business and he opened a shop at the top of Leith Walk in Edinburgh. Mary commented that Mark had the honour of giving Princes Diana a makeover on one of her rare visits to the Capital.