ADOLFO QUILIETTI was the youngest son of Leonardo Quilietti and Eletta Brucciani. He was born in Castelvecchio [Pascoli], BARGA, Italy,  on August 7th 1884 and given the name of Giovanni Carmillo Adolfo  Quilietti
Â
What do we know about Adolfo.   He left for the USA after the death of his father in 1903.   He and his brother Giuseppe also visited Scotland as is seen below. when he is photographed in Edinburgh with his brothers Giuseppe and Augusto.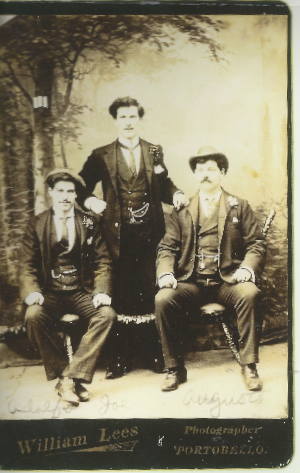 During this visit to Scotland, Giuseppe and Adolfo met up with Emilio's children and the young Valentina Maria Quilietti became close with her uncle.   It was in fact her who forwarded these photographs to the USA after the re-marriage of her mum, Valentina Brattesani Quilietti,  to Sante Brattesani.  The story goes that she rescued them from the bin and forwarded them to Rhode Island.   It is thanks to her today that we have these very precious images of the Q family back then.
Searches today tell us that the brothers Quilietti travelled many times between Italy and Rhode Island before finally settling.  1906, 1907,1910 and 1911, then many times after this when they were older  In 1910 during one of their visits they were documented as staying with their sister Ermenia Quilietti and her husband [and cousin] Peter Dante.  
Another bit of nonsense to make comment on was why in the year 1907 when they travelled between the continents did Joe travel 1st class and Adolfo 3rd Class .
Â

The interesting thing about the 1910 census tells us that the Quilietti brothers had first emigrated in 1906 even although they visited twice before this date.   It also tells us that they were both working as Machinists and living with their sister and brother-in-law Peter Dante.  Peter as we are aware emigrated with his parents in 1889.  His mum was the sister of Eletta Brucciani Quilietti. Ermenia Quilietti followed in 1899 as is documented below.  She married her cousin Peter Dante in 1901 in Pawtucket.
Adolfo and Giuseppe found work with a Butcher whose name was Papino in the Carl Papino Meat Market.  Adolfo was employed as an operator for the cooling devices located in the basement of the shop.  He worked here in these premises until his untimely death in 1943.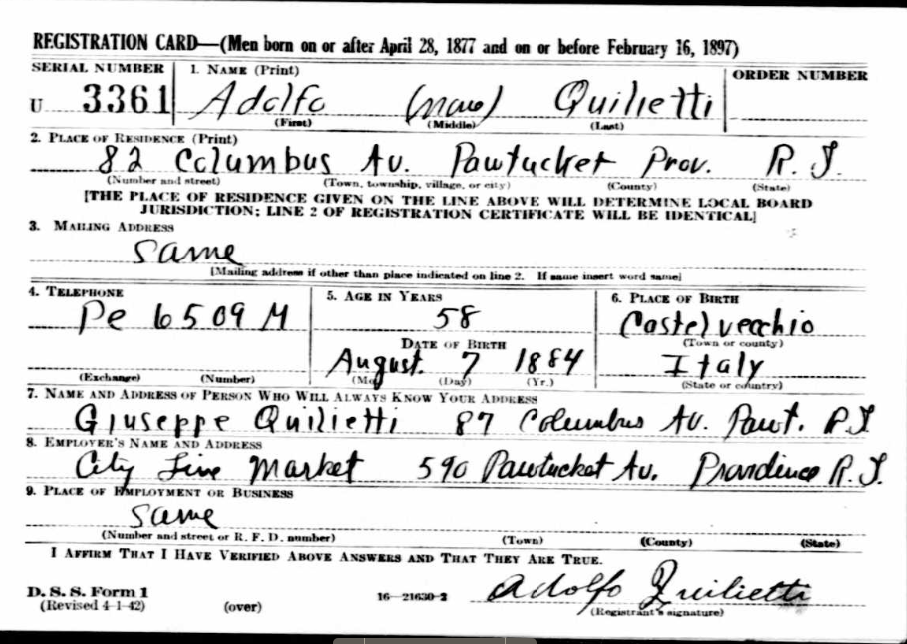 They also returned back to Italy on many occasions and here we find them returning from the Port of Genoa in 1936.
Augusto and his brother Giuseppe or Joe lived out their lives in the Meat Processing Business in Pawtucket in Rhode Island.  Their store was typical of the time selling fresh fruit and vegetables which stood outside the shop in a wonderful display of colours.  Joe married and the brothers ceased to share the same house for a while.
Adolfo also eventually owned two apartments in 82 Main Street, Providence [ALSO KNOWN AS COLUMBUS AVENUE]. The apartments had a garden area to the rear, where we have been told they kept chickens which roamed around the yard. They grew vegetables and fruit for wine-making were also hanging from makeshift vines.  In the same block Giuseppe owned three of the apartments.
This area in Providence was also home to many Italian immigrants.  Adolfo and Giuseppe rented out parts of these apartments as peddlars-houses, assuring that they always had an extra source of income.
Adolfo never married, but we were told by his nieces Alma and Elsie, that  his last girlfriend was a Finnish Nurse.  On the fateful day he was to meet his death, Adolfo was working in the cellar of the butchershop, where had worked with Carl Papino for the last 15 years.  He had started up the generator but forgot to open the fresh air ventilator.  He had been on the phone earlier chatting away to this new girlfriend.  After the call we were told that Adolfo had fainted with the fumes and passed into unconciousness, eventually found and taken to the Memorial Hospital where he was pronounced dead on arrival.  He was only 55 years old.  He is buried in Mount St. Mary's Cemetery in Pawtucket.
Adolfo's Estate was carried out and divided fairly according to the US Legal system. All his relations received a share of his estate, which in the year 1943 during the Second World War, was quite substantial. His brother Giuseppe was appointed Administrator and Giuseppe's niece Leonara C Raffanti was appointed Appraisor.