The story of Amelio Quilietti is now documented with thanks from his grandson Robert 'Bob' Brunton who has very kindly and much much enthusiasm forwarded on this testament of his grandfather's life. The photographs here were presented to us by Amelio's grandaughter Suzanne who is now helping us compile this page. It is with great affection that we welcome Suzanne into the family as she knows none of her Quilietti cousins. It is her hope that some of Nardo's descendants will see this page and be in touch.
The Brunton family are descendants of Leonardo ' Nardo' Quilietti. His first three children from his marriage to Susan Tully were all brought up with the surname Brunton. Susan and Nardo had split after the relationship between Susan and John Redford Graham, a relationship which unfortunately for all involved did not last either.
Amelio Quilietti 17th August 1912 – 10th June 2008.
Amelio Quilietti was the eldest of the three children born from the marriage between Nardo and Susan Tully. His parents had meet married on 12th April 1912 in St. Mary's Cathedral in Broughton, Edinburgh.
Amelio was born on 17th August at 19 Union Place, an address just opposite Greenside Place in the City. His formative years would have been spent amongst the Italian community which had made their home around the Greenside area at this time. The area had been home to the Quilietti family since heir arrival in Edinburgh in the 1890s. St. Mary's was the hub of the community and many romances would have started within the walls of this Church.
His parents had married very young and a great war was starting to rumble in Europe which would change the course of this family's history for ever. Amelio's father Leonardo was one of many who joined the Army and was sent to Europe to fight for the cause of freedom. He became a hero and was away from home for a good deal of the next five or so years.
Despite all this Nardo and Susan had three children. Amelio was born in 1912, Philomena the following year in 1913 and then Catherine in 1917.
It was sometime inbetween 1917 and 1920 that Susan had met another partner in her life and the lives of these three children would now change forever. She met John Charles Graham and their relationship blossomed with the birth of a son born in the year 1920. They called him John Redford Graham.
This caused the split up of the marriage of Nardo and Susan.
Then Susan met the love of her life in Robert Cameron Brunton and the course of her life would now change not only for herself but also for her young children. She decided that they would benefit from being known as Brunton, perhaps because in the 1920's the moral atmosphere of the time was not as now and it would be better all round if all members of the family shared the same common surname. Then no-one need know about her young foolishness as a girl really. She had now grown and wanted her family to benefit from a secure home with their new dad. It was sad that she and Nardo never divorced. They remained married even after Nardo had moved on to his new life with Maggie Williamson.
The first fifteen years in the life of Amelio would have been I am sure very upsetting with no father as such as his father had been called to War. Then with the split up of his parents marriage I am sure there would have been many days spent in sorrow.
It was perhaps this that caused Amelio to join the Army at the tender age of 15 years. He joined the Sutherland Highlanders under his new name of Amelio Brunton
This period in Amelio's life was remembered with great affection. He really loved the Army life and it instilled in him a great personal discipline which remained with him throughout the rest of his long life. Amelio was onboard the Lancastria and spent many of the War Years believed dead by his family. He was however awarded for Bravery and was promoted to a Sergeant Major.
He was always an early riser, even right up into his 90s. He was always first up at the crack of dawn and down for breakfast with his collar, tie and blazer with shoes which shone like glass. His grandson Bob remembers Amelio visiting them in the 1980s in their family home in Barnton in Edinburgh. Grandad would be up, all polished and shining and would go down to the local shops for the newspaper before the family had even enjoyed their first morning stretch!
He maintained this same discipline at his home in Stirling, up early, fire made up, walked to the local shops to get food and other domestic bits and pieces and whilst he was out and about he would enjoy another great love of his – his wee bet on the horses, not large bets, just a few pennies on an accumulator or a pound each way to win.
He was always telling stories about his latest betting successes when he came over to stay. I, as a 15 year old was always looking for ways to make some easy money. I would follow his tips, and invariably lose!!
His marriage to Charlotte Miller (she was known as Lotte) was a happy one.
We used to go through to Stirling to visit them in the early 70s from 1973-1978. I can't recall exactly but possibly once every 3 months at the weekend was when we would visit them. I do recall that he kept a grenade on his mantle piece that I always admired. In my later days he did give this to me as a present to remember him by, but tragically this has now been lost in a house move or whatever. There was no gun powder inside it of course!!
William Brunton or Amelio, and Charlotte Miller were married in December 1933.
But this was more to do with getting leave from the Army at a suitable time and I am sure that this was not a 'shotgun' marriage, but a true love match.
During the War years he served with the Argyll and Sutherland Highlanders. He was a Lance Corporal. He was onboard the Lancastria which was sunk in 1940 and according to his grandaughter Suzanne he was believed to be dead for many years. The official site of the Lancastria will show the horror of what he experienced. He did very well in the Army and became a Sergeant Major during his years of service.
The Winter months of 1934 brought the birth of their son Robert Cameron Brunton, 4th January 1934 was the date of his birth. Robert was born in Berkley Terrace in Bruntsfield, EDINBURGH.
Amelio and Lotte's home was just around the corner from the Golf Tavern on Bruntsfield Links. By this time Amelio had now left the army and was working as a telephone engineer with the Post Office. This was before the telecoms became part of BT.
They briefly moved to Prestonfield in Edinburgh for a while and it was here that their other children were born.
Their daughters, Jessie Dow Brunton was born on 6th January 1936. Susanne, was born on 4th April 1937 and Ronald in 1946.
Then his work sent the family packing to Glasgow where they lived in a tenement flat centrally located in the Dennistoun district.
The district of Dennistoun is an island. Not only is it physically situated on rising ground above Townhead, Brigton and Parkhead, but it was, and remains, socially an island of unfliniching respectability in the surrounding East End of Glasgow. For many working class folk in that part of the town, Dennistoun was the summit of their social ambitions. While socialist activists on Glasgow Green hoped to lead the working classes to the promised land, most of them would just have settled for Dennistoun.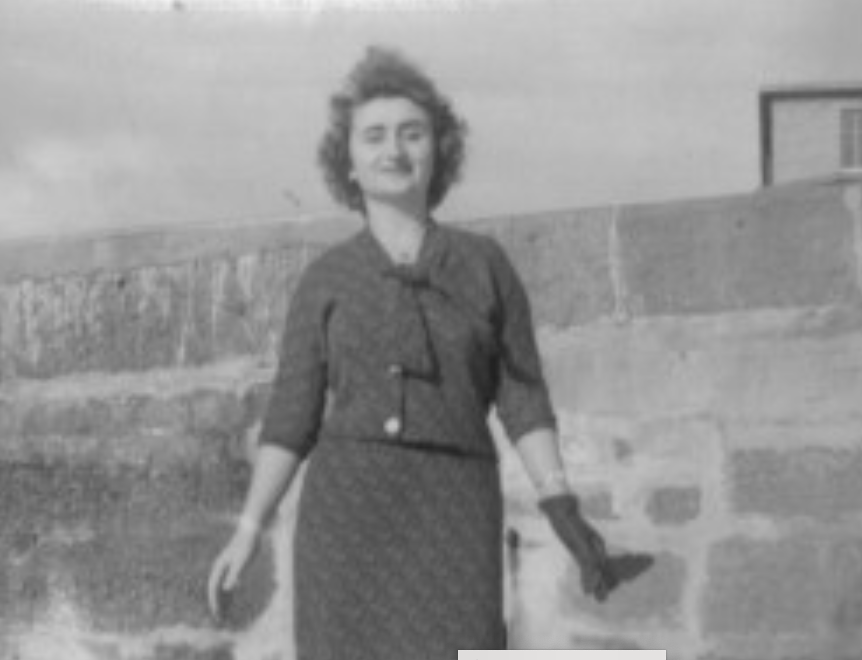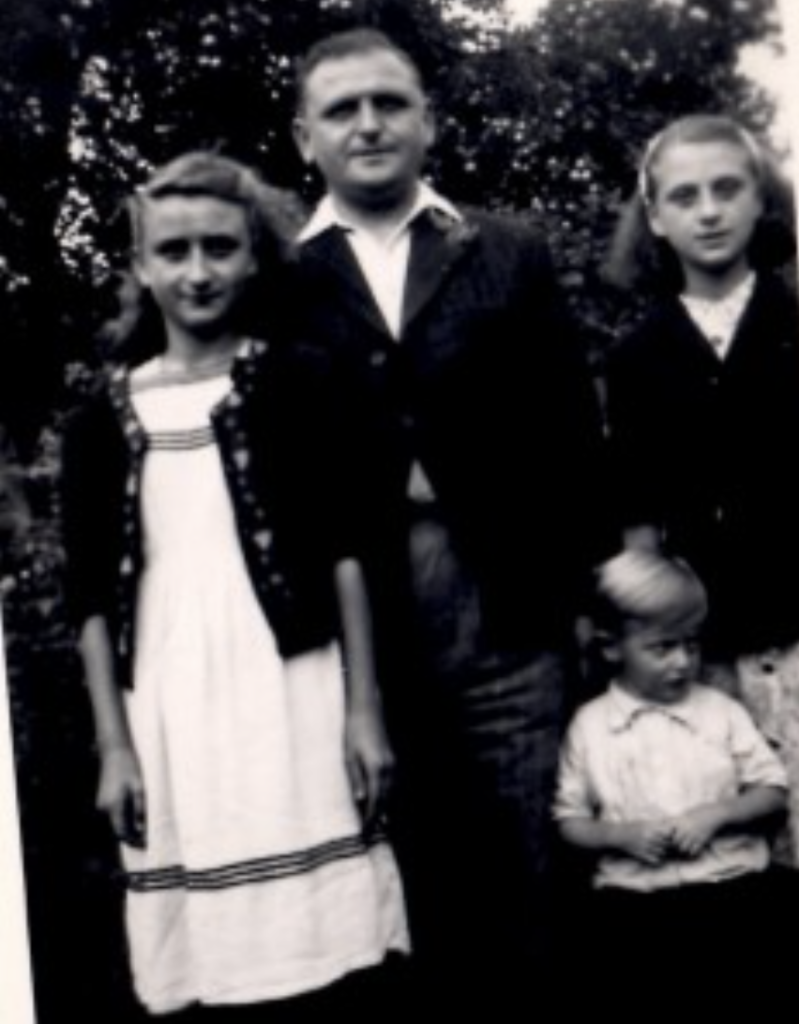 After Amelio and Charlotte's marriage Melio started to call himself by the name of William Brunton, perhaps as a sign of the turbulent times which were stirring in Europe.
However when Amelio's sisters visited him at his home with his new family they would revert back to his nickname MELIO , much to the annoyance of Charlotte! Charlotte was affectionately known as Lotti and their marriage was one filled with much happiness
Growing up in this 'foreign city' would not have been an easy transition for Amelio's children. Although these two Cities are only 50 miles apart the language of the locals are far from close. You only have to ask any local from Edinburgh or Glasgow and they will tell you this in their own tongue and both be proud of their own local words exactly what they think about their close neighbouring town.!!
It was in 1978 that Lotte died in the August. I recall receiving the call from my uncle Ronnie at our home in copenhagen where we were living at the time. I saw grandad for the first time after this in late September 1978 when he came to the Boarding Houses at the Edinburgh Academy where I was at school.
I can vividly remember him, all smartly dressed, walking down Arboretum Avenue in Inverleith, after he had got the bus to Ferry Road. We went into town and over to his sister's flat for an evening meal. His sister's name was Cathy married surname Hunter. As was fashionable last century Amelio smoked as a young lad but gave it up for a long time during his prime. In later life he did start again after Lotte's death, but only for a couple of years. Lotte was his late wife Charlotte.