Thanking Sheila Triggs who left us a message earlier in 2020 explaining how members of the the family ended up in Canada
Walter Michael Stanton was the youngest son of Andrew Stanton and Maria Whelahan.
Walter takes the name of his great grandfather Walter Staunton from County Mayo.
This branch of the Stanton family arrived in Scotland circa 1850 at the time of the great potato famine. The 1861 Scottish census shows Andrew's parents Edward Stanton and Peggy [Margaret] Grady residing in North Gray's Close off the High Street in Edinburgh. Their son Andrew was born in Ireland. In the 1861 Scottish census the family were living now in old Edinburgh City which were no more than slums really. The Irish community settled mainly in the Cowgate, Grassmarket and High Street areas and they worshiped in the Catholic Church in the Cowgate, called St. Patrick's [St. Pat's].
By 1861 the family were living in North Gray's Close, just off the High Street and only five minutes away from the Church. Andrew Stanton was 14 years old and worked as a Dust Carter. Times were hard and children worked from a very early age in whatever employment was around at the time. This census entry shows Edward's occupation as a Farmer as were all of his family at that time.
MICHAEL 1869-1946 – he never married lived at 57 Nicolson Street all his life. He was also a typesetter all his life.
EDWARD 1871-1939 married Catherine Madigan – our direct line
PATRICK 1974-1975 – died in infancy
MARY 1975-1891- had one son John illegitimate. His line were also great footballers
BRIDGET 1878-1968 – married twice – Charles Inness then Hugh Davie
MARGARET 1880-1966 – married Andrew Watt
LIZZIE or ELIZABETH 1884-1961 married John Mark
ANDREW 1884-1953 – married Catherine Moran
JOHN 1887-1956 – Butcher by trade, married Euphemia Dickson Watson
Walter Michael 1889-1954 – married Jessica Anderson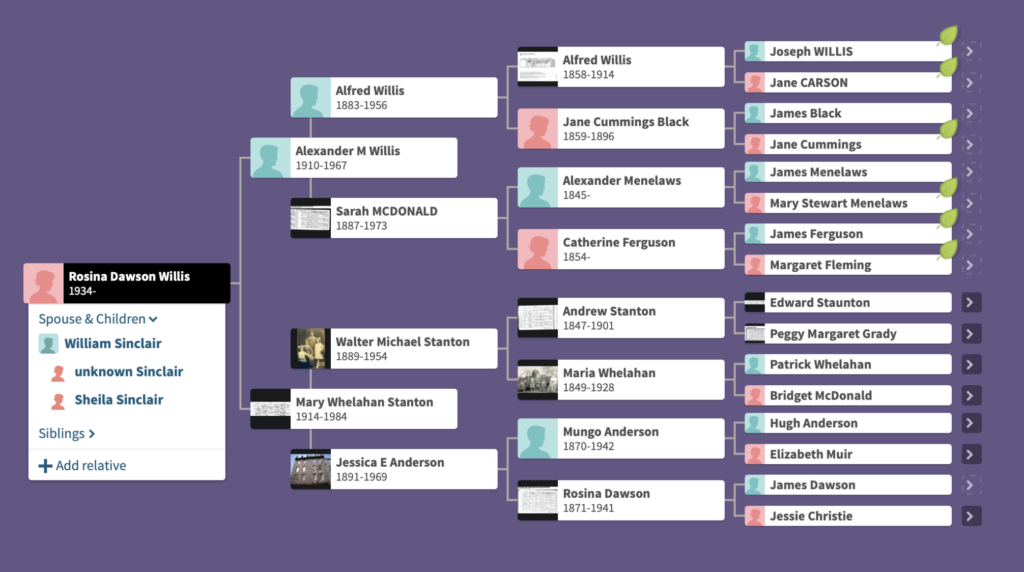 Ten years later the family are still residing at 5 North Gray's Close with four of their children, Patrick Ann, Margaret and Mary. By this time Walter's father had moved out of the family home.
Walter was born in Edinburgh in 1890 at College Wynd. The youngest of the family.
Jessie Anderson was the daughter of Mungo Anderson and Rosina Dawson. They also lived in the High Street at No. 2 Covenant's Close in 1891. Her dad was described as a coal porter and this would have been no mean task in those days. The old tenements of Edinburgh and down the High Street were 5,6,7,8,9,10 stories high and some even higher.
Rosina Dawson Stanton was born in Edinburgh in the year 1911. In turn Rosina married Norman Thomson Wilkie.
A few years after the death of Norrie Rosina left for Mississauga, Ontario, Canada with her son Tom, Tom's wife Barbara and Norman who was about 2 years old.
Mary married Alexander Willis.
Norman has kindly sent us this latest find.