GREAT GRANDFATHER – his parents George Morrison and Eliz. Cowie
Angus was born on August 28th 1871 at 05.30 am. in Edinburgh Castle. His father George was a Private in the 3rd Sutherland Highlanders. His mother Elizabeth Cowie had married George in OCTOBER 1862 in Aberdeen.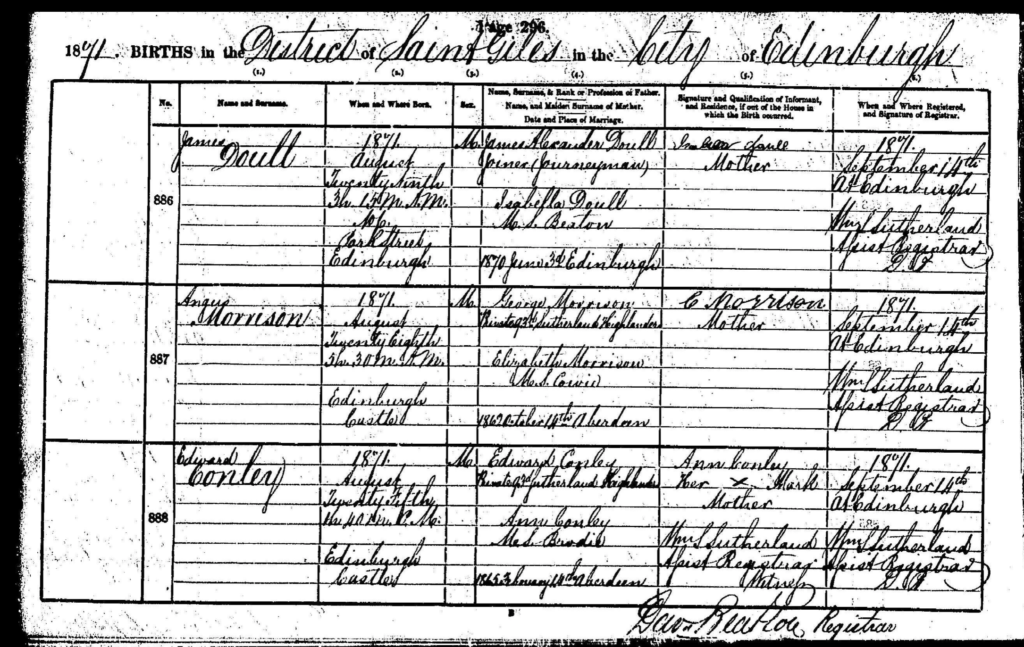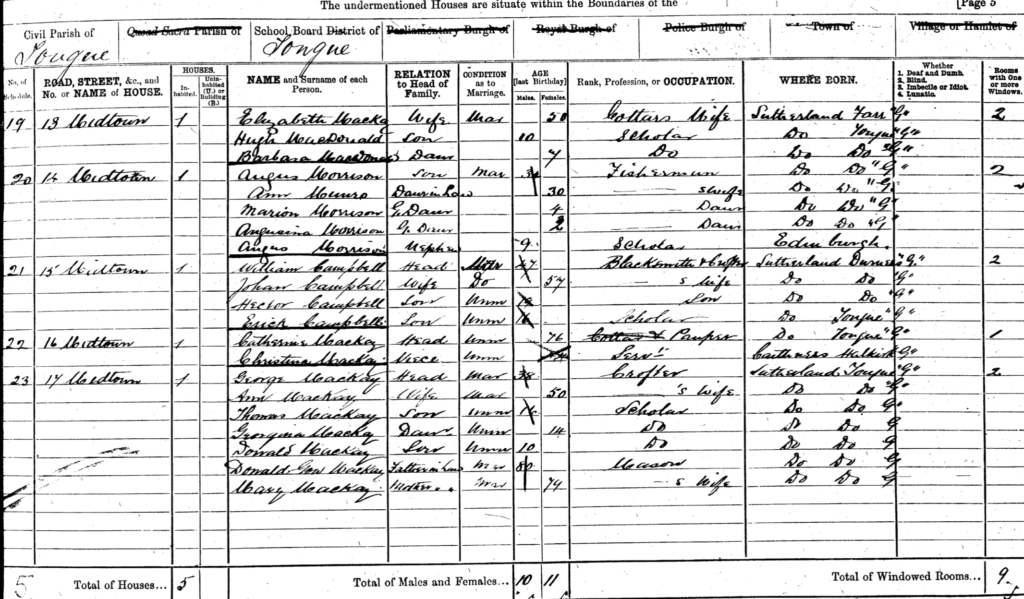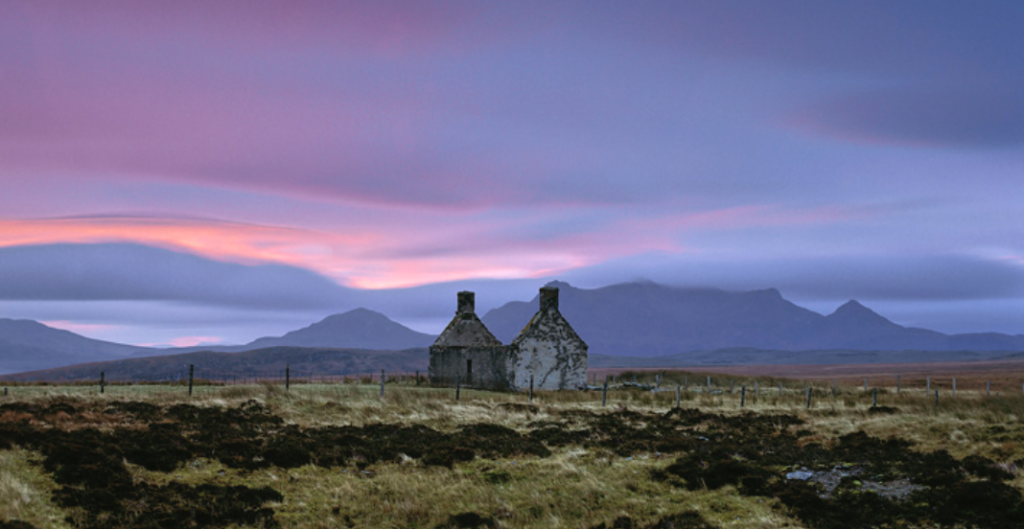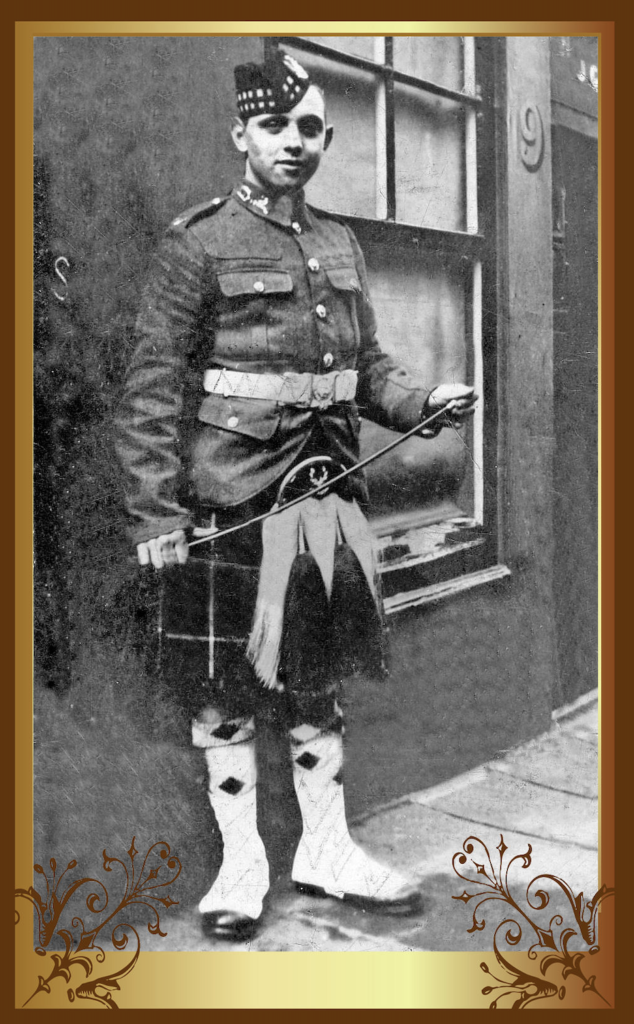 Have received this information from my cousin Eric Morrison regarding the above photograph of Great Grandad Angus Morrison
I sent military pic to my father In law last night. He served for 22 years. In his 70s now. He was very intruiged. He sent me these replies:
Eric SENT
I Think he was a Regimental Policman and going by the badge on his sporran my best guess is The Gordon Highlanders I think. One of the fine Highland regiments consigned to history a long time ago and now come under the collective name, the Highlanders.The 4th Btn The Royal Regiment of Scotland.
Eric sent
The Gordon Highlanders museum is in Aberdeen. They probably will not have the regimental history of all who served in the regiment but they might can help. The records for WW 1 are held at the national Archives public records office, Kew, MOD Ruskin Ave Richmond Surrey TW 94DU www.nationalarchives. gov.uk Tel. 02088763444. The more info you have will help , like number rank and name but not essential., hope that helps Eric
Eric sent
Eric, I have another theory on why he is dressed as he is. This could be the CO ( Commanding Officers stick orderly ) the way this would come about was, the camp guard would mount at 1800 the Orderly officer would inspect the guard and the smartest man would be picked to be the COs Stick Orderly, he would fall out go to the guard room and collect the white belt, normally a cross belt with a pouch on his back and a swagger stick which he has in his hand, the next day he would report to the CO's office and sit out side his door ( no phones) if the CO wanted to send a message to some one normally the company commanders he would summons the stick Orderly put the message in the pouch on his back and off he would go with the message. The good thing about it was because you were delivering a message for the CO every one saluted you. It was a good duty to be on. If you got the stick Orderly 5 times in a row you got to keep the stick and didn't do guards for 6 months, also the stick would have your name on it. I lost mines years ago , so I think the Grandad in the photo was a very smart Soldier.
Children of Angus Morrison 1871-1935 and Margaret Brady 1877-1927
Marion Morrison 1895-1931 – Born in Milne's Court, off the Lawnmarket. Her occupation was one of umbrella maker. She married Robert Hay in Edinburgh in 1915. She died very young in 1931. They had one son Robert Hay.
Angus Morrison 1897-1956. Angus was born in a tenement in the old town at 129 The Cowgate. He married Isabella Walker in Aberdeen. Bella's father was a salmon fisherman in Aberdeen. Unsure of how many children they had but know they had two Angus born in 1918 just at the end of the War. Then Angus Roland who was born in 1928. Angus died at 93 Niddrie Mains Terrace in 1956 of chronic bronchitis and emphysema. This Angus is the grandad.of Paddy, Mary, John and Gus Morrison [who died in 2020]George Morrison 1900-1901
George Morrison 1900 was born on 10th March 1900 at 1 Fountain Close, The High Street. HAVE NO FURTHER INFORMATION
Alexander Morrison 1902-1952 – married Helen Denholm Crawford – 1901-1981 – my direct line. They had 13 children and all born at home. One one son died young Robert 1931. Alex was in the Army during the War and I believe he was a sergeant. He died in 1952 age 50 at home at 50 Niddrie Mains Terrace of a Cerebral Haemorrhage. Ma Morrison lived until 1981.
Annie Morrison 1905 – she was born in Blackfriars Street. She may have died in infancy
John Morrison 1908 – He was born at 4 Haddington Entry, 4 the Canongate. HAVE no further information on John Morrison.
ANGUS Professions
1888 ARMY THE Gordon Highlanders – see below 1888-1901 – 13 years in Army but perhaps it was more a territorial army as he seems to be in and out of these other jobs below.
1891 NAVY on census information –
1893 RAILWAY SURFACEMAN on marriage lines
1895 – RAILWAY SURFACEMAN on Marion's birth lines
1897 – MASON'S LABOURER on Angus's birth lines
1900 – 3RD BATALLION Gordon Highlanders on son George's birth lines
1902 – GENERAL LABOURER on son Alex's birth lines
1905 – RAILWAY SURFACEMAN on daughter Annie's birth lines
1908 – GENERAL LABOURER – on son John's birth lines
1915-1918 IN ARMY – 6th Royal Scots NO. 2218 – he was discharged because of eye problem.
1919 – GENERAL LABOURER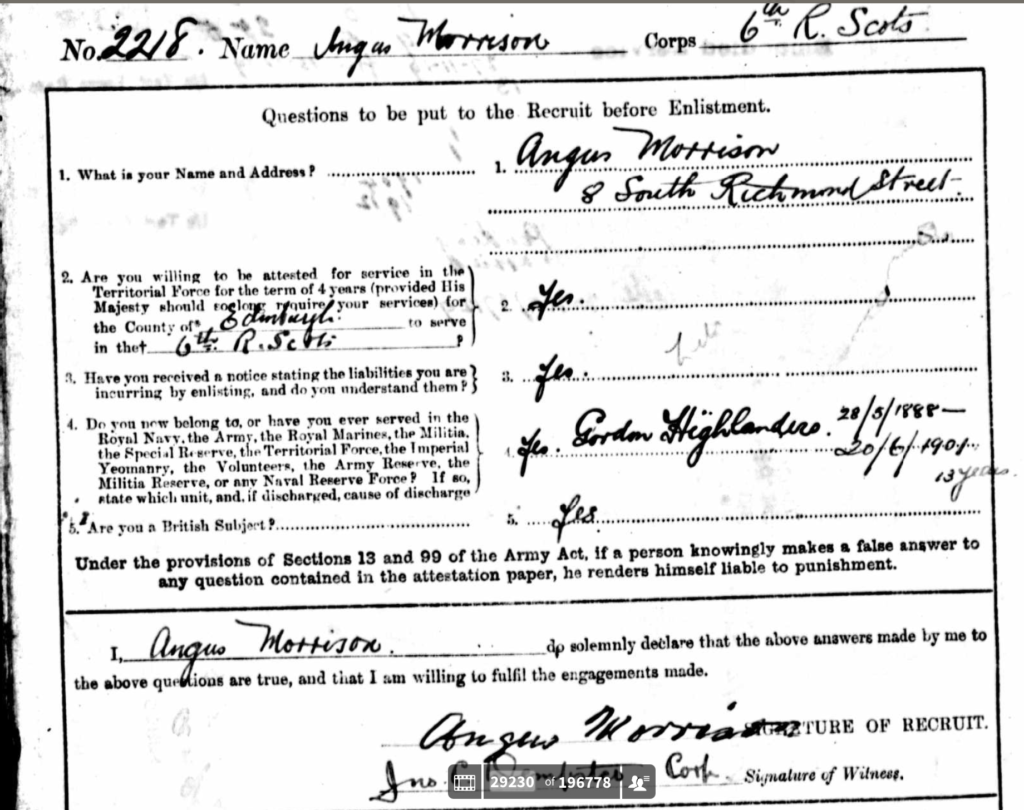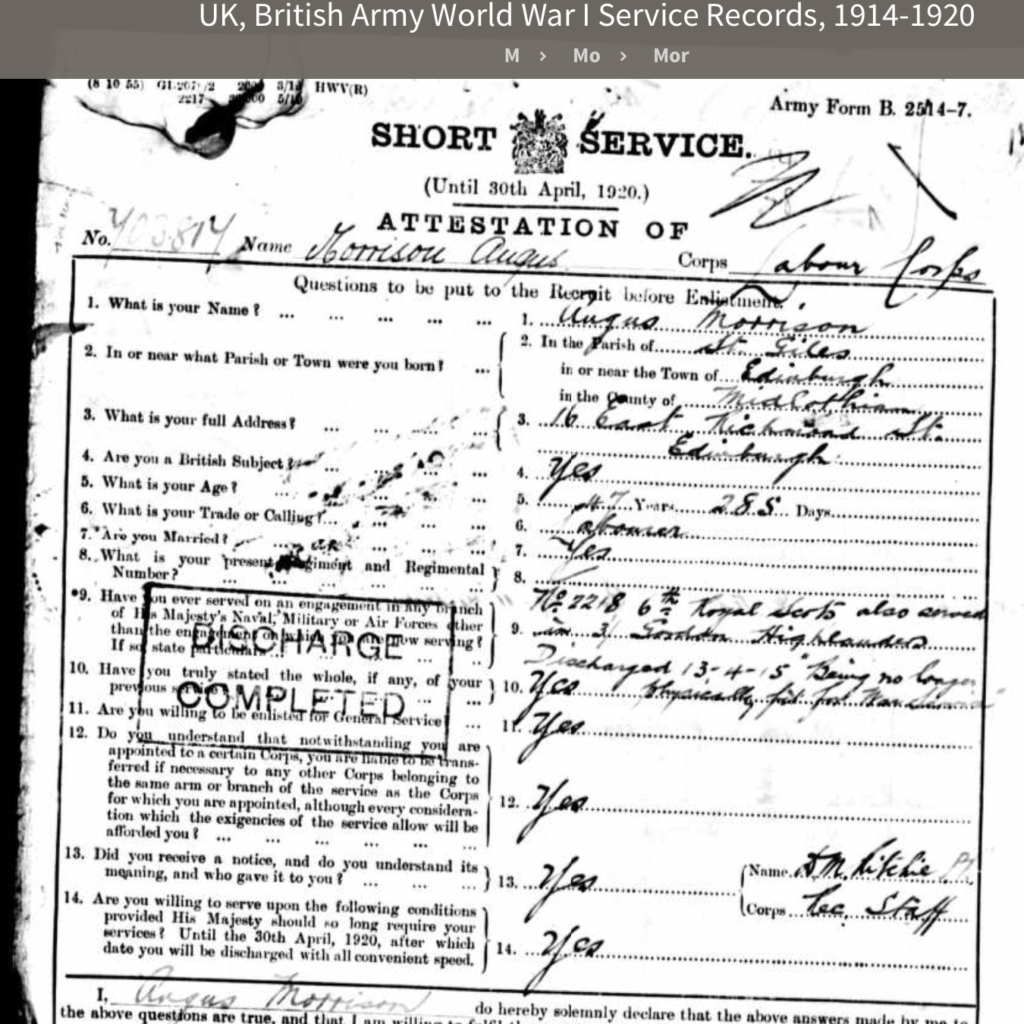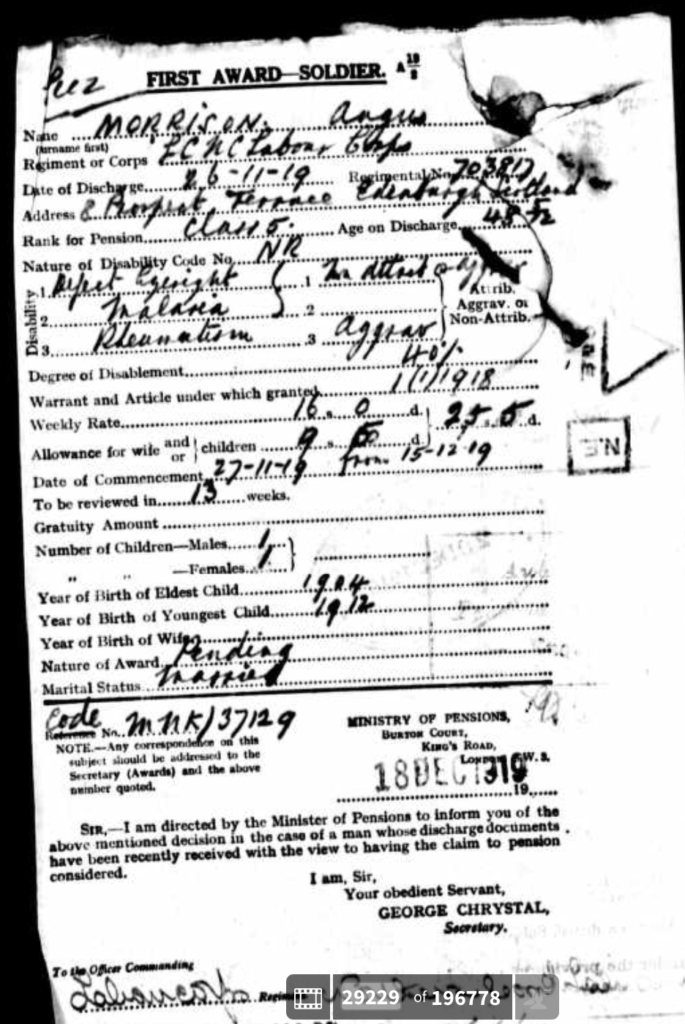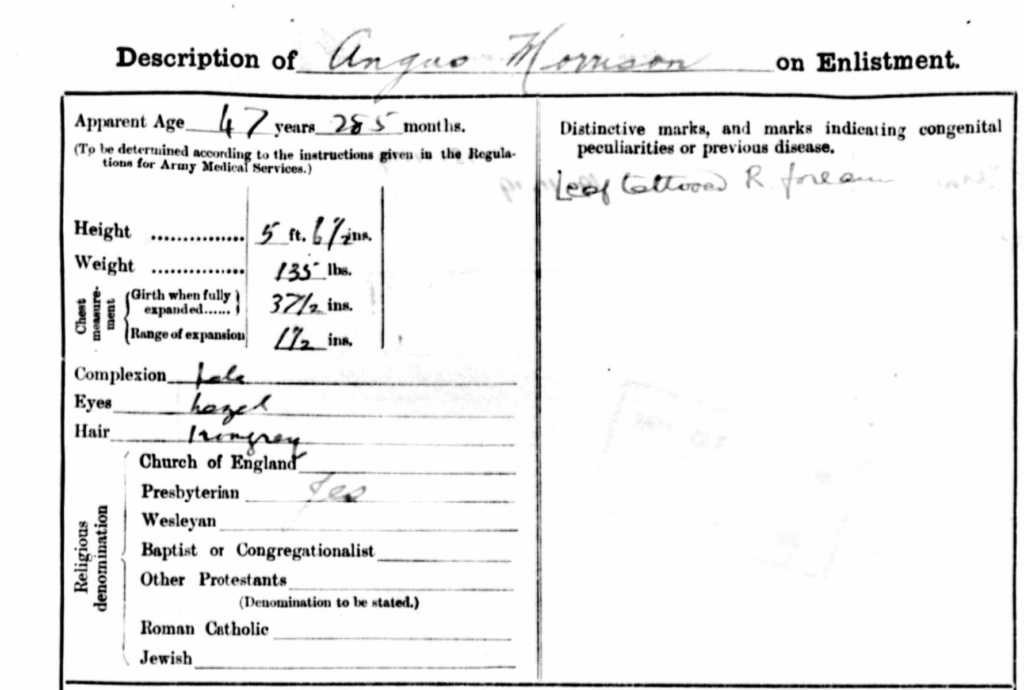 BRADY Margaret