In these mountains, 30 km. north of the beautiful city of Lucca, you'll find a collection of small towns and villages close to a town called Bagni di Lucca. The making of plaster figurines started in Bagni di Lucca as early as the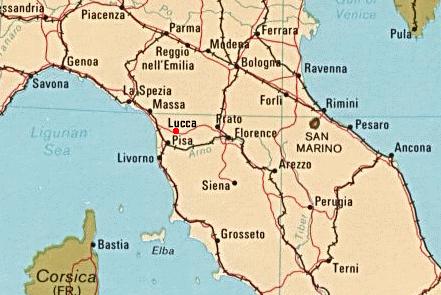 14th century. As a matter of fact, a document from 1373 in the archives of Lucca mentions a figuris gesso, a figure of plaster. Nevertheless, emigration of the figuristi did not begin until the 18th century, when (according to Cherubini) a certain Salsini emigrated in 1712 with his son to Germany.
It took another century before the emigration from Lucca expanded the early 19th century, Italian figure makers began to come to Britain in increasing numbers to produce ornaments for town and country houses and to sell cheap plaster figures as an itinerant trade. It was also a time when the demand for bronze statues was growing as a result of the desire to commemorate the wartime heroes and political leaders of the day through public statues and church monuments. While at first these two activities, plaster figure making and bronze sculpture founding, were largely separate, as the century progressed some plaster figure makers came to specialise as sculptors. Moulders and also began to have an impact on the trade in electrotype reproductions.
It certainly was not an easy step to emigrate in these times. The small villages were very isolated from the bigger cities, most of the time being only accessible by small paths through the mountains. As new inhabitants of a foreign country, these emigrants had to adapt to the yet unknown culture and language. Usually no help was expected. The area close to Bagni di Lucca was certainly not one of the poorest in Italy, and there was a relatively high degree of culture and education. Thus, poverty can not be considered the main reason for leaving. People had a great variety of incomes and were relatively wealthy.
Our family was also crafted in the art of the plaster and indeed Augusto Quilietti was more often described as a Marble Sculpturer than he was in the restaurant business.
The market for plaster figures reached its height in the 19th century. Such figures were used to ornament interiors from the grandest country houses to the most ordinary homes. They were also used as sources of inspiration for artists, designers and others, whether in artists studios or in museums and academies. There was also a period when plaster phrenological heads were a focus for the study of the human head.The business of producing plaster figures became associated with immigrant Italian workers, mainly from the province of Lucca, who would come to London in groups and who would sell plaster figures on the streets. Indeed, the image of a youth holding aloft a tray of plaster figures became one of the 19th-century ˜Cries of London. John Thomas Smith's etching, Very Fine. Very Cheap shows how well-established this street trade had become in the public imagination by the time of its publication in 1815.
Italian plaster figure makers, from the mountains north of Lucca, journeying across Europe, to France, Germany and even to Russia (˜Wandering Italians, Penny Magazine, 2 February 1833, no.54, p.42, accessible on Google Book Search). One or two men, experienced in casting figures in moulds, would collect a number of poor boys, of whom they would become the captains. They would cross the Apennines and the Alps, marching in a little corps of twelve or fifteen. Their moulds and a few tools were sent on ahead by wagon to Chambery, capital of the French department of Savoy, where they would make their first stay. They would find plaster and other simple materials for forming figures locally. On arriving at Chambery, the artist, or the captain of this company would set to work, despatching his boys through the city and the little towns and villages in the neighbourhood, to sell the figures which he had rapidly made. Once the market had been exhausted, the master would send his moulds and tools to Geneva, and follow on foot with his troop, each of whom would carry a few figures to sell at towns and villages on the road. From there, they would cross France, perhaps to Fontainebleau, and so on to Paris, Amiens and Calais and finally to England in search of ˜a golden harvest. These itinerants sought not to settle in England but to return home with enough money to become owners of a house and a little land in the immediate neighbourhood of the villages where they were born.
It appears that such itinerant figure makers only began to come to Britain in large numbers following the fall of Napoleon. Evidence for migrant groups of plaster figure makers in Britain comes through the official ˜Returns of Aliens Passengers, recording foreigners landing in Britain and through the 10 yearly census returns. Such figure makers, their occupation given as figure maker or as ˜figurista in the vernacular, would travel from France, usually in April, May or June, at the beginning of the summer season. One of the largest such groups arrived in the Port of London from Boulogne on 9 May 1853, with 14 men and boys led by Luigi and Pietro Sarti. In the 1841 census, another maker, Dominic Cardosi, age given as 35, was listed in Gray's Inn Lane heading a crowded lodging house of 14 men and boys, ages from 40 to 15, all listed as figure makers.
Many of these men and boys will have been on lengthy fixed-term contracts, of as much as three years, under which they were paid a bonus on completion, leading to occasional abuse of the system whereby they were harassed towards the end of their contract to the point that some left in desperation, losing their wages and their bonus . In 1858 a court case against a master, Luigi Caproni, was dismissed concerning the wages of Mansueto Mei, a plaster figure maker who had left him after 20 months of a 30-month contract to make images.
Domenico Brucciani's success as the leading Victorian plaster figure maker came as a result of a competition to select a moulder in 1853 or 1854 for what became the South Kensington Museum. Four figure makers, Brucciani, a Mr Caproni, a Mr Sacchi and a Mr Ambrosi were each asked to make a mould of a certain relief. Brucciani's appointment to the South Kensington Museum was followed by his selection as formatore to the British Museum in 1857, following William Pink's death. These appointments probably gave him the resources and incentive to open his splendid Galleria delle Belle Arti in Russell St in 1864.
Other moulders who worked for the South Kensington Museum in the late 19th century included Enrico Cantoni, in England by 1881, and on a more occasional basis, Fernando Meacci and Lorenzo Giuntini. Cantoni produced various reproductions for the Museum, 1892-1912, mainly plaster casts, copies of which were supplied to other museums including those at Edinburgh and Dublin and he also undertook some bronze founding work.
Domenico Brucciani (c.1815/18-1880) gave his place of birth as Barga in the 1851 c
ensus, when his age was recorded as 33 and his occupation as ˜Professor of Modelling in Clay (information from Peter Malone). He married firstly Mary Ann Richardson in 1841 at St Martin-in-the-Fields, and secondly Eliza Sumner, as Domenico Giovanni Brucciani, in 1846 at Richmond. He traded from Little Russell St from 1829. He also traded in the 1850s from 1 Leather Lane in partnership with Giovanni Graziani as plaster figure makers, a business which he continued following the dissolution of the partnership in 1857 (London Gazette 20 March 1857). When Brucciani's new premises, the Galleria delle Belle Arti, opened at 40 Russell St in 1864, the size of his new gallery of casts was given as 100 by 25 feet
Brucciani worked as a modeller for the South Kensington Museum (now the Victoria and Albert Museum) and the British Museum, taking casts of items in their collections and supplying other casts. He described himself as ˜Formatore' [i.e., maker] & Modeller to the Science and Art Department, as well as to the British Museum and the Royal Academy of Arts, on his handsome blue invoice paper (examples from 1870s, National Portrait Gallery records

On a note nearer to home we find this group of figurine makers from Barga enjoying working in the Tradestown district of Glasgow. Giovanni Brucciani, Pietro Nardini, Pietro Caproni, Cesaro Biagi