Denis Madigan Stanton.
Denis was named after his granny  Catherine Madigan's father, his name was  Denis shown age 16 here.  The name has lived down the line and in fact there are two Denis Madigan Stanton's living in Scotland today, one is Denis and one is his cousin Denis, both Madigans and both Stantons.
Well if you can say one thing about Denis is that he loves eating,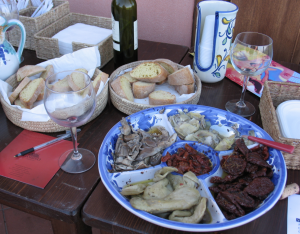 drinking, and being merry.   Food is his first love and from the minute his eyes open until after dinner in the evening he will plan what food he can rustle up today.
From an early age Denis was doing a bit of cooking as his Mum Mary would be out at work earning some meagre wages to try and keep the family afloat
So that is when it started, right there and then.  Today he can rustle up Scottish, Irish, Italian, Chinese, French, in fact any kind of cuizine you fancy.
DENIS MADIGAN STANTON marries Helen Rose Quilietti 29th September 1972.   This is the Stanton/Sutherland link with the Quilietti clan.
Denis is the youngest  of five children.   His mum was Mary Sutherland and his dad was Peter Stanton.  He was born in 1950 at 85 Niddrie Mains Terrace, Edinburgh.
The divorce of his parents when he was just a boy was a real down in his life especially when he was asked in court who he would want to live with, his mum or his dad.   He chose his mum of course.   But life was not easy living at home with four older brothers and no dad to stick up for him.
Denis recalls how he would be left at home with his older brothers whilst his maw would be out to work.  He would peep out the windows and wait for her return.    His brothers were Mick, Jimmy, Peter and Davie.   There is many tales of this period in his life but it left Denis with a big chip on his shoulder, the size of the famous Niddrie Brick which was manufactuered nearby.
This chip has fortunately now gone and he can recall his childhood memories good and bad.  His relationship with his brothers, their wives and his nieces and nephews is very strong and he is intensly proud of his roots, both maternal and paternal.   He will often say If only my ma could see me now. Denis loves to wear the kilt and loves nothing better than dressing up and having a walk through his beloved Edinburgh.
He attended St. Francis Primary School http://www.youtube.com/watch?v=ju52zK2ZDi4&NR=1 which we can see here in this video being demolished just recently
http://www.youtube.com/watch?v=nnnsNYaGEXA&feature=related.Denis never liked school much and would skip out of school on many occasions.   He recalls that his maths were not his strong point with scores of 0/100.   But his real strong point was always in Art and Crafts and he excelled here.  He remains to this day a talented individual who can sculpt and paint with the eye of a real Artisan.
Niddrie Marischal Secondary School was where he secondary education.   His first job was as a motor-cycle trainee mechanic.  From here he went into the building trade where he progressed to the art of Plastering.  I say that plastering is an Art and he can produce wonderful cornices to order, making them from scratch.
His friends from Niddrie have remained close with him to this very day.  His very best friend is Dave Meikle who lived just along the road in Niddrie Mains Terrace.  They still enjoy each other's company and still rattle on about the old days in Niddrie and what everyone would get up to then.  He loves Scotland, Ireland and the music of the Corries, Dubliners and the like
Denis met Helen Quilietti when she was 14 and he was 17.  They married five years later  in 1972 and are still together today.
They have one son Denis Jamie Stanton who has been the best son anyone could ever ask for.  Denis  is godfather to Pauline Quilietti and holds great affection for her and her husband and three beautiful children
2110 was quite a year for Denis when he returned to Ireland to celebrate his 60th in search for the Stanton family historic roots.
This visit to County Mayo was a very emotional one and as we read the archives in St. Mary's Church in the town of Westport we realised that  the whole story of the Stanton family and their mass emigration after the great famine had all started in this small town.
This visit was a brilliant experience.
We then head down to Dublin City where Denis now works and lives.
Our Sunday afternoons always end up the same way, with an afternoon's session in the famous Brasen Head Pub.http://www.youtube.com/watch?v=CnMoBudg4HM&feature=related


I wandered along the Liffey to an area called the Merchant's Quay, and spotted the Brazen Head pub, with a sign underneath that said it was the oldest pub in Ireland. Inside, the barman explained that the area around Merchant Quay and Wood Quay is the site of the original settlement established by King Turgesius.
| | |
| --- | --- |
| | |
| The Dyflin, a reconstructed Viking ship based upon the "Gokstad ship", a Viking burial ship found in 1880 in Sandefjorde in Norway. The Gokstad ship, which has been dated to AD 850, was probably the tomb of the Westfold King Olav Gierstada, the Westfold possibly being an ancient Viking designation for Ireland. The Dyflin, named after the old Norse name for Dublin is seaworthy, and may be seen in and around Dublin harbor. TheDyflin was prominently featured in the documentary, In Search of Ancient Ireland. | |
"Is this really the oldest pub in Ireland?" I asked. "Yes." he replied, and went on to explain that the Brazen Head was an old coaching inn from 1688, and it actually stands on the site of a 12th-century tavern. Nowadays they no longer do accommodation, but they have a restaurant and two bars: old and new. The old bar was once used as an escape route for Robert Emmet, who planned the 1803 rising while staying here. It's said that the bar could be moved back to allow him escape through a tunnel underneath. He took me upstairs and showed me the original writing desk used by Robert Emmet, situated in what is now the restaurant.  There is also some engravings on the window said to have been carved by him also.

| | |
| --- | --- |
| | |
| St. Patrick's Cathedral, Dublin | |
St. Patrick's Cathedral was just up the road. This is one name that was familiar to me. You would have to be deaf, dumb and foolish to have traveled Ireland and not heard of St. Patrick. He is Ireland's Patron Saint, and credited with just about everything associated with the coming of Christianity in Ireland. It is said that St. Patrick himself converted the local chieftain, MacEchold, to Christianity. Many monasteries and schools were set up around what was then a relatively unimposing cluster of settlements, and the town began to grow from there. Patrick used to baptize Christian converts at a well on the site where the cathedral now stands. The present cathedral dates from the 12th century, but there has been a monastery on this spot as early as the 5th century.
I had read that there is a cross carved into a stone at the northwest corner of the cathedral, which marks the site of the well, but I couldn't see anything around the walls. I found the main entrance around the corner and wandered in. There is a small charge for entry, but when I arrived a service was due to begin shortly. As I poked my head through the door, a man came over.
"Are you here for the service?" he asked.
"No,  I've heard about a cross-inscribed stone here that marks the spot of St. Patrick's Well. Could you tell me where it is?"
He directed me inside to the northwest corner, explaining that there were two ancient stones there. "But please be quick, the service will begin shortly," he said.
I tiptoed over. Two large, granite slabs lay horizontally on stands. The larger of the two is engraved with two crosses, the top being a large, encircled Celtic cross. A sign nearby explained that this stone was found buried nine feet beneath the ground at the site of St. Patrick's Well. So, it appeared my information was wrong. The second carved stone was slightly smaller, and also was unearthed in the grounds. It is believed to have marked the grave of one of the earliest Irish Christians. Both stones were found in 1901, and in all there are six of these stones inside the cathedral. A total of thirty-two of these stones have been found in Dublin, and it's believed that they were carved sometime between AD 800 and 1100.