George Morrison was born on 5th November 1929 at the family home of 6 Chessel's Court, The Canongate, Edinburgh. Son of Helen and Alex Morrison.
Like his other brothers he was a bricklayer by trade.   Podge met Mary Aitchison Kesson whose family also had also came from the Aberdeen area in Scotland.    They married hon April 4th 1952.  Mary at the time lived at 66 Sleigh Drive.  Her parents were William Kesson  and Rose Ann Aitchison.   The couple's first address was  78 Abbey Hill, Edinburgh.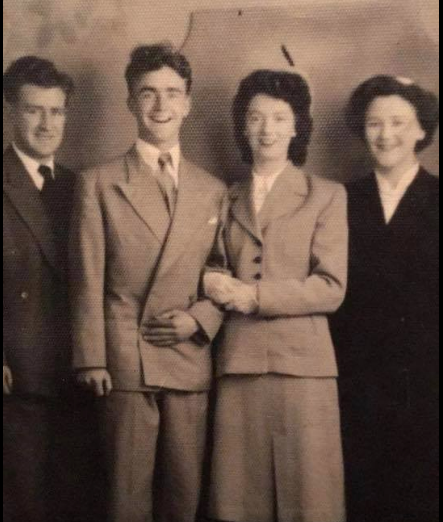 Then like the rest of their family they moved to  99 Niddrie Mains Terrace where they spent the first few years of their marriage, right across the street from Ma Morrison, the top flat.  Their windows looked right into each others.  Many a conversation would be had just shouting across the road from their top flat windows.
Their children soon came along, George born on 11th December 1953, Patricia on 8th August 1957 and Ann Marie on 1st July 1960.   Then the family moved to brand new housing on the Moredunvale estate at 19 Moredunvale Grove.
The marriages of George and Tricia and their grandchildren soon become the centrepiece of their lives.   Podge and Mary loved their family and looked after their grandchildren with great affection.
George and Tricia lived nearby and the house was always bustling with grandchildren.
Uncle Podge's health deteriorated in the last few years of his life and he suffered from vascular dementia.  He died on 24th April 2006 of a stroke and is sadly missed by all the family.
Podge and Mary were my godparents.  I was brought up with George and we were pushed around the estate on a double buggy.  Uncle  Podge always had a cheery face and he would pinch my cheek as a welcome gesture.  These happy days will not be forgotton.
Their children
GEORGE MORRISON born Dec. 11th 1953.   He married and has one son and  two daughters.  He died suddenly in 2009.
PATRICIA born August 8th 1957 at 7.00 p.m. at the Eastern General Hospital, Leith, Edinburgh, .  Married also and has three children, two sons and one daughter.
ANN MARIE born 1st July 1960.  Has not married.   Looks after her mum Mary Kesson Morrison to whom we dedicate this page and wish her well.
Uncle George died on 24th April 2006 in hospital after a long illness.   Aunty Mary died in April 2013.  She never recovered from the deaths of her husband and son.
MARY KESSON MORRISON, Her Eulogy
Mary was born on the 15th September 1929, the second youngest of the 6 children born to Roseann and William Kesson, brother Jimmy now the sole surviving sibling.
The Kessons firsly lived in St Mary's Street in town, little knowing that Mary's future husband lived just around the corner at Chessels Court.
Later, the family moved to Sleigh Drive, Lochend where Mary loved helping her mother with chores such as blackening the range and cleaning the stairs. Mary also really enjoyed polishing the buttons on her brothers RAF uniform until they shined.
During World War 2, Mary held the hand of her frightened younger brother Tommy as they were evacuated to Crail but it was a homesick Mary who wrote home to her mother who dually arrived to collect them and take them home.
Mary was a keen cyclist once cycling all the way to Peebles with her friends to take food to her brother who was camping with friends only to find them gone and so they had to about turn and cycle straight back to Edinburgh.
Mary left school at 14 and began work in a baker shop in Leith, cycling there and back every day and as was typical of Mary's generosity, thought nothing of handing her weekly wage packet over to her mother.
In 1951 Mary met her soul mate Podge and they married on the 4th April 1952.
They lived in a top room and kitchen flat in Abbeyhill, both working extremely hard saving up to hopefully buy their home one day.
A year and a half after their marriage, their first child was born, George, the apple of their eye and with whom they were totally besotted.
Their next move was to Niddrie where they moved in just across the road from Podge's mother, affectionately known as Ma, who absolutely adored Mary. They would often go to the pictures together along with Ma's sister Bella.
The family would always laugh remembering the time Ma, who always took loads of food to the pictures, dropped a tomato which rolled under the seat in front. Not to be put off, Ma gently tapped the shoulder of the person in front who had to do the same until after several minutes a slightly worse for wear, bashed tomato arrived the several rows back to Ma.
Tricia came along 4 years later to spoil young George's fun but as she got a little older, George soon realised what great fun he could have playing tricks on her.
3 years later when Mary was 6 months pregnant with Ann, Mary received a visit from her mother who was very upset after visiting her doctor but wouldn't say why. Mary went straight to her mother's doctor only to be told that Roseann had terminal cancer. Mary wiped away her tears and went home and told her mother to stay the night. Neither ever mentioned the cancer.
Roseann stayed with Mary and the family for 6 weeks before sadly passing away in Mary's home. A few weeks later however, happiness returned to the household with the arrival of Ann completing the Morrison family.
In 1968, the family took the opportunity to move to a bigger house in Moredun and soon settled in with good neighbours, Betty and George, Sheila and Drew, Auriol and John, Ruth and Willie and the Grants to whom Mary and Podge became honorary Grandparents to when they lost their own.
When young George married in 1972 he made Mary and Podge Grandparents for the first time with the birth of his daughter, Fiona who was the spitting image of George and with whom they fell immediately in love with, a feeling that was both mutual and enduring.
Next Paul and Susan came along and Mary and Podge loved having them in their home which was always full of fun and laughter.
Tricia married Davy in 1978 but sadly their first born; Kevin was stillborn leaving the entire Morrison family bereft. Happiness returned when wee David was born followed by Gary and Karen, who all spent time staying at Mary's, sometimes for years!  Mary and Podge deeply loved all the children and excelled at being Grandparents.
When granddaughter Fiona married Alan he quickly became part of the family and between them gifted Mary and Podge their first great grandchildren  Lauren and Emma who like those who went before them spent an enormous amount of time at Mary's. They brought great happiness and joy and she truly adored them.
In 2001, Mary's first great grandson Aidan was born. He was a lovely child and he too was adored by Mary.
Mary's home was always full of children's laughter and squeals with Mary always worrying that everyone should have something to eat. Her "tattie soup" was and remains legendary.
Even on a trip to Berwick with her grandchildren, Mary would have a huge packed lunch prepared; worried the children may be hungry. Suffice to say the pack lunch was opened and finished almost before the train had left Waverly Station.
As well as Berwick, Mary and Podge loved their holidays together in Blackpool, always coming home loaded with bags of gifts and toys for the children.
Podge was a bricklayer, a weather dependant job, so Mary worked hard all her days, sometimes with two jobs at a time to make sure the family never wanted.
Rheumatoid Arthritis took its toll forcing Mary to retire from her jobs with Edinburgh University and as a School Dinner Lady where she worked with her good friend Sadie. She really missed the laughs they had together but the two kept in touch and regularly spent time together shopping in town.
Sadly on the 24th April 2006, Podge who suffered with Vascular Dementia passed away leaving Mary totally heartbroken. This sadness was compounded on the 11th February 2010 when her son George died suddenly. Mary never truly recovered from these losses and her own health began to rapidly deteriorate.
On the 16th April this year, Mary was taken into hospital for what would be the last time.
Mary asked Ann not to leave her side, which she never did. Indeed, not just Ann but three generations of the family kept a bedside vigil through Mary's last days. Daughter Tricia, son-in-law Davy, granddaughter Fiona with husband Alan and great granddaughter Lauren all stayed by Mary's bedside providing that love and comfort which Mary truly deserved. Perhaps nothing demonstrates the deep love and affection Mary's family had for her more than great granddaughter Lauren sleeping at the bottom of Mary's hospital bed, curled up at her feet on the "girlie" night when the men went to the family room for a rest leaving the girls to talk the night away.
Mary and Podge's lives were simple – work hard to provide for the family for whom they would walk to the end of the Earth. Their love for their family was immense, unconditional and never wavered as their family's is for them.
All who knew and loved Mary will miss her greatly but those lucky enough to have been part of her life know they were blessed to have been so and will take comfort in knowing Mary is back together with her beloved Podge and her loving son George.