Robert Brunton is the great great grandson of Leonardo Quilietti and he is my second cousin x 1 removed
Robert was born on 30th March 1966 in Clarkston, Renfrewshire. From an early age his father Robert who was an executive in Coats Patons whose H.Q. was in Glasgow, moved around the globe in whatever country he was appointed to help promote this very Scottish Company's wares.
As a result young Robert moved from country to country settling wherever his dad's new ventures arrived. His adventures started in 1970 when the family left their home in Clarkston and moved to Santiago in Chile. After two years there they moved back home where the family lead a fairly normal Scottish life, playing football in the street and going to the local school which was called Clarkston Primary.
By 1977 however big changes again were afoot – here are the words of Robert Brunton.
As an 11 year old in 1977 big changes were afoot with my dad moving to Copenhagen to head up the whole of Scandanavia. There was not really the option to go to Secondary School there although fine for primary level. However there were two other families with kids who were boarding at the Edinburgh Academy, so this was seen as the natural place for me to go as well I hadn't learned any French or Latin before so I was sent to private lessons for a few months before joining the Academy in the 1st upper school.
Famous alumni of the Edinburgh Academy include Robert Louis Stevenson, James Clark Maxwell and Michael Blair. Sir Walter Scott was a founding director of the Academy. So here I found myself .
My sister Christine went to board at Cranley School for Girls which later merged to become St. Dennis & Cranley. She did not particularly enjoy this experience.
As for myself, Boarding School was fine, although I did feel homesick. The first few days getting used to it all, but by the Summer of 1978 I was completely at home with it all. I had met some good friends and was settled in class and also in the sporting activities the provided there. Most of the Boarder's parents were like my own father, working for multinationals or in the Army posted in Malaysia, Portugal, Spain, Hong Kong, Saudi, Bahrain, Libya and Germany although there were a few boys whose families were from the Borders or even from England. I remained a boarder at the Academy until December 1980. My younger brother Mike had also came to board here, age 8, in the September of 1978. We travelled together to Copenhagen, on our own, for Christmas, Easter and Summer breaks, without assistance or need of assistance from the Airline companies. ( They do not allow this nowadays.) So we were quite independent from a very early age.
My father had returned to HQ in Paisley but still with a large part of overseas travel around Europe or further afield. Rather than pull us out of the Edinburgh Academy our parents bought us a house in Barnton, which is an affluent part of the city situated in the north-west corner of the beautiful city of Edinburgh, and we moved in January 1981. The house was near the M8 motorway and was convenient for the College. So we carried on out schooling there. Christine went on the Sixth Form and then on to St. Margaret's University where she studied physiotherapy.
It was not long before I started mixing more with other day pupils at the School and other teenagers who lived around Barnton area. Being an affluent area many of these teenagers also attended the local schools, Stewart Melville, Merchiston, St. George's School for Girls and Mary Erskine's. We had a lot in common and I remember this period from age 15 through my time at Napier University as being one long party. There was always something happening and frequently we met up at local pubs and bars in the West End of the city.
There was plenty parties happening somewhere or other I also had a weekend job and summer jobs to earn some money. I worked at Pinegrove Garden Centres at Barnton roundabout (no longer there). Then in the summer of 1983 I worked at a friend's dad's chicken factory at Broxburn on the production line. In the summer of 1985 Halls of Broxburn enjoyed my company and I was employed to clean out all the machinery and floors in the room they
made the Bacon! I then progressed to Wine Waiting at the Sheraton Hotel in Edinburgh's West End. I even washed pans in local restaurants, obtained casual labour jobs, infact I took anything where I could earn a bit of cash to pay for holidays or nights out.
At Napier University I met my now wife Louise in my Second Year age 19.
I had made up my mind by now that I was set to work in the financial Sector. I loved the stock market and anything to do with business. So after Uni in October 1986 I decided to go to Hong Kong and then onto Australia. I worked in hotels and stayed and met my mum's cousins in Sydney, Australia. Louise also had some family in Australia. So we stayed with them for a while then we moved around the continent.
In 1988 I joned the Nationwide Building Society in George Street in Edinburgh as a Management Trainee. Louise had a job with American Express Travel also in George Street. Louise had also lived overseas in the Carribean in the early 1970s and Hong Kong 1977-1982. She spent her last 2 years of schooling in George Watson's College in Edinburgh.
We decided to get together and bought a flat in Bruntsfield, Edinburgh in the May of 1989
After a few years with the Nationwide I decided to move to the TSB Group as a Financial Adviser and I stayed with them for a couple of years 1991-1993. Then off to Salmon broker which was a friend's company, exporting to the Far East for 4 months June-Sept 1993 with the idea to set up Far East company based in Hong Kong. This idea however was not viable so I bought a one-way ticket to Hong Kong and after a few weeks got a job as a Private Banker with the Hill Samuel Bank. Louise gave up her job in Edinburgh and came over in the November of 1993.
We honeymooned in Venice and Rome and then back to Hong Kong. I was a Founding Director with a brokerage Company in Manilla, Philippines from April 1996 until June 1997 and then back to Hong Kong awaiting a posting with the Standard Chartered Bank. It was then that we moved to Dubai. I was now the Head of Investment Services for the Middle East.
Our children. Tasmin was born in November 1996 in Simpson's Maternity Pavillion in Edinburgh. We then headed back to Manila and on to Dubai when Tasmin was only 10 months old. Angus or Gus
was born at the American Hospital in Dubai on 29th March 1999.
Louise has started her own business in Dubai http://www.expatechodubai.com/. Have a wee look for yourself.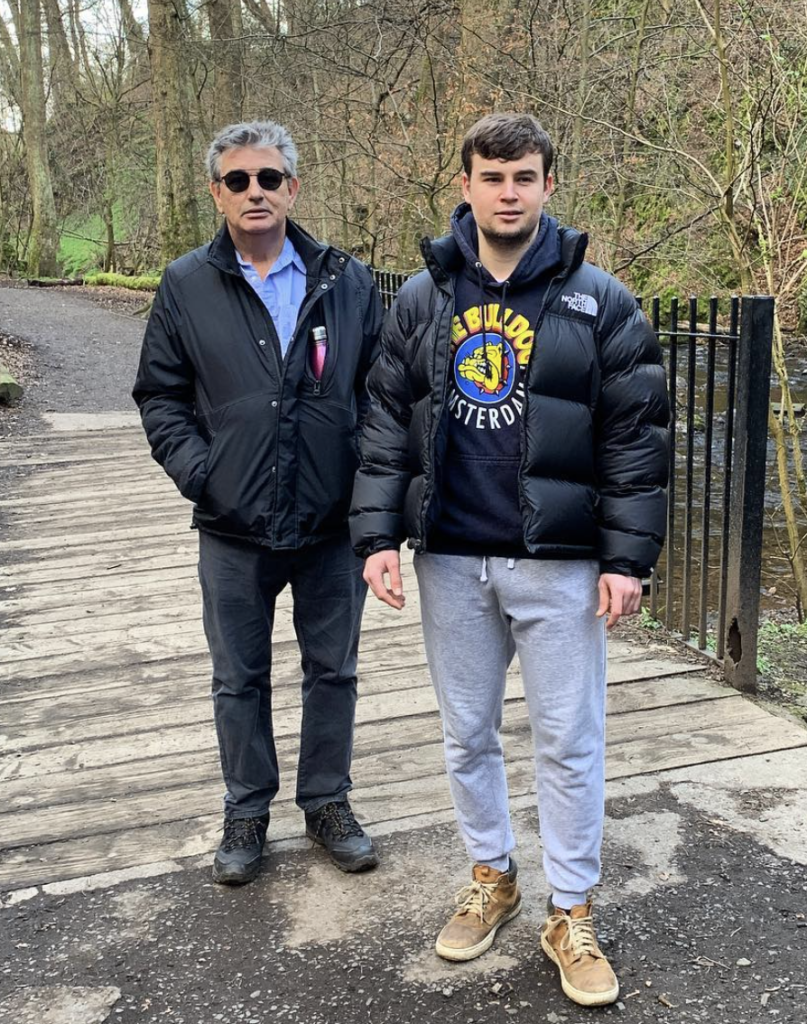 THE ANCESTORS