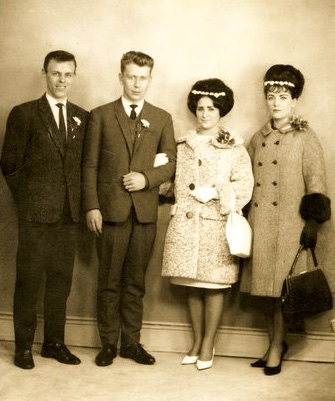 ANN [NANCY ]MORRISON 1939-1965
Nancy was born on 6th November 1939 at 50 Niddrie Mains Terrace, Edinburgh, just at the start of the second world war. She married Eddie Fachney in 1957 and at that time she was working as a commission agent's Clerkess and residing at 18 Springwell Place in the Gorgie end of the city. Witnesses at their wedding were Adeline Fachney and Margaret Ferguson.
Shortly after her marriage her son Edward was born on 12th July 1957 at the Eastern General Hospital in Edinburgh. Jayne Marie Fachney followed the following year on 31st May. The family lived ata 15 Mayfield Place in Edinburgh at this time. For reasons unknown to the family their marriage ended in divorce.
Nancy remarried some years later to James Drysdale Stewart who was a blacksmith/welder by trade and who lived at 18 Hay Drive. Circumstances however was to cause the breakdown of this marriage also. Nancy was to die tragically of Gas Carbon Monoxide Poisining at her sister's flat at 2 Dundee Place, Edinburgh during the evening of 15th December 1965. The whole family were devistated by this tragedy and many of them never recovered from the shock of her death. She is even today remembered as the most beautiful of the Morrison children. She lies with her mother and father at Prestonfield Cemetery, Dalkeith Road, Edinburgh.
CHILDREN Jayney and Eddie