Collette was a musician in the 1960s and she was part of a band called Collette and the Bandits.
Collette married James Kevin Buckham in 1976 in Edinburgh.  The Buckham line were mainly from the North of England, Durham, Newcastle-upon-Tyne and Chester-le-Street.  The line stretch back to the 1750s and beyond in this area of England.   James Buckham died in late 2018.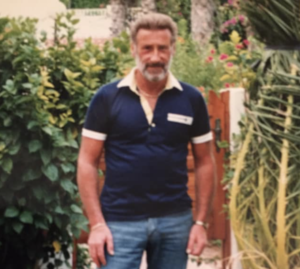 A WEAVE OF FAMILY INTERACTIONS 
 Jim'a Sister Stella Buckham married Francis Anthony Di Mambro whose line stretches back to Atina and Cassino in Frosinone in Italy.  
Francis was also a cousin of Peter Neri.  When Collette was travelling with her Band they stayed with Peter and his first wife Rena and the twins in Hastings.  Collette recalls
'We were recording our record in London. That was so so long ago. Nana Neri always had a large pot of spag, on the cooker for us all when we had finished a gig. l could go on for hours but we had a fabulous time. xx  Jims' mum is a Tommasi, and his sister Stella married Frankie DiMambro and they were cousins. Jim DiMambro is Stella's son and he was our guitarist. My Jim,Jim D are related to Peter and they grew up together. l have known Peter since l was 16. So somewhere out family Quiliettis and the DiMambro, and Neri's are related. What a web we weave. xx
 Stella and James's parents were John Buckham 1895-1970 and Vincenza [Jeannie] Tomasso 1898-1953.   The Tomasso line also stretches back to the same areas in Atina, Cassino and Sant Elia Fiumerapido in Frosinone in Italy.  
Peter and Collette were also  linked through  marriage.  Peter's son Anthony married Collette's niece Lara.  And so the web goes on