JANET QUILIETTI

Jan is the daughter of Bobby Quilietti and Jeanette Henderson.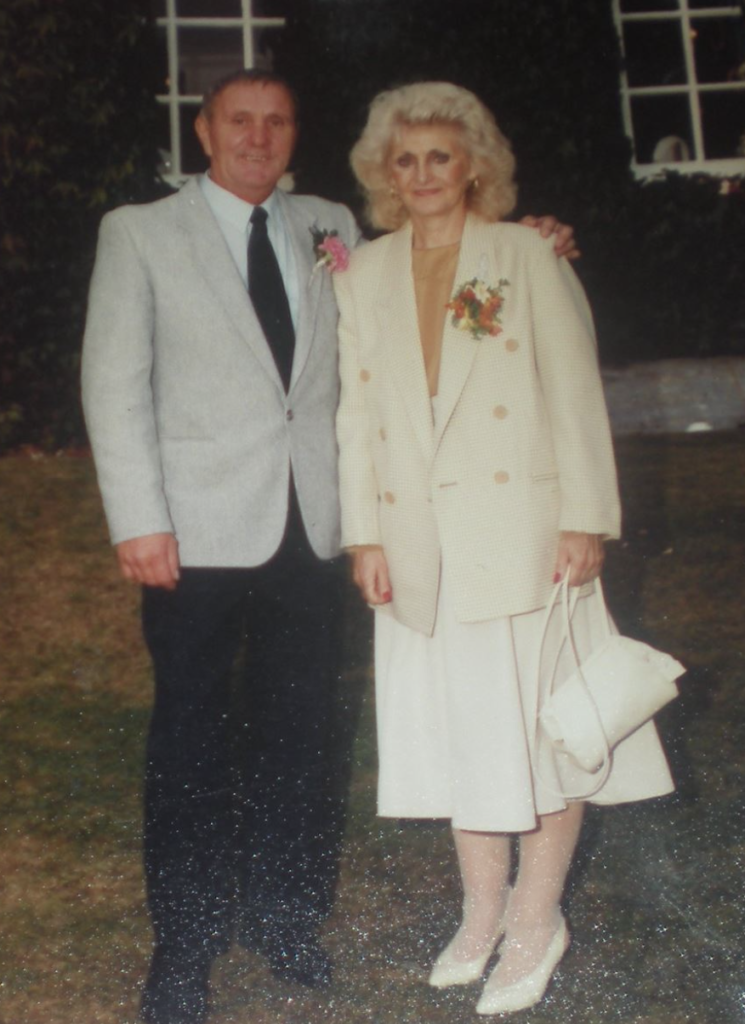 Janet was born on 29th September 1956 at Elsie Inglis Maternity Hospital in Edinburgh. Janet has always been a free spirit and enjoys nothing better than her family get togethers. Her great passion is writing wee stories which she does with great enthuasim. A bit now from Janet
The very early years of my life
The first recollections of my childhood are of living in a second floor tenement flat at 10 Newton Street in Gorgie, which is a stones throw away from the Heart of Midlothian Stadium where my Dad Bobby Quilietti and my mum Jeanette brought me and my big brother Robert to watch the Hearts play on every other Saturday afternoon. This was our treat and we enjoyed these days oot until I was about 8 years old
We would sing the famous Hearts Anthem until our wee hearts were beating with pride. – Have a wee sing along yourselves now, bet you can't listen to this without joining in……………http://www.youtube.com/watch?v=LQL_OQbt5Dk
10 Newton Street in Gorgie comprised of a wee living room-come Kitchen. There was one bedroom and a toilet. Times were tough and mum used to bathe us in a zinc bathtub because there wasn't a proper bath or shower in the old Edinburgh tenements in those days.
Although we had a happy childhood at Newton Street I can still recall the threatening sounds of a sooty coalman trundling up two flights of stairs shouting 'coal, coal' in his rough gruff voice and when his blackened face and huge body came through the door I was horrified and used to run off to hide into the bedroom. I would hide until I heard him empty the bags of coal into the bunker. The coalman's face and clothes would be black with coal dust. He didn't have a uniform, but wore a leather hat with a flat leather flap down the back to protect his back and shoulders as he carried the sacks. He also wore narrow straps just below his knees, possibly to prevent the coal dust getting up his legs, but I'm not really sure why. The trousers always seemed to be corduroy but that may have been chance. When he shot the coal into the coalhole, the noise was terrific as the coal hit the wooden wall. My fear would soon leave me however as I cuddled up cosy in front of a roaring fire that very night. Then it would be off to bed.
Robert and I slept on bunk-beds with my big bro. on the top bunk and me on the bottom bunk. I recall many air-fix toy air-fights and the endless battles with battle noises emerging from his throat, da da da da broom broom broom wheesh wheesh wheesh and other unknown vocabulary.
The battles were the best bit. Dad and Robert would get out their torches and spotlight them whilst making flying noises and crash like sounds as they gunned down the 'enemy'. Great fun for them. All I can say is 'Boys will be Boys!'.
On our first day at nursery Robert cried his eyes out constantly and he kept most of the other bairns awake through their 'sleep time'. He refused to eat anything offered to him and at the end of the day he stood at the gate waiting and wailing for mum to collect us. She used to call him her 'greetin-faced wee bugger'.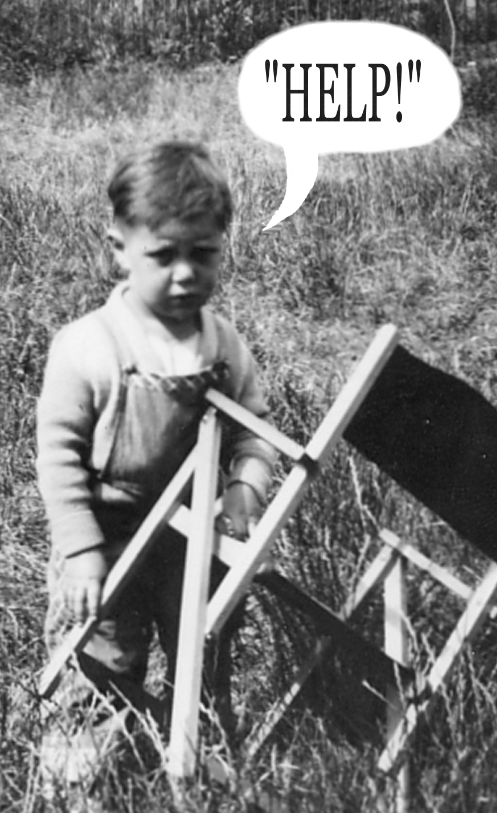 As we grew up in Gorgie we were never bored as there was lots to entertain us, especially at the play park just around the corner where one of our favourite pastimes was this. We got hold of an old annual from home and put this on top of a roller-skate. We wheeled ourselves down any steep path just for the fun and thrill of it!
There were many memorable characters in our area. For instance there was Sandy, the cheery Polis man who had an easy beat, because there weren't many real crimes being committed then. But he would always look out for his fellow citizens and could often be found sitting having a mug of tea and a biscuit in his Dr. Who-like tardus that sat at the very bottom of the play park on Gorgie Road.
Further along the street there was Miss Richardson's Haberdashery Shop which was a real treat to look at as her Widows were always displayed with many items such as hand-knitted baby clothes and brightly coloured balls of wool This fine display would entice many folks to shop there as most of the locals knitted their own clothes then. However some folk were a bit wary to go in as she owned a grumpy old weather beaten Boxer Dog called Tanya
who barked constantly and hoarsely outside her shop. But his bark was worse than his bite. Miss Richardson seemed to me at that time to be a very tall, willowy woman who spoke in a gentle voice. I was always fascinated by her very long slender fingers that would carefully unwrap her boxes of surprises which were always beautifully wrapped up in tissue paper. Her shop was a joy to visit with its brightly coloured threads, ribbons and yarns. As you left her quaint little shop Tanya would always be there to bring you back down to earth with her jealous barking.
Oor wee flat was sat right next to a main railway line and us local kids used to climb up onto a broken dyke where we could explore the railway and some derelict houses that were about to be pulled down. It was a great place for us to explor and we clambered up and down the insecure buildings whilst being oblivious to the many dangers. One day our capering around came to an end when the local bobbies got word of our foolish antics and chased us down the line towards the top of the bridge where we had no option except to dreep down into Gorgie Road, which was a pretty hefty fall. As we fled away from the blue heat my short legs couldn't keep up with the others so I ran into the first stair in my street and a hugh Polis man followed me in. I was 'nicked'. So the fuzz took me hame and I had to confess all. When Dad came in I got a leathering. I never went back to the railway, never ever again.
As a child I was fortunate enough to be given many presents and some of them stick in memory more than others. I adored my tin rocking horse that used to squeak and creak constantly much to mum and dad's frustration. There was also a huge, huge monkey with extra long arms called Jacko. Jacko and I went everywhere together and I even insisted that he's dome on the Number 2 bus when we visited Granny Quilietti every Sunday where he took up a whole seat to himself.
One Christmas morning I remember running into the living room and there was a huge cardboard Dolls House which was almost twice the size of me.
But the creme-de-la-creme was a Chad Valley Projector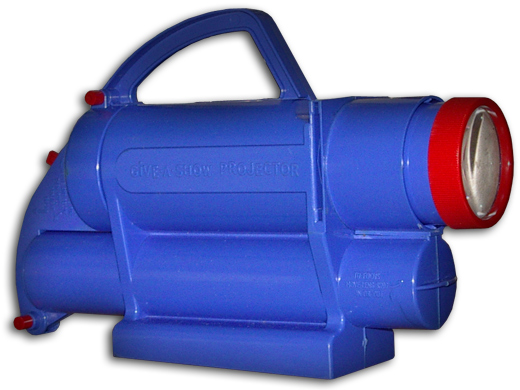 with slides of Mickey Mouse and other popular disney characters of the time. This piece of equipment was to make me a mini-entrepreneur overnight. I would arrange for my pals to come and visit. For my premiere' matinee I raided mum's larder and borrowed some dried porridge oats as snacks for my viewers and I put on my own little production in a dark old stair. We all sat upon cold steps and froze our wee bums off and to make matters worse for the poor wee buggers, they had to pay the princely sum of a ha'penny to enjoy my wee show. Needless to say my career into the cinema industry never took off.
But one of the many highlights of living in Newton Street was when my dad worked at Walls' Ice Cream Factory at Craigmillar. Dad would often bring us back huge slabs of chocolate and tubs of ice cream but one day he brought us something very different – a Budgie. Well the story goes that one day he was busy working away at the factory when a wee green bird landed onto his shoulder from nowhere. He was a real animal lover, a real big tough softie really.
Well he caught the beastie and brought it home to us in an ice cream box. At first Mum wasn't too sure because she'd never really wanted to have a pet, but in the end she had little or no choice as we all pleaded to keep the wee soul And so Mickey became the fifth member of our family and lived with us for a whopping thirteen years. Mickey was very unique as he used to talk and mimic almost anything he heard and before long Dad has him saying 'Jam Tarts, Cha Cha Cha' and 'Come on the HEARTS!
As we moved onto the next chapter of our lives Mickey came with us for the next fight of his life too.
The last memories really of Newton Street was when Jeannie Pie Quilietti came back to our flat after she had just won money at the Locarno Bingo at Slateford, which was just up the road from us. Jeannie came into the room and she whooped out with joy as she threw 200 quid about the room. We were a bit young to understand, but there was a lot to celebrate that night.
THE PREFAB
We moved into 27 Saughton Mains Gardens which was a prefabricated house and it seemed to be the perfect place for a young family to live in. We had the best of both worlds because we were so close with nature whilst also on a bus route into the City.
Our Prefab was sat at the very bottom of a cul-de-sac set on the outskirts of Edinburgh, which in itself was a huge change from the stone built tenement that we had just left. This wee abode was good for us as it had a back and front garden in which we played freely and there was plenty of greenery and flowers.
I spent some of the happiest days of my childhood there as nature took me into another place as I spent a lot of my time exploring and searching for caterpillars and other wee beasties. All kinds of creepy crawlies could be found in bushes or under stones and I used to collect them in jam jars. From here I could study them in great detail before I would release them again back to where they belonged.
One of my favourite times of the year was then our Willow Tree
came to flower as I used to collect the 'pussy willows' from its branches. They were as soft as silk to touch and I tried to make pictures from them.
The grounds of the Prefab were great but the inside was another kettle of fish as it had very creaky noisy doors and drawers that used to make piercing noises when you tried to open them. The noises would make you shudder but of course the biggest problem was the cold winters at zero temperatures. There would be very big icicles which would appear everywhere but especially on the windows and our wee hoose was become an igloo.
There was also another problem for us. Because the prefab was semi-rural we had lots of mice running around. Bobby used to sit of an evening while watching the telly with a sturdy golf club by his chair as he waited to swipe any wee bugger that dared come his way. Gaw'd help the wee critters that scampered his way. He was a top shot and he used to knock them out with one blow. No need for Rentokil with bobby around.
I was given a tortoise as a pet from my mum and dad and I painted his shell with bright pink nail polish with the name of TIMMY
on it so everyone would spot him because I didn't want him to get lost. It was just as well I did this because the wee scamp was always escaping. He had a mind of his own and would wander off regularly and tried to escape on a daily basis plodding down the dusty track of our road on his bid for freedom.
The 'country' life was quiet and sublime until my folks held their first party and mum was horrified when uncle Arthur brought a man-sized ugly plaster cast figure, which can only be described as an ancient crossed legged beggar with a long grey beard and lanky hair and rotten teeth, it was really gruesome.
Arthur was always the life and soul of the party and usually had something up his sleeve for a laugh. This night was no exception. He decided to sit this horrendous statue right on top of our bog for all to see. When my cousin Ann Ainslie went to spend a penny her screams could literally be heard for miles around. She was'nt the same person for the rest of the evening. But eventually she calmed herself down. Dad however had other ideas in mind. He brought the dreaded beggara into the living room. It was now Anne's time to flee down the dusty grack in her bid for freedom
After only a few years of us living there the council decided that they wanted to knock down our prefabs to make some space to build more modern houses and most of our neighbours seemed to accept their allocated houses. But Jeanette was adamant to have the area of her choice . The council offered them this and that but no, it was not where she wanted to live, so the family stayed on. Through the years they turned down several properties. At the end, things got so bad that we were the only family left in the last prefab left on the site. The workmen and bulldozers ploughed their way around us probably cursing and spitting as they went about their jobs.
Even in the summer months we had to wear wellies to get to the bus stop or to go to school because of the thick mud surrounding oor wee prefab. We even had our own private swimming pool!
It took a lot of determination and a great deal of patience for mum to hold out for what she really wanted and eventually after a lot of tears she ended up getting us a far by better house that was located just nearby at Stenhouse.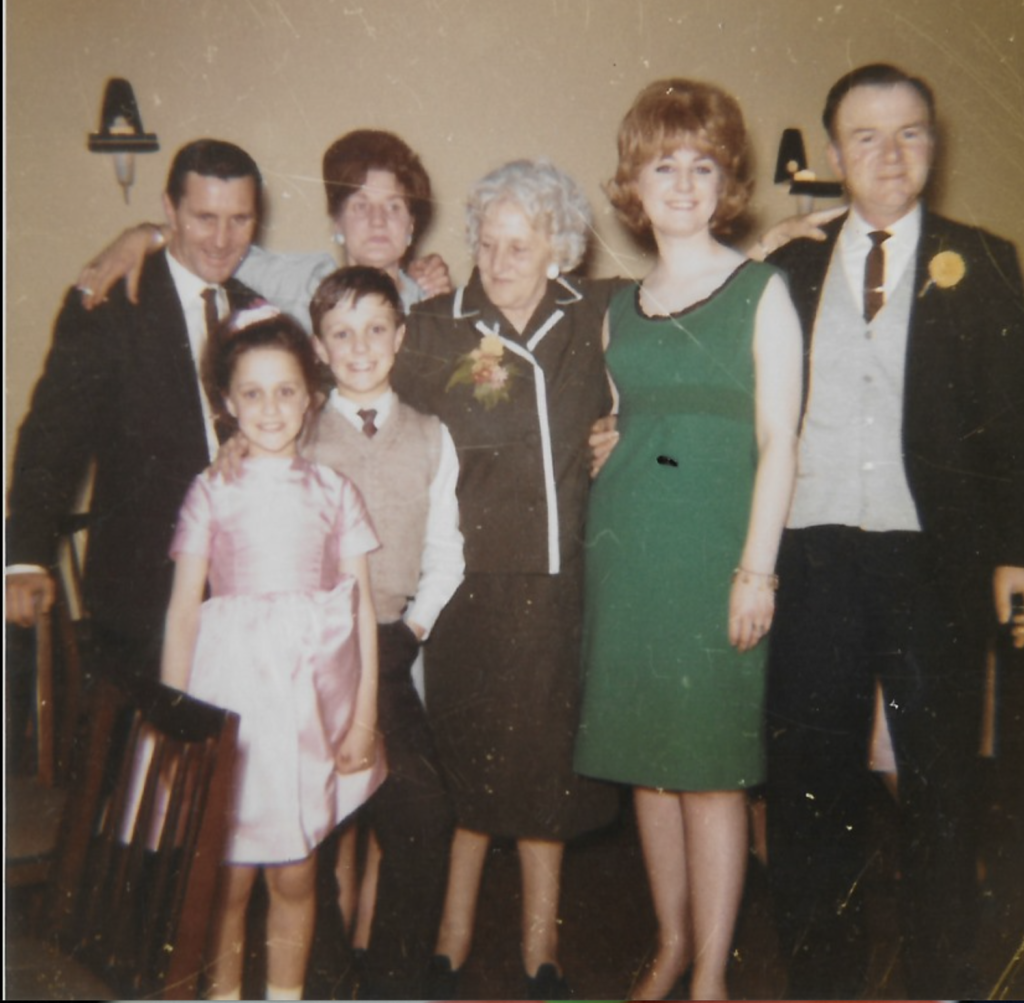 STENHOUSE
As we moved into our new four-in-a-block at 16 Stenhouse Street East the house felt so very different from the prefab as it was much more comfortable and had much more to offer especially as there was no more squeaky furniture or draughty places to put up with. The other plus side to the move was that there was enough garden space to enjoy and even Mickey was a contented little sould and tweeted and talked even more than usual as he settled into his new abode. Wee Timmy just wandered off into the garden to look for another place to hide or to escape to.
I soon found several new friends and we used to play lots of games together such as the Whip and Peeri, White Horses, Hide and Seek and Peevers, all good old fashioned games to while the hours knock door run, self explanatory
In the height of the summertime I used to walk to Edinburgh Zoo which wasn't too far away really, and I eventually got to know all of the best shortcuts and how to get in for free. There was an old kiosk that was far away from the beaten track that wasn't being used any more. I USED TO GET IN BY SQUIRMING MY WEE BODY THROUGH the thick wrought iron gates. Hey presto, I had a day at the zoo for free with some of my other skinny friends, of course.
At that time I had many aspirations as to becoming a zoo-keeper as I enjoyed the animals so much and their funny ways and antics, but things took a sinister turn when the elephant seal was found dead with a piece of wood that some silly arse had thrown into the enclosure. Myexpectations of becoming a keeper were diminished right there and then because I was so upset, but however, I still visited the zoo with a heavy heart.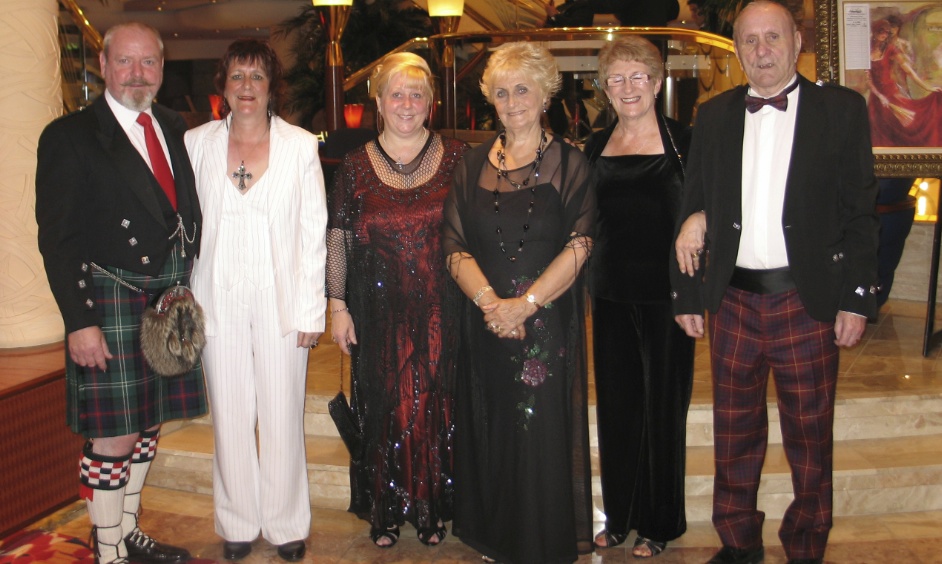 Mum and Dad threw lots of parties where the drink flowed freely and dad would provide lots of crates of beer and lager which he would line up the hall stairs. He would also acquire a couple of kegs of beer with the co2 and a foot pump, all courtesy of Scottish and Newcastle Breweries. For a time dad was the Manager of the Brewery's bottling hall at Fountainbridge so there was always plenty of booze to be had.
Uncle Arthur would play a game by placing an empty bottle onto the floor. He would spin it around until it stopped at a certain person. This person would have to bet up and sing a song or do a turn. Uncle Arthur would shout 'Shoosht, shoost, we must have shoost for……………………' whoever's turn it was.
Now to make it clear everyone had to sing a song, even if they were rubbish, but thankfully there were one or two who could hold a chord. One of the worst singers was me, with my rendition of 'Living Doll' . Uncle Joe [Giulio] would render his favourite soneg 'One enchanted Evening'. Mum sang a couple of tunes and had a pretty strong voice, but my favourite was 'More' and she would put all of her heart and soul into singing this.
Meanwhile Dad would do his usual number, 'Heart of my Heart' and as he tried to sing he would dance and wiggle his wee bum around. Sorry Paw, but you couldnae hit a note!
The atmosphere was always vibrant and when everybody was suitably inebriated out came the pillowcase which was full of women's underwear. This would be passed around to music. Of course someone would be at the record player ready to pull up the needle and the music would stop. This person would pull out a garment and had to don it. So this continued until eeryone was dressed up in a piece of underwear [on top of their clothes of course]. The men looked so funny as they were dressed up in bras, knickers or baby dolls, but it was all in good humour and everyone danced their way outside and did the Congo up and down the street and sometimes even into neighbours houses. Oh what great fun we had.
Another night I remember well was when Paw came home a wee bit drunk. He had his cheeky face on and started to get on mum's nerves. So she threw his tea at him, which that night was a plate of Italian Spaghetti. But Faither wasnae that daft or that drunk cos he quickly ducked. The plate hit the wall leaving everything in an awful mess of bolognaise sauce and strands of pasta. This left Maw even more angry than before so she threw a few more objects at Bobby. Everything just bounced off his bonce and he would not flinch an inch, he just sat there laughing at her, making her madder and madder…………….oh the joys.
As the years progressed Robert and I shared a room but as we were growing up we couldn't be seeing one another's bits and bobs. So Mum came up with a great idea of separating us by putting two wardrobes together to make a partition. It worked really well as we now had our own space.
Sherbet Dab got his first record player when he was a teenager which was his pride and joy. When he was out I used to listen to his albums, artists and music which I loved and who included The Who, Yes, Frank Zappa, Alice Cooper and many, many more. I used to sing and dance around the bedroom while holding my hairbrush as a microphone. I truly believed that i was cool and groovy! Oh happy days indeed.
Dad was always strict about me coming in late. When I was fourteen I thought I was a grown-up of course. One night I was out with friends and I was over an hour late coming home. He was furious with me and gave me a real old fashioned dressing down, but after a while he felt a little guilty and handed me a fag!!! [I had been caught smoking the week before], it was fashionable to smoke in those days. When I took a drag of it mum screamed at me 'Oh my God, she inhales it'. She must have realised that I was no stranger to these sticks of nicotine. I was eventually forgiven but never allowed to smoke in the house again until I was really a grown up.
Robert and I both went to Stenhouse Primary School in Edinburgh. Robert won a bursary for The Royal High School and I went to the local Secondary School called Carrickvale. We were so proud of Sherbert Dab for achieving this and he never looked back from the education he learned at this new 'posh school'.
The first day I attended Carrickvale was also my Mum's first day at her new job in my new school. She was taken on as a laboratory assistant in the Science Department. It was a wee bit daunting for me knowing that she could find out about any of the pranks that I used to play. I was constantly getting the belt from my teachers for misbehaving.
Mr. Buchanan was our maths teacher and he taught my class Algebra. I never did understand this subject and was easily distracted from his rantings. I used to chat with my 'neighbour' my chum at the next desk during the lessons. the punishment was as follows known in Scotland as the Tingle o' the Tawse
The punishment should be inflicted in front of other pupils in order to act a deterrent.
The pupil should be called to the front of the class and told to hold out one hand, palm uppermost, and supported by the other hand. This makes it more difficult for the boy to move his hand away during the infliction of the cuts.
If the teacher is inexperienced he should hold the belt midway along the handle to give better control. Otherwise, the belt should be held towards the end to maximise its swing.
Prior to each stroke the tails should be rested lengthways on the pupil's upturned palm. This allows the teacher to judge the stroke.
The belt should be drawn back over the teacher's shoulder and brought down on to the pupil's palm with some force, so that the tails strike the fingers and palm.
If more than one stroke is to be given, the pupil should be briskly ordered to 'swap hands!'. When the pupil offers his other palm the second stroke should be given, once again with force, and this process should be repeated until the allotted punishment has been completed.
.
This annoyed him and I was often led out into the corridor where he would administer several hefty whacks with the double prong belt.
The other teachers were Mr. Matheson who taught geography. My misbehaviour eventually saw me in front of the headmaster Mr. Sutherland who was a huge man and his belt was a real stinger.
Strangely enough after this encounter with Mr. Sutherland I started to behave a wee bit better, but it did not last for long.
Mum however was enjoing her new job in the science labs where she provided the classrooms with the equipment needed for the next class. She also cleaned out the test tubes and other pieces of apparatus that had been used. It was a good place to work and got on very well with the teaching staff especially wee Terry Christie who was only about five feet three or so and was a cheeky little chap.
One of her favourite jobs in the lab was when there were a dozen or so eggs in the incubator. And she helped to hatch the wee fluffy chicks. The only real drawback about the job was the kids as their constant noise used to drive her nuts.
In recent years Janet has enjoyed cruising with her MAW and Paw and her cousins. Below is a photo of us all around our table ready to tuck into the wonderful five star meal
Jan has had her share of ups and downs throughout the years but has always remained close with her maw, paw and brother Rab. Her two nieces Sara and Lisa have also kept her sane. The latest addition to the Q. clan is of course her great nieces Rachel, Cloe and Isla who have now taken the pride of place in Janet's heart, along with her latest pussy cat.