Tam Hood's – HOOD – family as far back as I have traced so far to were from the BORDERS region c1630 with William Hood who married unknown. They gave birth to William Hood 1678 who was born in Duns [Dunse], Berwickshire. William married Elizabeth Friskin [Frisken] [1700] whose family were from the same area. 6th Great Grandparents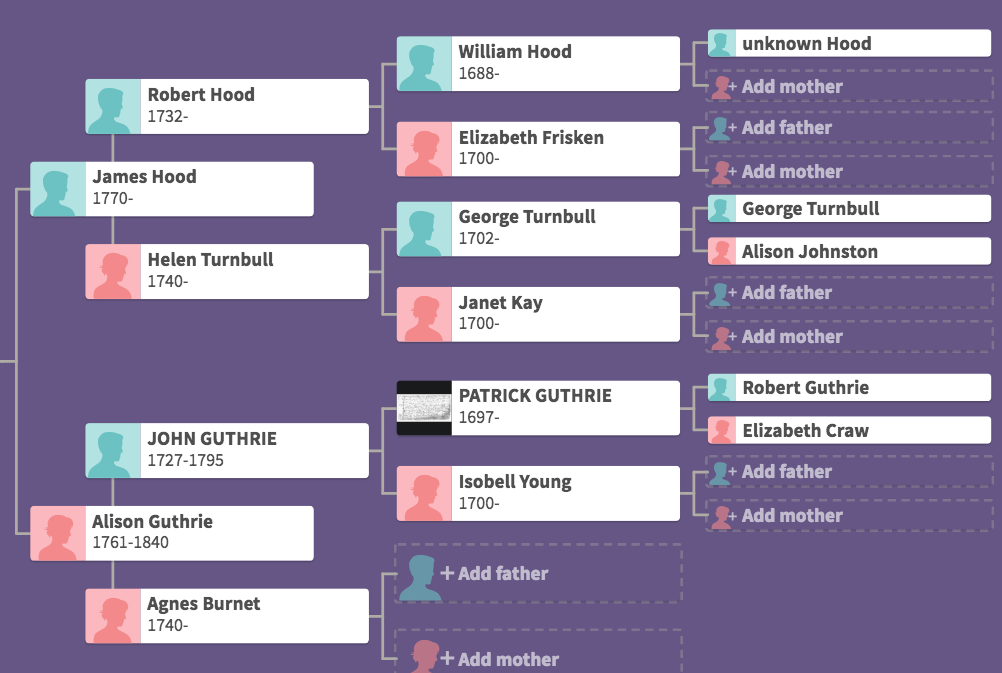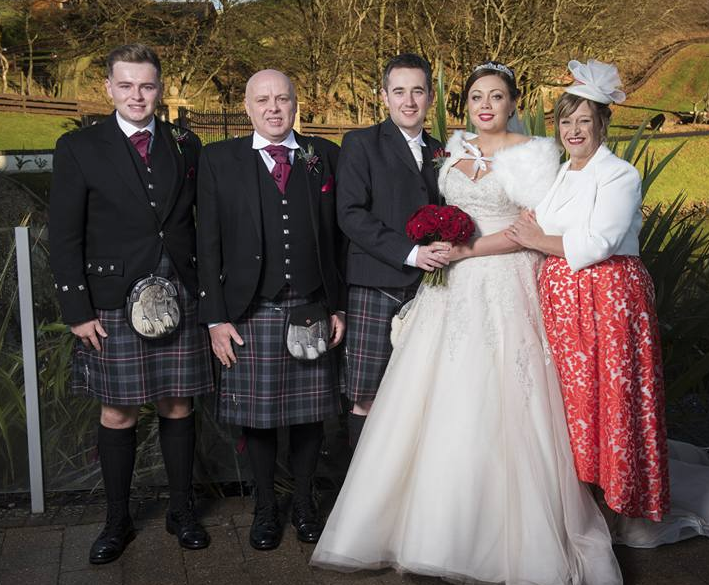 The cemetery has many inhabitants but amongst the top 20 families buried here the name Hood is missing. This suggests that the Hood family were not originally from this town. Below is a headcount of the local villages and the No. of Stones are the ones with HOOD. You can see instantly where the main pockets of the family were living, although we don't have the dates.
We then come to 4th great grandfather James Hood [1770] who married Alison Guthrie [1761-1840]. They married on 31 October 1784 in Eyemouth. He would have been 14 and she 23 according to the records. CLERICAL ERROR
The Guthrie line from here back we can trace to 7th Great Grandparents Robert Guthrie 1660-1740 and Elizabeth Craw 1670-1703. Both families originated in Coldingham in the Borders.
The 1841 Scottish census tells us that James Hood was now on his own, his wife having died in 1840, and living at an address in Duns called 'ELBA'. He was 71 so the information is spot on. His occupation as industrial.
Have found only 3 of James Hood's children to date. John 1796-1859. George Burnet Hood 1801-1861 [Direct Line] and Renton Hood 1806 who are your 3rd Great Uncles
James's son, John Hood 1796-1859 married Thomasin Cairns 1800-1889 in 1818 in Eyemouth. They had many children. I count 11 on the tree. The census entries for 1841 for John Hood he was living at an address Hair's Close and he was a labourer. By 1851 the census entry tells us he was born at Eyemouth Harbour and he was a fisherman.
3rd Great Grandfather Burnet Hood [George Burnet Hood] 1801-1861, son of James Hood and Alison Guthrie. We find George in Edinburgh as early as 1825 where the first members of his family were born. Then down South. One son, David 1838 was born in Liverpool, Lancashire en route. Another of his daughters Janet was born here also in 1840. Then c1838-1840 moving down to Wirrel, Birkenhead in Cheshire where he was working as a Joiner in 1841 reasons unknown he then moved back up to Portobello in Edinburgh. Burnet may have been working in the Docks using his skills in Ship Building. The Scottish Census for 1851 is kind to us as it shows him living in Regent Street in Portobello with his wife and 12 children. He was a 'house carpenter' to trade. His wife was born in Portobello. Her name was Margaret Banks [1803-1862} who was born in Duddingston. They married in the year 1824 in St. Cuthbert's area of Edinburgh. By 1861 they were living in Brown's Close in the Canongate with occupation given as Joiner. Shortly after this census John died in the City.
Children of Burnet Hood and and Margaret Banks are – 2ND GREAT GRANDFATHER, AUNTS AND UNCLES were
JAMES HOOD born 1825 Portobello. James became a Joiner like his dad. He married Mary Logan c 1846 in Portobello, Edinburgh.
MARIANNE BRUCE HOOD 1827-1883 born Edinburgh. Married Alex Campbell who worked on the railways. He was from Stempster in Caithness. They met in the Borders and settled in Edinburgh where they raised a large family of Campbells in the Leith area of the City.
WILLIAM HOOD 1829-1867 born Portobello. Never married. In the 1851 Scottish census his occupation given as Apprentice Joiner.
RENTON HOOD 1831-1899 born Edinburgh. Renton married another lady from the Borders called Margaret Rutherford 1839-1930. He too became a joiner and they settled in West Richmond Street in Edinburgh. They had at least 8 children. After his death Margaret moved to Yeoman Place in the City. She became a Grocer.
GEORGE BURNETT HOOD Junior 1833-1909 born Portobello. Can't find a wife for George. His profession was one of Ship Carpenter. The 1891 Scottish census sees him fall on hard times and living in Musselburgh Poorhouse. He lived on however despite hard times until 1909.
JOHN HOOD 1835-1903 born Portobello. 2nd Great Grandfather married Ann Roy 1833-1926 on 27th August 1860 in Great King Street in Edinburgh. Like his brothers John was also a Joiner. Ann's family were from Paisley in Renfrewshire father Robert Roy and mother Margaret Finlay. further research required on this line. We can track John's addresses through the census entries for the 1880s as follows 1861 – 3 CLYDE STREET and Joiner Journeyman 1871 – 121 Nicholson Street, and Joiner. 1881 – 1 South Holywood Street, Newington and Joiner 1891 – 11 Dalrymple Place, Newington, unemployed Joiner. The couple only had two children, and only one survived Alexander Hood. – direct line
THOMAS HOOD 1837-1837 born Portobello
DAVID HOOD – 1838-1848 – David was born in Liverpool in Lancashire in England when the family were on the move, probably looking for work. He died young.
JANET SOFFLEY HOOD 1840. Born in Liverpool in Lancashire. She may have had a son in 1865, George Burnet Hood, born in Edinburgh.
MARGARET HOOD 1842 born Portobello.. Book Folder by Trade in 1861. FURTHER RESEARCH REQUIRED.
ALLISON HOOD 1845 born Portobello. – no further information
RICHARD HOOD 1850- in Portobello. He married Jessie Somerville and they had a large family. Richard was a Type Founder by Trade. After they married the family moved to the South side of the City, 1871 West Richmond Street, 1881 Guthrie Street, and the family in 1891/1901 they lived in Upper View Craig Row in the Southside of the City. He was the only son not to become a Joiner.
GREAT GRANDFATHER ALEXANDER HOOD
When Alexander Hood was born in 1871, his father, John, was 36 and his mother, ANN, was 34. He married Janet or Jessie Walker on 25 July 1890 in Edinburgh , Midlothian. They had three children during their marriage, probably more yet undiscovered, John 1893, Marion 1893 and Alexander 1898. He died in 1923 at the age of 52. Going through the Jessie Walker line at first I did panic as we have a Jessie Walker on Mary Hood's side as well. But all good as they are different Jessie Walkers.
JESSIE WALKER'S LINEAGE – THE HALLIDAY LINE
Jessie Walker's father was John WALKER and he was born in the Gorbals in Glasgow c 1836. John married Marian Halliday 1835-1899. Jessie or Janet Walker had a long line of ancestors in various sides of her family going back to 1600 and beyond and stretching to Bishops Cannings in Wiltshire, England.
11th great Grandfather going back on Jessie Walker's line was EDWARD HALLIDAY [Haliday Holiday] 1603-1686 – with various spellings of the surname throughout the generations. Edward was born in Bishops Cannings in 1603. He married DOROTHY COOK on 11th May 1628 in Bishops Cannings – his father was also Edward Halliday c. 1570. Edward's profession was a 'Dyer'. I assume of cloth. He died in Warminster in Wilts.
10th great grandfather GILES HALLI DAY [1637-1705 ] was born on 20th February 1637 in Bishops Cannings. On 13th May 1639 he married Marie Etwall or Eatwell 1639-1715 [again various spellings]. The Etwall line is from the same area in Wiltshire and stretch back to 1566 with Robert Etwall and his unknown wife. – Giles's Childrens names Anne, Hester, Dinah, GILES [Direct Line] Edward and Mary.
9th Great Grandfather RICHARD HOLLIDAY [Halliday] 1692-1719. Richard was born on 27th August 1672. On 3rd May 1697 he married Mary Ann Mattock in West Lavington in Wiltshire. They produced at least 8 children Ann, Giles,[direct line] Richard, Betty, Robert, John, Mary and Esther. They lived in Erlstoke in Wiltshire.
EARL-STOKE, or Erlstoke, a parish in Devizes district, Wilts; near the north border of Salisbury plain, 2½ miles W of Market-Lavington, and 5½ SSW of Devizes The manor belonged to the Monthermers and the Montacutes, Earls of Gloucester and Salisbury. Earl-Stoke Park is the seat of the Taylor family. The living is a vicarage, annexed to the vicarage of Melksham, in the diocese of Salisbury.
8th Great Grandparents were another Giles [or Silas] Halliday 1700-1765. Giles married Henrietta Tilly [1708-1746] on 24th June 1720 in Erlstoke.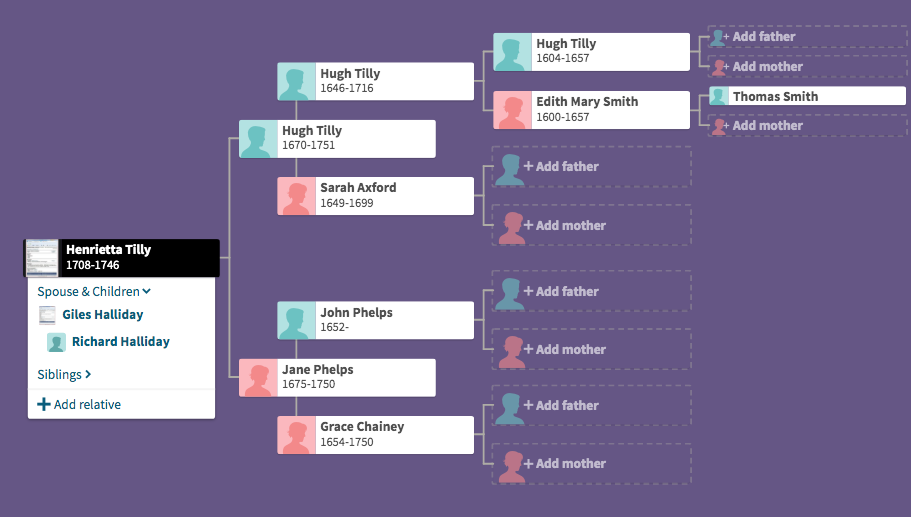 7th Great Grandparents RICHARD HALLIDAY [1730-1778]. He married Martha Ainsworth [1730-1778.]. They married on 14th April 1746 in Halifax. Richard was the first of his family to move North. Margaret was born in Bradford in Yorkshire. They had ten children all brought up in Halifax in North Yorkshire. The occupations of the population in this area at this time were mostly in the cloth industries s producing woollens, while weavers, (wool)combers, stuffmakers, piecemakers, worsted men, combmakers, merchants and woolstaplers who would have been treated as worsted workers. There were also some seams of coal being mined. CHILDREN were Betty, John, Mary, Martha, Richard, Isaac [direct line] George, Abraham, Joseph and George
6th Great Grandparents ISAAC HALLIDAY [1755-1786] and SARAH HORNER [1752-1837]. Isaac was baptised on the 5th April 1755 in Illingsworth in Yorkshire. He married Sarah in 1775 and their children came along Jonathan, David [direct line] John, Abraham, Martha and Elizabeth. The family were all baptised in the St. John the Baptist Church in Halifax which has been there since the 1200s, non conformist Church. Sarah's family are all from Halifax. We have back to her grandfather Luke Horner 1685 and grandmother Mary Baxendall 1685.
5th Great Grandparents were David John Halliday [1775-1832] and Marion Matheson [1775]. David for employment reasons was the Halliday who ventured out of England into Scotland. It was here in Edinburgh that he married Marion Matheson in May 1799. The following month their first daughter Magdalene was born in Edinburgh. Then came David, John and Walter [direct line] all born in Edinburgh. Still to research the Matheson connections in Edinburgh. Probably following the wool trade some of the family moved down to the Borders area where there was much work for the wool trade at that time. He was a described as a Coachman in 1870 on his son's death Certificate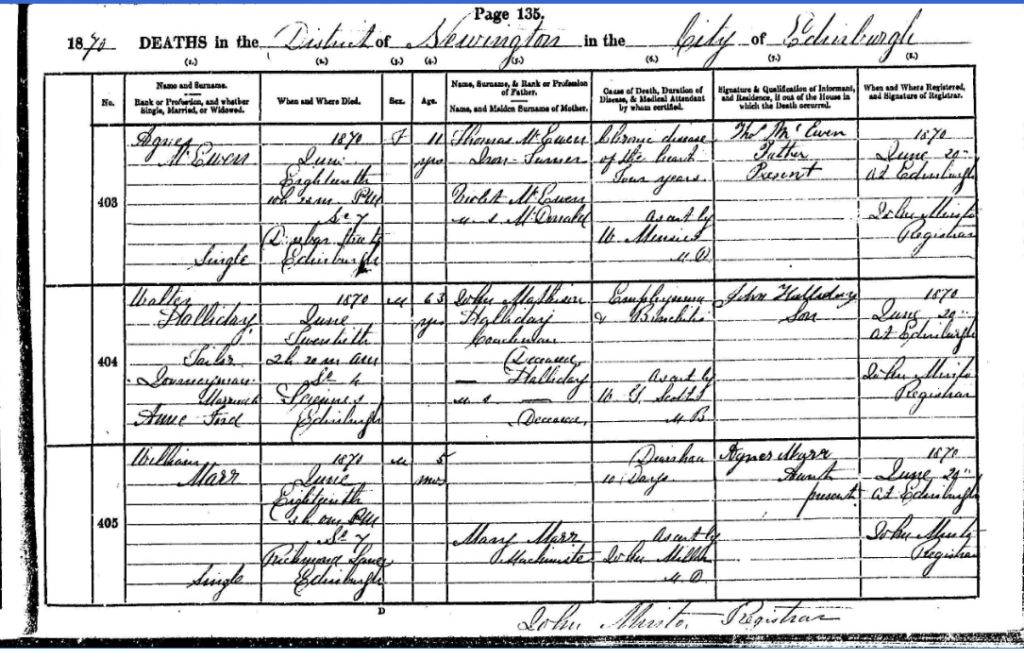 4th Great Grandparents were Walter Smart Halliday [1806-1870]. Walter married Ann Lucy Fort [1813-1871] in Edinburgh on 8th December 1837. Walter was a Journeyman Tailor by Trade and worked his trade between the Borders and Edinburgh. 1851 address given as Wood Market, Kelso, Roxburghshire, profession Tailor. By 1861 they were residing in Abbeyhill in Edinburgh, profession mistaken as Sailor instead of Tailor. On Walter's death Certificate in 1870 his father is given as John Mathieson Halliday, Coachman, but we know he was actually David John Halliday. No mothers name. This is a common mistake as names were sometimes forgotten or mis-interpretated through the passing of time. Walter lived at 4 Sciennes Road in Newington in Edinburgh. Walter and Ann had 8 children who went into different professions in Edinburgh
3rd Great Grandparents Marion Matheson Halliday 1835-1889 is the direct line. She married James Walker[1836] in 1866 in Edinburgh This branch of the Walker line we are still tracing. James Walker was a Mason by Trade and the 1871 census sees the family living in Dalrymple Place in Newington in Edinburgh. 1881 sees them now at 3 Forbes Street in Newington in Edinburgh with daughters Jannet and Marion. By 1891 Marion had died and James and daughter Marion still at 3 Forbes Street.

4th Great Grandmother's line Ann Lucy Fort who married Walter Smart Halliday above
Ann Lucy Fort was born in 1810 in Clifton in Gloucestershire, England. The Bishop's transcripts tell us that she was baptised on April 10th 1810 the daughter of William and Elizabeth and that her father was a Chairman.
GRANDFATHER Their son Alexander Hood 1898-1971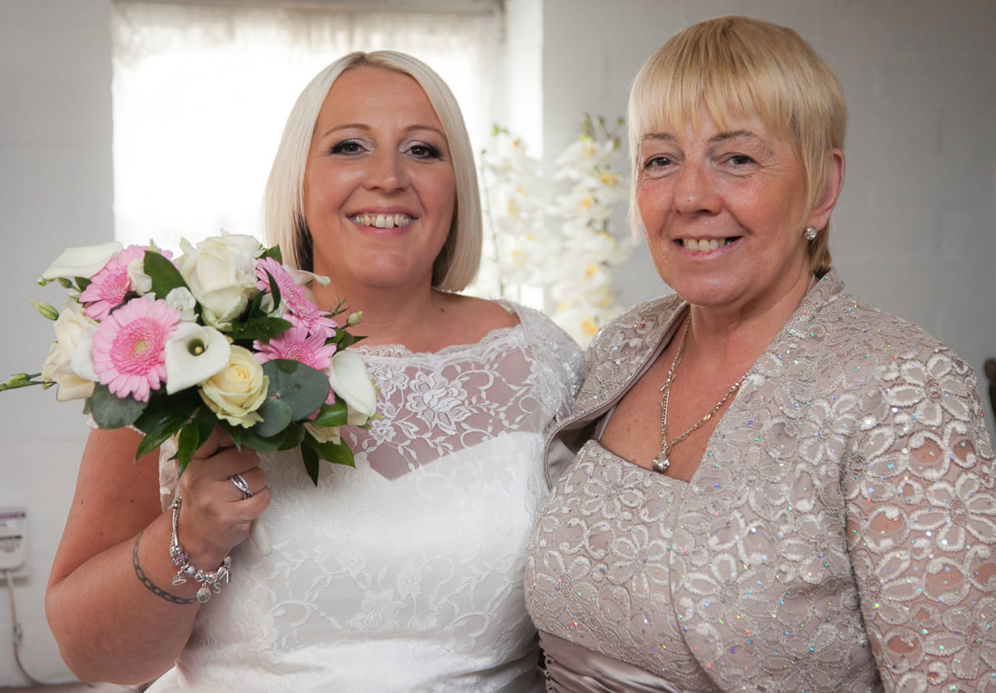 There are so many descendants of the family I am merely adding some more photos on this page. I apologise if not all the descendants of Tam Hood and Mary Morrison are here. I have been trying to unravel all the Hoodies as we affectionately call them.
Frankie Hood
Lesley Hood