Thanking Vanessa for getting in touch with Helen. Her mum and Helen [author] are DNA Hits and verifies the connected Irish lines, Murray, Murphy and beyond. This family belongs to Helen's Maternal grandmother's line Helen Denholm Crawford. Her lines are Crawford/Murphy/Murray/McGee/Brady who were mostly from Monaghan in Ireland and who found themselves in Edinburgh during the Potato Famine of 1846
Vanessa's words. "My mum came over to Australia when she was 6 years old, however my nan ( who is Alice Ruby Murray) had quite a lot of brothers and sisters. My nanna's brother Bert remained and had daughters, and one of them Frieda is still living in Edinburgh to this day. I will let Frieda know as I'm sure she will be excited to hear of the connection."
There are more than one branch of the Murray's connected two our own. This branch is connected through Helen Denholm Crawford Morrison who was my maternal grandmother. The other main branch of the Murray's is connected through my paternal line. My great grand father's sister Valentina Quilietti married Alex. Murray. Both sides of the family have Irish origins.
Vanessa Emerston – AUSTRALIAN Branch
VANESSA'S direct line
Henry Murray 1770 and Jane Griffin 1776-1839
Daniel Murray. 1799-1870 and ROSEANN O'NEILL 1808-1872
children
JANE MURRAY 1837-1840
CHARLES MURRAY 1839-1840
SARAH MURRAY 1843-1929 married James Hughes, Blacksmith. 5 children. They resided in the Grange area of Edinburgh.
Henry Murray 1845-1899 see below
Daniel Murray 1846-1861
Elizabeth Murray 1850- unknown
Roseann Murray 1851-1855
HENRY MURRAY 1845-1899
When Henry Murray was born on July 26, 1845, in Edinburgh, Midlothian, Scotland, his father, Daniel, was 46 and his mother, Rose Ann was 36. He married Catherine McKenna on February 20, 1865, in Edinburgh In St. Patrick's RC Chapel in little Ireland which was the Cowgate. Sadly she died shortly thereafter, possibly due to a difficult birth. The couple both lived in the Cowgate which was and still is known as Little Ireland. The Chapel was St. Patrick's Chapel where so many of our ancestors were baptised and married. The Irish names depict their heritage as does their residences. In fact many of our family were in the rag and bone business where the old clothes were recycled.
Henry then married Mary Murphy and they had at least two children together, Daniel Murray 1872-1949 and Mary Ann Murray 1874-1940.
After Mary's death Henry married for the third time in 1885 to Ellen Daily. Henry died on March 7, 1899, in Canongate, Midlothian, Scotland, at the age of 53.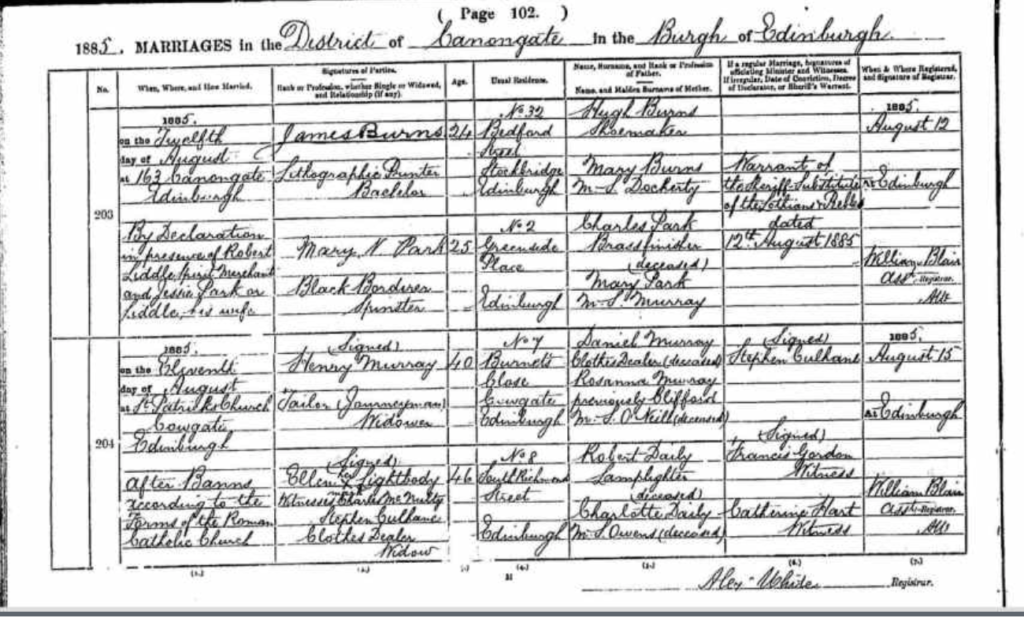 DANIEL MURRAY'S 1872-1949 – children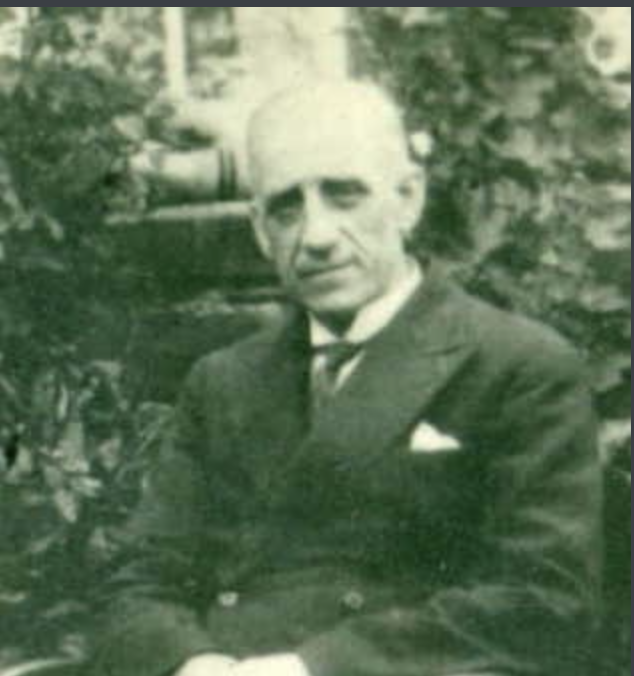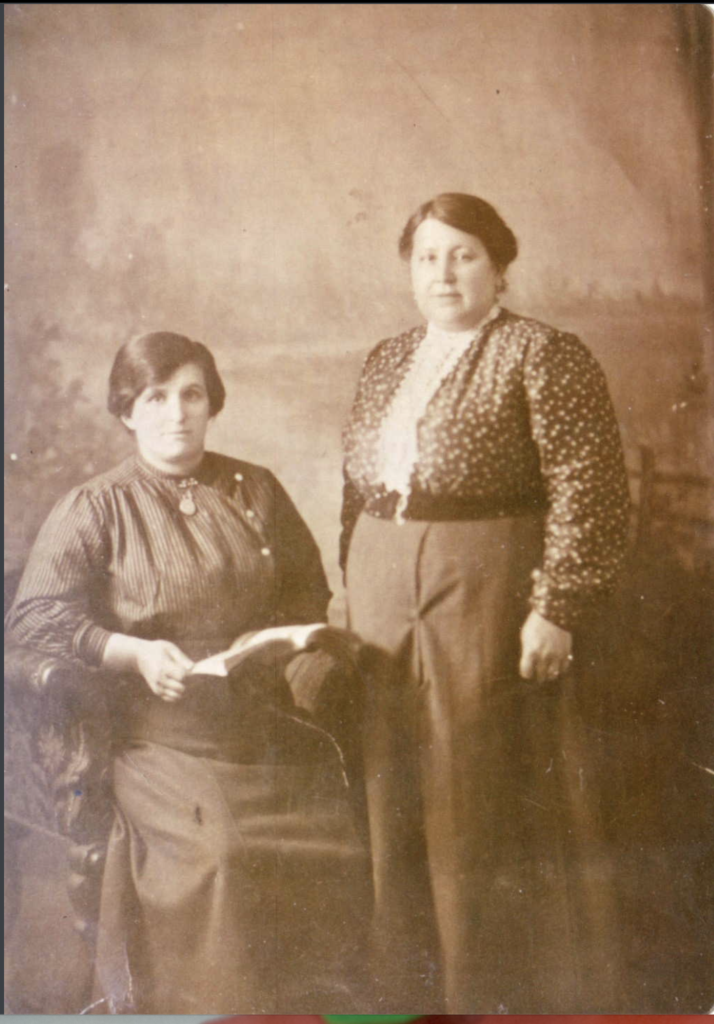 MARY or Mae Murray 1904-1985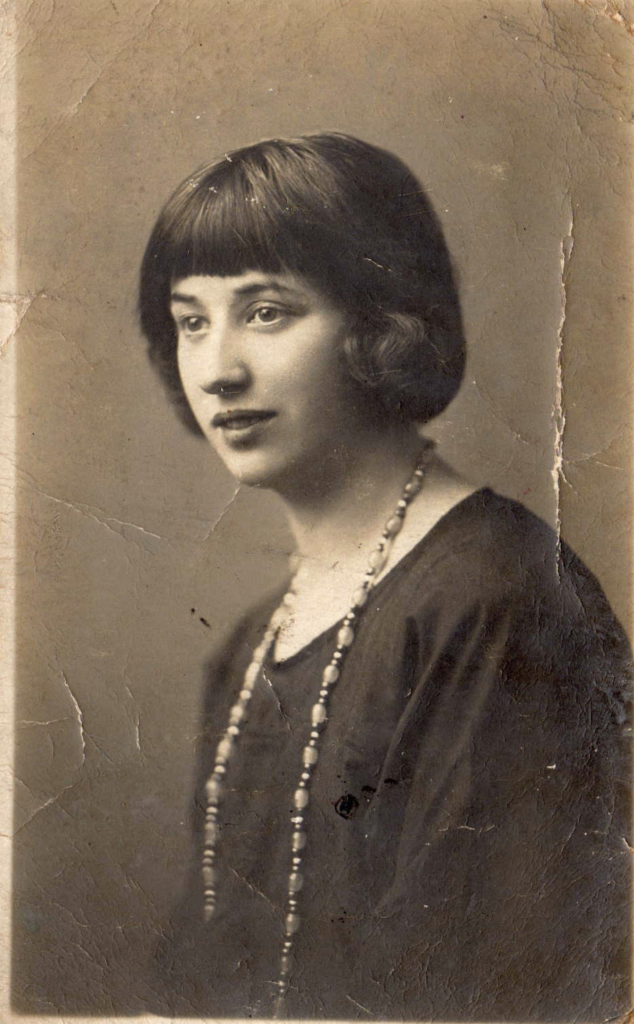 Henry Murray 1906-1950
Daniel George MURRAY 1910-1940
James Hughes Murray 1912-1940
Albert George Murray 1914-1992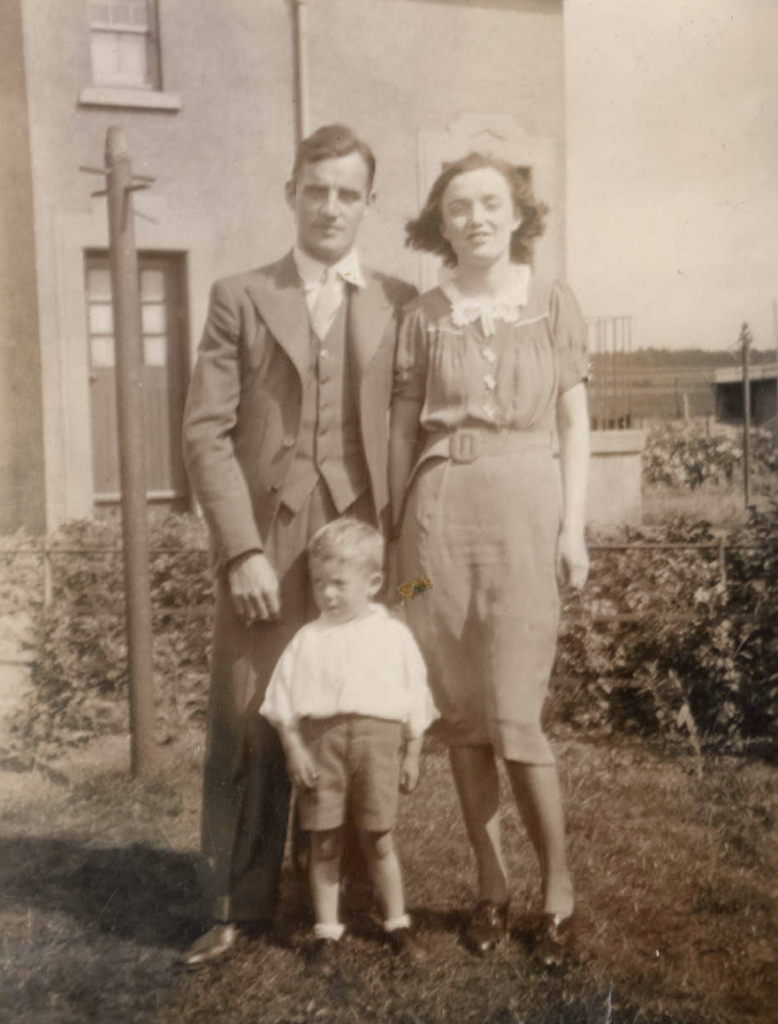 AGNES Mary Murray 1918-1997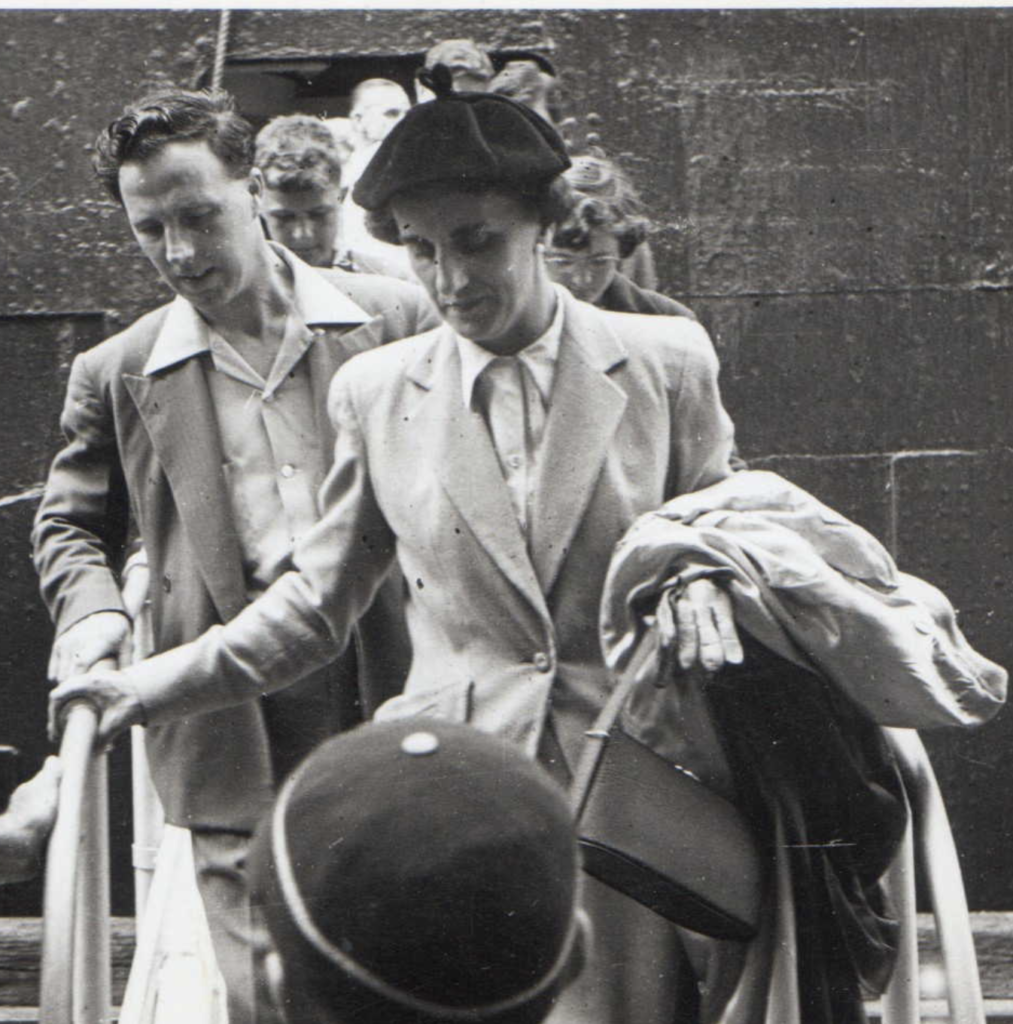 ALICE RUBY MURRAY – Vanessa's Gran 1919-1986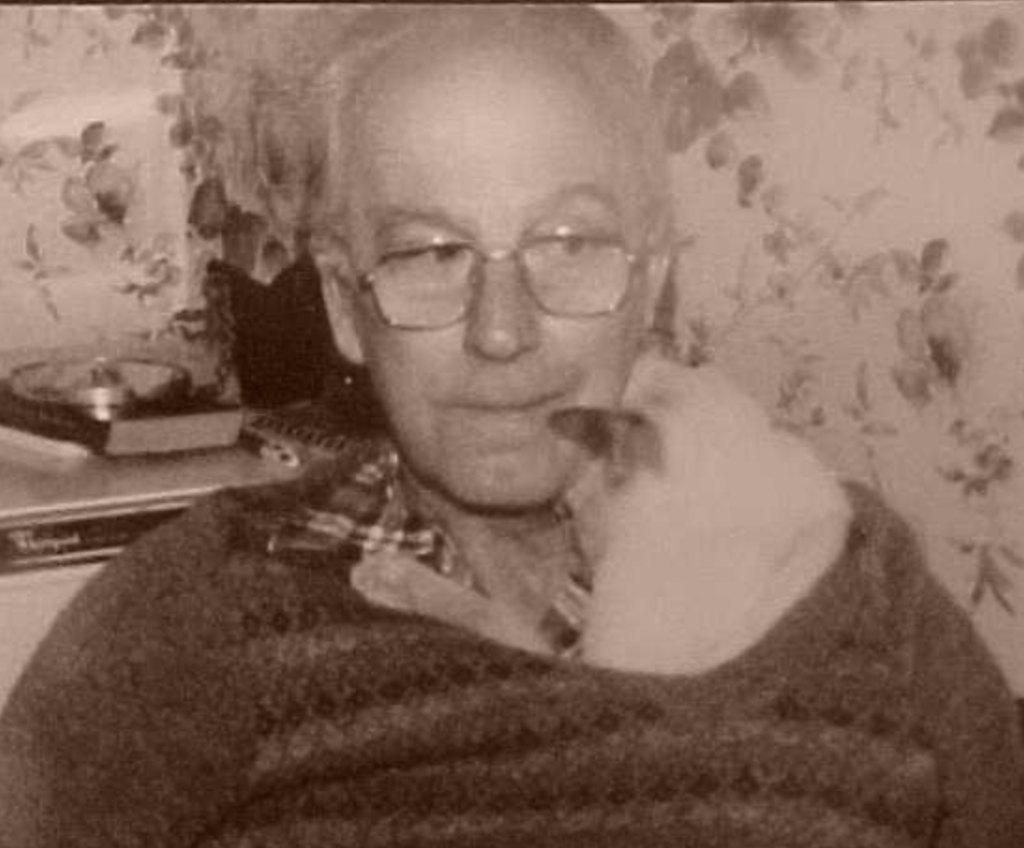 Mary Ann Murray [Daniel's sister] 1874-1940
THE MURPHY connections – Monaghan, Ireland
Hugh Murphy
Our joint 3rd Great Grandfather, Hugh Murphy was born on July 24 1819 in County Monaghan, Ireland, the son of Hugh Murphy, Agricultural Labourer and Catherine McDonald. He married Ann McGee on August 16, 1848, in Ireland. They had eight children in 29 years of whom only 4 survived and of these only Annie and Catherine to over 50.
Moving to Edinburgh during the great famine we find the family at first in Carruber's Close, off the High Street, with Hugh working as a Costermonger, or seller of small goods in the streets of Edinburgh.
He progressed on and became a Plasterer's labourer and worked at this for many years. The family moved down to Stevenlaw's Close, the West Side, just further up the High Street.
Hugh senior died on October 13 1876, in Edinburgh, Midlothian, Scotland, at the age of 57.
Ann died in the Poorhouse, Craiglockhart in February 1904 with her second husband in attendance.
CHILDREN of Hugh Murphy and Annie McGee
Mary Murphy 1850-1983
Hugh Murphy Junior 1857-1890
One of their sons became an Artists Model [also called Hugh 1857-1890]. On his death certificate alcoholism attributed greatly to his death.
Annie Murphy 1853-1907
Catherine Murphy. 1855-1926
THE MURPHY CHILDREN who died in infancy
Rosie Murphy 1859
Francis Murphy 1862
Margaret Murphy 1864
Sarah Murphy 1866-1867