Darren was the son of Margaret Frame Quilietti and her husband Paul Wood.
Darren
'
19th April 2019 was when my boy came into this world with his thick black hair and chocolate brown eyes. The midwife said he's going to be a heartbreaker and that you were. Darren was hard work as a baby he never slept and we would walk the streets night after night hoping the fresh air would knock him out also having to rock him in folded up sheets, but the minute we put him in his cot….boom awake again.
To my dad he was precious and I think more precious than a Faberge' Egg….he wrapped him in cotton wool and up to the age of about 9 he still put cushions in front of him incase he fell out of bed. You loved grandad so much and you were joined together at the hip,
At the age of about 4 Darren started to get interested in music, and he became a big fan of wait for it, Shakin Stevens. He still did, as you'll know if you had the pleasure of of his company at parties, collar up and on his toes giving it big licks. He even asked me a few months ago to go and see Shakin Stevens in concert this year.
As you got older you began to take a interest in football and you played for Tall Oaks. Grandad couldn't believe it when you started to support the Hi Bees. You had a trial for them but you decided that you would rather stay with your boys club.
I also remember when you were younger having a fascination for superman and you would put red trunks on top of you trousers and a towel as a Cape and we had to walk around with our arms out straight and you lying across them and you pretended you were flying. We were in the cinema every other day watching the movie. Then it was Indiana Jones Movies and we had to get you a whip, a hat and a bag and we had to call you INDY!!
As you got older your taste in music changed and you started to listen to happy hard core and the likes, (but Shakin Stevens was always in the back of your mind).
You loved the days when granny came and picked you up and took you out on your weekly days outings. She would pick you up at 8am and bring you home about 10 at night. You would be EXHAUSTED!!. You and RUTHIE on your days out would get a bag of pennies and the 2 of you sat in front of penny falls for hours feeding the machines.
When you were 7 your brother PAUL was born and when I phoned you to tell you…..you let out the loudest yeah!!!! I had ever heard…..you loved your brother so much and you were so proud of him when he started playing football for Falkirk.
During your teenage years you became rebellious just like most teenagers. You wouldn't listen to us and we tried our hardest to guide you. Then you met your first girlfriend NICOLA and you were great together. you got older and more wiser [well maybe not wiser], but unfortunately that relationship was not to be.
And then after a time you met LINDA and your son Luis was born, and he was so much like you with black hair and chocolate brown eyes (another heartbreaker]. He was the same hardly slept, but you were so proud of your boy, and you watched him grow into the young man he has become. You would go every weekend and watch him play football. You would both go to old Trafford to watch you favourite team, and then you couldn't believe it….Luis goes on to support HEARTS!! Karma for Grandad )
We had our ups and downs just like most parents and kids, but we always sorted it out. I am so proud of the man you became, a hard worker a great dad and an amazing son. I have so many memories of you growing up that I will hold them in my heart for ever….and sadly now we will never make anymore…..I love you so much ……..
LUIS' NOTES
Luis's Notes
My Dad was My friend, My hero but most of all he was my DAD. My earliest memories was that I wasn't much of a sleeper and my dad would take me out in the car hoping that I would eventually fall asleep and then he could put into bed to sleep ( sometimes it worked and sometimes it didn't ) but then I was told that he was exactly the same when he was younger .
I remember when I used to stay at the weekends at his flat, every Sunday morning DAD would make me 2 slice sausage rolls before we left to take me to my football. At the time he didn't have a car we would get a bus to the games and it would take ages to get to Kingsknowe to get to my game. We would then walk to grandad Bobs to talk about how I played .
On Fridays we would go to the cinema or just chill out and on Saturdays go to the swimming pool and then usually have a pasta dinner or on special nights we would get a Chinese and then we would settle down to watch match of the day . And then also WWF wrestling .
Days out to the beach- Beescraigs and or Cramond – they were the best days and I would spend loads of time with dad. Then there was trips to Manchester and Sunderland for to watch the mighty Man United. Dad also took me to my first concert with my cousin Louise to see Eminem in Glasgow.
Then there was family parties which dad loved and if given the chance he would do his party piece . Also there was our holiday to Portugal and that was brilliant. DAD I'M GOING TO MISS OUR TIMES TOGETHER AND FOOTBALL CHATS . I LOVE YOU AND I CHERISH THE TIMES WE HAD TOGETHER. LOVE FROM LUIS. XXXX
Paul's memories,
From the first day I met you I knew you were unique in more ways than one . Spoilt by your GRANDAD and taught by GRANNY the vagaries of slots and bingo and very early age (around 4 if I'm right). Every day was a new challenge as you had so many personas wether it be SUPERMAN, RAMBO, MICHAEL JACKSON OR ANOTHER PERSON BUT MORE ON THAT LATER .
And there was the Star Wars toys that you collected (and there was millions believe you me as I stood on most of the figures). As you got older football started to take over and grandad was in his element only to be told after a tiny wee time that he supported HEARTS. " SORRY GRANDAD I SUPPORT HIBS " even when most of his pals were JAMBOS. Like I said unique and different from someone else.
Then older again it was Fashion and he always was the first to get certain trainers and clothes before other people who would then copy DD as he was known. Like I said different from everyone else.
Then, the TEENAGE YEARS. Well that was another story and as most of the Young ones will know. I'll just say they were UNIQUE to say the least.
We didn't see eye to eye all the time, but we had a great relationship when we did. Whether it was him coming to family parties, coming to watch football on tv and even coming to visit us for Sunday dinners, especially if Fajitas or Roast Dinner was on the table.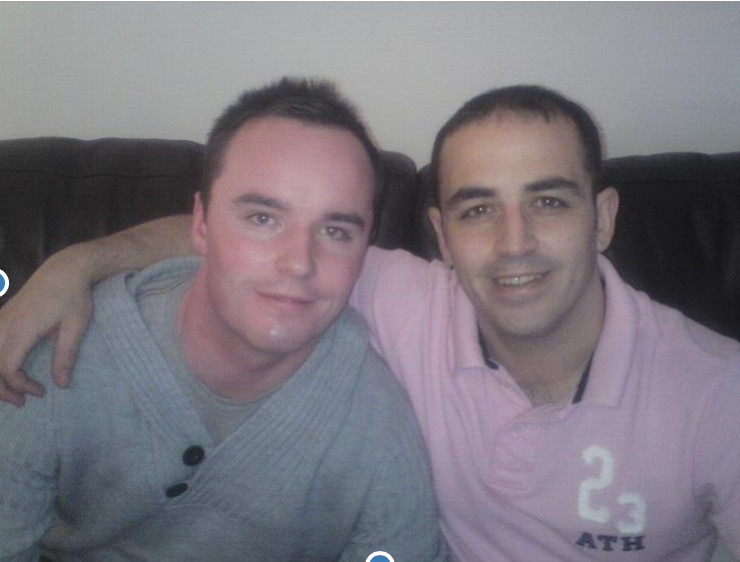 I want to share with you my memories of my brother Darren. Darren lived his life to the fullest and touched so many people during his time here with us, as evident by so many of you here today. I remember one time being down at Lauriston farm with Darren and Granny Quilietti . It was a FUNDAY they had organised and was a brilliant day, until I WENT MISSING. Darren and Granny were in a panic searching everywhere for me. They were worried I'd maybe fallen into the water. After an hour or so searching I was finally found, on the carousel, just going round and round oblivious to all the panic . On way home Granny said to Darren whatever you do don't tell your mum. As you may have already guessed the first thing Darren did as soon as he got in the door was say "Mum, Granny lost Paul today ".
When Mum and Dad were on holiday Darren would sometimes come to visit me and Jodie, mainly because we were his hairdressers, and he asked us to shave his hair. We would often get a takeaway which Darren was fly about and never gaves us the money. As brothers do Darren and I would have our wee fallouts, but would sort it out and will always be friends in the end.
I have a word from DARRENS WORKMATES ……….. Woodsy you started off as a colleague but turned into our friend. Fun laughter and tears can't turn back the years. Taken too young taken to soon. Your personality lighting up the room. Heaven has gained an angel, our one true friend. Forever in our hearts until we meet again. Fly high love forever your Brighthouse family. Thanks Gary Hunter Operations Manager Bothwell LDC
We, as a family, would like to thank each and everyone if you who have sent us FLOWERS and CARDS and all your lovely FACEBOOK MESSAGES and TEXTS
Now it's time to fly high Darren granny and grandad are waiting…