QUILIETTI Alison Bertram Struthers 1956
With much love I dedicate this page to a very special cousin. Alison Bertram Struthers. Alison is married to Ian George Quilietti and I would like to let her know a wee bit about her family roots.
THE STRUTHERS LINE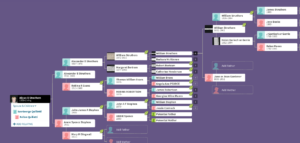 It seems the Struthers family had two distinct lines, one originating in the Lanark area of Scotland whose roots were in County Mayo in Ireland, and the other from South Ronaldsay in Orkney. Work in Progress to ascertain which branch Alison's direct Struthers family came.
Alison Bertram Struthers was born in Aberdeen in 1956.
Daughter of Alexander Bertram Struthers and Annie Spence Stephen.
GRANDPARENTS STRUTHERS LINE
Her grandad was also called Alexander Bertram Struthers, and he was also born in Aberdeen on 14th July 1907.
Her grandma was Robina Robertson Evans. Alison remembers them both with fondness but does say that they were very strict, probably due to their Methodist upbringing. Robina's father Thomas William Evans was from Sunderland in Northern England where we find him living in the late 1800s. However it is more than likely that the family were Welsh and had moved to the region for work.
GREAT GRANDPARENTS STRUTHERS LINE
Grandad Alexander was one of seven children born to William Struthers and Margaret Bertram ALISON'S GREAT GRANDPARENTS .
William and Margaret had married in Aberdeen in the Baker Street Hall on 4th September 1906. This was a Methodist Church Hall. William Struthers describes himself as a Blacksmith's Hammerman and he was age 24. His address was Causewayend Aberdeen. His father, also William was a Combmaker by Trade and his mother Barbara McKinnon. Great Grandma Margaret Bertram was a Flax Mill Worker and was 18. Her address was 15 Forbes Street in the City. Her parents were Robert Bertram, Plasterer's Labourer and Catherine Henderson.
Great Grandad William Struthers in time found work on the Railway as a Linesman. His accident at work is documented below.
Children of William Struthers and Margaret Bertram were
WILLIAM STRUTHERS 1899-1931. WILLIAM married HELEN DUNCAN MILNE
CATHERINE HENDERSON STRUTHERS 1901-1932 CATHERINE married GEORGE BEATTIE
BARBARA McKINNON STRUTHERS who died as an infant
GEORGE STRUTHERS 1903-1984. George was also a Combmaker by trade. Not sure if he married
ALEXANDER BERTRAM STRUTHERS 1907-1978 . direct line . Married Robina Robertson Evans
ROBERT BERTRAM STRUTHERS 1914-1965. Married Christina Byrd Byres
JOHN GRAY CLARK STRUTHERS 1915-1943. John died during the Second World War in Malaya on 22nd November 1943. He was a Private in the Gordon Highlanders.
Aberdeen was famous for Comb Making and at the end of the Nineteenth Century it made 25 million combs a year. The Aberdeen Comb Company was started mid 1850s when it moved up from Edinburgh. The combs were made from the horns of Cows and it was a specialised craft. The other famous industry apart from the Sea of course were the Flax Mills .
GREAT GREAT GRANDPARENTS STRUTHERS LINE
Alison's great-great grandparents were William Struthers who was born in 1852 in Aberdeen and Barbara McKinnon who was born in 1856. They married in Aberdeen on 31st December 1873 in the Free Church of Scoland in Seamount Place in Aberdeen. William a Combmaker Journeyman at the time. He lived in an address 1 Windy Wynd in Aberdeen. Parents named as William Struthers, Combmaker deceased and Jane Gardner, deceased. Jane had died after the birth of her son William. Her husband re-married and had a large family with Isabel Shirres.

Barbara McKinnon, and her father worked in the flax works nearby. Their address Seamount Place, Aberdeen. Her parents were ALLAN McKINNON, Flaxmaker and ELIZABETH SCOTT. THE McKinnon line we will look at later on the page.
The William STRUTHERS family lived at 36 Spittal in 1881. 40 Causewayend in 1891 and 1901. William was a Combmaker all these years.
GREAT GREAT GREAT GRANDPARENTS STRUTHERS LINE
WILLIAM STRUTHERS was born on 30th June 1832 in the Parish of St. Nicolas in Aberdeen. Son of William Struthers and Helen Garrioch or Gerrie. He married ISABEL SHIRRAS on 2nd November 1855 at 4 Forbes Street in Aberdeen. His profession was Combmaker. Clearly you can see his parents another WILLIAM STRUTHERS who was born c 1800 and described as a Seaman on this document. The wedding took place at the Mariners Church in Aberdeen.
Isabel Shirras who was born in Edinburgh on 7th February 1832 lived at 24 College Street, Aberdeen, with profession as a Provision Curer. Her parents were John Shirres, Basket Maker Journeyman and Helen Blackwood.
The couple had Ten children as named below. This line has settled in the Aberdeen family and descendants still there today
GEORGE STRUTHERS born 1852
MARY ANN SHIRRES STRUTHERS born 1857-1923
HELEN GERRIE BLACKWOOD STRUTHERS born 1860-1907
JAMES ANDERSON STRUTHERS born 1864
ISABELLA SIMPSON STRUTHERS born 1866
AGNES SIMPSON ANDERSON STRUTHERS born 1868-1908
CATHERINE McINTOSH SIMPSON STRUTHERS born 1870-1908
WILLIAM SIMPSON ANDERSON STRUTHERS born 1874
ALEXANDER STRUTHERS born 1877
ANDREW STRUTHERS born unknown
You can see quite clearly here how the SIMPSON and ANDERSON surnames are there to carry on family names
THE BERTRAM FAMILY
The Bertram family we have traced back to 1650. A colourful family with deep roots in the Army Traditions.
John Bertrom was born in Waltham in Lanarkshire, Scotland on 1st May 1692 .He died in Cockburn, Duns in Berwickshire on 1st June 1770. John married Mary Dods who was born in Innerwick near Dunbar. She died in Duns in Berwickshire on 23rd April 1778 in Cockburn in Berwickshire. John's father was called William and that is all we know about him
MARY DODS was Alison's 7th Great Grandmother and her family go back to the Roxburghe in the Borders of Scotland circa 1550. We go back to Alison's 11th Great Grandparents

The Bertram family landed in Edinburgh and became bakers in the Old Bakehouse Close in the High Street in Edinburgh

.
Alison's branch ended up in Aberdeen. ROBERT BERTRAM was born in the year 1843 and it was he who joined the Army and moved his wife Catherine Henderson and their ever growing family into the barricks in Aberdeen where many of their children were born.SOME MORE OF ALISON'S LINESTHE PEARCE LINE Originating from Somerset in the South of England. William 1811-1878 ran a public house and that is the reason the family had moved from Somerset to Durham. One of their daughters Augusta married William Evans who was born in Durham. It was Augusta and William's grandaughter who married into the Struthers line and that is the link.
The Pearce family has many twists and turns and some of the connected surnames are Eastmond, Moore, Tossel and Turner. The Turner link is one which is intertwined with more branches of our tree. This is an English family link whose links lie in Somerset, Bristol and Devon, a beautiful area.
THE STRUTHERS McKINNON LINE
The link with the McKinnon family are through Barbara McKinnon who married William Struthers in 1873. The McKinnon's are from the Isle of Mull through this line and as you can see this link has many branches which include McKenzie, McLean, McNicol, Scott, Grant and Cowie.

THE STEPHEN LINE
ALISON'S mum was Annie Spence Stephen. Her family were farmers and all steeped in the history of Aberdeen and surrounding areas. The line goes back to circa 1700 and they were Crofters who worked the land. Some of them were from Peterhead, Lonmay and Strichen in Aberdeen. This area is all around the harsh coast of Aberdeen and the North Sea. Annie's parents were John James Alexander Stephen and Mary Murdoch Dingwall. The Dingwall branch of the family were from Rhynie and Essie and their profession were that of Crofters and farmers. Alexander Dingwall was a cattleman and shepherd and continued to be so through many of the census entries from the 1850s onwards.
THE DINGWALL AND MURDOCH LINES

The Dingwall kiddies and their aunt Margaret Henderson hit hard times and we see them here below in the local poorhouse in the year 1851. Interesting to look further up the line to the Roy Clan and family

.
THE MUNRO LINE
Through the Struthers line and this is where the discovery was made that Aliston Bertram Struthers and Denis Madigan Stanton were indeed related. The link is Robert Munro who was born in Fochabers and who married Helen Riach.